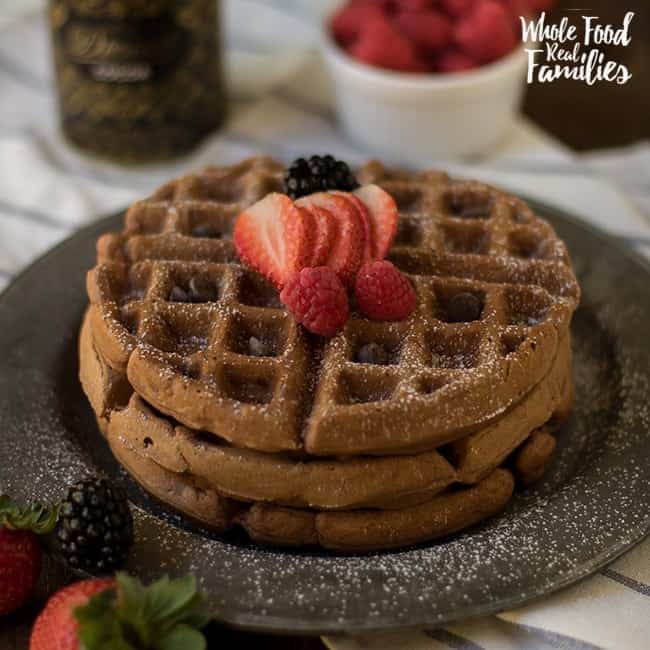 This Chocolate Waffle Recipe is rich and decadent – but still healthy enough for breakfast. With little refined sugar and whole grains instead of refined flour, this Healthy Chocolate Waffle Recipe makes some substitutions that keep these waffles in the regular breakfast rotation!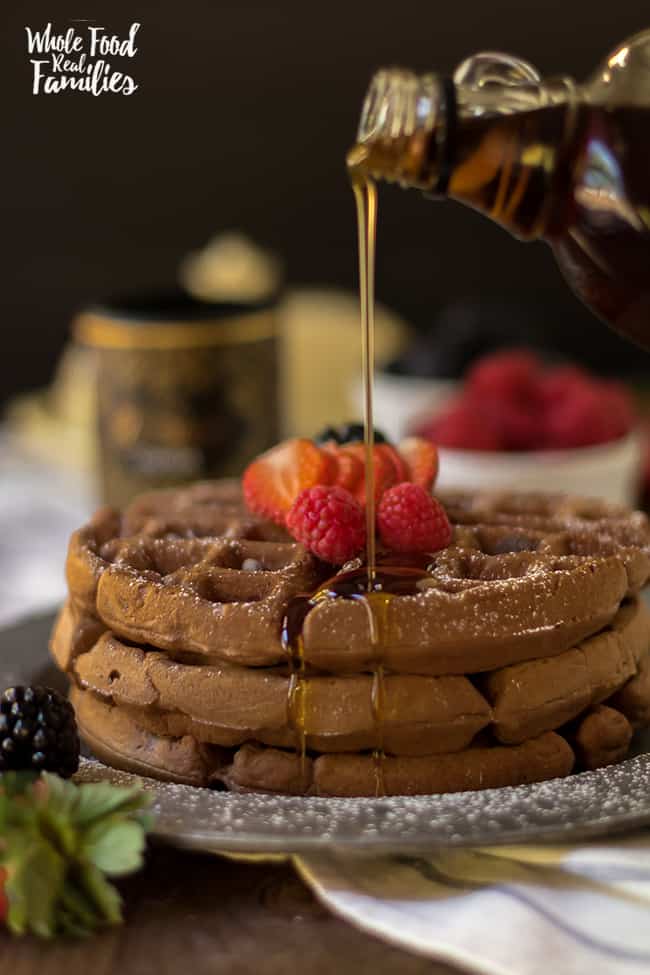 Chocolate Waffle Recipe for Breakfast
Getting my family up, dressed, fed and the adults appropriately caffeinated to face the world is a daily battle. I will be honest. Sometimes it is no fun. Anyone else with school-aged kids whose buses run in the 6 o'clock hour knows my pain. Every year, I give myself the pep talk. This year, when the kids go to school, I am going to use this extra morning time to be productive. I am going to set the positive tone for my family. I am going to…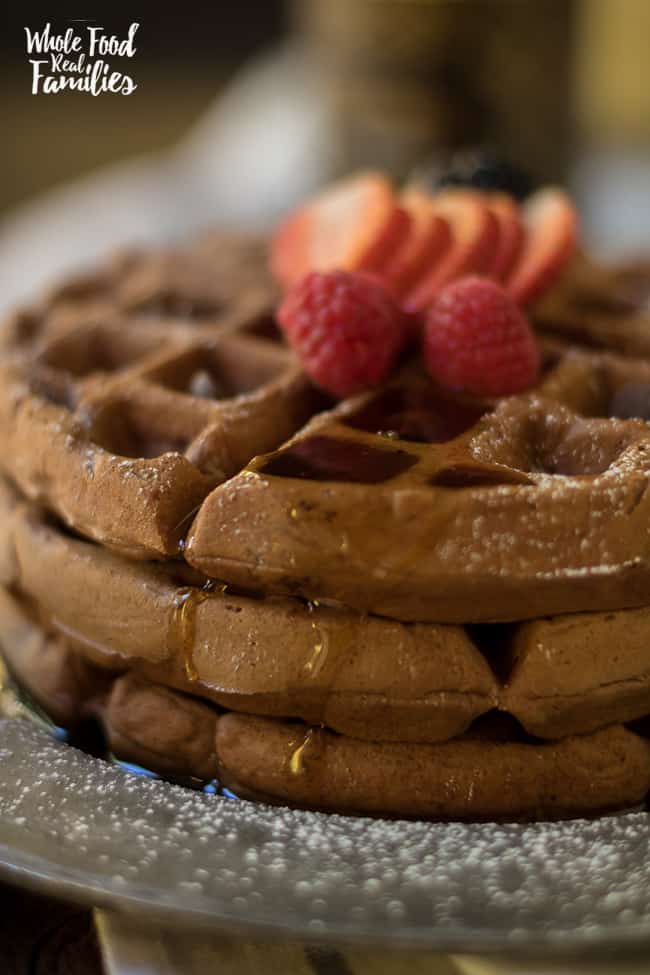 … go back to the coffee pot. It is not 6 AM yet. I should not be awake. Normal people are not awake. Who had the crazy notion that buses should run when it is still dark outside? Thank goodness I work from my house and do not have to get out of my pajamas yet. I used to be a morning person. The older I get, the less of a morning person I am. I realize that I just made myself sound older than Moses but there it is.
Please tell me I still have Chocolate Waffles in the fridge leftover from the weekend.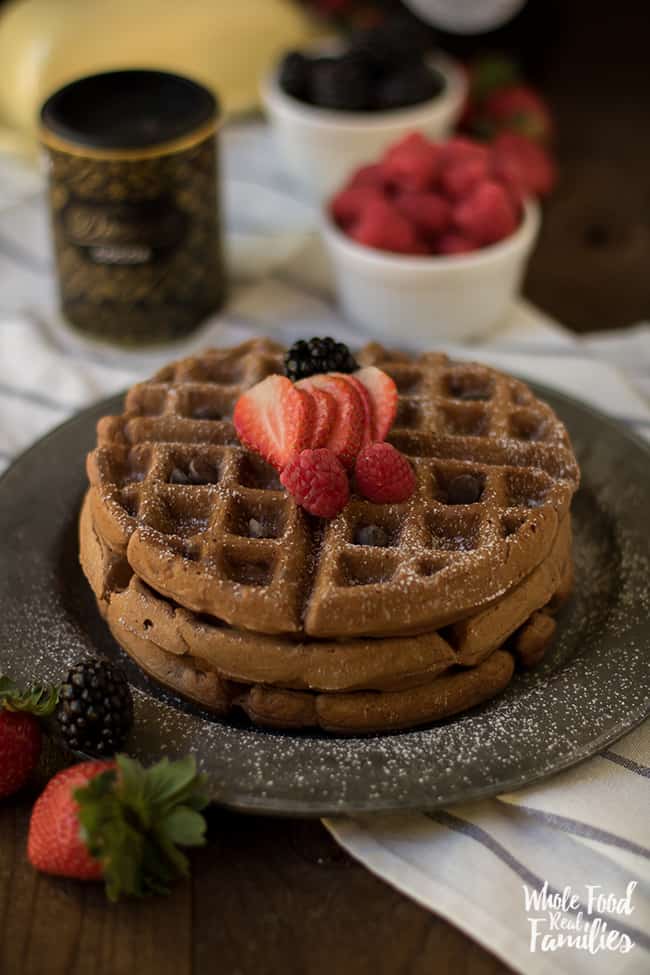 Everyone Loves Chocolate Waffles!
But then the weekend comes. And we have time to eat breakfast with a fork and knife. At the table. Weekends are awesome! I don't actually have to "sleep in" to feel awesome. If I can just make it until 7 o'clock without someone waking me up, life is good. When life is good, mom busts out this Chocolate Waffle Recipe to reward everyone for their good behavior.
This Chocolate Waffle Recipe is a good example of why experimenting with whole grains is a great idea. While they do have a touch of refined sugar (in the melted chocolate, if you use it). this recipe keeps it to a minimum. Sometimes we forgo the chocolate chips in the batter altogether and just sprinkle a few on top. Make an extra batch (or seven) of these and stick them in the refrigerator or freezer to make a quick breakfast later in the week… You know when the kids actually want breakfast before the sun is up.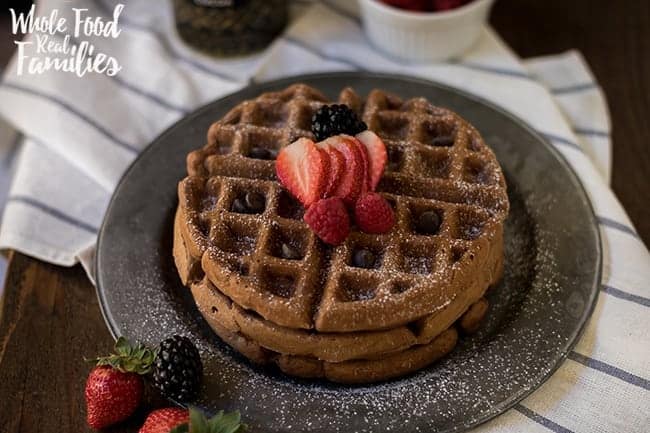 Chocolate Waffle Recipe Doubles as Dessert
Cooking around here tends to come in efficient bursts. (If you ever want to get more efficient in the kitchen, become a food blogger.) So we like recipes that can pull double duty. While this Chocolate Waffle recipe is an awesome breakfast that gets everyone running to the table. It also is the base for an amazing dessert.
Put a scoop of vanilla or salted caramel ice cream on top of hot waffles…
Did you hear that… ice cream… hot waffles…
My job here it done.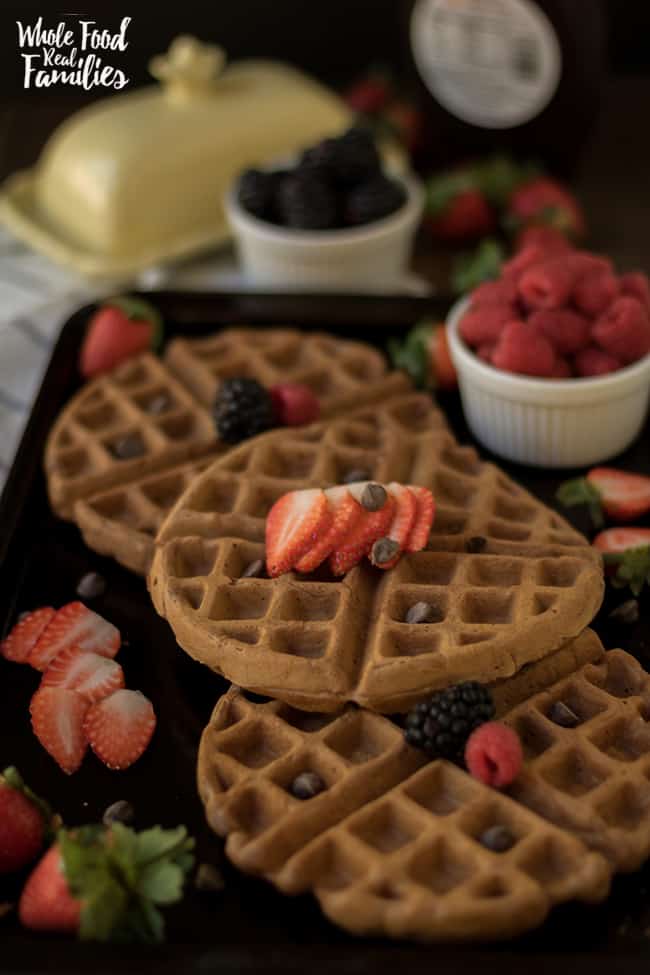 Looking for more reasons to eat chocolate for breakfast?
These Healthy Chocolate Muffins are one of the top recipes on this site for the last 2 years! There is a good reason!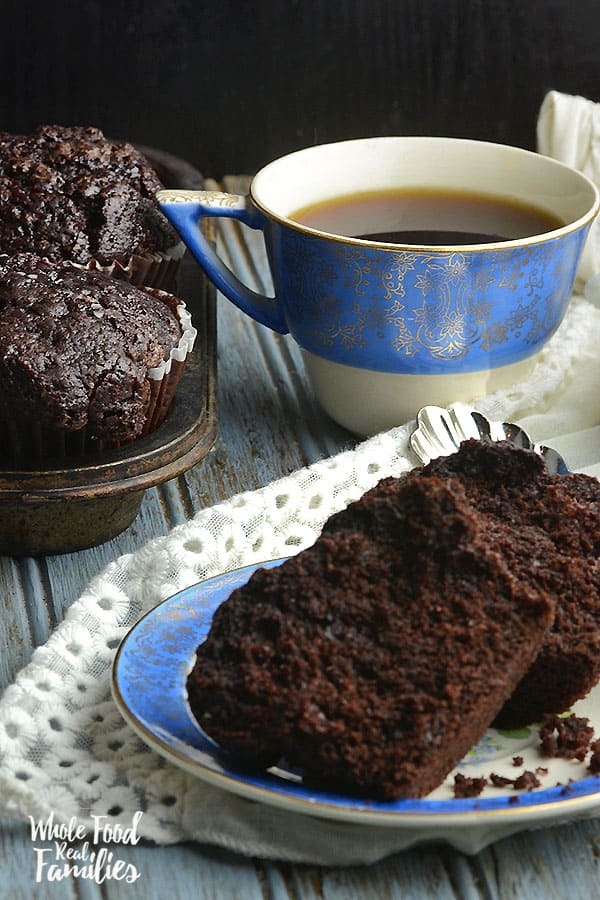 Overnight oats are the greatest early morning recipe ever!! Just toss a few jars of these Cinnamon Chocolate Overnight Oats in the fridge the night before and you are all set!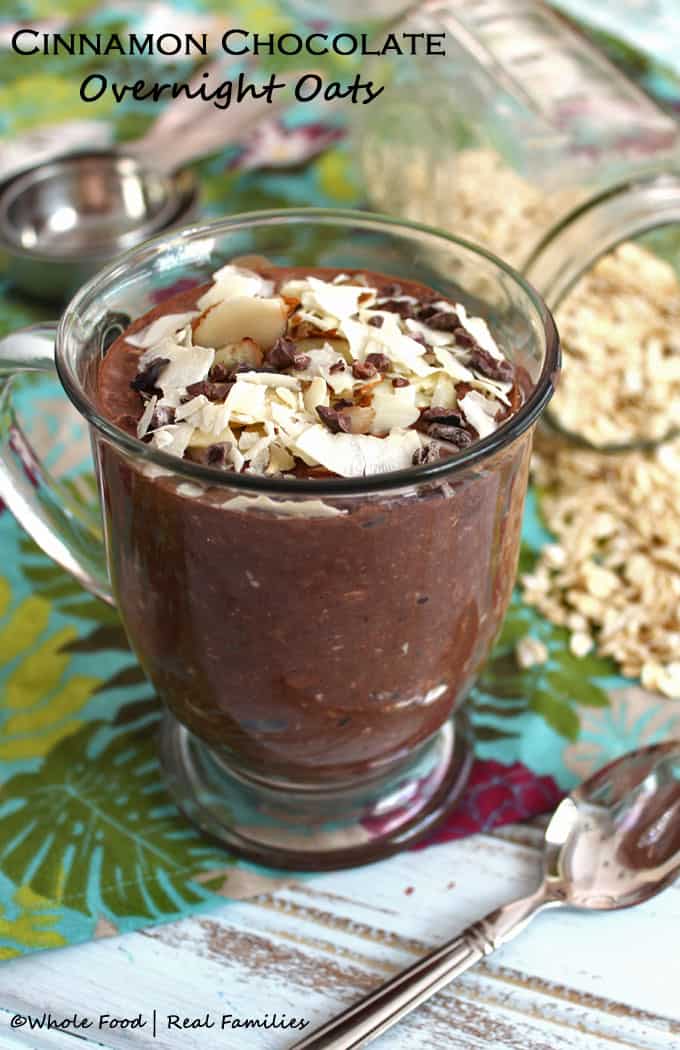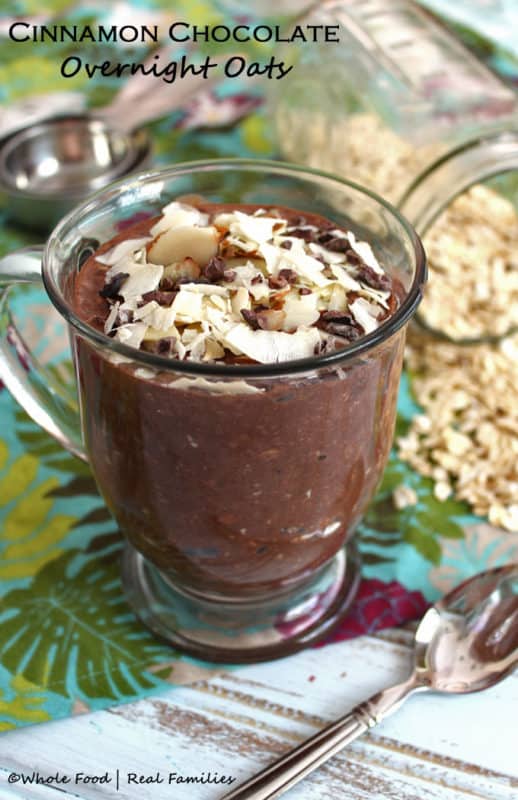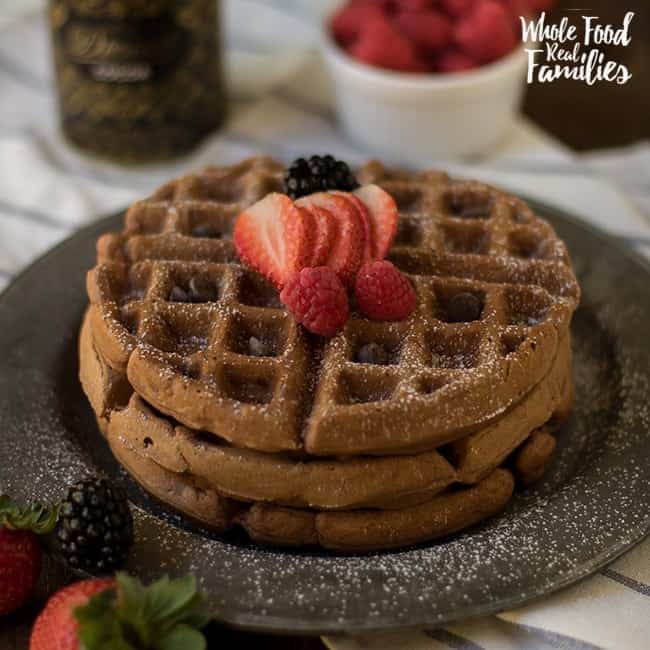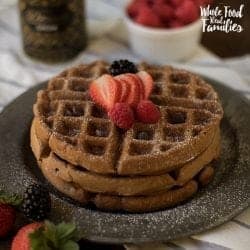 Chocolate Waffle Recipe
Course:
Breakfast, Dessert
Ingredients
2

cups

whole white wheat flour

sifting will make the flours more tender

1/4

tsp

baking soda

1 1/2

tsp

baking powder

1/4

cup

cocoa powder

2

tbsp

coconut sugar

1/2

tsp

salt

2

egg yolks

1 3/4

cups

buttermilk

6

tbsp

melted butter

2

egg whites

1/3

cup

mini chocolate chips

optional
Instructions
Shift the flour with all the dry ingredients.

In a separate bowl beat the egg yolks, add the buttermilk and melted butter. Combine the liquid with the dry ingredients with a few swift strokes. Add chocolate chips if you are using them.

Beat the egg whites until stiff, but not dry. And fold them into the batter.

Cook them in your waffle maker, as you normally do.

These waffles aren't super that sweet, which is a good thing.

Serve with warm maple syrup and berries!

(Add a scoop of ice cream for a fun dessert. Or serve with crushed berries and homemade whipped cream as a special breakfast!)