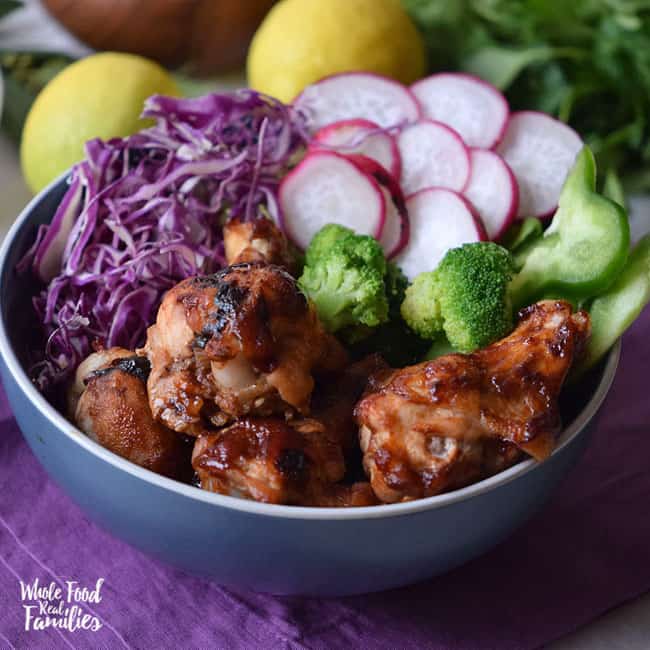 Chili Lime Chicken Bowls are ultra flavorful with lots of fresh veggies to fuel your tastebuds and your health! This recipe is also super fast from stove to table for a perfect weeknight dinner.


We love, love, love food that is full of flavor and chili and lime are two ingredients that go perfectly together. This chicken is so easy to prepare. Toss the chicken in a sealable bag before you head out for the day, and it is ready to cook for dinner that night.
Perhaps one of my favorite parts of this recipe is that it is the ultimate healthy shortcut on nights where there would not otherwise be a real, healthy meal on the table – raw veggies. We pile this Chili Lime Chicken into Bowls with our favorite raw vegetables. The hot spicy Chili Lime Chicken (we like it with jalepenos!) and the cool crunchy veggies are a perfect pair.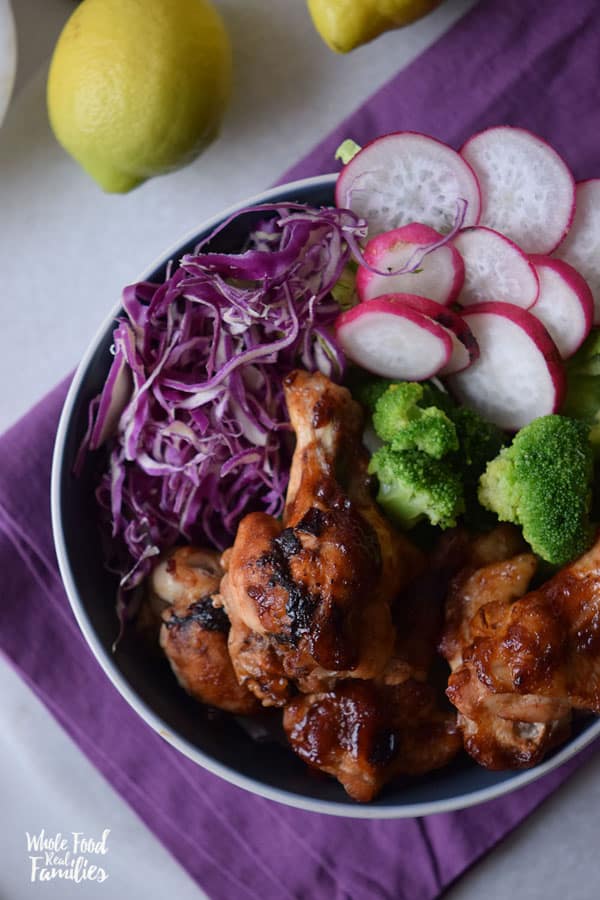 If I know my little kids will be eating this with us, I just make two bags for the marinade and leave the jalapenos out for their pieces. It takes no more effort to give them a less spicy version. My teenage daughter always attempts being bold and eating the spicy version. But inevitably has to run for the jug of milk. Her spicy gene is developing but isn't quite there yet. 🙂
She usually gets a few pieces of the spicy and the not spicy. She is also a fan of reheating these for lunch the next day!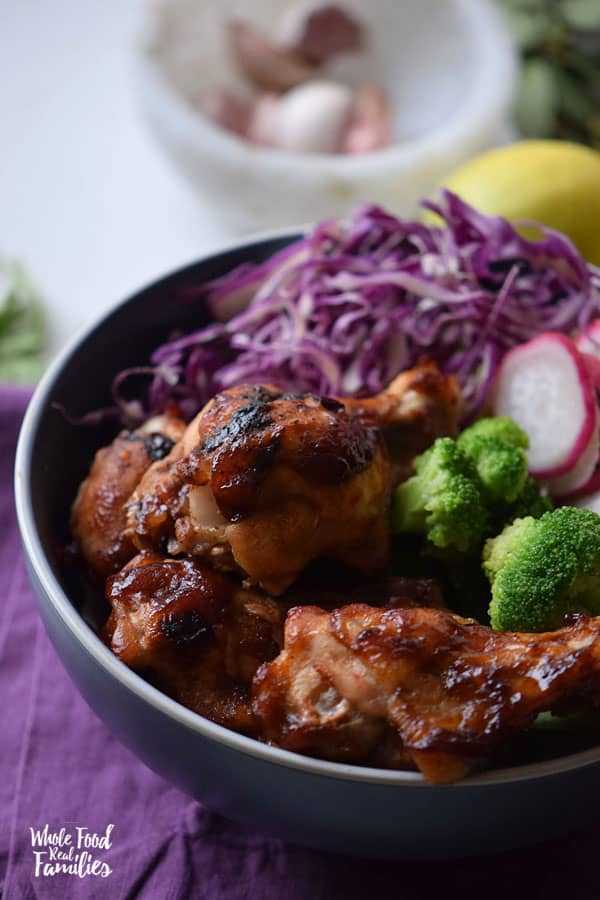 Do you have any tips for getting dinner on the table when you are short on time? Clearly we rely on protein we can marinate ahead. And lots of fresh, raw veggies that only have to be cut up. If you don't like our version of a vegetable bowl, go ahead, mix it up! What veggies would you add to the bowl?
Can't get enough fast, simple chicken recipes? This Warm Spiced Chicken over Sweet Potatoes is one of the most pinned recipes from Whole Food | Real Families. And it all cooks on a single sheet pan for fast cleanup!
Chicken dinner doesn't get any easier than this Whole Chicken in a Crock Pot. Don't empty the leftover liquid from the slow cooker! Add the leftover bones back to the slow cooker after dinner, add carrots, parsley and celery, fill to the top with water and let it cook all night. Strain it the next morning and you will have the best tasting chicken stock EVER! We use it for Slow Cooker Chicken Noodle Soup as a second meal the next day!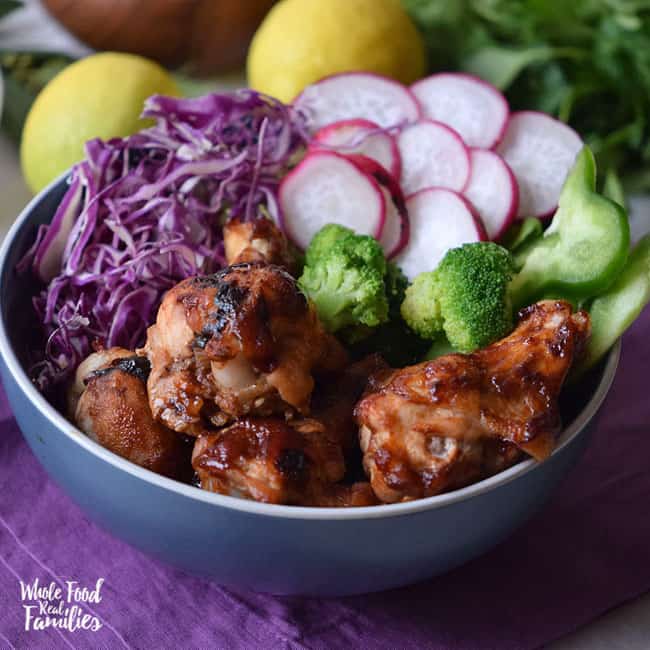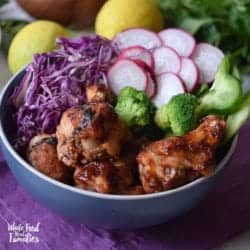 Chili Lime Chicken Bowls
Ingredients
2

Pounds chicken legs

or other preferred cut!

3

Garlic cloves

crushed

1

oz. lime juice

1

oz. chili sauce

1

Tbsp honey

Drizzle olive oil

Mexican seasoning mix to taste

½ Red cabbage

sliced

1

Green pepper

sliced

1

Cup broccoli

1

Cup sliced radish
Instructions
Marinate for 6 hours in the fridge the chicken in lime juice and chili sauce with Mexican seasoning mix and garlic.

Mix the honey with 2 tsp of the marinade

Add olive oil and honey mixture to a pan. When the oil is hot but not smoking, carefully lay chicken legs into the hot oil with tongs – you should hear them sear. (You will likely need to cook them in batches. Do not crowd the pan.) Do not move the chicken legs around. Allow them to cook for 2 minutes on each side, 8 minutes total.

Remove them from the skillet and place them on the waiting sheet pan. Cook the next batch of chicken legs and add them to the sheet pan. Move sheet pan to the oven to finish baking the chicken, about 20 minutes. Legs need to reach a temperature of 165 degrees with a meat thermometer.

Serve in a bowl with broccoli, cabbage, green pepper and radish.

Enjoy.

Tips: For spicy lovers, add jalapeños to the seasoning mix.