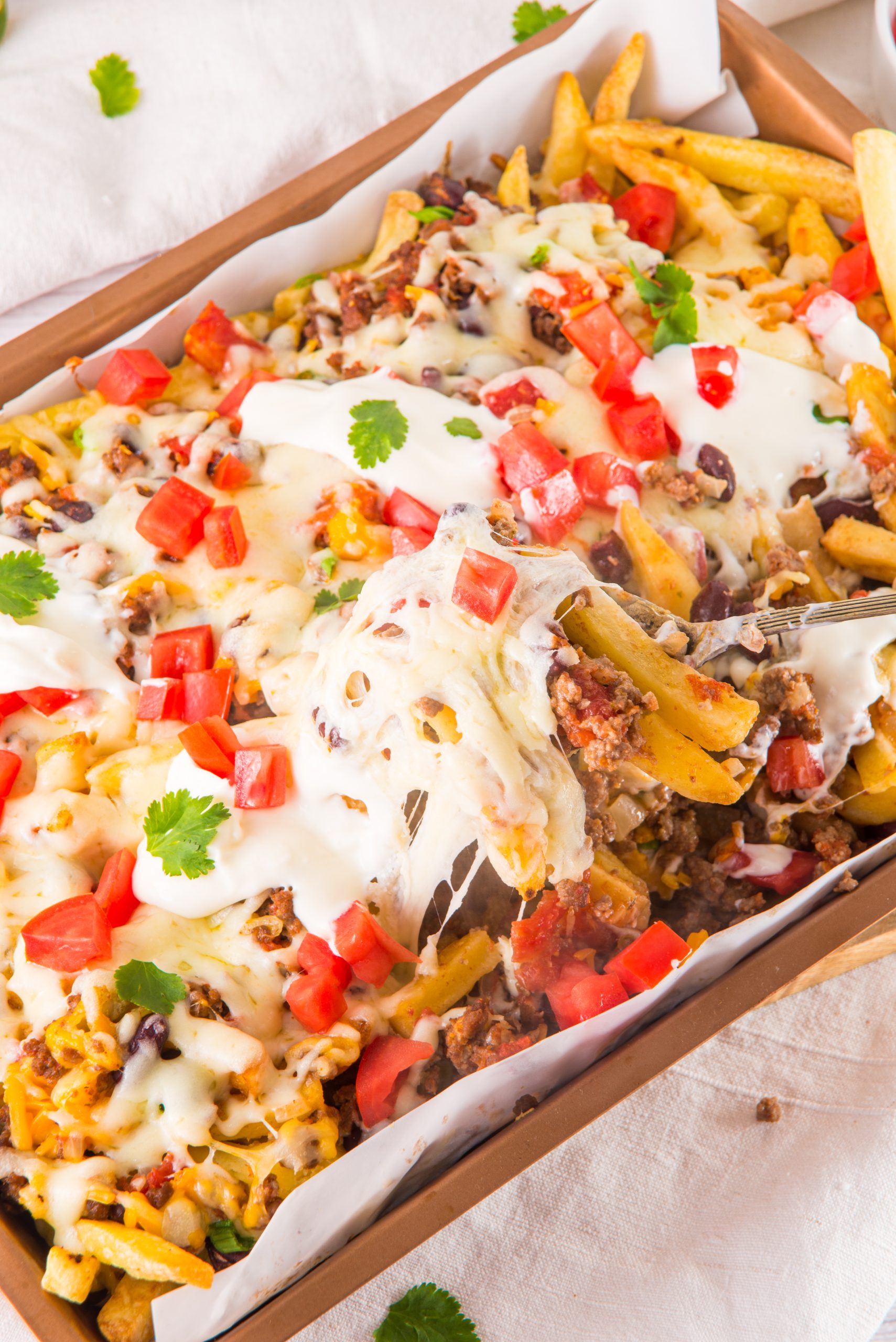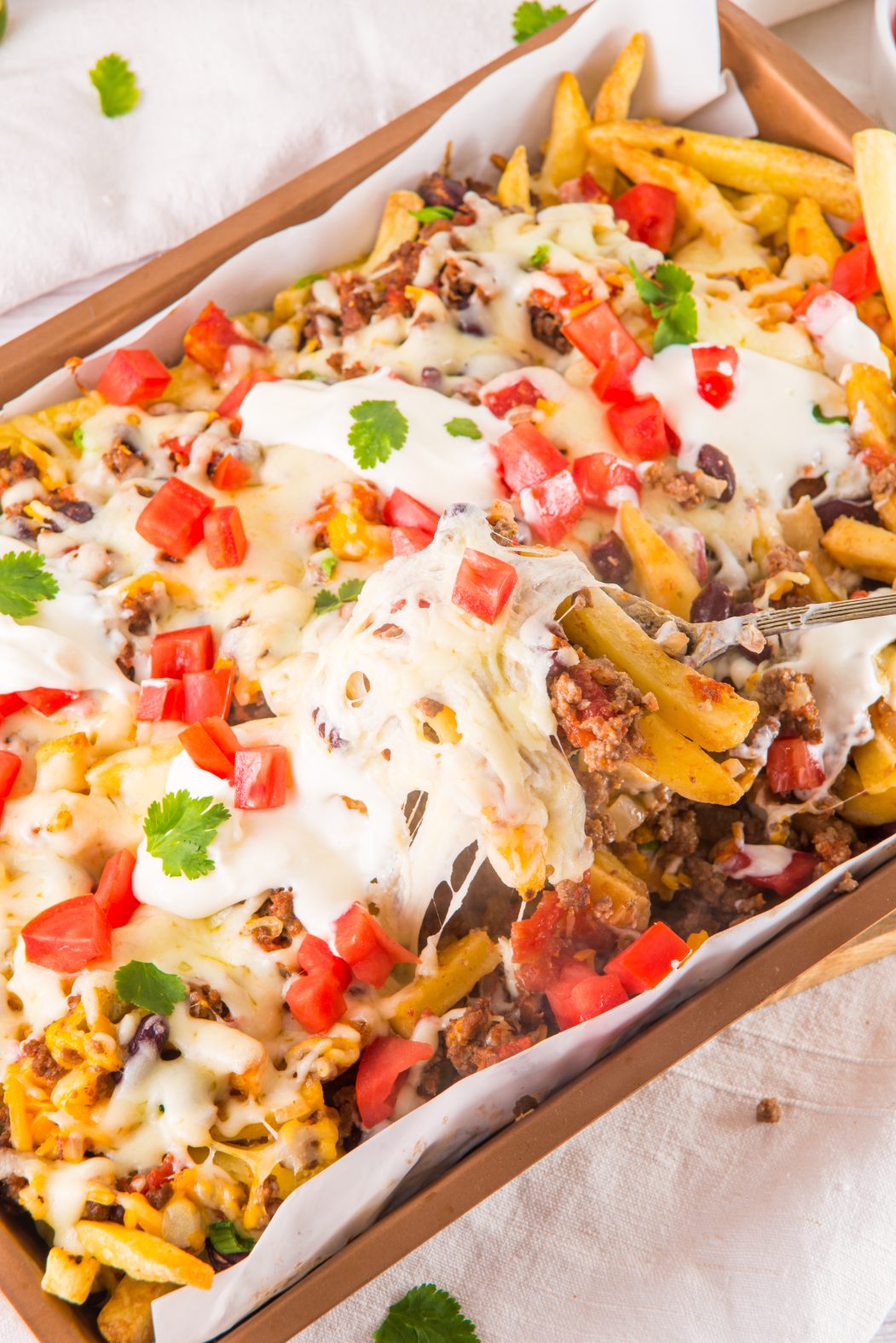 Fries, Chili Cheese, beans, and veggies make for a filling appetizer in this delicious recipe featuring zesty, Mexican-inspired flavors!
Fries with Chili Cheese
It's hard to disappoint with all of these fan-favorite flavors! Two staple vegetables, onions and tomatoes, add freshness and flavor while the beef bulks each bite. You might not expect all of that in a mountain of fries, but that's exactly what this recipe delivers!
Cumin, paprika, cumin, and garlic — these are the ingredients that make Mexican cuisine so captivating. When you just can't get enough, shareables like this chili cheese fries recipe or crunchy steak nachos are perfect!
Those sticking to a keto-friendly diet aren't left out, either! Our taco casserole is comfortably keto and just as tasty.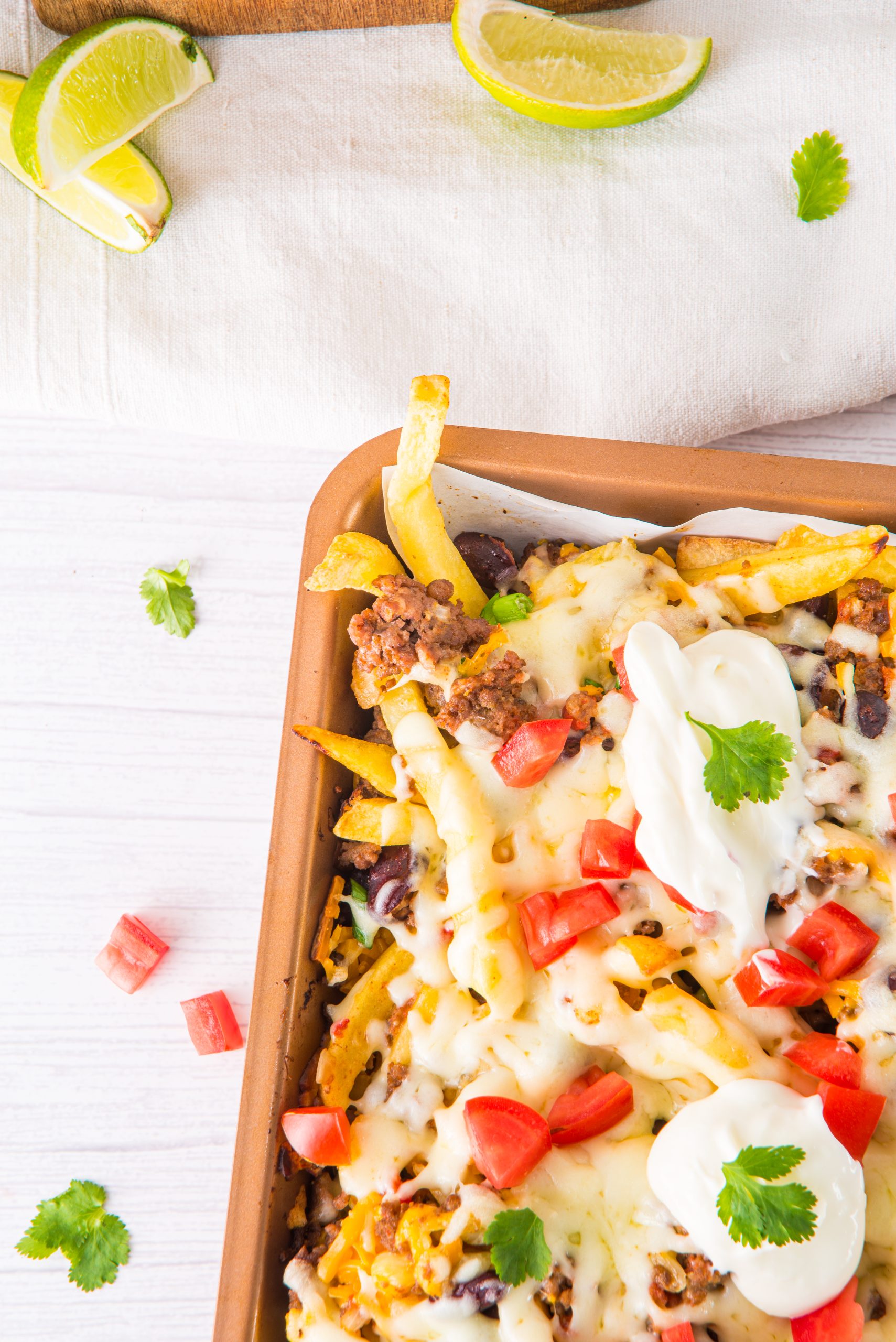 Why you will love this recipe
These ingredients are pantry-friendly and available year-round!
The chili topping can be applied to a variety of dishes, including nachos and mac'n'cheese.
Plant-based substitutes make these vegetarian with no loss of flavor.
It's loved by all ages — adults, elders, and children alike!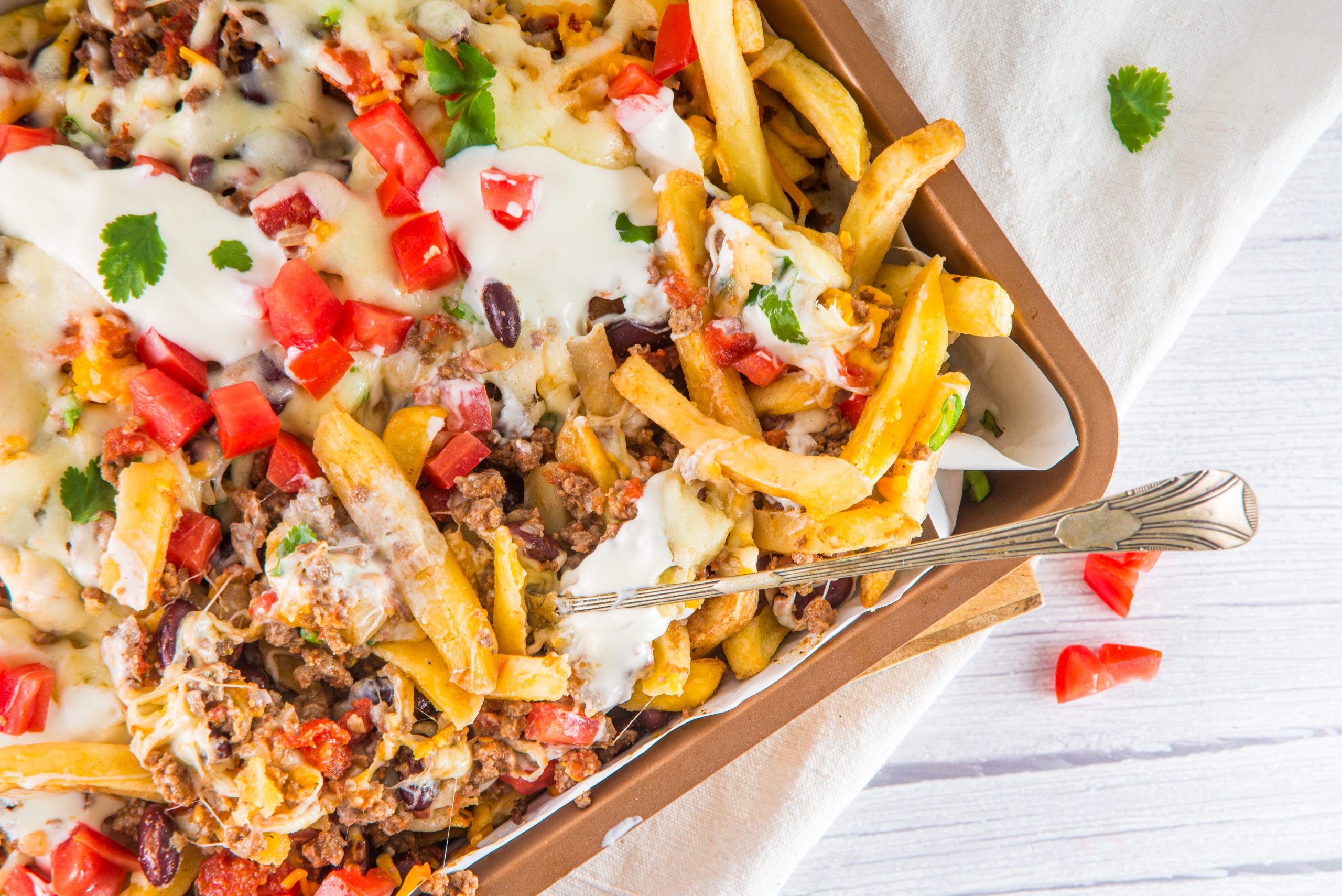 How to make perfect Fries with Chili Cheese
Expertly prepare your aromatics. The onions and garlic are the entire foundation of flavorful chili! Add the onions first, as they take longer to soften, and follow with the minced garlic once translucent. One minute of stirring these together will add a world of flavor to your chili cheese fries.
Chop consistently for even cooking. Once the beef is added and seasoned, take time to break it into small pieces — as small as you can manage. This will help it brown and incorporate the seasons evenly.
Don't drain the canned tomatoes. The juice from the diced tomatoes contains the same seasonings — garlic, peppers, and so on — that you can use to flavor your plate!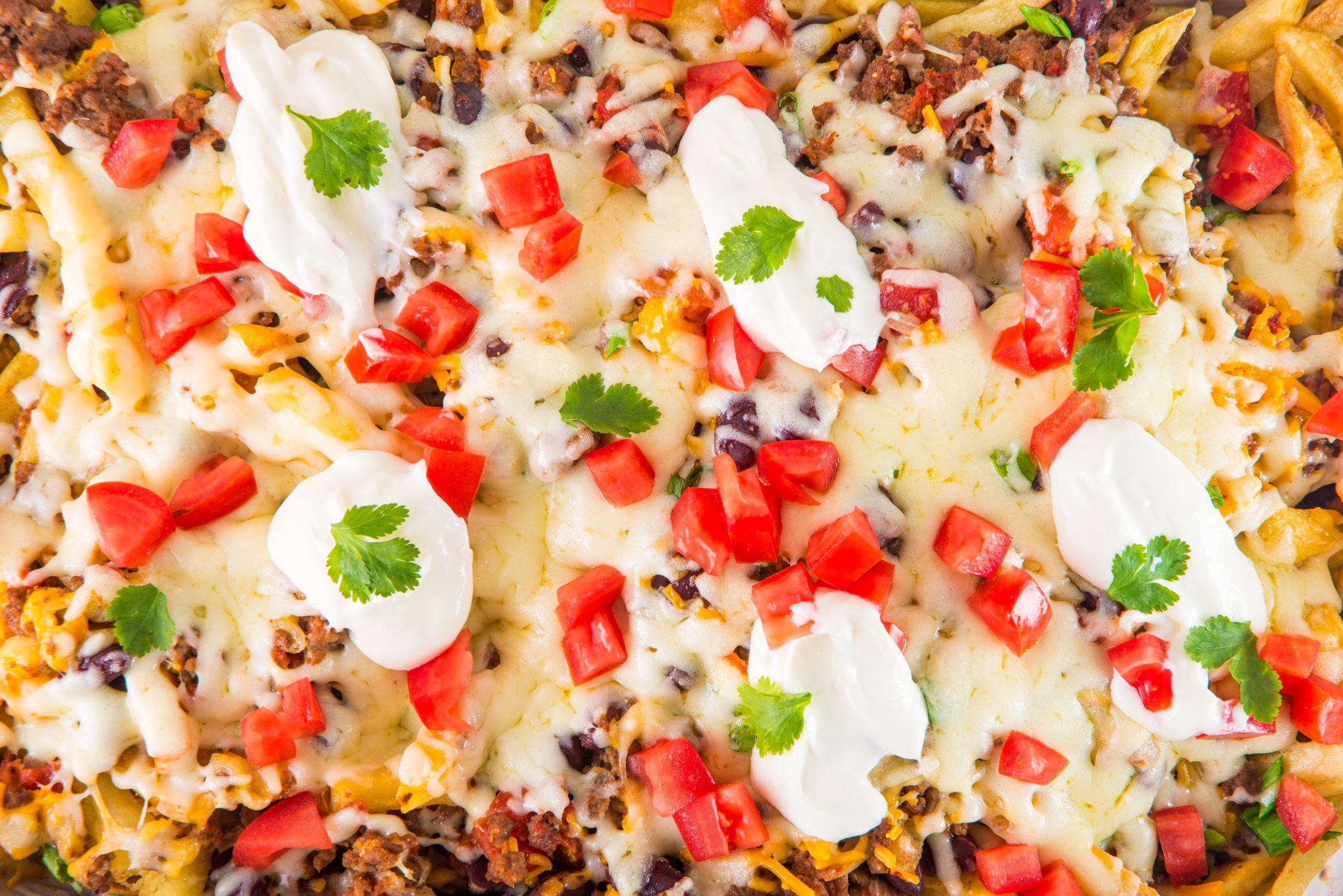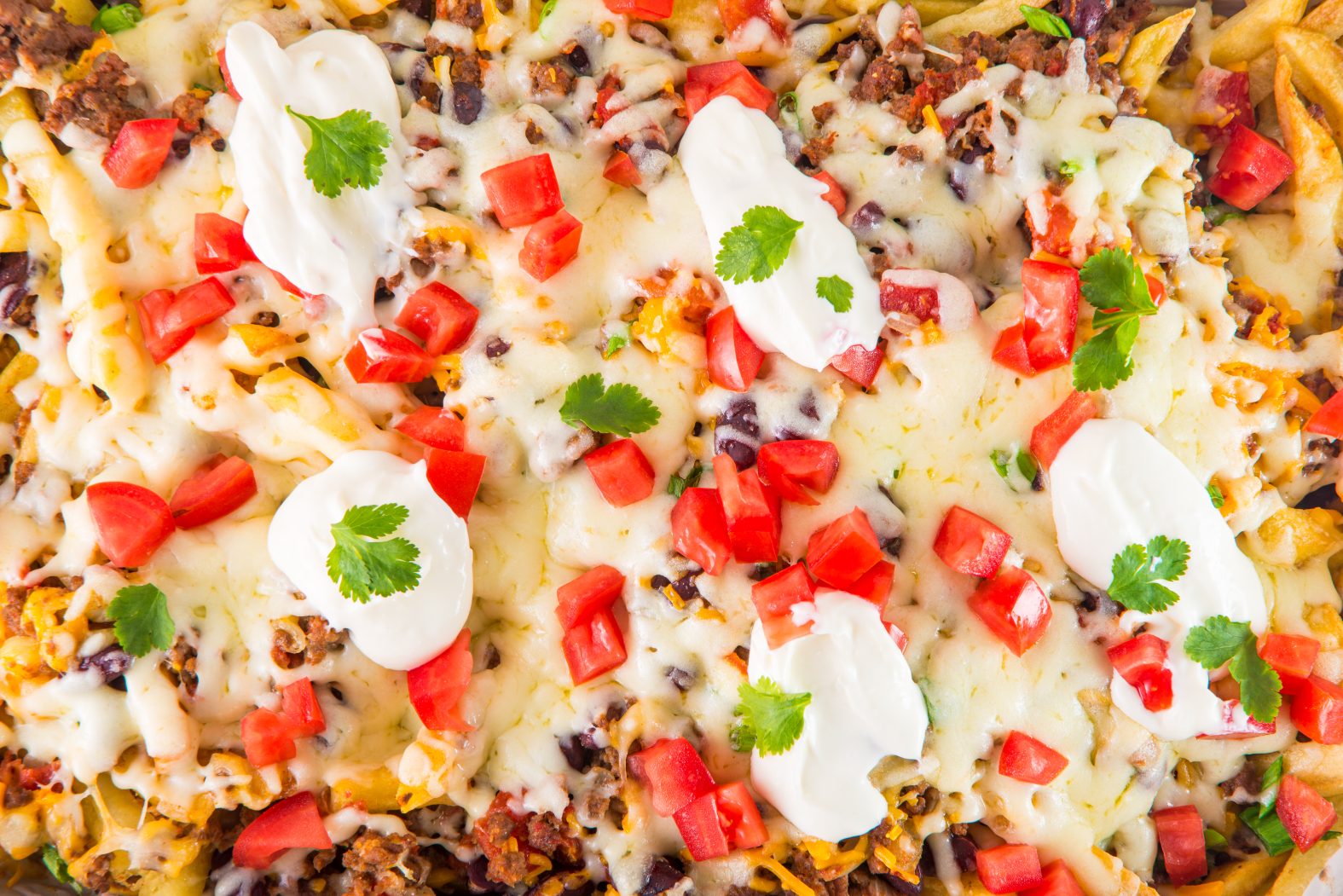 Pro Tips
Take care with timing. The chili topping takes roughly 20 minutes. Frozen fries take anywhere from 15 to 30 minutes (depending on the exact product). Try to time it well so that the potatoes are done around the same time as the topping to minimize overall cook time.
Reheat with an air fryer, oven, or toaster oven for optimal texture. Fries with chili cheese are difficult to reheat. The topping softens the potatoes and makes them soggy, so they're really best enjoyed immediately. However, if you'd like to save and reheat them, do so for 10 or 15 minutes in an oven at 350°F or for 5-7 minutes in an air fryer at 375°F. These methods give the best texture!
More reheating best practices. Don't reheat the entire batch at once! Instead, reheat only what you plan on eating immediately. Avoid reheating multiple times, which could make the whole batch soggy and mushy. And consider adding fresh cheese on top for gooey, cheesy bites even the next day!

Enjoy with any of your favorite Mexican toppings! Cilantro and guacamole are our favorite, fresh-tasting toppings. Then there are sour cream, diced green onions, and jalapeños for sharpness and tanginess!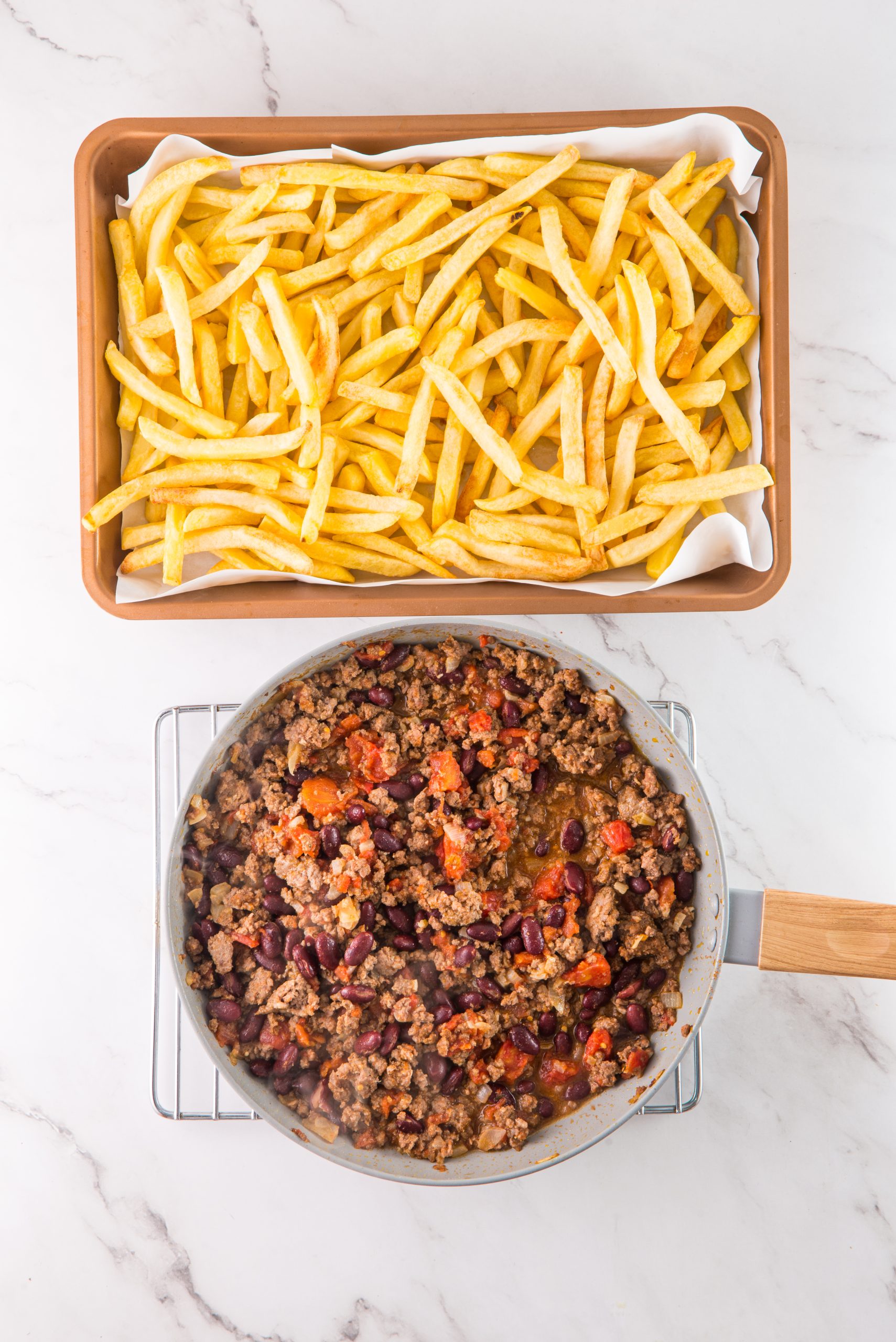 Key Ingredients and Substitutions for Fries Chili Cheese
Kidney Beans: Black beans, red beans, and pinto beans can be piled on in equal measure. It's all a matter of preference, so use whichever you prefer.
Beef: It would be very easy to use a plant-based ground meat — or even just additional beans — to make this recipe vegetarian.
Frozen Fries: There's no reason why you couldn't prepare fresh, homemade fries with chili cheese! For example, our round and crisp cottage fries and even ones made with turnips could substitute any frozen fry you might use. Tater tots would work, too!
Shredded Cheese: A combination of mozzarella and cheddar creates a good balance of creamy texture and sharp flavor. White, sharp, and/or extra sharp cheddars are preferred. Some like to use Velveeta, too!
Chili Powder: This seasoning is hotter than paprika, which is also used in this recipe. So if you'd prefer to keep your chili cheese fries recipe less spicy, go with entirely paprika — or entirely chili powder if you want extra heat!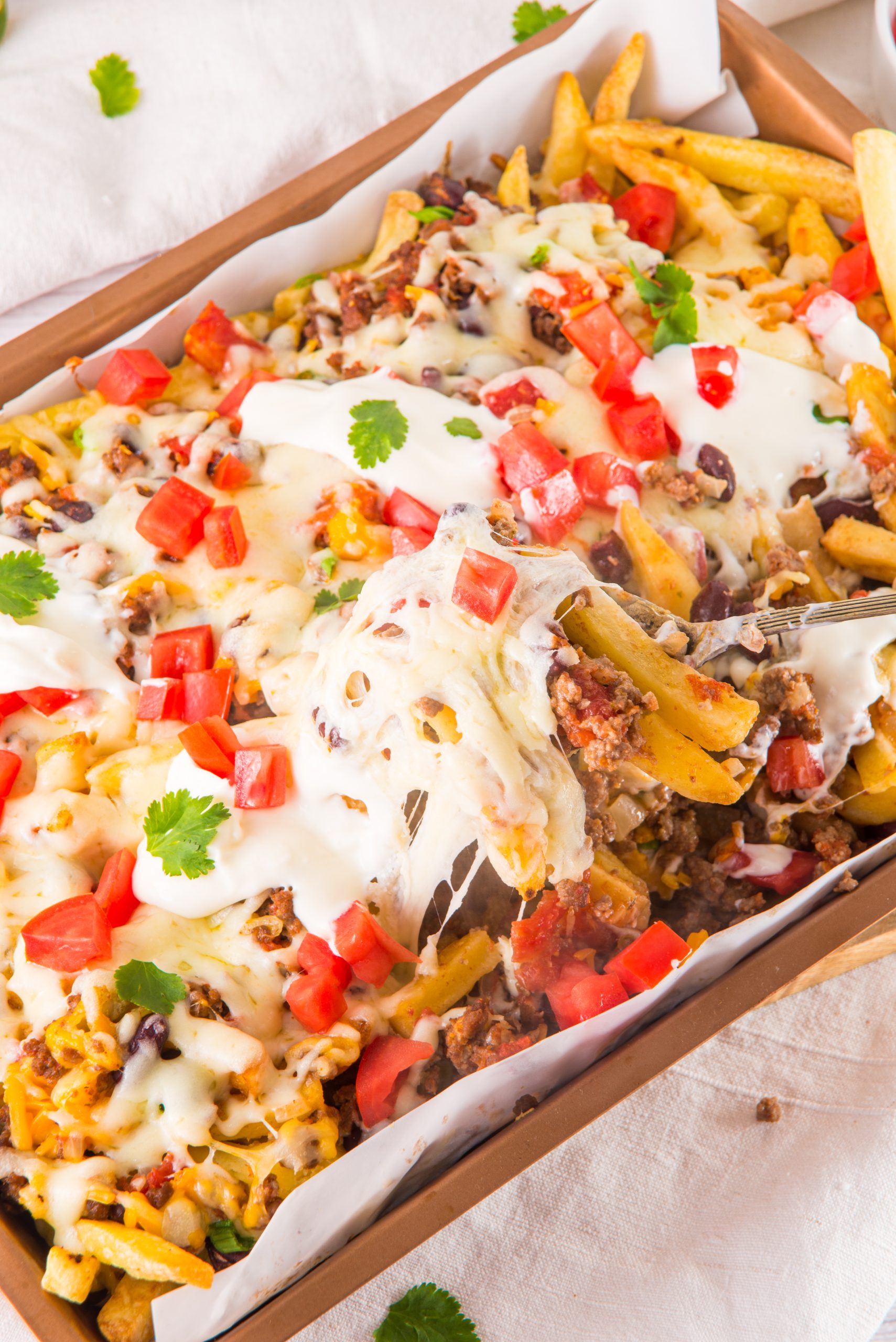 Frequently asked Questions about Chili Cheese Fries Recipe
Do chili cheese fries contain meat?
By default, this recipe does contain ground beef. However, this doesn't mean you can't make it meatless! Plant-based alternatives, extra beans, or extra vegetables add plenty of bulk without any meat. Feel free to be creative and use any ingredients you like!
How long can you leave cheese fries out?
They shouldn't be left out for longer than 2 hours. Once the meat cools, it risks bacteria that could make you sick.
If this is something you foresee doing for a potluck or gameday, for example, consider making two batches (keeping some chili topping refrigerated to bake onto fresh fries later).
What kind of cheese do restaurants use on chili cheese fries?
Cheddar is the most common cheese served with fries. Some use American cheese, and some use a combination of the two.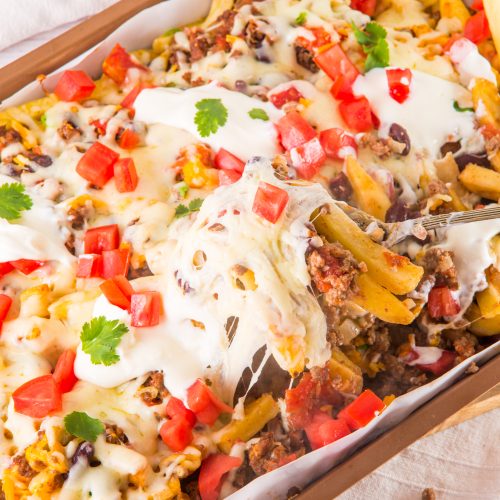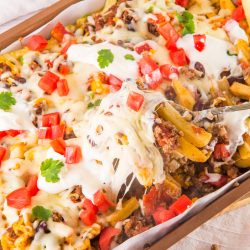 Fries Chili Cheese
Fries, Chili Cheese, beans, and veggies make for a filling appetizer in this delicious recipe featuring zesty, Mexican-inspired flavors!
Course:
Appetizer, Appetizers & Sides, Side Dish
Keyword:
Chili Cheese, Chili Cheese Fries, fries
Ingredients
1

tsp

vegetable oil

1

medium

yellow onion

finely diced

2

clove

garlic cloves

minced

1

lb

ground beef

1

tbsp

chili powder

1

tsp

groud cumin

1

tsp

smoked paprika

1

tsp

salt

2

lb

frozen potatoe fries

1

can

diced tomatoes

14 oz

1

can

kidney beans

15 oz, drained and rinsed

1

cup

shredded mozzarella cheese

1

cup

shredded cheddar cheese
Instructions
First, make the chili sauce topping. Add 1 tbsp of vegetable oil in a skillet or saucepan over medium heat, and sauté diced onion until translucent.

Then, add minced garlic and stir for one minute. Incorporate beef,  chili powder, ground cumin, smoked paprika, and salt. When incorporating the ground beef and spices, break the beef into smaller pieces as it cooks for even browning and seasoning distribution. Cook for 5-8 minutes, stirring occasionally.

Add tomato without draining it and kidney beans. Stir over heat for 10 minutes to reduce tomato acidity.

Cook frozen potato in the oven, following its package directions. Then, remove them from the oven, and add chili topping over the potatoes and both cheeses on top of them. Bring it back to the oven for 10-15 minutes or until cheese is evenly melted. Keep a close eye on them, as melting times can vary. You want the cheese to be bubbly and slightly golden on top.

Get creative with your favorite Mexican toppings. Consider options like chopped fresh cilantro, diced green onions, sliced jalapeños, sour cream, or guacamole to enhance the flavor and presentation.

Serve your Chili Cheese Fries hot and garnished with your chosen toppings.
Recipe Notes
Tips
You can make this dish vegetarian by substituting the ground beef with plant-based ground meat or extra beans for a meatless option.
Reheating:
Oven or Toaster Oven: Reheating in the oven or toaster oven is the preferred method for maintaining the crispiness of the fries and the gooeyness of the cheese. Preheat your oven or toaster oven to 350°F (175°C). Place the leftover Chili Cheese Fries on a baking sheet or an oven-safe dish. Reheat for 10-15 minutes or until the fries are heated through and the cheese is bubbly and golden.
Air Fryer: If you have an air fryer, it's an excellent option for reheating. Preheat the air fryer to 375°F (190°C). Place the leftover Chili Cheese Fries in a single layer in the air fryer basket. Reheat for 5-7 minutes or until they are hot and the cheese has melted.
For the best results, it's recommended to reheat only the portion you plan to consume immediately. Reheating multiple times may lead to a loss of texture and flavor.
You can also add some extra cheese before reheating to refresh the cheesy goodness.
Enjoy your reheated Chili Cheese Fries with fresh toppings for added flavor and a restaurant-quality experience.
Recipe Notes
Chili Cheese Fries are the ultimate crowd-pleaser, whether you're enjoying them as a game-day snack, a comforting side dish, or a hearty meal. Combining traditional favorites like fries and chili makes this dish a satisfying and straightforward recipe everyone will love.
Nutrition Facts
Fries Chili Cheese
Amount Per Serving
Calories 5
Calories from Fat 9
% Daily Value*
Fat 1g2%
* Percent Daily Values are based on a 2000 calorie diet.