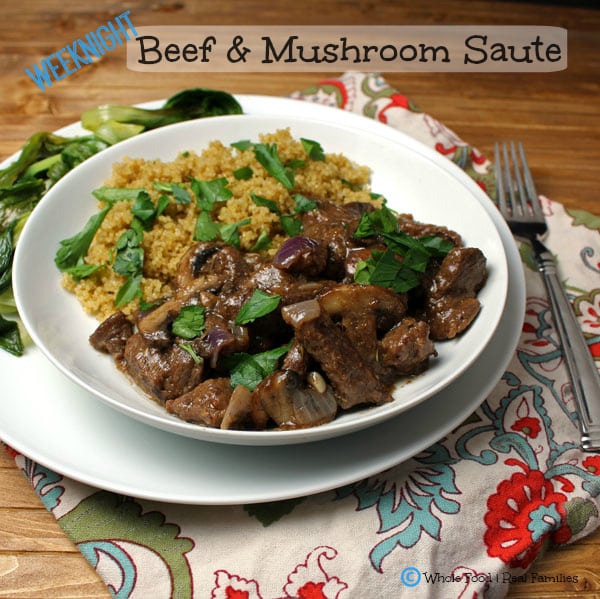 Any recipe that can be this delicious and on the table from start to finish in less than half an hour is a winner. Any recipe that allows the heartiness of beef and the richness of mushrooms to co-mingle is also a winner. The trick to tender beef in this recipe is:
(1) Use chuck roast and not stew meat that you purchase pre-cut at the grocery store. "Stew meat"  is often scraps of different cuts of beef combined and repackaged. Different cuts of beef need to be cooked differently in order to be tender. Stew meat is intended to be cooked in… well, stew. Which means cooked for a long time until it falls apart, no matter what cut it is. This recipe cooks the beef very quickly. So either purchase a chuck roast and cut it up yourself or ask your butcher to cut it for you. I like the pieces to be cut smaller than 1 inch so that it is legitimately bite-sized. That way, I don't have to bother cutting it up during dinner – I know that makes me sound like the laziest eater ever but these things matter to me since on a good night I am trying to feed myself and two toddlers at the same time.
(2) When browning the beef, do not overcrowd the pan. Allow space between each piece of beef. That allows the meat to sear instead of steam. If you need to cook in batches, just use a slotted spoon to remove any cooked beef from the pan and place it in a big bowl. You can keep adding the cooked beef to the same bowl until time to add it back to the dish. I never believed this actually mattered until I tried it – it actually makes quite a difference in the end result.
We love mushrooms so I tend to use a BUNCH in this recipe but you can adjust the amount to your family's preference. Serve over our favorite Quinoa with Onions and Pinenuts or brown rice or whole wheat pasta. Don't forget to serve something green and leafy with dinner. We like simple sauteed kale or bok choy. Or even this beautiful Roasted Beet Salad.
A last note, if you have not tried coconut oil for cooking at high heat, you will be pleasantly surprised at how well it does. Olive oil will work just fine – and I love olive oil – but coconut oil has a higher smoke point so you don't have to worry so much about it smoking or burning.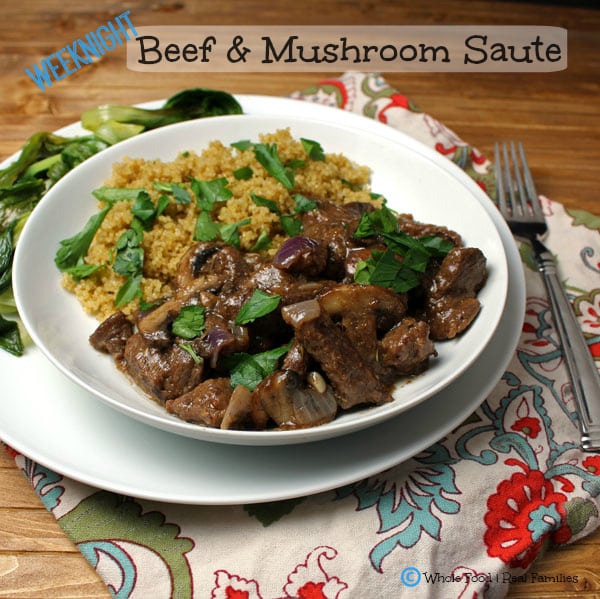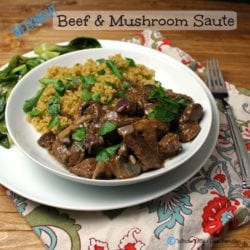 Beef and Mushroom Saute
Ingredients
2

lbs

boneless beef chuck roast, cubed to 1 inch or smaller

2

tbsp

whole white wheat flour

3

tbsp

coconut oil

or olive oil

2

cloves

garlic, minced

8-16

oz

mushrooms

I like the packages of mixed variety mushrooms but any will work

1

onion, diced

I like red onions but any sweet variety will work

2

tsp

thyme

3/4

cup

white wine

kosher salt and fresh black pepper to taste
Instructions
Heat coconut oil in a large saute pan over medium heat to medium high heat.

Sprinkle flour over the meat and toss to coat. Salt and pepper the meat to taste. Place the cubed beef in the hot oil. The oil should not be smoking but you should hear the sear when the beef touches the oil. To get the best sear, allow the meat to cook on each side for about 2 minutes before you flip it over. Remove the cooked beef with a slotted spoon and place in a large bowl.

In the same hot pan, add onions and allow them to saute until they are translucent. Add garlic and allow it to cook until fragrant, about one minute. Stir frequently to prevent burning. Add mushrooms, thyme and additional salt and pepper for the mushrooms. When the mushrooms begin to release their liquid, in about 3-4 minutes, add beef back to the pan and toss all ingredients to combine.

Remove the pan from the heat to add the wine and deglaze the pan, scraping up any bits that might be stuck to the bottom of the pan. Return the pan to low heat and allow it to finish cooking until the sauce has thickened and the steak is cooked to your preference about 10-15 minutes.

Serve hot with quinoa, brown rice, or over whole wheat pasta. Enjoy!