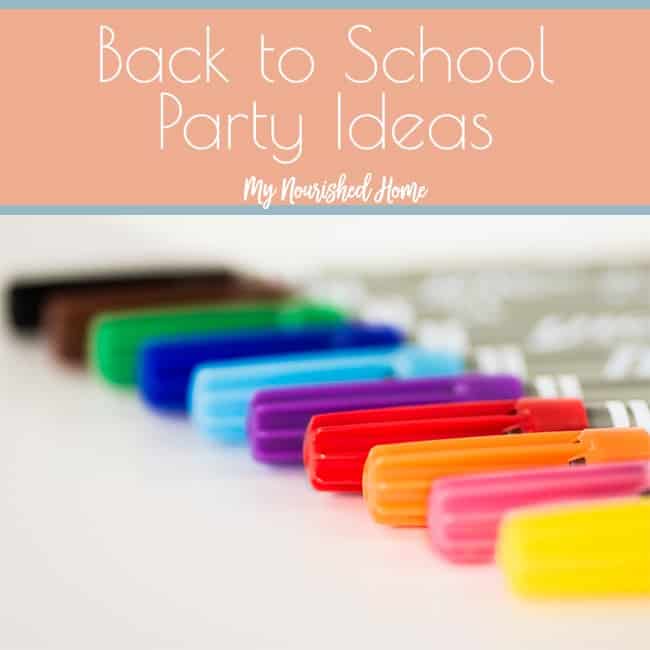 The kids will be heading back to school in just a few short weeks and, while I'm excited to get back into our school year routine, I'll miss them being around all the time. One of our favorite end of summer traditions is to have a Back to School Party where we invite friends and family over to celebrate the start of the new school year with us.
We've tried a variety of themes over the years, but the ones below have been our favorites. Since it's my daughter's last year of high school (hold me!), she gets to pick which one we'll be doing this year. (She also had a big hand in creating our Summer Family Bucket List.)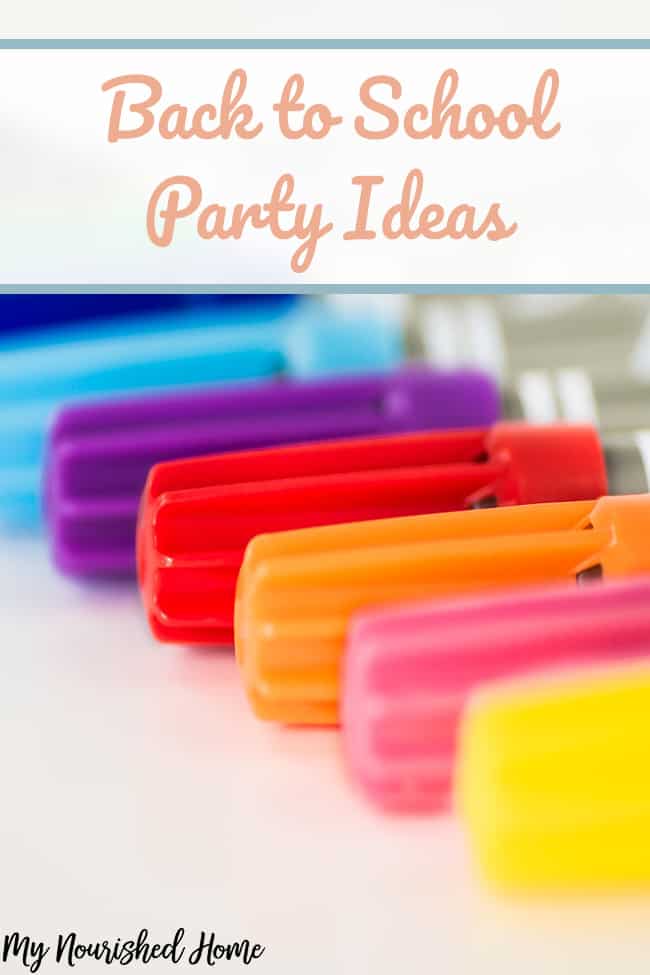 Back to School Party Themes
Say Goodbye to Summer Carnival
One of my favorite back to school parties was when we went all out with a backyard carnival. Okay, there was no actual Ferris wheel… but we set up every yard game we owned. We had game stations set up, the ping pong table in the driveway, soccer nets in the front, cornhole closer to the house – there were ridiculous awards with inexpensive prizes, and we even pulled out the finger paints and let the little kids make a pretend train with cardboard boxes. (It was shocking how many teenagers also like to play with paint.) There was popcorn, pizza, and plenty of slushies and ice cream on hand. It was a great way to end the summer season and celebrate the beginning of the upcoming school year.
Photo Scavenger Hunt
We separated everyone into two teams and prepared scavenger hunt clues for them during our Photo Scavenger Hunt Party. Our neighbors were in on the game and let us use their yards to hide items as well. Each team had to find items and snap selfies with themselves in front of, holding, or on top of things. We made clues like: give the garden gnome a peck on the cheek, spray your teammates with the garden hose, and take a picture with Ms. Flora next door. Everyone had a blast and the first team to return to our house got a dollar store trophy to celebrate their achievement. It was a fun way to celebrate the end of the summer!
Pack Up a Pack
Community service is a big part of our lives, so we incorporate that into our end of summer traditions. We love holding a Pack Up a Pack Party where we get together with friends and family to assemble school backpacks to donate to local charities that give them to families in need. We ask each family coming to bring a backpack to donate and then we supply the pencils, paper, folders, etc.
The trick to this party is shopping the school supply sales all summer long and creating a pile of things that can be stuffed in the bags. We munch on picnic food and ice cream after the bags are stuffed too. By the time we're done, we have anywhere from 5-12 backpacks to donate to kids who need them.
Why a Back to School Party?
Celebrating the end of the summer and back to school means putting the focus on family and memories vs. "stuff". When we take the time to mark the end of summer with a party, it creates a signal to the kids that it's time to start preparing for school. The shift in focus that the party creates makes the transition back to early wake-up times, homework, and longer school days that much easier.
Do you have a tradition for ending the summer with a bang and celebrating the start of the new school year? I'd love to hear what your family does! 
Need more party ideas? We love this article on Outdoor Party Ideas to Celebrate Summer!