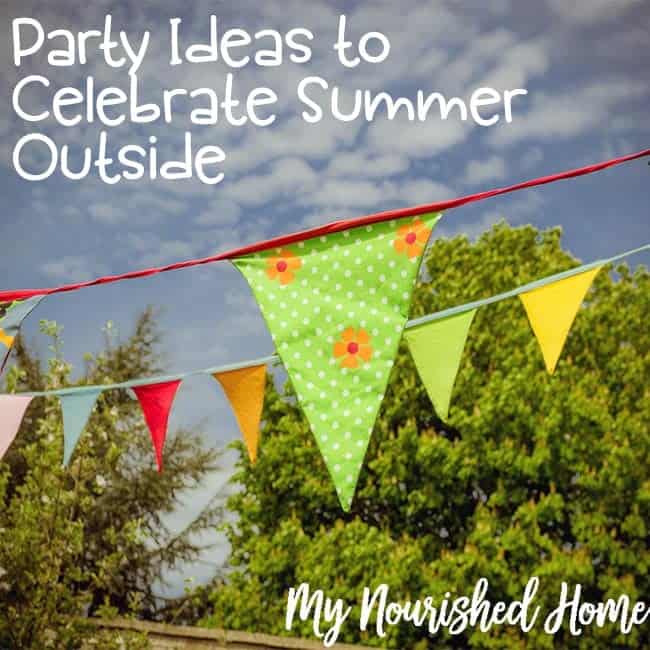 I love summer and the perfect way to celebrate summer it is to take the party outside. Over the years, our family has started some fun summertime party traditions that range from water fun to ice cream goodness. We love a good party – so we collect party ideas to celebrate summer (and all the other seasons too!)
There's plenty of fun to be had and no matter how hot it is, the laughter and memories that are made make heading outside worth it! If you're looking for just the right party theme for your summer gathering, try one of ours!
Party Ideas to Celebrate Summer Outside

Homework Burning Bonfire
Our favorite outdoor summer party has been a tradition since my oldest child was old enough to have homework. It started as a joke because of all the paper that takes over the house during the school year – from actual homework to tests, and forms, and stuff the school wants us to sell. We are super supportive of our local schools but couldn't figure out how in the world to keep ahead of all the paper in the house. It started collecting in a huge box in the garage that just never got recycled. By the end of the school year, we had so much paper we joked we would make a bonfire. It was such a huge success, we've had one every year to celebrate school being out for summer since! We invite friends and all the kids bring their old papers to feed the fire. We roast hot dogs, make smores and basically just enjoy that the early days of summer vacation have finally arrived.
CLEARLY, this is an adult supervised event every year. And there are rules that the kids have to follow. My husband is the safety officer and pitmaster of this party (I handle the food!) and is the final say in what can and can't be burned.
Ice Cream Social
July is National Ice Cream Month, so there's no better time to bring a bit of dairy sweetness to help celebrate summer. On the third Sunday in July, we invite friends and neighbors over for a summer Ice Cream Social in the backyard. Each family is asked to bring a tub of ice cream and we supply the 'fixins. From chocolate sprinkles to whipped cream to bananas for banana splits, there are plenty of delicious toppings to add to each dish or cone of ice cream. Be sure to have a few packages of baby wipes on hand, as they make it much easier to clean sticky hands and faces after the ice cream has been devoured.
Backyard Movie Theater
Break out the lawn chairs, hang the white sheet on the side of the house, and plug the movie projector in, because there's nothing that says summer like a backyard movie theater! We pop multiple bowls of popcorn in the air popper and flavor each bowl with a unique topping to create our own gourmet popcorn stand. In our neighborhood, we take turns hosting Backyard Movie Night in the summer, so no one is always stuck with clean-up!
Have a Berry Fest
After heading to the blueberry and strawberry pick-your-own farms, we have a small Berry Fest with the girls in our backyard. We serve berry smoothies, make homemade berry ice cream, eat berry salad, and my husband and I indulge in some delicious blueberry wine from a local winery. It's a fun summer tradition that has evolved to include family members and some close family friends.
Water Fun
Summer in the South is HOT. We live in a place where the humidity is higher than the temperature for most of the summer, so we know what it means to feel like you're melting! One of the best ways to cool down? A Water Fun party, of course! I'll admit that we have water celebrations throughout the summer, but at least once a summer we invite friends and family over to have fun in the pool, play on the slip and slide, and, of course, win their way to victory in water balloon games. We've been known to fill up hundreds of water balloons in one party!
Red, White, and Blue
Around the Fourth of July, we celebrate the summer with an outdoor Red, White, and Blue Party. It's a summertime favorite with classic picnic foods and yard games like horseshoes and croquet. Sparklers and music help the party transition from day to night as our guests spend time laughing and making memories.
No matter what type of party you host this summer, be sure to take lots of pictures and record the memories. The celebrations are never about the food or the treats, they're about making summertime memories that our children will carry with them forever. So add an outdoor party to your bucket list this summer and let's celebrate!