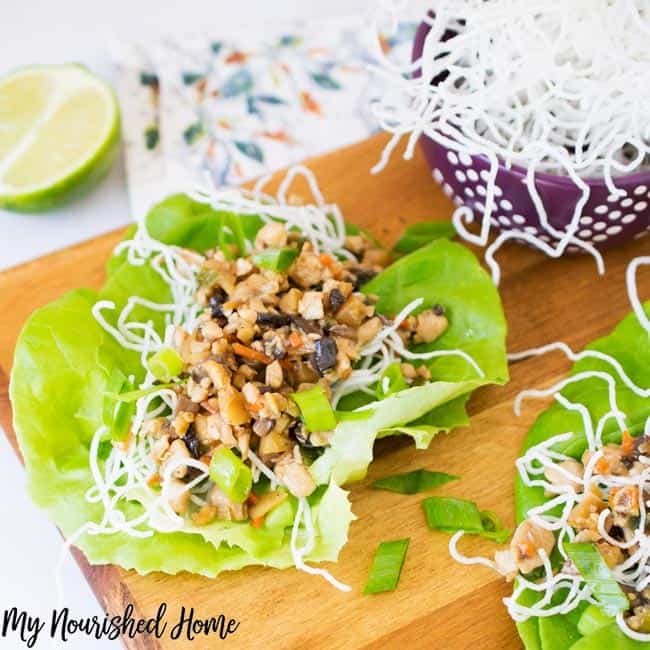 Hot summer months mean that using the oven to make dinner is a no-go. Instead, I look for ways to take the cooking to the grill outside or use the stove for short spurts of time.  Long, slow simmering meals? No thanks! We need something quick, light, and easy.  That's why we love making these tasty Asian Chicken Lettuce Wraps in a wok on the grill!
The recipe itself is super easy with lots of delicious vegetables and flavor.  Where you'll be spending the majority of your time is in the preparation.  One of the things that I've been doing to save a ton of time with recipes that require a lot of cutting, is to dice my vegetables and chicken as soon as I bring them home from the store. I then freeze the ingredients in 1 or 1/2 cup servings in zippered bags, so that they're ready to go when I need them.  Not only does it ensure that vegetables don't go to waste in the crisper, it also helps to cut down on prep time in recipes like this one.
Asian Chicken Lettuce Wraps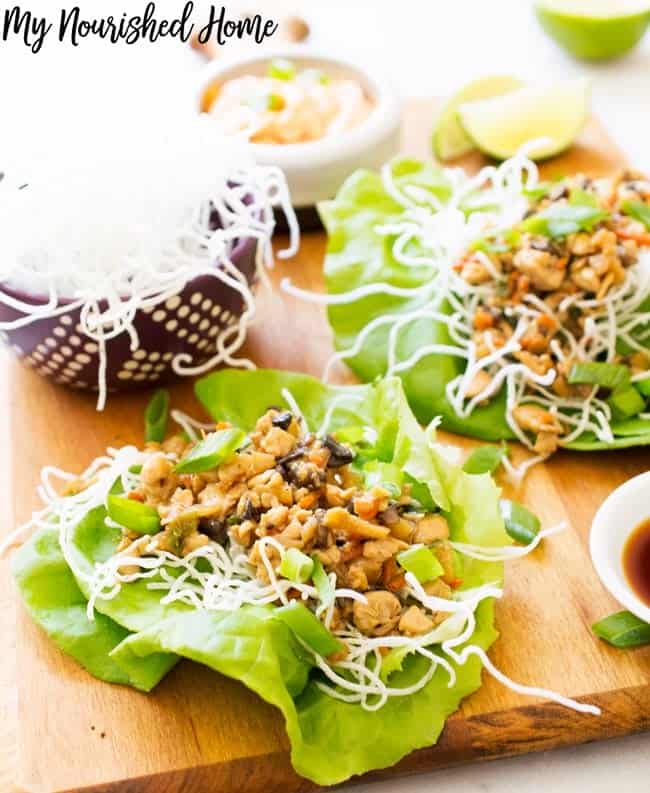 Easy Chicken Lettuce Wraps
You could wrap these in any lettuce that you have available, but Butter lettuce is really the most sturdy and delicious option.  My girls love making their own chicken wraps, so I let them arrange their lettuce leaves and add their own diced green onions, Japanese mayo, and rice sticks.  The rice sticks are optional, but they give the wraps such a satisfying texture that I really can't imagine not including them.
Since we cook these on a wok on the grill (our grill has a side burner), it fills the backyard with an amazing aroma and keeps the kitchen from getting too hot. I do all the prep work inside, but the actual cooking component is done out back. You can certainly cook them indoors too, but in the summer I want as little heat inside as I can get. It's already soupy enough here in the South in the summer months!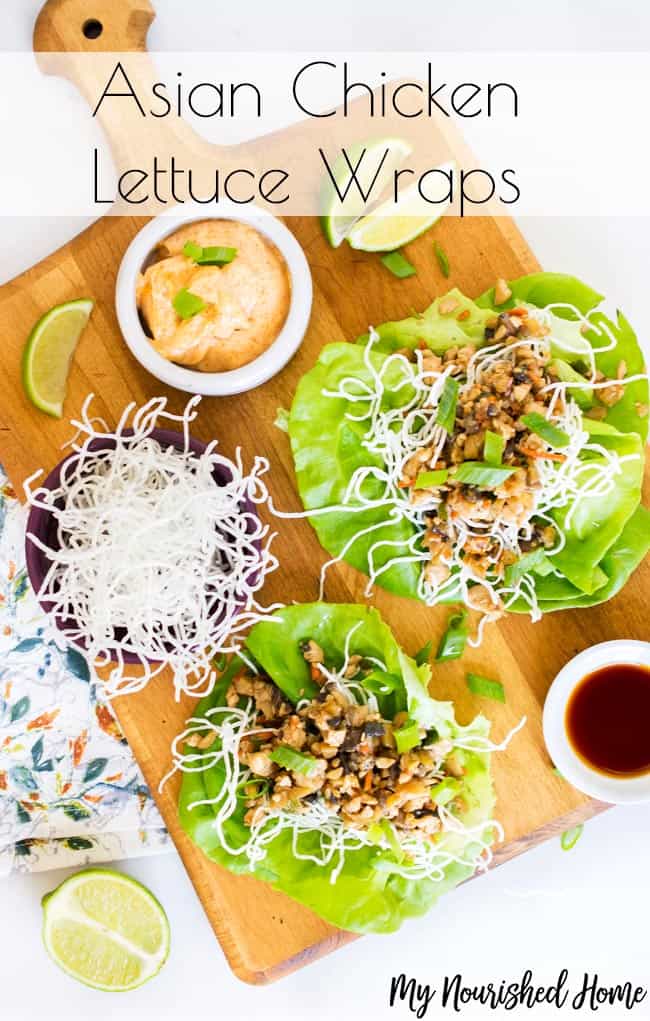 If you run out of chicken breasts (or didn't take them out to thaw in time!), you can substitute ground chicken or ground turkey for the protein instead.  It's just as delicious but gives it a slightly different texture. If you're serving the Asian Chicken Lettuce Wraps to guests, it's also a lot quicker to prepare using ground meat versus dicing up a ton of chicken.
For dessert, individual Kiwi Sorbets are the perfect way to end the meal. They're just as light and refreshing as the wraps and pack a powerfully nutritious punch.
This summer, escape the heat of the oven and go for a light, delicious meal of Asian Chicken Lettuce Wraps. They're a dish the whole family will enjoy!
Save
Save
Save
Save
Save
Save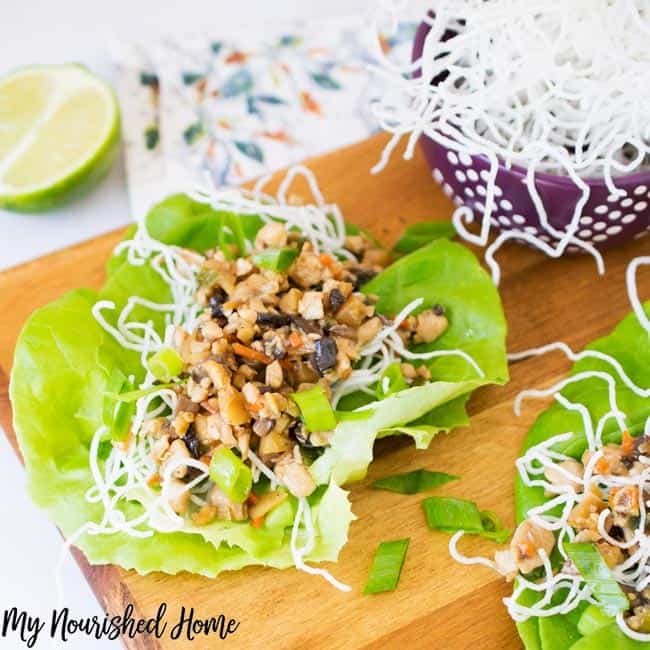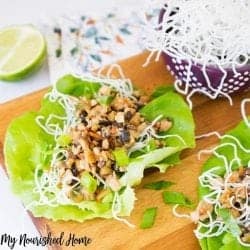 Asian Chicken Lettuce Wraps
Ingredients
1/4

cup

soy sauce

2

tsp

rice wine vinegar

1/4

tsp

ground black pepper

1/2

tsp

molasses

2

T

cane sugar

1

T

minced garlic

3/4

lb

chicken, finely diced

(could also use ground chicken)

1

cup

finely chopped mushrooms

(heaping cup)

1/4

cup

finely chopped carrots

8

oz

can diced water chestnuts, finely chopped

2

green onions, finely chopped

butter lettuce

chopped green onion tops

1

oz

rice sticks, fried according to package directions

Japanese mayo
Instructions
Mix all ingredients for the sauce in a small bowl and set aside.

In a medium sized wok (or large fry pan) heat 2 tbsp oil over Medium-High heat. Add garlic and stir constantly until fragrant, about a minute.

Add chicken and cook till no longer pink.

Add mushrooms and salt to taste, let cook down until mushrooms release their water and water evaporates.

Add water chestnuts and carrots and continue to cook about 5 minutes.

Add green onions and sauce, cook till sauce thickens and coats filling. Let sit 5 minutes before plating.

To serve, take 1-2 pieces of butter lettuce, add fried rice sticks (optional), chicken mixture, and top with green onion tops, and (optionally) a little Japanese mayo.