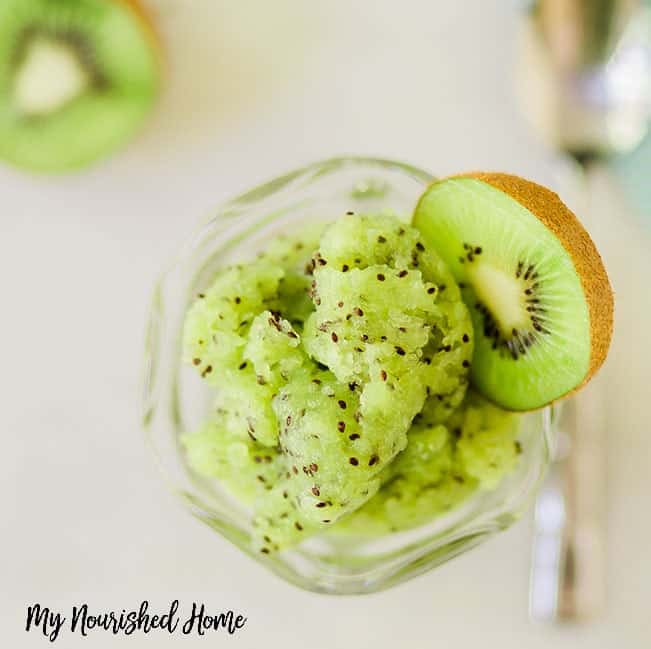 Let's be honest about dessert… we like it. We like it a lot. And if given a pass completely free of side effects, everyone in my house would eat ice cream after every meal. Given that utopia doesn't exist yet, we opt for healthier desserts – like this amazing, delicious, smooth, freakishly easy to make Kiwi Sorbet!
When we decided to really change the way we approach food in our family, we incorporated a lot of fruits and vegetables.  Obviously, there were huge health benefits to doing so –  did you know that kiwi, for example, has been known to support a healthy immune system and blood pressure? I've always liked kiwi, but when I found that out, I went all out with the kiwi purchases, so that I could make delicious things – like kiwi sorbet.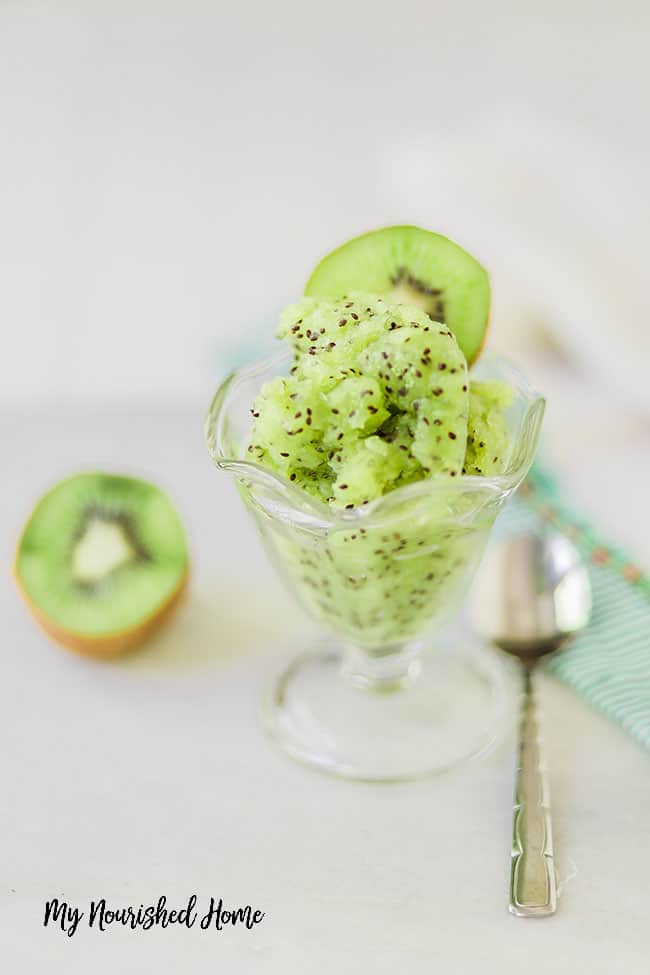 Frozen Kiwi Sorbet
Kiwis are high in vitamins C, K, and E, as well as being high in folate and potassium. In fact, the Canadian Journal of Physiology and Pharmacology did a study that said that "kiwifruit may support immune function and reduce the incidence and severity of cold or flu-like illness in at-risk groups such as older adults and children."  Could a fruit possibly be any more perfect? So, not wanting to alter the nutrients by adding teaspoons full of sugar or sweetener, I came up with a delicious sorbet that uses two simple ingredients and has a whole lot of flavor.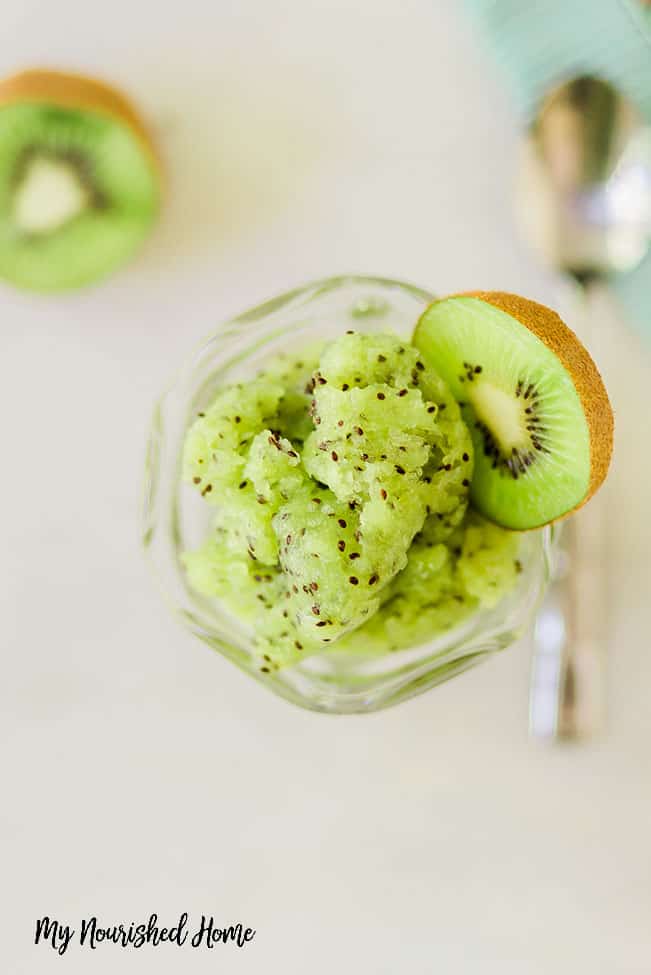 Kiwi Sorbet for an Easy Dessert
The kiwi sorbet is not only scrumptious, it has become a family dessert favorite.  The girls love it because it reminds them of ice cream. My husband and I love it because it's delicious – and because the girls devour it without even thinking twice.  Kiwis for the win!
For me personally, one of the best parts is that it's so easy to make. I can quickly whip up a batch and stick it in the freezer before I start prepping dinner and it's ready by the time we're done eating. I've also made it in larger batches for summer picnics and family barbecues where it's been a huge hit. (I also make this Berry Lemonade Cooler and this Frozen Raspberry Yogurt!)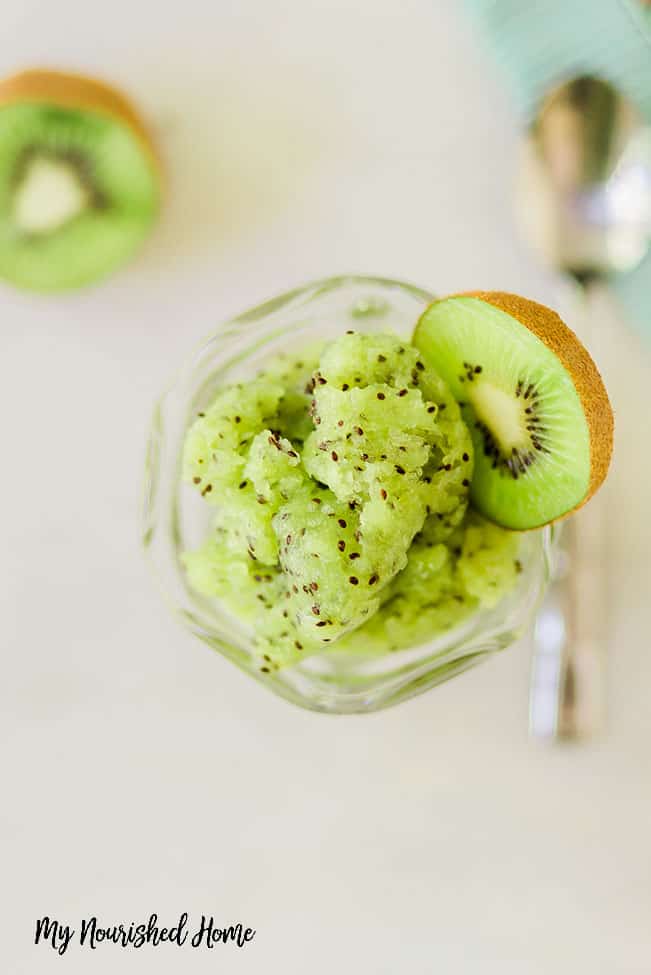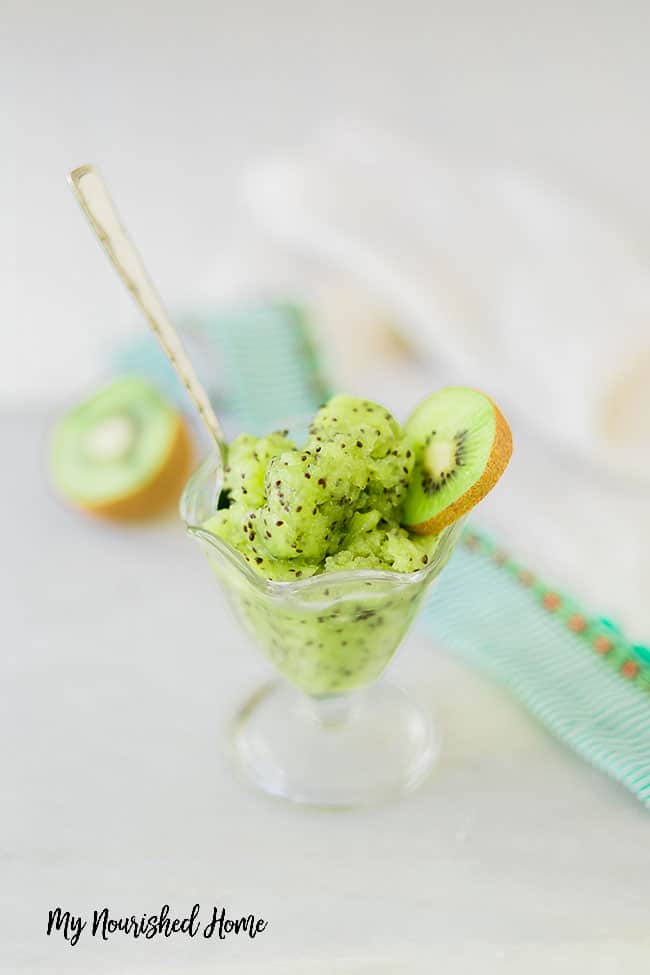 An Easy Kiwi Sorbet
To make your own, all you need is a blender, kiwis, and a lemon or lime juice. Make sure that you puree the kiwi long enough to get a nice, smooth texture. If you scoop it into individual dishes before freezing, it makes it infinitely easier to serve.  Besides, my girls love the adorable sorbet dishes that I put them in and know that it's going to be a good dessert night when they see them.
If you're searching for a dessert (or even breakfast!) that's easy to make, filled with amazing nutrients and vitamins, and kid-friendly, this one's for you.  Happy sorbet eating, friends!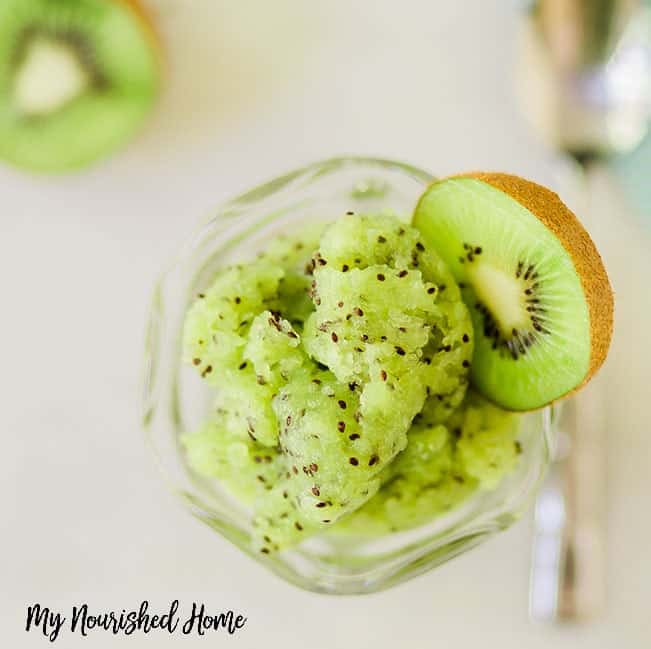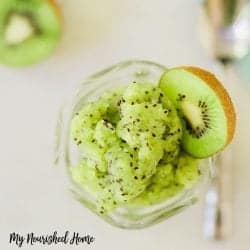 Kiwi Sorbet
Ingredients
8

whole

kiwis

peeled and cup in half

2

tbsp

lemon or lime juice
Instructions
Puree everything in a blender and pour into a container. Allow to freeze for a couple of hours. Scoop!
Recipe Notes
You can add sweetener if desired.