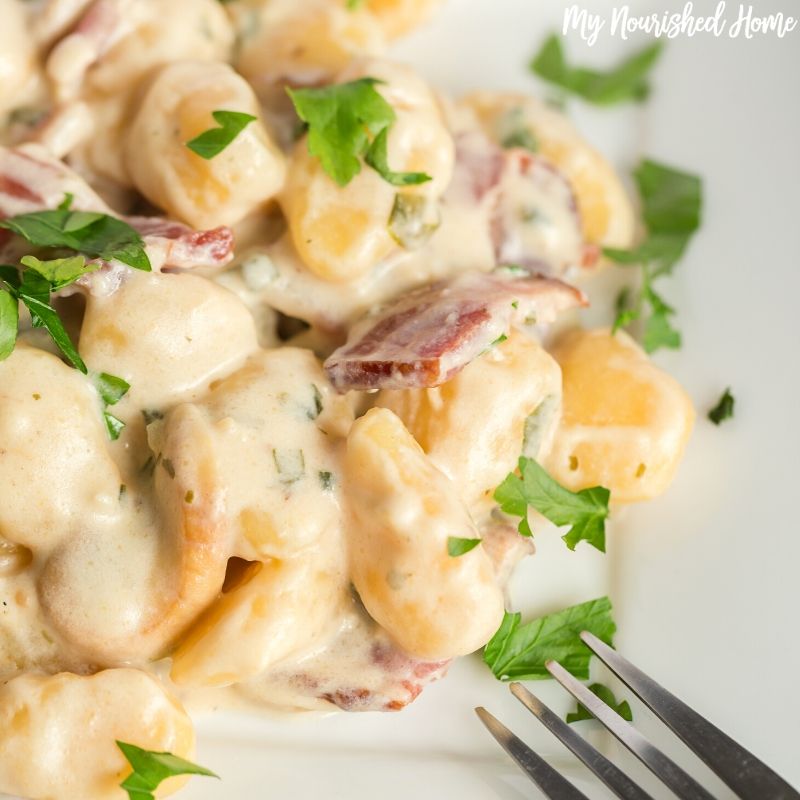 This 15 Minute Creamy Mushroom Gnocchi is an amazing weeknight meal. On the table in 15 minutes, this lightning-fast pasta dinner is covered in a rich mushroom cream sauce that comes together fast with no can-of-something soup.
Creamy Mushroom Gnocchi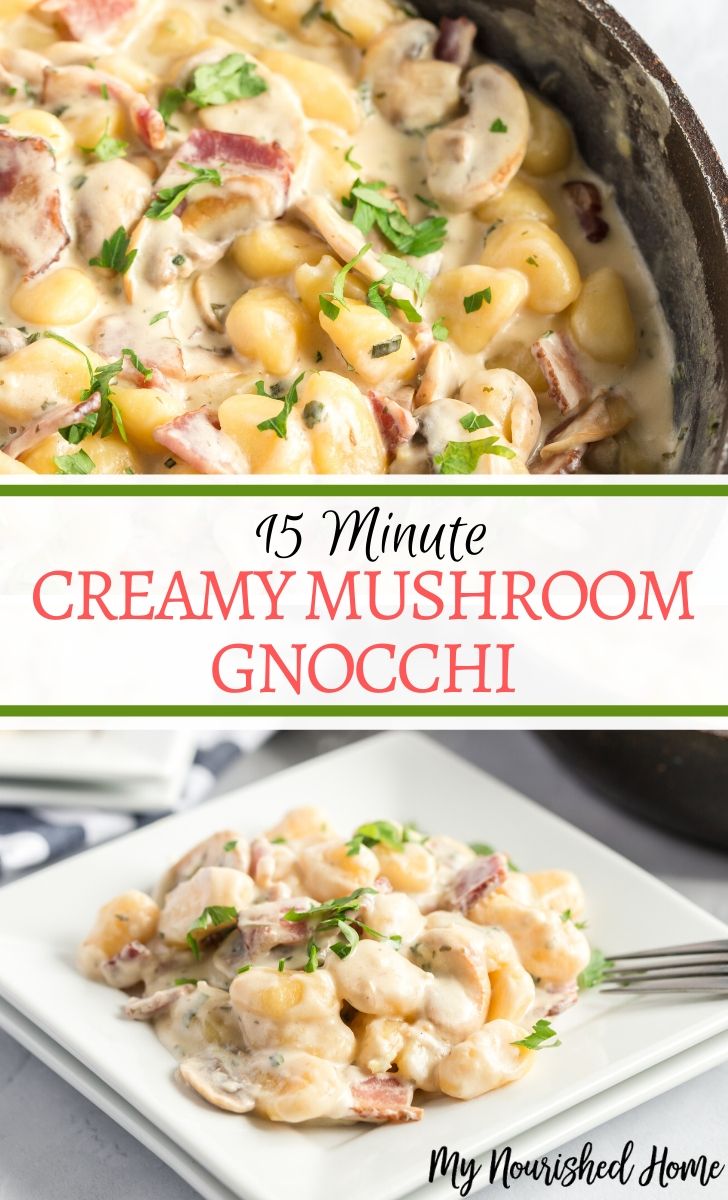 My kids are weird. If you ask them if they like gnocchi… they say no. Goofballs. 🤪 They love this dish and clean their plates. I think they just like to say "no" any time I mention dinner. I have opted to stop asking if they like stuff and just feed them what I want to make.
Of course, it has bacon… and bacon makes everything better. If you've never cooked gnocchi at home, it is just pasta made from potatoes. They are like little puffy clouds of food joy. And cook in about 3-4 minutes. Perfect for weeknight meals. Gnocchi is generally boiled in water then added to sauce or soup to serve. But it is also delicious if you toast it in a little butter or olive oil before adding to your dish.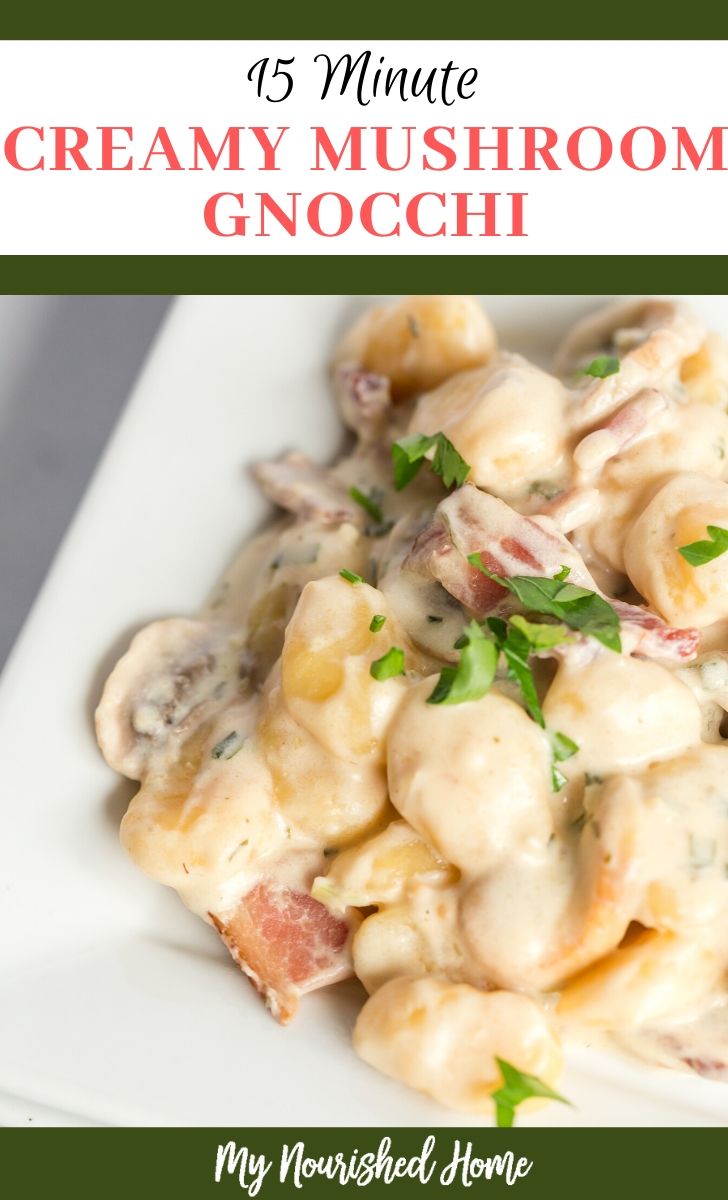 Tips for FAST Delicious Mushroom Gnocchi:
Shelf-stable gnocchi just means it is in the package by the regular pasta. Homemade gnocchi is so good and not difficult to make. And fresh gnocchi from the specialty grocery store is AMAZING. But that solely qualifies as weekend food around here. The shelf-stable variety is a little denser and holds up well to the fast cooking and stirring we are doing here.
Yes, I have totally cheated and used the precooked bacon that comes in the box. You literally toss it in the microwave a few seconds then chop it up. Bacon does not take that long to cook but I can't seem to do it without making a mess everywhere and who's got that kind of time for cleanup on a weeknight.
Mushrooms are my jam. I can put them in anything. The regular ol' white mushrooms are delicious. But so are the funky cool mushrooms like porcini or cremini. My local store keeps a mixture of sliced flavorful mushrooms right next to the white ones. Give those a try if you are not mushroom averse. 🤪
How to Make Creamy Mushroom Sauce for Gnocchi
A creamy mushroom sauce often starts from roux, which is just a source of fat like butter, flour, and milk or broth. Once it is cooked, it is added to soups and sauces as a thickener. But this recipe uses a shortcut – namely flavored cream cheese for both flavor and sauce thickness. Once the gnocchi is added to the sauce, the starch from the potatoes finishes thickening the sauce into creamy, rich, and delicious!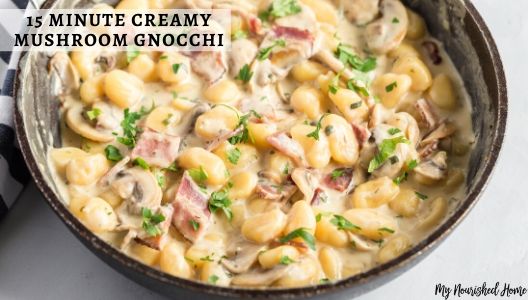 Looking for more 15 Minute Recipes?
Check out these steak sandwiches, beef and broccoli, and these chicken burritos.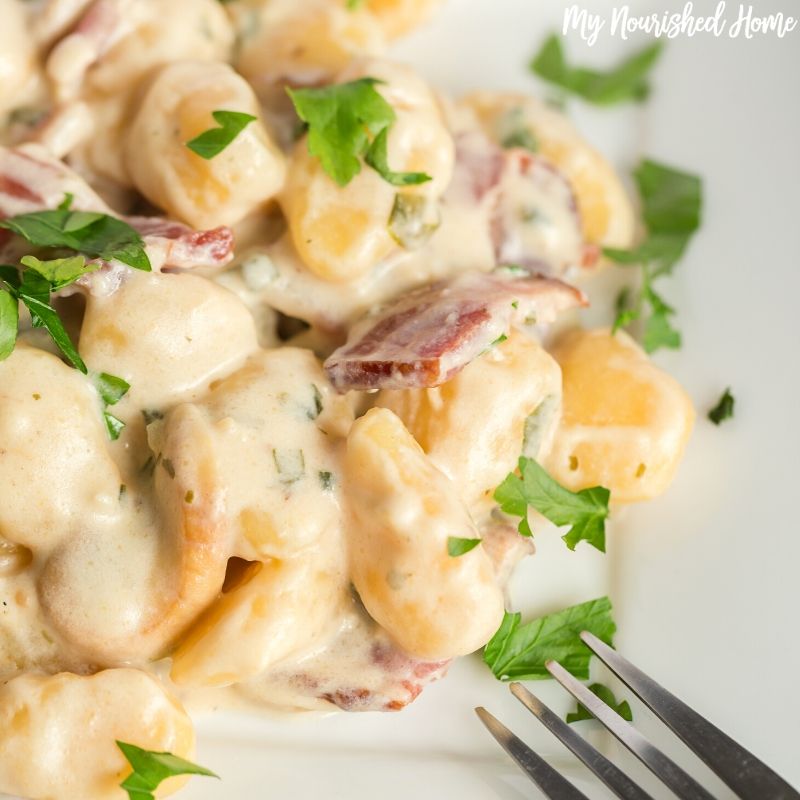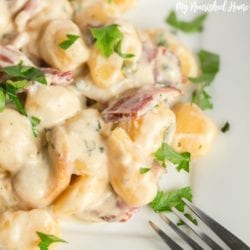 15 Minute Creamy Mushroom Gnocchi
This mushroom gnocchi is rich and delicious and takes 15 minutes prep to table!
Keyword:
15 Minute, gnocchi, mushroom
Ingredients
1

Package Shelf-stable gnocchi

2

Tbsp

Butter

2

Cups

Sliced mushrooms

2

Cloves

Garlic minced

4

Slices

Cooked bacon chopped

1/2

Cup

Herb & garlic cream cheese

1 1/2

Cups

Milk

1

Tbsp

Dried chives

Salt and pepper to taste

1/4

Cup

Fresh parsley chopped
Instructions
Bring a large pot of water to a boil.

In a large skillet, melt the butter on medium heat and add the mushrooms and garlic. Cook until mushrooms begin to soften and brown.

Add the cooked bacon, then add the cream cheese. And stir until it's melted

At this point, your water should be boiling. Add the gnocchi and cook for 1-2 minutes until the first few gnocchi begin to float to the surface.

As soon as you've added the gnocchi to the water, add the milk, chives, salt and pepper to the skillet and stir to combine all the ingredients.

Drain the gnocchi and add to the skillet.

Heat for about 2 minutes until the sauce begins to thicken. It will continue to thicken after removed from the heat.

Sprinkle with fresh parsley and serve.
Nutrition Facts
15 Minute Creamy Mushroom Gnocchi
Amount Per Serving
Calories 308
Calories from Fat 243
% Daily Value*
Fat 27g42%
Cholesterol 70mg23%
Sodium 330mg14%
Potassium 356mg10%
Carbohydrates 8g3%
Protein 9g18%
Vitamin A 738IU15%
Vitamin C 2mg2%
Calcium 134mg13%
Iron 1mg6%
* Percent Daily Values are based on a 2000 calorie diet.
I hope you guys like this recipe as much as we do! As always, make sure to #mynourishedhome if you share your recipes to Instagram!