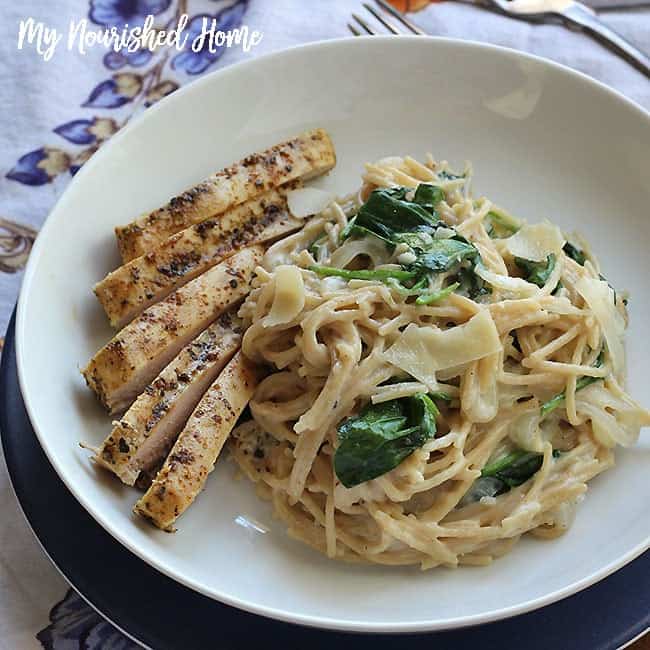 My kids love the mac and cheese but there came a time we really needed to elevate this classic to something the adults could get excited about (more mac and cheese, seriously?!) and that used better ingredients for more nutrition. Fontina and Spinach Pasta goes from kid side to adult main with that addition of your favorite protein.
We even managed to use spaghetti that was super healthy. I am super excited to be a TruRoots Ambassador this year, mostly because working with TruRoots helps me keep my pantry full of a brand I use and love long before they became a sponsor of My Nourished Home. This dish uses Ancient Grain Pasta, that is organic, gluten-free, and non-GMO. But the truth is, I didn't mention any of that to my kids. It is delicious!
**Thank you to TruRoots for sponsoring this post and keeping us in pasta over here! I was compensated with cash and noodles. But the recipe and all the opinions are 100% my own.**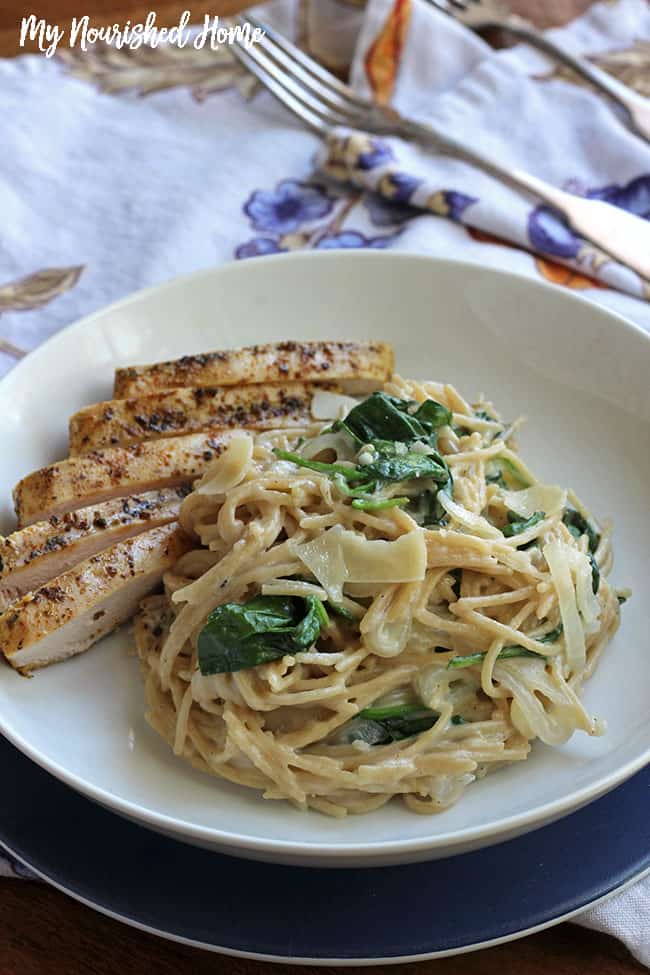 Spinach, Fontina, and TruRoots Ancient Grain Spaghetti
So we have been around the bend and back when it comes to pasta. We try not to depend too heavily on any single ingredient in our pantry. So an ancient grain pasta is perfect for changing it up… And I have to be honest, if my kids ask me for macaroni and cheese again, I might cry.
Even the healthy boxed stuff is still boxed macaroni and cheese… Tears, real tears if I have to eat it again…
But we have tried non-conventional pasta before. There are times they have a weird texture, are sticky, or just fall apart. This pasta was fantastic. Perfectly al dente, held up great with a thicker sauce and lots of stirring without looking like spaghetti mush, and had a wonderful taste that was subtle and not overpowering to the sauce.
While I have been a fan of TruRoots for a LONG time, I had not had this particular pasta before. I am completely in love with their lentils, quinoa and brown rice. Especially the sprouted stuff, the taste is mild and it cooks super fast. I was so pleased with how this pasta cooked up – and that my family loved it.
Move over mac and cheese – a little sauce and a little spinach, and we made a real grown up meal out of pasta!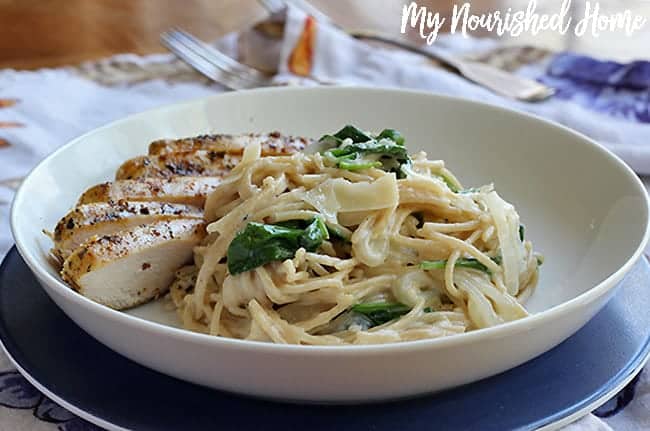 Simple, Healthy Pasta Dinner
By now, you guys know me pretty well. You know I like real food most of the time. I don't mind a little butter or cream. As long as it came from a cow and not a chemical. This dinner, while being rich and full of flavor, comes together with all whole food.
And maybe the best part is that it comes together in about 20 minutes. Dinner doesn't get any easier than that!
Just to prove I love TruRoots, check out this Sausage and Quinoa Stuffed Squash… Yep, that quinoa, all TruRoots. 🙂
What is your favorite meal to remake into something healthier for your family?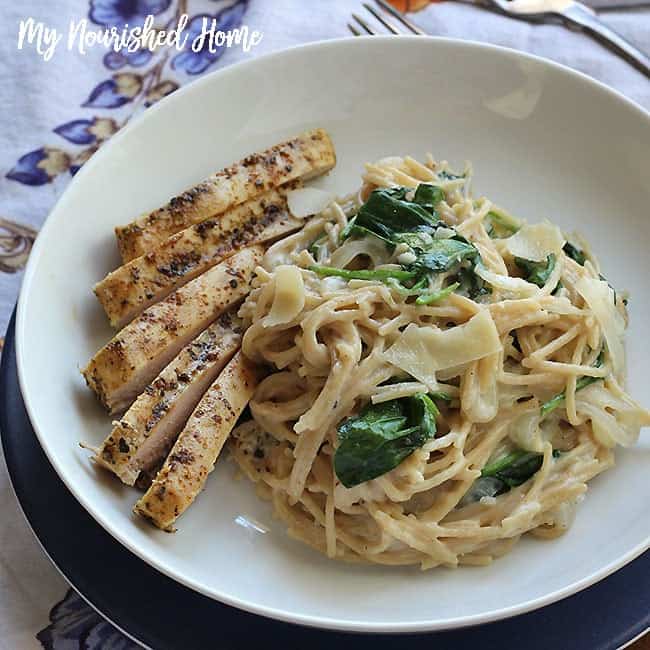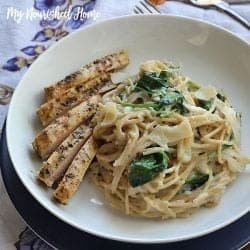 Fontina and Spinach Pasta
Ingredients
1

package

TruRoots Ancient Grain Spaghetti

1

tbsp

olive oil

3

cloves

minced garlic

3

shallots, sliced thin and into rings

1/2

cup

chicken or vegetable broth

1

cup

heavy cream or half and half

3/4

cup

shredded Fontina cheese

1/4

cup

Parmesen cheese, shredded

1-2

cups

fresh baby spinach

your preference

Kosher salt and fresh pepper to taste
Instructions
Heat salted water in a large pot for boiling pasta. Follow package instruction for cooking pasta al dente.

In a large skillet, heat olive oil over medium heat. When oil is warm, add minced garlic and cook for 1 minute or until fragrant. Add sliced shallots, salt and pepper, and 1/2 cup vegetable broth. Allow shallots to cook until soft. 2-3 minutes.

Add cream to the shallot mixture. as soon as it is hot enough to barely bubble, add cheese and stir to combine. Let the mixture reduce until a thick sauce forms.

Drain pasta when cooked. As soon as pasta is drained, return it to the pot. Add fresh spinach to the pot and then pour sauce over the spinach. Stir gently then cover the pot off the eye of the stove. The heat of the sauce should wilt the spinach. The pot should remain covered for 2-3 minutes. Uncover pot and stir pasta to incorproate the wilted spinach.

Dish onto plates and serve with additional cheese and pepper to taste!