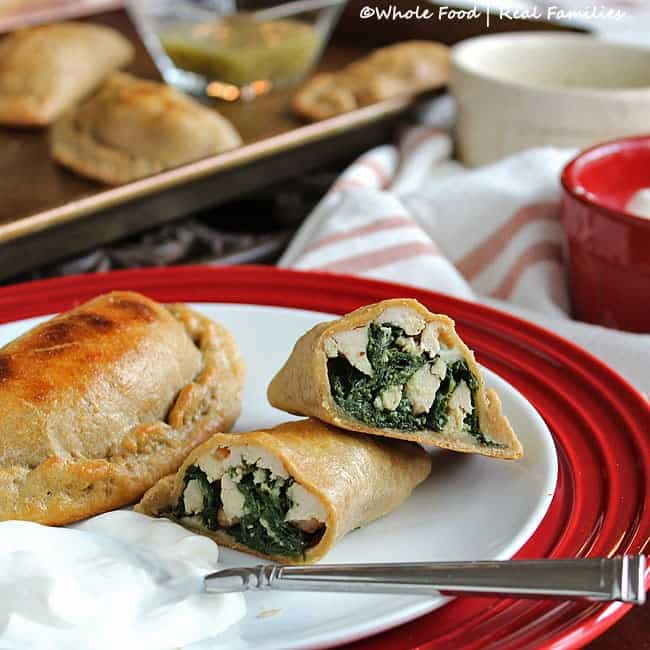 Whole Wheat Chicken and Kale Empanadas are a healthy version of a classic casual dinner. Delicious and easy, perfect for a fun weeknight dinner. And an excellent way to make your family eat their kale!
The last few weeks have been a challenge. I hurt my back by walking. Yep, walking. Not speed walking, not power walking, just regular ole' walking. Don't ask me how. And no getting old jokes. My husband and I were walking out of a restaurant on a weekend date night and I felt something pop in my lower back. Popping is bad, in case you were wondering. Over the next several days, it got worse, not better, and culminated in a visit to the local urgent care center and two shots in the backside. I must say, I have never been happier to be stuck with needles. Thank goodness for doctors and nurses and urgent care centers – and relief-bringing shots in the butt.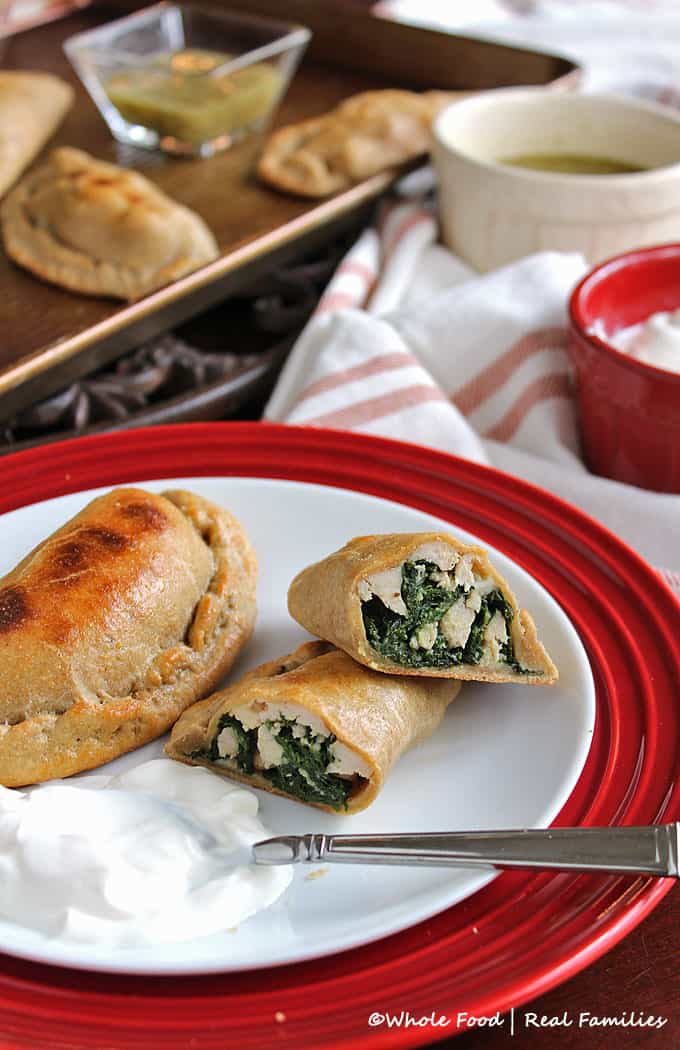 I am also deeply, deeply thankful for having a husband that is completely comfortable juggling all three of our kids, their schedules, his job, and my urgent care visit without breaking a sweat. There is a rule in our marriage that only one of us is allowed to freak out at a time. Freaking out at the same time causes earthquakes and other natural disasters. It was (is) my turn. This is not something we ever discuss. Our relationship and our personalities somehow just work that way.
On a high note, my husband is also a fabulous cook. So while I am sitting around with my feet kicked up, living a life of leisure. Jeff has taken over much (most) of the cooking. We have a lot of love for empanadas. You can stuff pretty much anything inside of whole wheat empanada dough and bake it and it will be delicious. While some women complain that their husbands can't boil water, mine is making Whole Wheat Chicken and Kale Empanadas by hand while I nurse my back.
This Whole Wheat Chicken and Kale Empanada was first made from leftovers. Yep, leftovers. 'Cause that's how we roll around here. Food doesn't go in the trash if we can help it. If our kids don't eat their greens at dinner, there is a good chance it will get mixed up with some chicken and cheese, shoved in an empanada and served again. Take that kids!! We also happen to make these on purpose because they are really tasty!
If you are interested in further exploring our love affair with Whole Wheat Empanadas, you can get the recipe for Whole Wheat Empanada Dough here. Or go check out these Whole Wheat Breakfast Empanadas.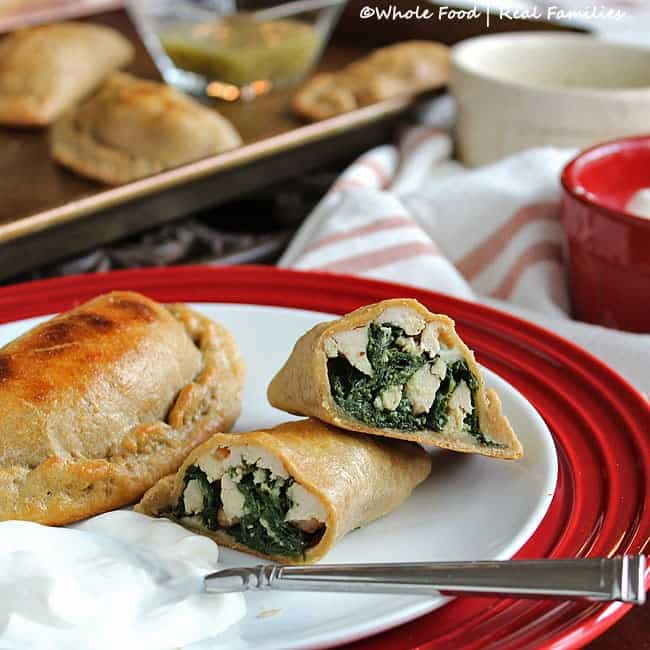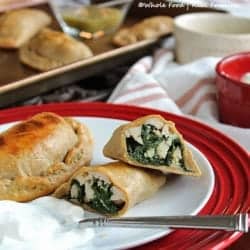 Whole Wheat Chicken and Kale Empanadas
Ingredients
1

portion of Whole Wheat Empanada Dough

1

pound

cooked chicken

shredded or pulled

1

cup

mozzarella or swiss cheese

+/- as desired

1

bunch kale

washed and cut into pieces

2

small or 1 large shallot

peeled and cut into rings

1/4

chicken or vegetable broth

2

tbsp

butter

Kosher salt and fresh ground black pepper

whole wheat flour for the rolling surface

1

egg

optional
Instructions
Preheat oven to 350 degrees

Turn out Whole Wheat Empanada Dough on a lightly floured surface. Roll the dough until it is very thin, about ¼ inch.

Using a round cutter, or just a bowl tuned upside down, cut the rolled out dough into circles.

In a large saute pan, melt butter. Add shallots and cook until they begin to soften, about 2 minutes. Add kale, broth, salt and pepper. Mix together and then cover with a lid for 2 minutes. Once you open the lid, kale should be wilted. Add chicken and cook just until combined and ingredients are warm and any leftover liquid is cooked off.

Fill half of each dough circle with a combination of chicken and kale. Sprinkle grated cheese on each empanada. The amount of chicken and kale mixture you include in each empanada circle will depend on how big you cut each dough piece. Start with a few tablespoons down the center of the circle so that you can fold it over and seal the edges of the dough by pressing the edges with a fork. You can use your fingers to crimp and fold the sealed edges for appearance.

If you want the tops of your empanadas to be golden, brush them with a lightly beaten egg.

Cook the empanadas on a sheet pan lined with parchment paper for 20 minutes.

Serve warm and with your favorite salsa and sour cream!