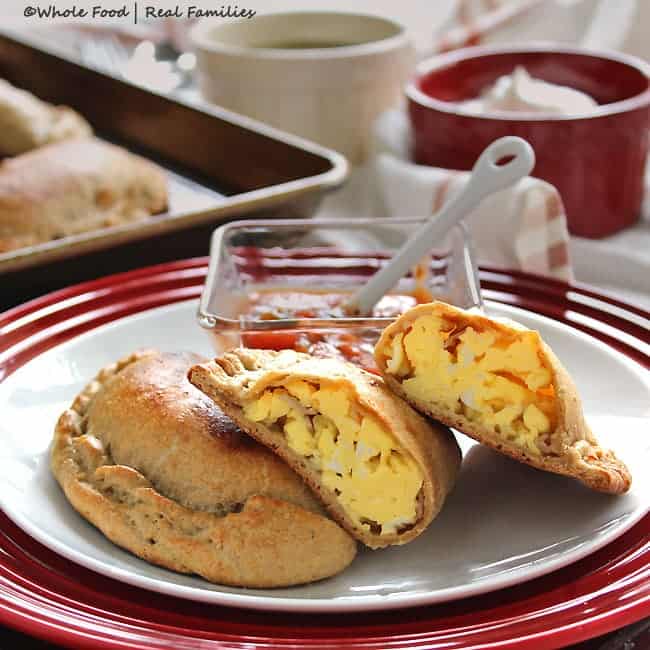 Whole Wheat Breakfast Empanadas are the perfect make-ahead, grab and go recipe for busy weekdays. And the perfect, slow-food breakfast on the weekend. Serve them with sour cream and your favorite salsa!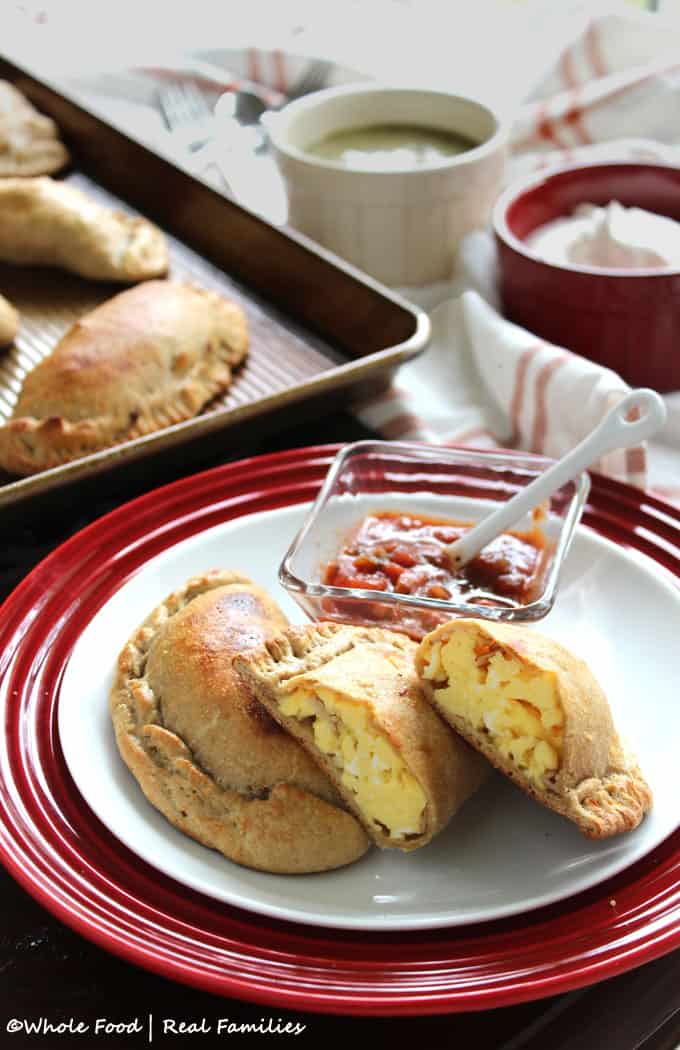 Our family has a bit of a love affair with empanadas. Not because we have any particular cultural heritage that encourages it, but because we have dear friends that are very well traveled and brought the joy and flexibility of empanadas to our attention. First, the dough is ridiculously easy to make. All of the ingredients are combined in the food processor and just dumped on a lightly floured surface and rolled out. The cutting into circles is fun – my kids love to do it for us. We don't use any fancy cutter, just a bowl turned upside down. And empanadas can be filled with pretty much anything.
Perhaps our favorite healthy breakfast right now is this Whole Wheat Breakfast Empanada. The dough we use is whole wheat and we bake our empanadas instead of frying them. This particular recipe is easy with just diced ham, eggs, and cheese. However, these Breakfast Empanadas can be filled with anything you might include in an omelet. As a good rule of thumb, prepare any veggies or meat in the same way you would for an omelet. For example, you would want to cook mushrooms ahead so that they don't release all of their water inside the sealed dough. That would make a very mushy and unappetizing empanada.
You can any empanada dough you like. You can even buy it in most stores. This is our favorite Whole Wheat Empanada Dough. I like to have it made up and frozen so that on weekends, I can just move it to the freezer to the fridge the night before and roll it out, stuff it and seal the next morning. If you are looking for a good way to use up leftover scrambled eggs, bits of cheese, meat, or veggies. Whole Wheat Breakfast Empanadas are a great way to do it!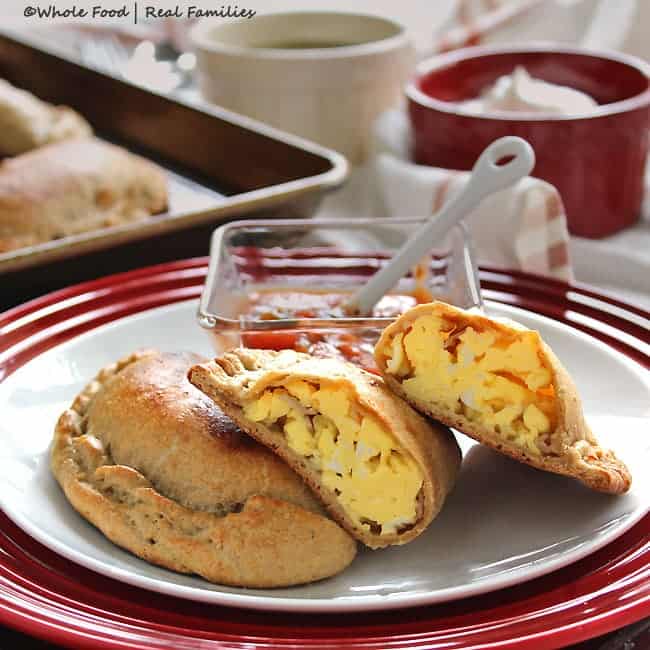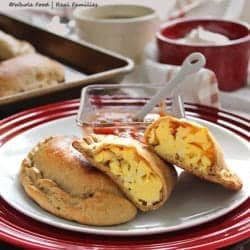 Whole Wheat Breakfast Empanadas
Ingredients
1

portion of Whole Wheat Empanada Dough

10-12

eggs

lightly beaten with a splash of water or milk

1

cup

white cheddar cheese

+/- as desired

1

cup

ham

diced (+/- as desired)

2

tbsp

butter

Kosher salt and fresh ground black pepper

whole wheat flour for the rolling surface
Instructions
Preheat oven to 350 degrees

Turn out Whole Wheat Empanada Dough on a lightly floured surface. Roll the dough until it is very thin, about 1/4 inch.

Using a round cutter, or just a bowl tuned upside down, cut the rolled out dough into circles.

In a large saute pan, melt butter. Add diced ham and cook until the edges start to brown. Add beaten eggs, salt and pepper and cook, mixing the whole time until the eggs are soft scrambled and combined with the ham.

Fill half of each dough circle with a combination of eggs and ham. Sprinkle grated cheddar on each empanada. The amount of egg mixture you include in each empanada circle will depend on how big you cut each dough piece. Start with a few tablespoons down the center of the circle so that you can fold it over and seal the edges of the dough by pressing the edges with a fork. You can use your fingers to crimp and fold the sealed edges for appearance.

If you want the tops of your empanadas to be golden, brush them with a lightly beaten egg.

Cook the empanadas on a sheet pan lined with parchment paper for 20 minutes.

Serve warm and with your favorite salsa!

Check out more healthy breakfast ideas from members of The Recipe Redux.
[inlinkz_linkup id=601846 mode=1]