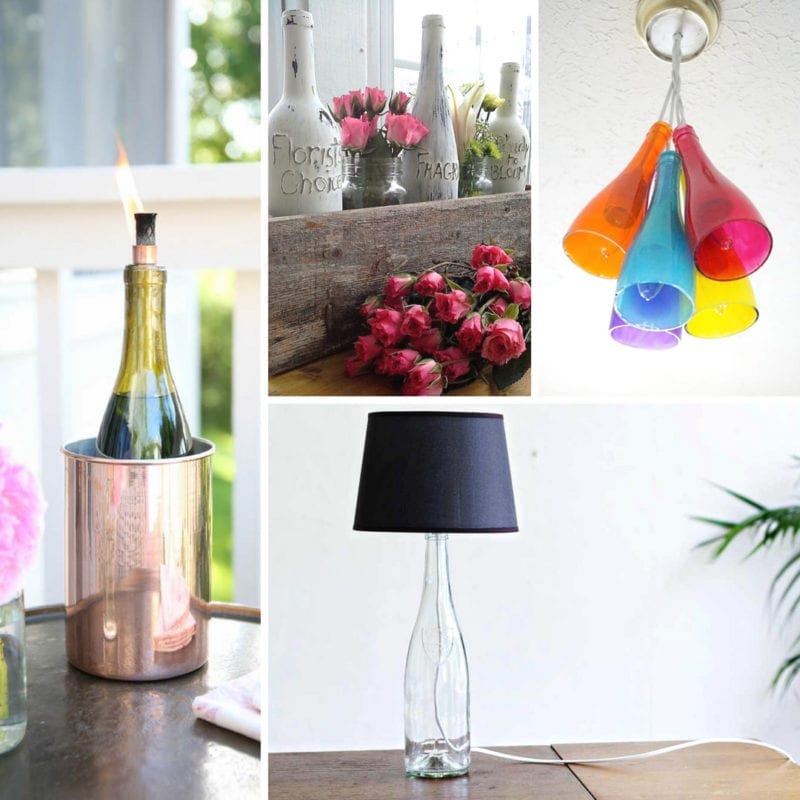 Upcycled wine bottle ideas put those empty wine bottles to good use! Here are 20 of our favorites crafting projects that turn empty wine bottles into fabulous new crafts.
Upcycling Wine Bottles
Upcycling, or the process of reusing an item for another purpose, not only makes a lot of sense when it comes to crafting, but it can also save you a ton of money. Wine bottles? They're just about the most perfect thing ever to upcycle and turn into something more fabulous!
I may or may not have empty wine bottles around my house from time to time (I admit nothing!) and I've always wondered how I could reuse them. (I have the same issues with mason jars!) The shape is so delicate, yet strong. The glass is so interesting and eye-catching. It feels like a waste to put them in the recycle bin instead of reusing them for something else.
That's why I was so excited to come across these 20 fabulous upcycled wine bottle projects! There's everything from a lamp (yes, an actual, working lamp!), to candles, and vases. In fact, there are so many different projects that I want to try that I'm thinking about inviting some friends over for a wine party – just so I can have empty wine bottles!
Crafting with Wine Bottles
Since you're working with glass while upcycling your wine bottles, be sure to take a few precautionary steps. Make sure to wear safety eyewear to keep shards from getting in your eyes if you'll be doing any cutting. Thick gloves are also a necessity if you'll be cutting the glass, as it's easy to injure yourself on the sharp edges.
We also don't recommend that kids do these projects, as the glass is fragile and could break if dropped. If your little one wants to create his or her own masterpiece while you create yours, pick up some clear, plastic bottles at the craft store as an alternative. You can usually find them around the sand art.
Have a great time crafting and remember to share your projects with us! If Mason Jars are more your speed, you can find upcycle crafts for those here too!
DIY Upcycled Wine Bottle Crafts
More Beautiful Recycled Wine Bottle Crafts
Have you upcycled a wine bottle? Share your creation with us in the comments below, in our active Facebook group, or tag us with #OhSoCrafty on Instagram so we can see your work! We would love to celebrate your creativity!