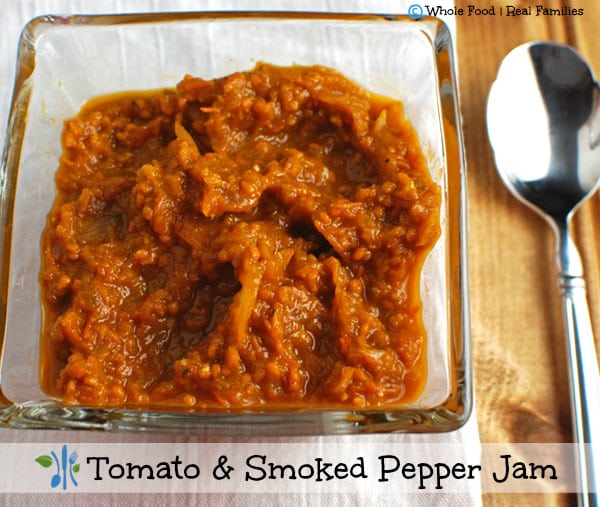 Tomato and Smoked Pepper Jam is savory and rich. Perfect for dressing up boring vegetables at dinnertime or adding an elegant kick to your favorite appetizer!
You know you've done it – bought those cherry tomatoes to top the salads you were going to eat for dinner this week. Then suddenly they were hanging out just long enough for you to realize you weren't going to eat them all before they went bad. Or if you're like me, I love tomatoes so much that I go tomato crazy at the farmers' market just assuming I will find a way to eat them or use them all when I get home. (Seriously, have you ever had Black Cherry Tomatoes? Or Sun Gold Tomatoes? I can't resist them! So delicious!) Don't throw those tomatoes away!!  Even if you only have a few at a time, freeze them until you have enough for this jam!
If I mention tomato jam to someone who has never heard of it, the look on their face is at first perplexed then their nose wrinkles up in the same way that my 3 year old's does when I tell her she has to try something before she can say she doesn't like it. I know what is happening – I say jam, they think grape or strawberry or apple smeared over toast. Then they try to replace that sweet spread with tomatoes and peppers and it just does not compute. So wipe sweet from you mind now, and replace it with savory – start there. Toasted baguettes or crackers, topped with goat cheese and Tomato & Smoked Pepper Jam. Replace mustard on your favorite veggie sandwich (I also love it with turkey!).  Toss a teaspoon with freshly sauteed green beans, or any other vegetable that needs a smoky kick. Use it instead of ketchup on french fries – better yet try it with turnip fries for a new twist!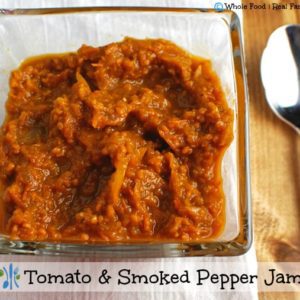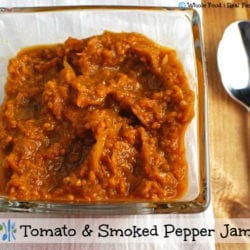 Tomato and Smoked Pepper Jam
** If you do not keep smoked peppers on hand, you can substitute a re-hydrated chipolte pepper, which is a smoked jalapeno that has been dried. Pour hot water in a glass, submerge the chipolte for 20-30 minutes or until the skin plumps and the pepper is pliable again. Make sure to cut the stem off the pepper before adding it to the blender. **
Course:
Appetizers & Sides, Spices, Dressings & Marinades
Ingredients
2

lbs

cherry tomatoes

or other small variety tomato

3

whole shallots

4

cloves garlic

2

smoked jalapenos or other variety smoked pepper

3-4

tbsp

olive oil

enough to coat the ingredients for roasting

kosher salt and fresh cracked black pepper to taste
Instructions
Preheat oven to 350 degrees and raise the baking rack to the top third of the oven.

Wash tomatoes and spread them out on on a baking sheet with the whole shallots and garlic. For the garlic, I often cut the top off a whole head rather than break out the individual cloves. You don't need the whole head, but roasted garlic is delicious. I use what I need for this recipe and find something tasty to do with the rest. 🙂

Drizzle olive oil and sprinkle salt and pepper over the tomatoes, shallots and garlic (if you are roasting the whole head, make sure you drizzle the olive oil in the top of the head so it gets inside).

Place the baking sheet in the preheated oven and allow it to cook for 20-30 minutes, or until the tomatoes are tender and burst open.

Remove baking sheet from the oven and toss all of the ingredients into a blender or food processor, leaving any water that has cooked out of the tomatoes on the pan. Add the smoked jalapeno(s) and pulse until all of the ingredients are broken up but not pureed - the goal is a jammy texture. The heat from jalapenos will vary widely, so add one jalapeno to begin and then a second later to fit your tastes.

Taste and adjust peppers or salt and pepper to taste.

The amount of liquid remaining in the jam will depend on the type of tomatoes you used and how much water cooked out during roasting. If you have a nice jammy texture now, great! If it is still watery, pour it into a pot or pan on the stove, bring it to a simmer, then turn the temperature to medium low and let it reduce until you have a thick, chunky, jam.

Once the texture reaches that of a thick jam, it is ready to store. I usually store these in small 4 ounce canning jars. If you choose to do that, spoon the mixture into jars leaving plenty of head space, drizzle a little olive oil on top, screw the lids on and pop them into the freezer. Make sure you keep one in the fridge to use on toasted baguettes with goat cheese, use as a sandwich condiment (makes the best veggie sandwich ever!), toss in with sauteed vegetables that need a smoky kick, or pour over hummus for a tasty snack or special appetizer.