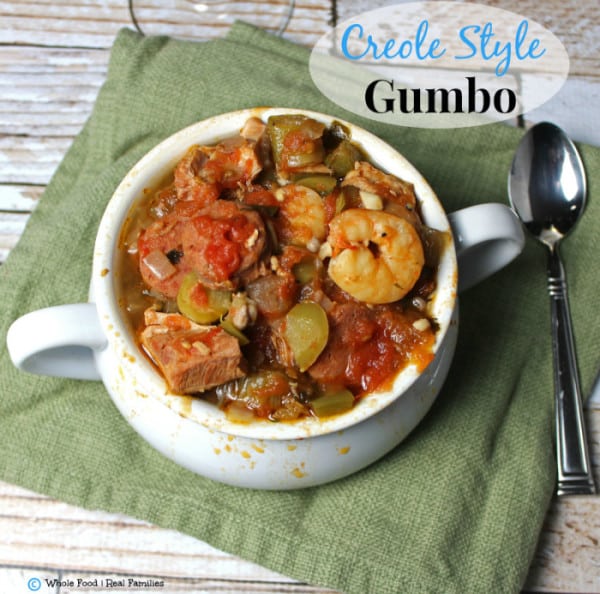 Cajun and Creole food has a reputation for being super spicy. While those of us with this heritage have been known to shake cayenne pepper or hot sauce on the simplest dishes – that is not always the case. Gumbo is a rich stew with as many variations in recipe as there are people who live in the state of Louisiana. And there are differences between Cajun and Creole styles. But Gumbo is rarely spicy, instead it is a rich stew made by layering the flavors of the proteins with Louisiana's version of mirepoix – affectionately called the Holy Trinity by Cajun and Creole cooks everywhere – onions, green bell peppers, and celery.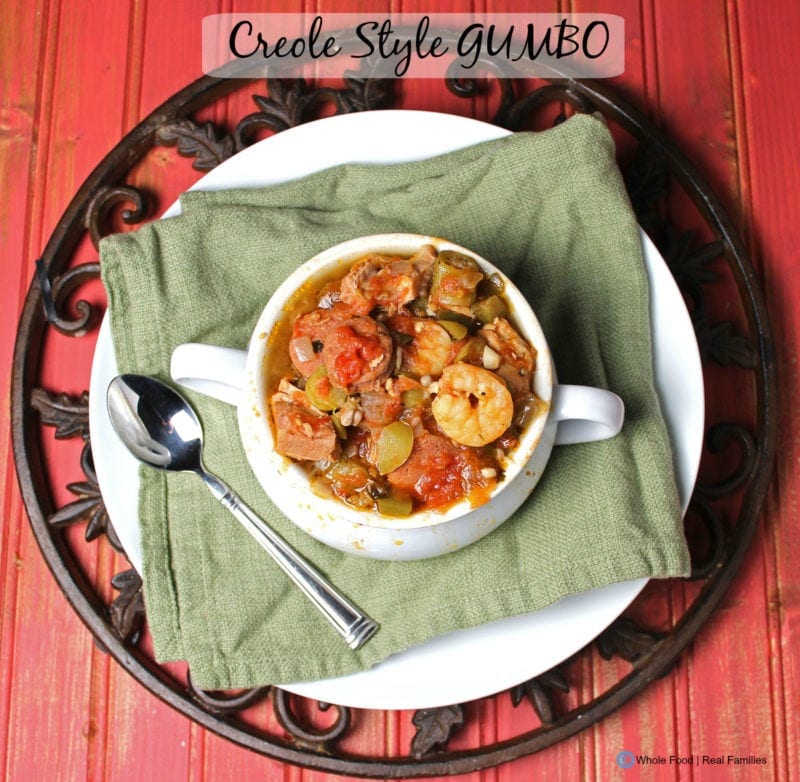 As in most recipes on Whole Food | Real Families, we stay clear of refined ingredients and simplify where we can to make recipes more nutritious and easier to get on the table. Such is the case gumbo. Most gumbo uses roux to thicken the stew, I prefer to rely solely on the okra as a thickener. You know how okra gets all funky and gelatinous when it gets wet – that very funk is what good gumbo relies on to thicken the stew. (No worries, there is nothing gelatinous about the end result.) The word "gumbo" is actually derived from the West African word for okra so you can have a tasty stew but you can't have gumbo without okra. I also roast my tomatoes before adding them to the stew to intensify their flavor.
Gumbo is always served over rice. And with a good hot sauce on the table for those of us who enjoy spicing things up! Here are our favorite supporting cast members – Herbed Brown Rice and Roasted Pepper Hot Sauce.
If you would like to see more Creole inspired recipes, check out Creole Chicken with Sauteed Kale – also on that post, learn the difference between Creole and Cajun!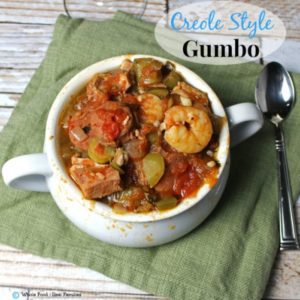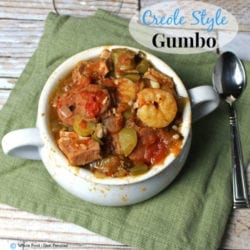 Creole Style Gumbo
Course:
Main Dishes, Soup, Salad & Sandwich
Ingredients
1

lb

chicken thighs

1

lb

smoked sausage, cut into rings

1

lb

shrimp, shelled and cleaned

kosher salt and black pepper to taste

2-3

tbsp

coconut or olive oil

1 1/2

cups

onion, diced

6

cloves

garlic, minced

2

cups

green bell pepper, diced

2

large stalks

celery, diced

1/3

cup

Worcestershire sauce

1/2

cup

flat leaf parsley, stems removed and leaves coarsely chopped

4

cups

beef broth

4

lbs

fresh tomatoes

2

cups

okra, ends removed and sliced into rings

Green onions and parsley to garnish
Instructions
Turn on the oven broiler (500 degrees). Core tomatoes and slice in half. Place tomatoes cut side down on a sheet pan and place under the broiler until the skins are black and bubbly, about 20 minutes. Place to the side to cool.

While tomatoes are roasting, season the chicken thighs with salt and pepper. Heat the oil in a large, heavy bottomed Dutch oven or stock pot over medium heat. (This is a big pot of stew – you need a big pot!) Place the chicken thighs in the hot oil and let the cook until browned, 3-4 minutes. Turn the chicken over and cook the other side. Remove the chicken from the pan and place it in a large bowl or plate to rest. The chicken will not be completely cooked. Add the sausage and cook until browned, then remove.

Add the onion, green pepper and celery to the pot and allow them to cook until softened, about 8-10 minutes. Add diced garlic and cook until fragrant, about 1 minute. Stirring frequently to prevent burning.

Add beef broth, Worcestershire sauce, and okra to the pot. Pull the blackened skins off the tomatoes and throw them away. Pull the tomatoes apart with your hands or tongs as you add them to the pot.

Dice the chicken that was resting in the bowl. Add the chicken and sausage back to the pot with any juices that have accumulated while resting.

Add the parsley to the pot. Stir and reduce the heat to medium low. Allow the whole pot to simmer for about 20 minutes. Add the shrimp and continue cooking until shrimp is pink and no longer translucent, around 15 minutes.

Serve over brown rice and garnish with green onions and parsley!

Gumbo is even better the second day!