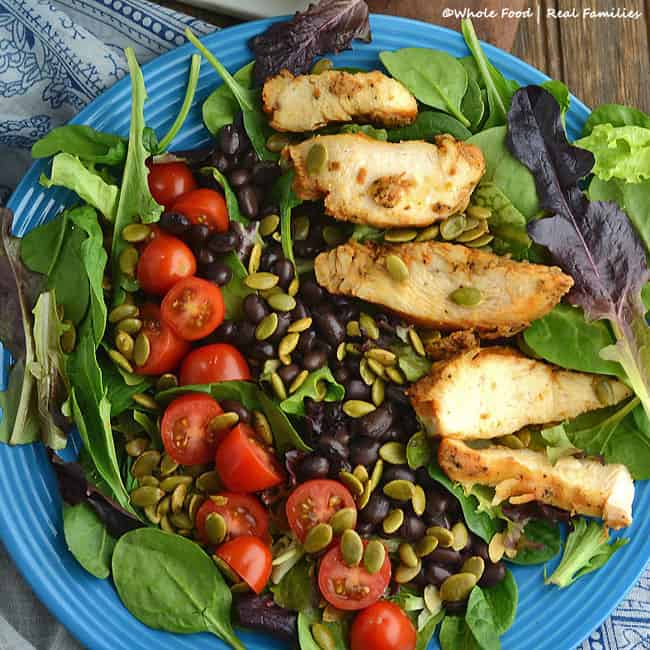 Chicken Black Bean Salad with Creamy Cumin Lime Dressing makes use of leftover chicken to make a weeknight meal worth bragging about. Much of the salad depends on pantry staples making it a quick, healthy, economical meal.
Looking in the refrigerator – realizing I really needed to go to the market yesterday rather than tomorrow – there was little by way of choices at my house when it was time for dinner last week. You've been there before, I know you have. Necessity really is the mother of invention. So when you are the mother and everyone is hungry, it is time to get to some inventing. Chicken Black Bean Salad with Creamy Cumin Lime Dressing came from leftovers and pantry items – which is pretty awesome.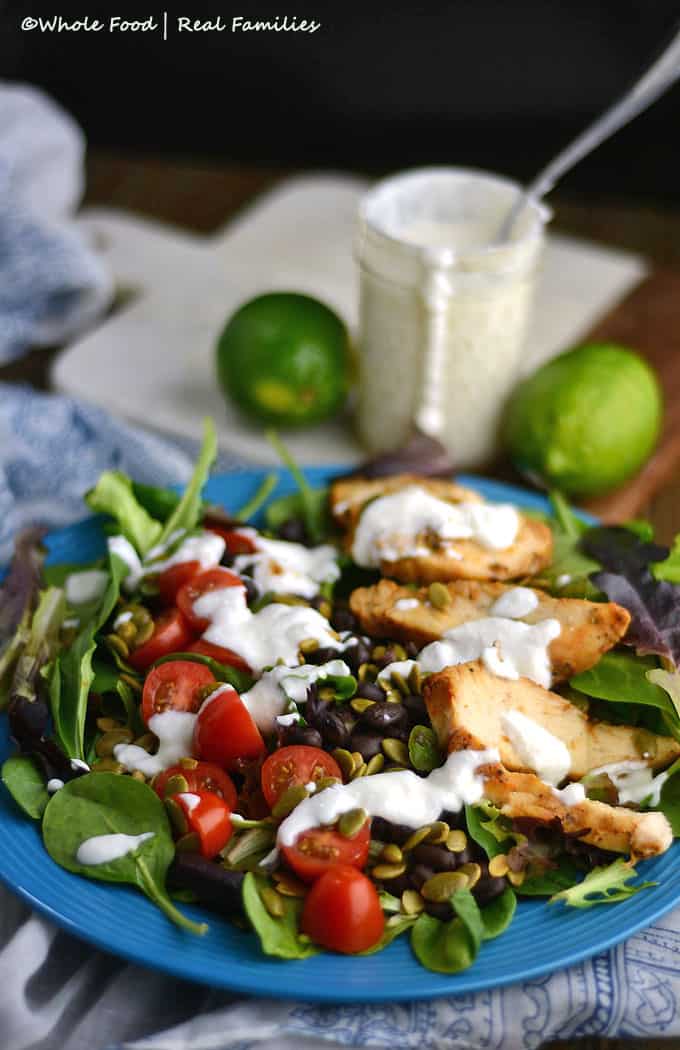 The dressing for this salad is so delicious. When I first used it, it was not for salad at all but rather as a drizzly, yummy sauce to go with these Stuffed Sweet Potatoes. My teenage daughter is notorious for her weird lunches at school. She pilfers leftovers from the night(s) before every morning when she packs her lunch for school. She isn't crazy about cafeteria food and she was also over having a sandwich every day in about the 2nd grade. If you are picky about what goes in your lunch around here, you learn to pack your own. Over the years, she has come up with some pretty odd combinations in her lunchbox. But a few winners too. It was my daughter that first used the leftovers as a salad dressing and the thought stayed in my mind (and hers!)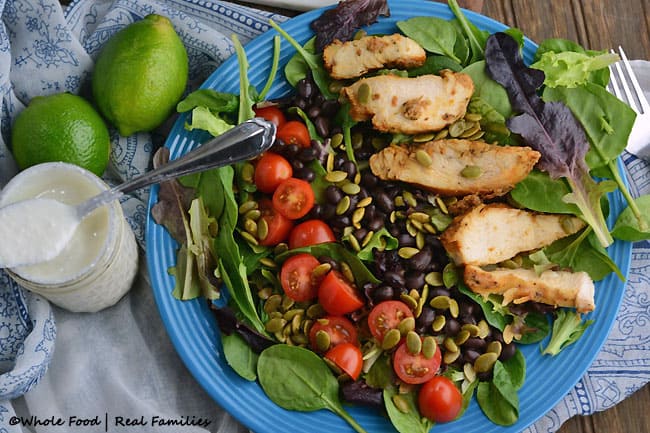 Good news is that I often have grilled or baked chicken breast in the fridge. It comes in handy on busy nights when I need to save time making dinner or someone needs lunch packed. My super fancy recipe for baking chicken breast is just to sprinkle it with kosher salt and fresh ground pepper and bake at 350 degrees for 25-30 minutes until done. If I am feeling really crazy, I brush it with melted butter before baking. Once cooled, I just put it in a container and store it in the refrigerator. Including this Chicken Black Bean Salad with Creamy Cumin Lime Dressing, I have exactly a million recipes that use cooked chicken. It also gets used for quick snacks and makeshift salads when we need to use up leftover veg.
I also keep several varieties of organic, canned beans in the pantry. They are an easy staple to work into meals that you need to stretch a little further. With a can of beans and a few other staples, I can always make a meal, even in a pinch.
If you would like to see more easy recipes that use pre-baked or grilled chicken, check out this Labneh Chicken Salad in Melon and these Chicken Stuffed Poblano Peppers.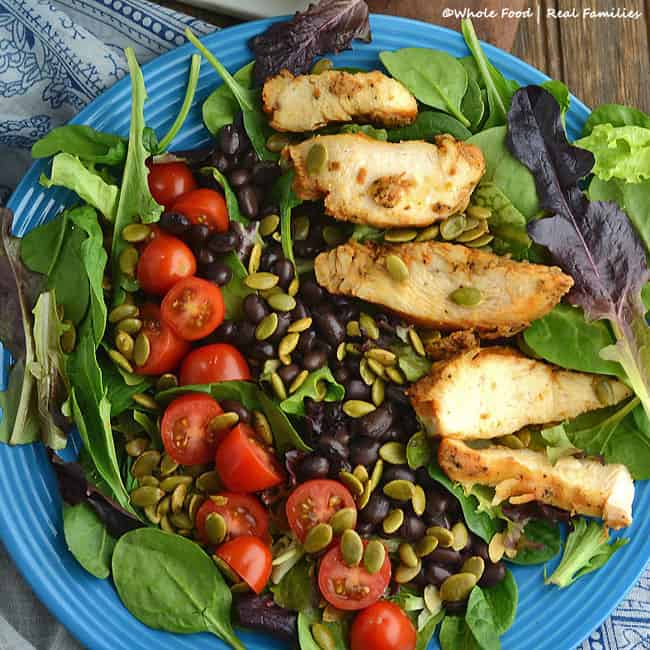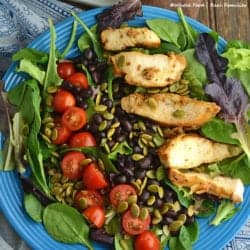 Chicken and Black Bean Salad with Creamy Cumin Lime Dressing
This recipes assumes you have already baked chicken breast. If you still need to just sprinkle chicken breast with salt and pepper, pop them in the oven at 350 degrees for 25-30 minutes or until the juices run clear.
Course:
Soup, Salad & Sandwich
Ingredients
For Salad
2-3

chicken breasts, cooked and diced

based on who you are feeding!

8

cups

mixed salad greens

1

15 oz

can of Organic Black Beans

1

cucumber, diced

1

pint

small variety tomatoes, sliced in half

1/2

cup

pepitas
For Dressing
1/2

cup

Greek Yogurt, Plain

1

tsp

cumin

1/2

lime, for juicing

1-2

tbsp

maple syrup

based on your desired level of sweetness

1/2

tsp

kosher salt
Instructions
Divide all salad ingredients between 4 bowls.

Place all salad dressing ingredients, including the juice from 1/2 lime, in a canning jar. Pop the lid on and shake it until it all combines evenly. Adjust maple syrup and salt to taste. (You can also do this the old fashioned way with a bowl and a whisk!)

Top the salad with the dressing and enjoy!