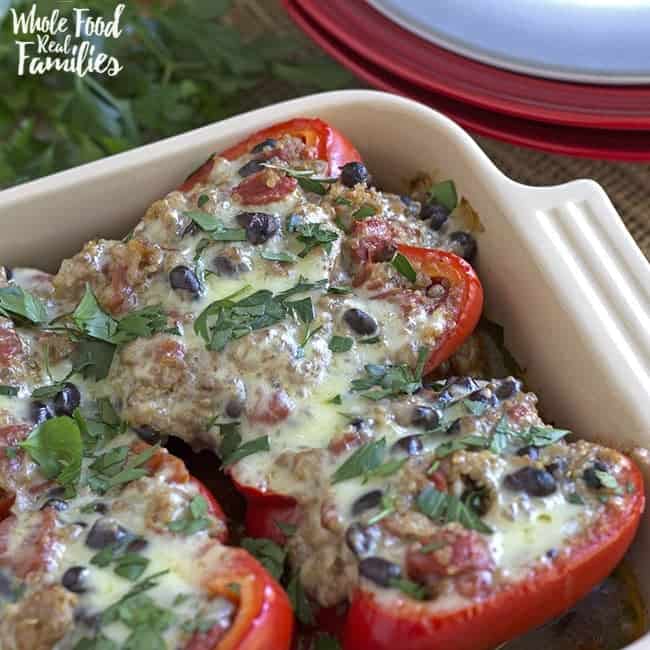 You've never had stuffed peppers as delicious as these Sausage Quinoa Stuffed Peppers! And the simplified recipe makes getting these delicacies on the table quickly.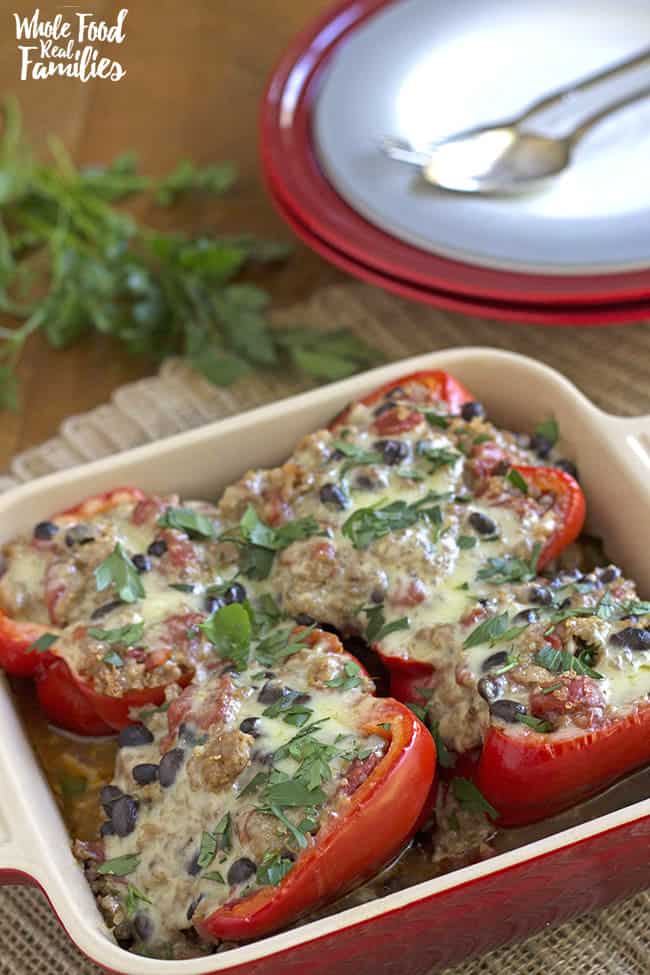 Sausage Quinoa Stuffed Peppers that Will Change Your Life!
I love stuffed peppers. Over the years, I have recreated my recipe for Sausage Quinoa Stuffed Peppers more times than I can count. This version is by far my favorite. The sausage and quinoa blend beautifully. And the fact that I had roasted tomatoes on hand in my freezer was the icing on the cake.  If you don't put up roasted tomatoes, I highly recommend it. It is easy, fast and so handy! But the truth is, having some high-quality canned tomatoes in the pantry is pretty much a must. With some quinoa and a can of tomatoes I can make about 12 different dinners… you think I am kidding….
When I first started planning this dish, I pulled out a pan for the peppers, a pot for the quinoa, a pan to brown the sausage, and a saute pan for the veggies. Once I pulled out every cooking contraption I owned and looked around, I thought – I would never do this more than once. What a pain! So I decided to roll the dice and see if I could cook the mixture all in one pot.
The result was so delicious! The flavors all mingled and merged and the result was so much better than the sum of their parts! I love it when delicious recipes get easier. I particularly love it when they generate fewer dishes to wash!
You would laugh if you knew how many times I get emails about whether or not this dish will really work in one pot. I swear, it works. Every time.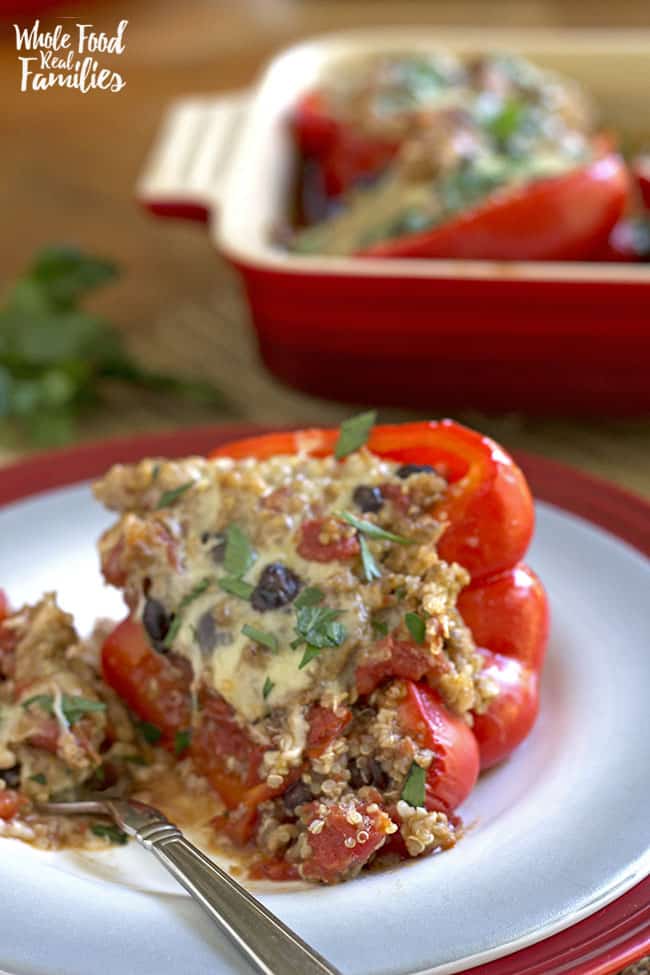 Feeding Kids a Sausage Quinoa Stuffed Pepper
The big tip is: Do it! My girls love these. (Even the picky one.)
But I am also strategic in my Quinoa Stuffed Pepper assembly. The first tip is to use red bell peppers (or orange, yellow, or purple). The green ones have more bite. The colored ones are milder and turn sweeter when cooked.
The second tip: I love the look of stuffed peppers that have just the top cut off and sit upright on the plate. But the truth is, that is a lot of bell pepper for my littlest kids. (The teenager loves bell peppers… and will eat a leather shoe if I put it in front of her.) So I split the bell peppers in half and lay them flat. This dish is so full of veggies that I don't feel any remorse.
The last tip is really more of a reflection on how I cook them. I always overfill the peppers with the sausage, quinoa, and tomato mixture and let it fall over the sides. Then add a little broth to the pan before I cover it and let it cook in the oven. The extra moisture under the peppers and the covered pan allow the peppers to get nice and soft before taking the cover off, adding the cheese and letting it turn all bubbly and delicious.

Stuffing Food Is Fun!
In case you have not had enough fun stuffing your food, give this Stuffed Butternut Squash a try!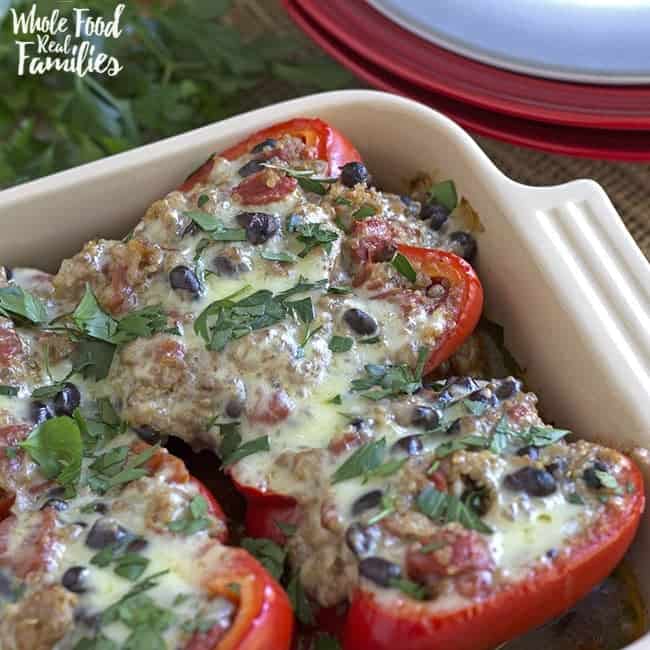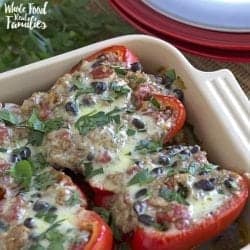 Sausage Quinoa Stuffed Peppers
Ingredients
2

tbsp

olive oil, or enough to coat the bottom of your pan

4

red bell pepper, halved and seeded

1

onion, diced

3

cloves

garlic, finely chopped

1

lb

high quality loose sausage

1

can

can of Organic Black Beans

3-4

cups

tomatoes, roasted and peeled

or substitute canned diced tomatoes

1

tbsp

dried oregano

1

cup

quinoa

2

cups

chicken or vegetable stock

salt and pepper to taste

4

tbsp

fresh parsley for garnishing

1

cup

Gruyere cheese (or your favorite cheese), grated
Instructions
Preheat oven to 400 degrees. Arrange seeded and halved peppers in a shallow pan or Dutch Oven hollow side facing up.

In a large saute pan, heat olive oil over medium heat. When oil is shimmering but not smoking, add onions and allow them to cook until soft, stirring occasionally. Add minced garlic and cook until fragrant (about 1 minute) stirring so that the garlic does not burn. Add loose sausage and cook until the sausage is browned through. (If you use high quality sausage, there will be no oil to drain off at this point, if you have used lesser quality sausage, you will need to drain off all except 2 tbsp of the excess grease.)

Add beans, tomatoes, oregano and salt and pepper. (I roast tomatoes and remove skins in large batches and put them in the freezer for this type of use. So I thaw them and pull them apart with my hands as I put them in the pot.) Mix well.

Add uncooked quinoa and chicken or vegetable stock to the pot and stir well. Allow the mixture to cook together until the quinoa is completely cooked. It will take about 20 minutes. You will be able to see the spiral in the quinoa when it is cooked. There mixture will be thick but juicy. Taste carefully and adjust salt and pepper to taste.

Use a measuring cup (or coffee mug!) to carefully scoop the sausage quinoa mixture and pour it into the hollow peppers, making sure to fill the peppers completely but allowing the mixture and juice to spill over the sides. Once all peppers are filled, pour remaining juice into the bottom of your pan or Dutch Oven. Put the pan into the pre-heated oven and cook for approximately 30 minutes or until the peppers are tender.

Pull the cooked peppers from the oven, top with grated cheese and cook for an additional 5 minutes or until the cheese is melted. Remove from oven and garnish with parsley. Enjoy!