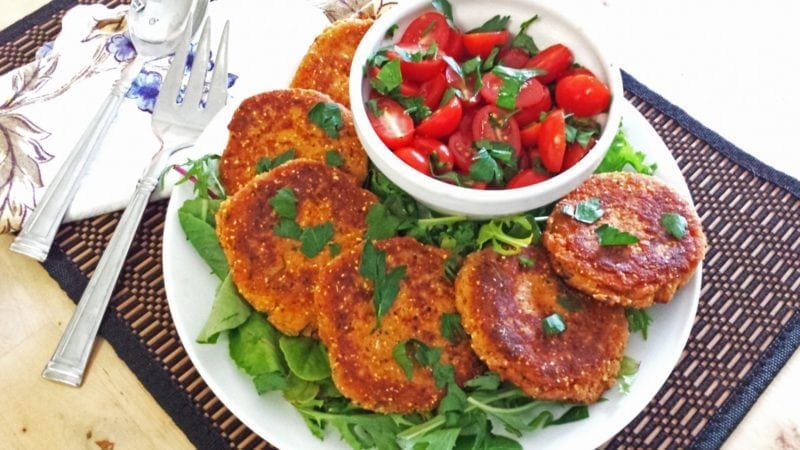 I find that I turn into one of those persnickety foodie people when it comes to buying things in cans. Call it a healthy distrust of mega-food companies desire to hide things in packaged food. (Did you know that the Grocery Manufacturer's Association has collected more than $11 million dollars from your favorite food brands to fight the labeling of genetically modified food? Click here for the list of donors – it includes companies like General Mills, Coca Cola, Pepsico, ConAgra Foods, Land O Lakes, Hershey's and Campbell's Soup.)
So for the handful of cans I keep in my pantry, I don't hesitate to spend more to know that the product they contain is healthy and all of the ingredients are disclosed so that I can make my own choices about what I put in my mouth. Canned salmon is no exception. While this recipe would work great with leftover salmon that you just break up with a fork, we never seem to have any leftover salmon at our house. So I always keep a few cans of high quality salmon in our pantry for nights that dinner has to get on the table but I haven't had a lot of time to prepare. I use Wild Planet Wild Alaskan Pink Salmon, Boneless & Skinless, 6-Ounce Cans (Pack of 6).
There are lots of recipes for Salmon Patties, Salmon Croquettes, Salon Cakes… many of them have a LOT of filler. Because we actually like the taste of salmon, we keep the breadcrumb filler to a half a cup of fresh breadcrumbs per 6 ounce can.  We also leave out the traditional bell peppers for the sake of our babies who don't care for them. But make up for it with a splash of our homemade Roasted Pepper Hot Sauce. But by all means, add in whatever veggies your family will eat!
We like to serve this with this easy Tomato Salad. YUM!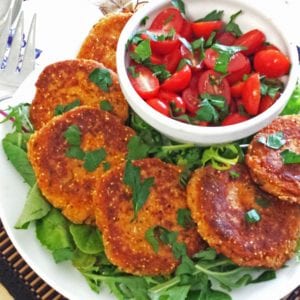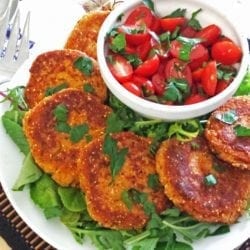 Salmon Cakes
Ingredients
3

6 oz cans

Sockeye Samon

or 18 oz fresh salmon, flaked

3

eggs

1/4

cup

Greek Yogurt, Plain

1 1/2

cups

whole wheat breadcrumbs

6

tbsp

corn meal

1

tbsp

parsley

1

tbsp

onion powder

1

spash

Roasted Pepper Hot Sauce

the splash can be as big or little as you like!

salt and pepper to taste

1/4

cup

olive oil (or enough to cover the bottom of your skillet)

you may need to add a little more depending on how many batches cook
Instructions
Heat oil over medium heat in a large skillet.

While oil is heating, combine all ingredients in a large bowl with a fork or your hands until the mixture is well mixed and uniform.

Use your hands to roll then pat flat salmon cakes (think hamburger patties) - I usually make each patty about 1/4 cup.

When the oil is shimmering but not smoking, place each patty in the hot oil and leave it until it is brown and crispy, about 3 minutes. Flip each patty over and brown the other side, also about 3 minutes. Make sure you do not crowd patties in the pan. You will likely have to cook them in batches.

When removing them from the pan, place them on a paper towel lined plate to absorb any extra oil. Serve hot and Enjoy!

Just in case you are interested, leftovers make a fantastic salmon sandwich the next day. 🙂