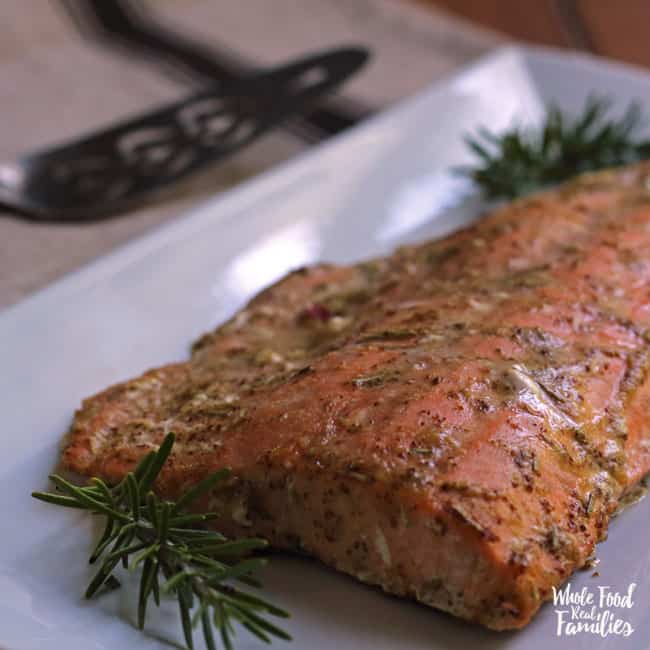 Honey Mustard Glazed Salmon is the perfect combination of savory and sweet. A complete salmon side makes for a dinner preparation that is simple enough for fast weeknight cooking or an elegant dinner.
Honey Mustard Glazed Salmon
A roasted salmon filet is one of those meals that we eat again and again. First, because it is healthy. Salmon is full of healthy fats that your body needs. Secondly, because it is ridiculously easy to prep and get in the oven and it cooks in about 20 minutes. While everyone in my house has an opinion about what they prefer to be eating, Honey Mustard Glazed Salmon is always a hit.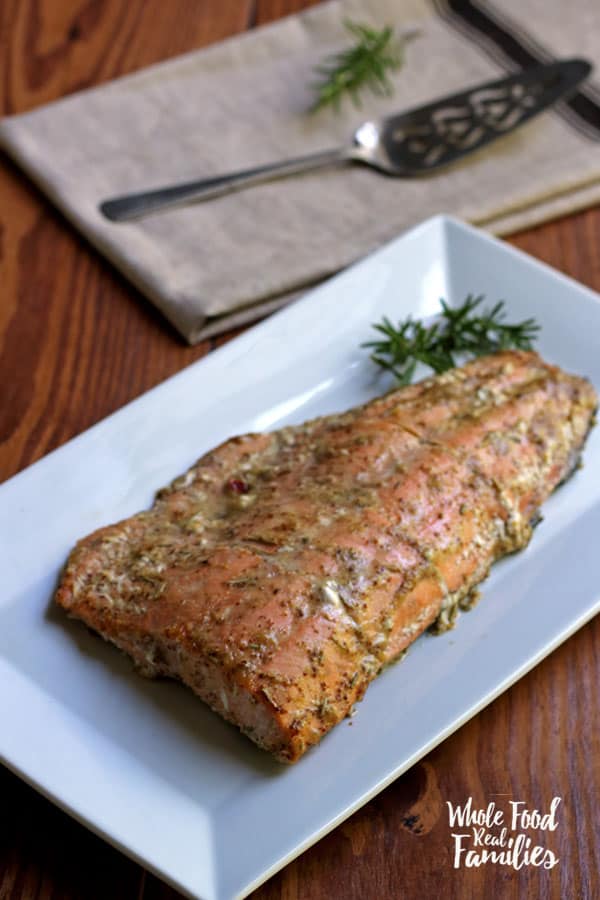 Make Whole Salmon Cleanup Easy!
Word to the wise when cooking a whole salmon side – or really any fish. Line your sheet pan with aluminum foil! As delicious as salmon is, the oils from the fish can be hard to get off your pan. And just a little residual oil will make your next batch of cookies taste pretty interesting.
Favorite Family Salmon Recipe
I have used the same salmon recipe for many years. It is this recipe for Roasted Salmon with Capers. (So easy! It goes in the oven in about 5 minutes and is perfect every time!) But being a foodie, I have continued to tinker with salmon recipes during that time only to be met with skepticism from my family for changing up their favorite salmon recipe. When I decided to brush this fish with my favorite deli-style mustard and a little honey and rosemary, I was met with what is known in certain circles as "the hairy eyeball."
More Whole Salmon Side in your Dinner Rotation
Expecting a coup at dinner, I was pleasantly surprised when my husband and all 3 of my kids said, "Hey mom! This is really good!" That is a win at my house, because our 3 kids never agree on anything at the table, even if they all eat it. One of the side effects of teaching them to be detailed taste testers to meet my recipe testing needs.
Want to try the Roasted Salmon with Capers too? You should!
Try serving it with this Herbed Brown Rice. This is one of our favorite side dishes and is easy to make extra to use more than one time in a week.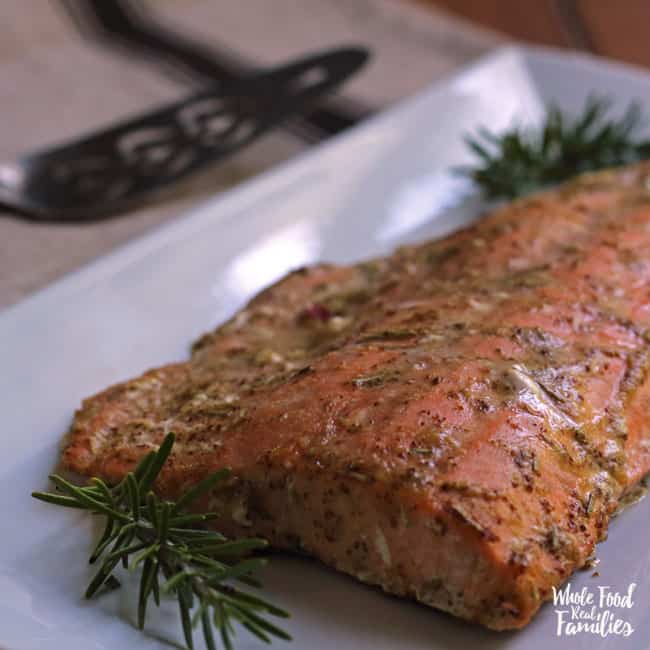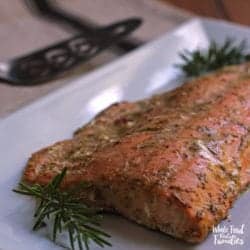 Honey Mustard Salmon with Rosemary
Roasting time will vary slightly based on the thickness of your filet. Slide a knife into the thickest part of the salmon to check if it is done. Cooked salmon will flake. Though many people prefer salmon to be medium rare, my kids freak out if they think it is rare in the middle so we cook it to medium.
Ingredients
1

whole filet of wild caught Salmon

2

tbsp

olive oil

1/3

cup

deli-style mustard

3

tbsp

honey

1

kosher salt and black pepper to taste

2

tsp

fresh rosemary
Instructions
Preheat oven to 425 degrees. Place your oven rack at the top third of the oven. Line your baking sheet with foil. Lay your filet of salmon on the baking sheet. If your salmon still has the skin, lay it skin side down.

In a small bowl, whisk mustard, honey, salt, olive oil, and rosemary until smooth. Brush it liberally on top of the salmon filet. Cover loosely with foil.

Roast salmon for 12-16 minutes (dependent on how well-done you like your salmon). Remove the top layer of foil from the salmon and continue roasting for 4-5 minutes so the edges get crispy. (That's my favorite part!)

Slice the salmon across to serve.