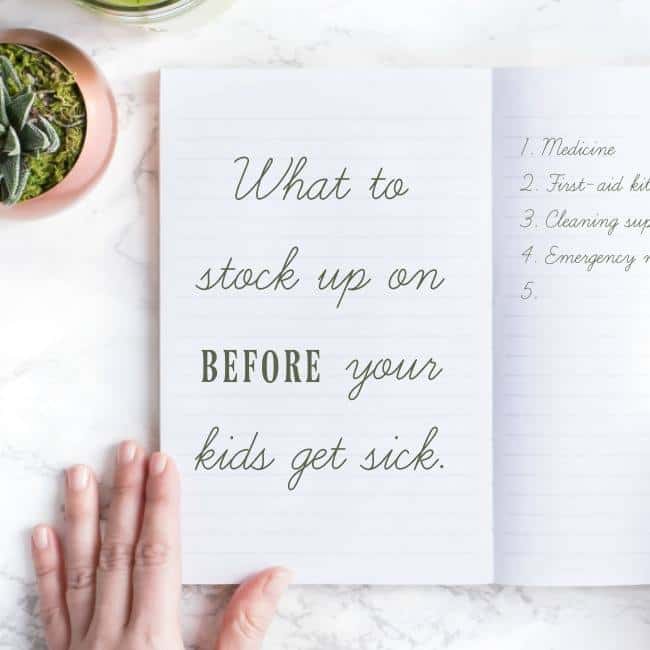 Kids get sick! But one thing parents everywhere can agree on, your kids are NEVER going to get sick when it is convenient. My husband and I have a running joke that our kids only get sick between Friday at 5 p.m. and Monday at 8 a.m., when the pediatrician's office is closed.
Have you been there too? Grab this FREE Urgent Contact Number Printable – we keep it taped to the inside of a cabinet in our kitchen – both for ourselves and for the sitter when we are out for any reason. It is helpful for keeping up with doctors' numbers, emergency contacts, even information specific to each child like medications and bedtimes.
Planning ahead will save you from a lot of sticky (and icky!) situations—mainly when it comes to "sickie" situations (okay, not as witty as it sounded in my head…)
Here are some of my favorite tips for all parents – because even parents with a huge support system find themselves out of medicine for that middle of the night kid cough and fever.
(And let's not even talk about everyone being sick at the same time… good times!)
Kids Get Sick – So How Do You Prepare Ahead of Time?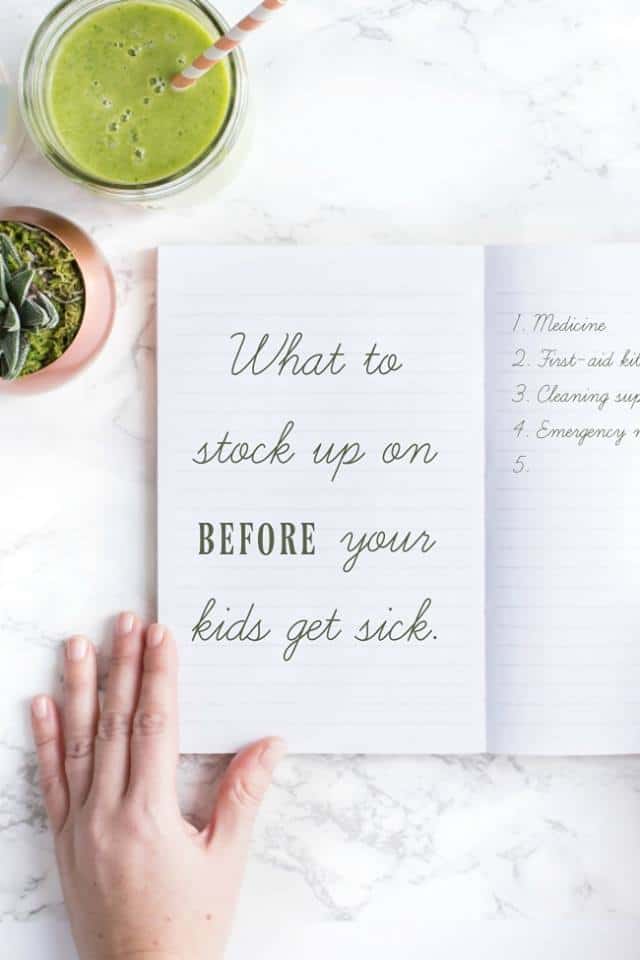 Stock Up for Sick Kids!
Keep pantry staples like crackers, soup, and Pedialyte popsicles in the house. I prefer homemade chicken noodle soup – but I keep a few cans in the pantry for emergencies!
When those staples run low (generally after we have been sick), I add it to my weekly grocery list and replenish inventory. I try to keep a few homemade frozen meals in my freezer at any given time – for nights that are short on time, but they also work well when I am sick and don't feel like cooking.
We also keep a stock of laundry detergent, toilet paper, paper towel, disinfectant spray, and toiletries for the shower—because sick kids are messy, and a stomach bug with no laundry detergent or disinfectant is no good for anybody. (Including the rest of the household who is hoping not to get sick!) So those household gems are restocked before they run out, not after.
First-Aid Kit/ Medications with Kids in Mind
Keep an emergency supply of any medications you or your child MUST have – asthma medication, epi-pens, insulin – these are not medications you can afford to be caught without. Talk to your doctor about having backups.
Keep a fully stocked first-aid kit in the house and a mini version in the car. (Do you know how many times I have doctored skinned knees out of my car at the park?) Make sure you know what is in the first aid kit if you buy a pre-stocked one. I have found there are some things in those kits that I really don't need and a few things that are missing.
My kids have a sensitivity to latex and rubber products, so I make sure there is a roll of self-adherent wrap tape in our first aid kit if there is a cut or scrape that will need a band-aid for more than a few minutes.
I also add an antiseptic and pain relief spray or cream to the kit. (Did I mention all the skinned knees?) Also, make sure the tweezers in your pre-stocked first aid kit are decent. It is very hard to remove splinters with the gigantic plastic tweezers that come in most kits.
You may think I am a little crazy, but I also keep a couple of bottles of water in the storage compartment in our car. I started doing this after the third time I was out with my kids and someone had vomited, fallen at the park, and then fallen on the pavement. I had no way to clean them up or clean the dirt out of the cuts until we got home. Sometimes just clean water is a blessing.
Other items to look for in your stock first aid kit: an assortment of bandages and Band-Aids, sterile gloves, cleaning wipes, sticky tape, skin rash cream (like hydrocortisone), painkillers like aspirin (not for kids under age!), ibuprofen, and Benadryl. I also tape the same emergency phone numbers inside the first aid kit that I put in my car.
Make sure if you do keep medications in your first aid kit that you keep them out of reach for children.
Prepare Some (Low-Key) Kid Fun!
I keep a secret stash of new coloring books, easy readers, crayons, sticker books, and other little inexpensive goodies. This is a massive blessing for long car trips and unexpected illness. It also is a great way to keep small kids distracted in the doctor's waiting room if I am the one that is sick!
Talk About Emergencies with Your Kids
Education is the counterpoint to fear —so have a plan. Emergency numbers are taped inside the cabinet door in our kitchen. Everyone in the house is taught where they are, as well as, to call 911 before calling a family member or going to our neighbors if it is an adult having a medical emergency.
Don't just keep the pediatrician's number posted, what about the dentist or the orthodontist, the eye doctor and the pharmacy. Where is the local urgent care for weekend emergencies? Where is the closest hospital?
What do you do at home to stay prepared for your kid's unexpected late-night coughs and weekend injuries? Leave your tips in the comments!