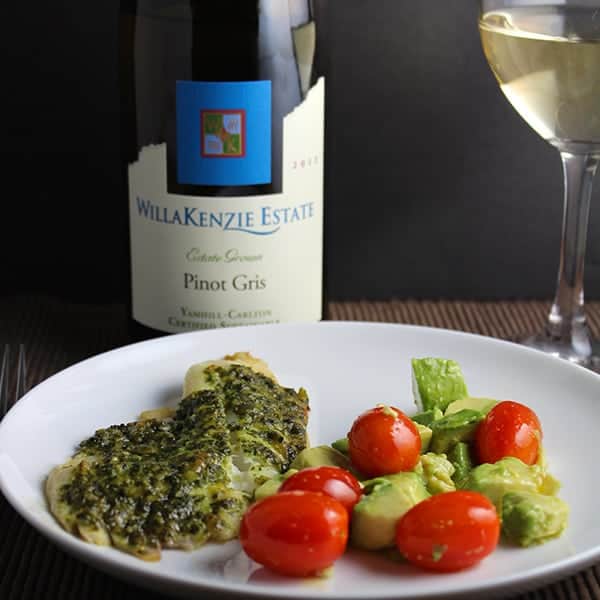 I am honored to have my friend David Crowley from Cooking Chat as a guest on the blog today. David and I got to know each other while blogging about healthy food. However, David's site is a special treat for me. He's a wine guy and shares his passion and knowledge about pairing wine and healthy food on his site. The more I read about his pairings, the more determined I became to get him to share his knowledge with you guys. Because he is a health conscious blogger, he is also a great resource for understanding sustainable and organic options in wine. I was particularly pleased to see that the wine he chose retailed for around $20. Score one for sustainability! Be sure to visit Cooking Chat and say hello to David. I know you will enjoy his site as much as I do.  – Cynthia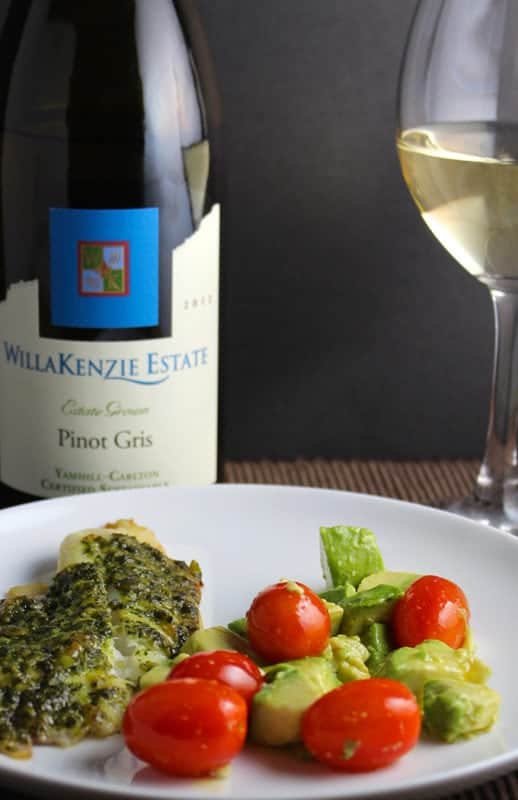 I have to confess, my first priority in choosing wine is finding one that will taste great and enhance the quality of the food I'm eating. For me, finding a wine that is natural is secondary to taste. Yet focusing on taste often leads me to selecting a wine that could be considered "natural" or "sustainable". I'm going to give you some context on these wine terms and then share an example of a great sustainable wine that pairs well with Cynthia's Tilapia with Pesto recipe.
Good wine is about nuance. The same wine grape varietal grown further down the slope of a vineyard can taste quite different because the sun hits the vine at a different angles, never mind the difference between wines with the same grape from another country. The ability of wine to conjure up the specific characteristics of soil, sun and other growing conditions of a particular place is referred to as terroir.
To enjoy interesting wines that celebrate the terroir of their vineyard, you need to bypass the mass-produced wines. Seek out wines from smaller producers who are passionate about their craft, who know that good wine starts in the field.
Focusing on such small, passionate wine producers leads me to find wines that are going to have one or more of following terms associated with it:
Organic – the grapes are grown using organic farming methods.
Sustainable – the vineyard uses sustainable farming practices.
Natural – wine that is fermented using the wild yeast that is present in the area and uses limited or no sulfur dioxide or other preservatives in the winemaking process.
Biodynamic – this is perhaps the most interesting category, based on traditional methods of winemaking developed long before today's modern science. This method can include planting and harvesting based on cycles of the moon and burying fertilizer in special ways.
The definition of what it takes to officially have any of these designations varies from one wine region to another. I've enjoyed wines that come certified as one or more of the above terms, as well as great wines from producers that use traditional winemaking methods but don't want to bother with the requirements of getting certified.
So if you want to find wine you can feel good about pairing with the healthy, whole food that has you here reading this blog, you have a couple of options. You can simply seek out small producers who use tend to shun the techniques used by mass produced wineries or you can look for wines that have received certification for their production methods, i.e. it has "organic" or "sustainable" on the label. For California wines, you can look for the "SIP-Sustainability in Practice" certification on the label.
Wine Pairing for Tilapia with Pesto
Cynthia's Tilapia with Pesto recipe caught my eye when she posted it. I decided to make it recently along with the avocado and tomato salad and pair the meal with a sustainable wine.
Sauvignon Blanc is a classic pairing for pesto, and I headed to Pairings, my local wine shop, thinking I might pick out a sauv blanc. Every Saturday the shop offers samples of six wines with food pairings, and I considered if any of the bottles open would pair well with the dish. I noticed that the 2012 WillaKenzie Pinot Gris had "Certified Sustainable" prominently on the label. I thought it might work well with the recipe and grabbed a bottle.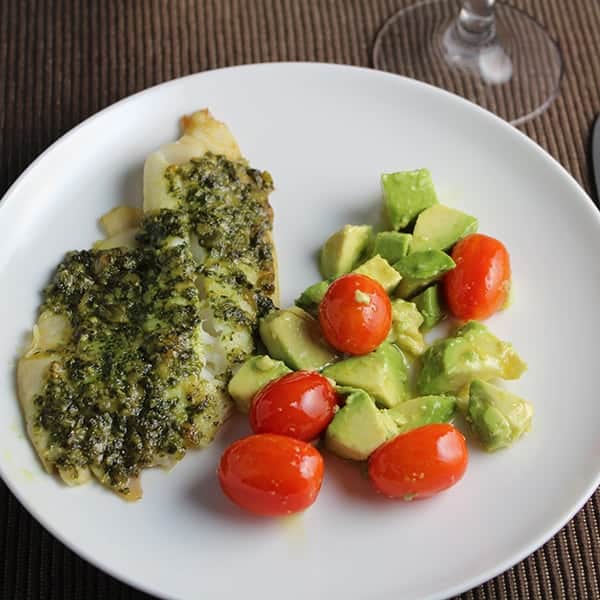 WillaKenzie, located in the heart of Oregon's Willamette Valley, is a great example of how I e ndup choosing many sustainable wines. Lori and Ray who own Pairings seek out small, passionate wine producers, and thus had introduced me to WillaKenzie a few years ago. The taste of their pinots quickly made me a fan. It was only visiting the WillaKenzie site to research this post that I realized their focus on sustainable practices. The first thing to catch my eye on their site was the tagline "Dirt Matters," giving some idea of the focus that leads to great wines.
Now, let's talk more about the wine I picked to pair with the tilapia with pesto. You might know Pinot Gris better as Pinot Grigio. It is the same wine grape varietal, called Pinot Grigio in Italy, Pinot Gris in France. WillaKenzie's owner has Burgundian roots, thus the French is used. I anticipated the wine's qualities would work nicely with the meal and wasn't disappointed.
To see how a wine pairs with a food, start with the wine. Swirl in the glass, and smell the bouquet. I detected apple blossoms on the nose of this Pinot Grigio. Then take a taste – lemon and honey is what I first noticed. After that first tasting sip, take a bite of the food. Nice firm yet tender fish, topped with a zesty pesto.
After a bite of food, take another sip of the wine to see how they work together. The lemon and honey taste refreshes after the bite of the pesto, making you ready for another bite of the food. That's a good pairing for you! In addition to the flavors working well together, the medium bodied white wine worked well with the texture of the fish. A pairing to try!
I know folks that are newer to wine pairings might be a bit intimidated by the tasting process. But really, it's as simple as trying some different combinations, and paying attention to how the wine and food work together. So the next time you are looking for a wine to pair with the whole food you are making, seek out a small producer with sustainable or organic certification and see how the tastes work together for you. If you're really stuck about what kind of wine to pick with the dish, pop over to Cooking Chat and reach out to me on social media or email for suggestions. Cheers!