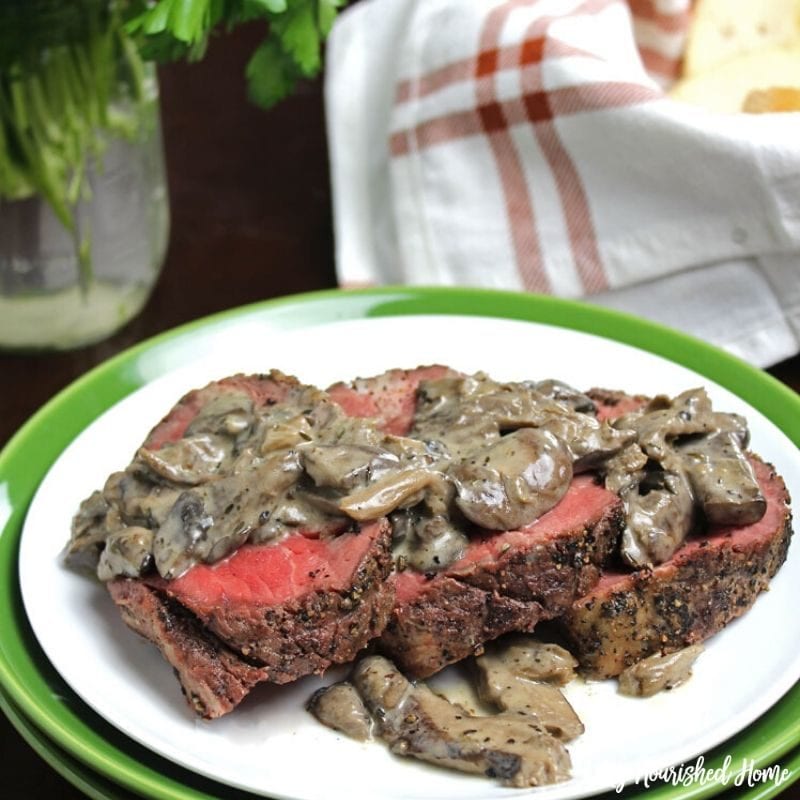 Beef Tenderloin Roast with Mushroom Cream Sauce is an elegant meal, perfect for holidays and time around the family table. The recipe depends on great beef and flavorful spices, not tricky techniques for a perfect taste.
So you don't have to worry about cooking an expensive cut for the first time and messing it up. This recipe is simple and delicious.
The Best Beef Tenderloin Roast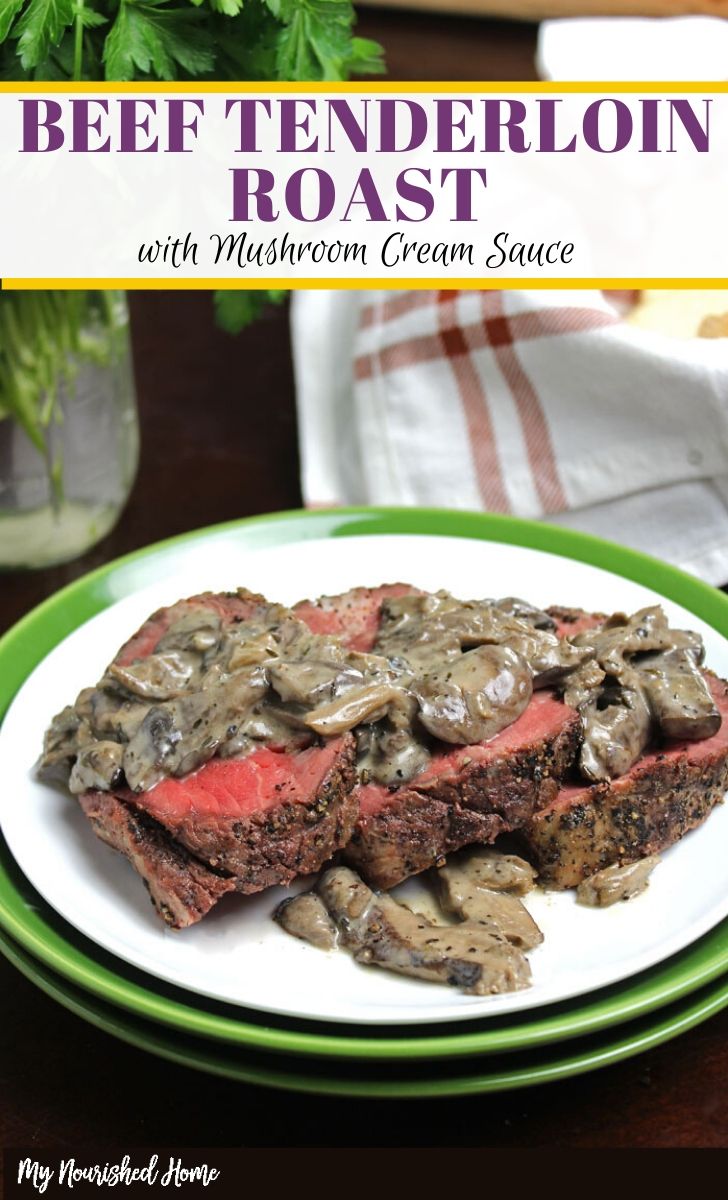 Beef tenderloin is one of those cuts of meat that I usually reserve for special occasions. It is definitely more spendy than turkey or ham but oh so worth it! (If you are on a bit of a tighter budget. This pork tenderloin is delicious too!)
A beef tenderloin roast is exactly what it sounds like… It is the same portion of beef that you would use to create a tenderloin steak (or filet mignon) but cut into a thicker, longer roast suitable for the oven instead of individual steaks that generally cook better in a skillet.
I personally love the peppercorn crust on this tenderloin. It is a simple spice mix that jazzes up the otherwise mild taste of the beef.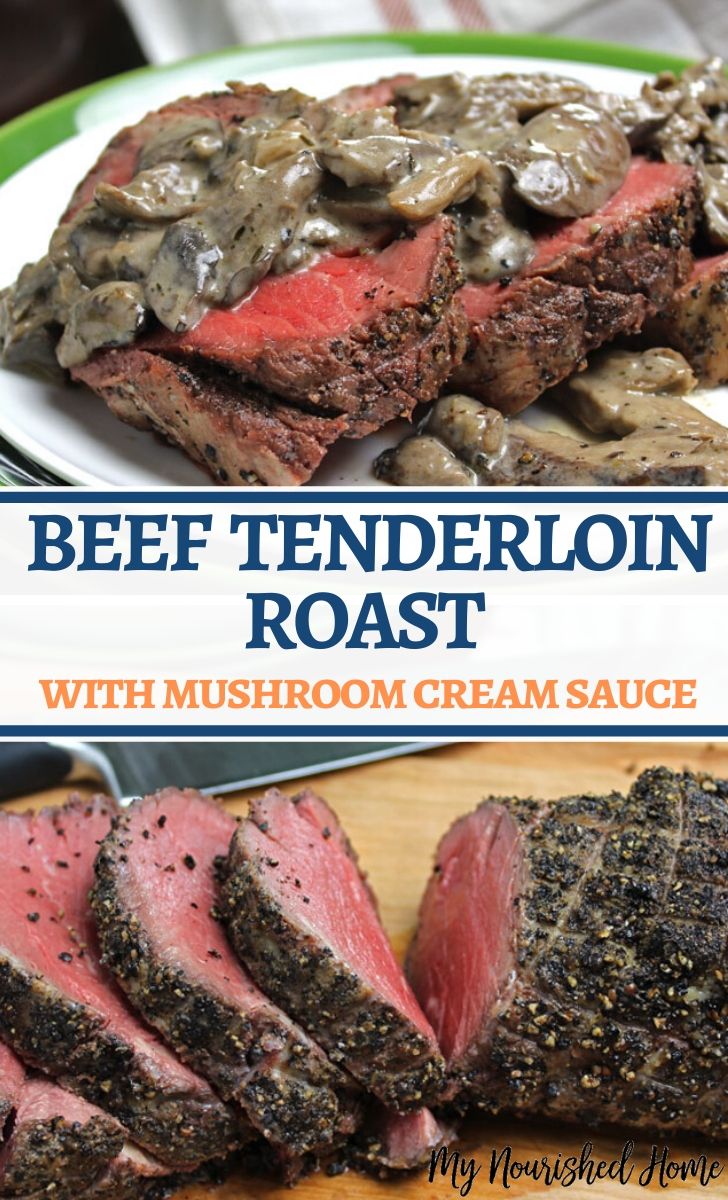 This Beef Tenderloin Roast is paired with a Mushroom Cream Sauce that really takes it over the top for the holiday. The flavor of the beef is mild and the texture is so tender, it is almost buttery.
I love cooking a whole beef tenderloin roast because of the WOW factor I get when it makes it to the table. There is the expectation that it was complicated and took a lot of finesse in the kitchen… Not so much. The recipe depends on great beef, an elegant, rich sauce, and a roasting technique that makes it come out perfectly, every time with no fuss.
It pairs well with the rich mushroom sauce and the result is restaurant quality.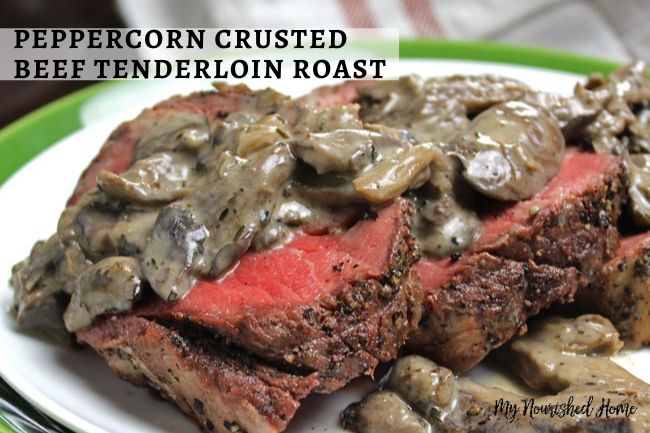 How to Make Beef Tenderloin Roast
I tend to favor roasting over other techniques when I need a meal to come together easily. And the holidays definitely qualify. On more than one occasion, I have planned more side dishes than I had hands and spent a lot of time fretting in the kitchen instead of enjoying my family.
Beef Tenderloin Roast takes away all of the anxiety over the main dish… the instructions are pretty easy. Basically you put it in the hot oven. That's it. There is no basting at all… You don't even open the oven until it is done (assuming you have an electronic thermometer, which I highly recommend in any kitchen!)
You will want to put your roast on a rack in your roasting pan. Having the meat slightly elevated rather than sitting on the bottom of the pan allows the air to circulate around the meat and cook more evenly.
Cook your tenderloin to 145 degrees for medium. Personally, we like tenderloin medium-rare so we aim for between 135-140 degrees. Keep in mind that you want to take the temperature of your roast through the side to the center of the beef. (You also don't want to touch bone or fat – not something you need to worry about with this cut.) I like this guide for doneness if you prefer your meat more or less cooked.
When you remove your tenderloin roast from the oven, tent it with foil and let it rest for 15 minutes before carving. This lets the meat redistribute the juices in the meat rather than having them run out on your plate when you carve it.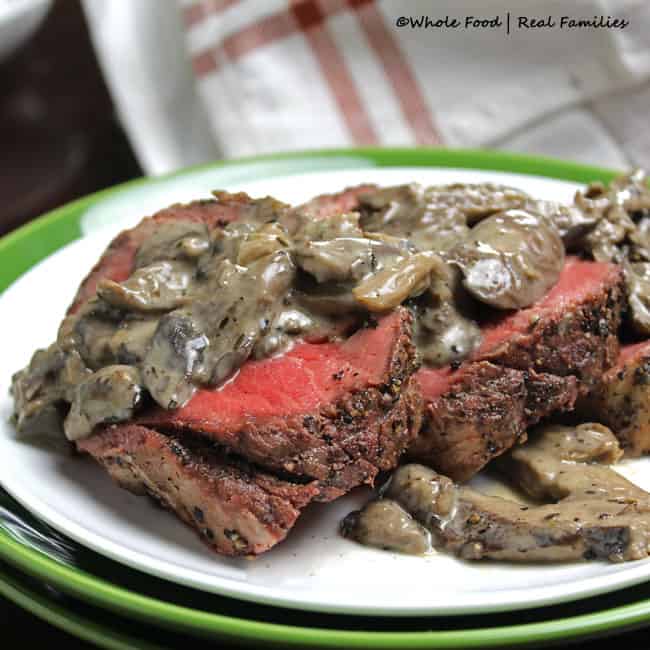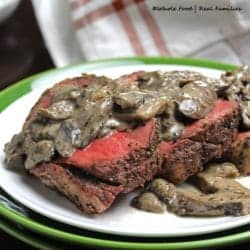 Peppercorn Beef Tenderloin Roast with Mushroom Cream Sauce
Keyword:
beef, christmas, holiday, roast
Ingredients
1 4-5

lb

Beef Tenderloin Roast

trimmed and tied

2

tbsp

whole peppercorns

2

tsp

kosher salt

4

tbsp

butter

16

oz

mushrooms

2

shallots

peeled and sliced into rings

1

tsp

thyme

dried

1/2

cup

beef broth

1/2

cup

heavy cream
Instructions
Preheat oven to 450°F.

Crush the peppercorns with a mortar and pestle, spice grinder or mallet until the peppercorns are broken but not powdery.

Combine peppercorns and salt in a small bowl.

Place tenderloin on rack in shallow roasting pan; rub seasonings evenly onto beef.

Roast for 15 minutes; reduce heat to 325°F and roast approximately 1 hour for medium doneness (145°F on thermometer).

Remove from oven, tent loosely with foil and rest 15 minutes before carving.

While roast is resting, melt butter in a large saute pan. Add mushrooms, sliced shallots, thyme, salt and pepper to taste, and allow the mushrooms to cook until their liquid releases, about 8 minutes. Add 1/2 cup of beef broth, 1/2 cup of cream and whisk gently to combine. Allow the mixture to reduce until it reaches your desired consistency. If the sauce is too thick, you can add a little extra broth to thin it before serving.
Nutrition Facts
Peppercorn Beef Tenderloin Roast with Mushroom Cream Sauce
Amount Per Serving
Calories 903
Calories from Fat 657
% Daily Value*
Fat 73g112%
Cholesterol 234mg78%
Sodium 836mg35%
Potassium 1115mg32%
Carbohydrates 5g2%
Protein 54g108%
Vitamin A 419IU8%
Vitamin C 2mg2%
Calcium 46mg5%
Iron 7mg39%
* Percent Daily Values are based on a 2000 calorie diet.