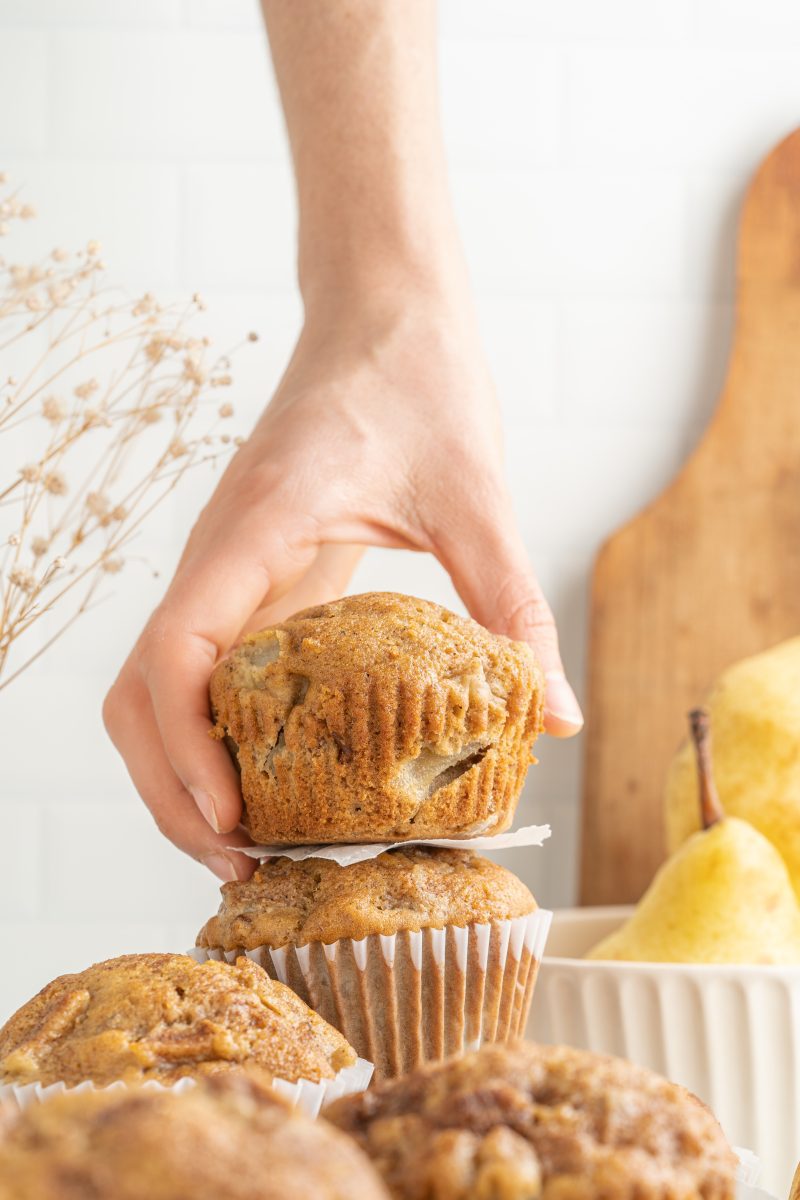 Pear muffins are soft, sweet, and healthy –– packed with vitamins and nutrients! This pear muffins recipe brings cinnamon, sugar, and spice together in a dozen delicious muffins.
Pear Muffins
Fresh muffins with fruit are the perfect way to add some sweetness to your day. My pear muffins recipe features soft, juicy pear pieces and the flavors of ginger and allspice that add a kick to the sweetness.
What makes this recipe absolutely scrumptious is the cinnamon sugar coating that contains bits of buttery pecans. This cinnamon sugar gives the muffins a crispy, sugary finish while the chopped pecans provide a crunchy contrast to the softness of the muffins themselves.
If you love these pear muffins, I've got plenty more muffin recipes for you to enjoy. Try my Ginger Peach Muffins, Banana Muffins, or Blueberry Lemon Muffins next.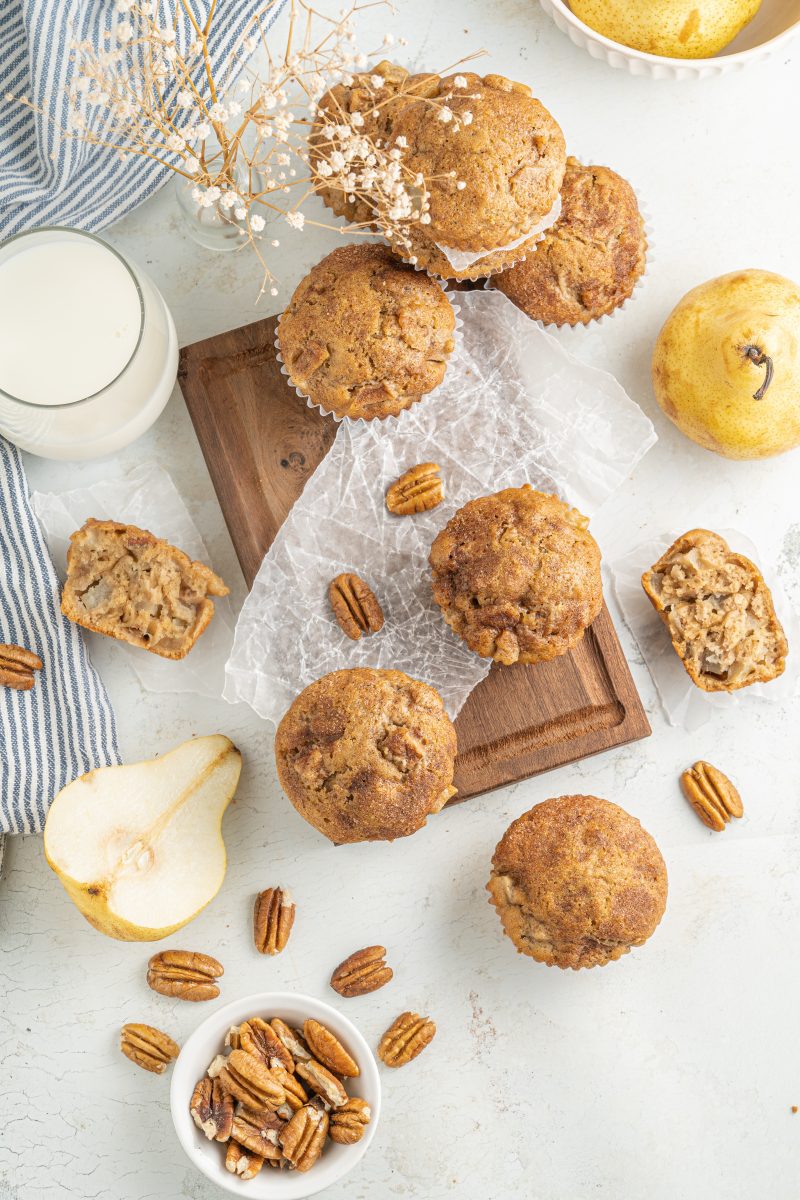 Why you will love Pear Muffins
Healthy! Pears contain a variety of vitamins and nutrients, including Vitamin C, Vitamin K, and potassium. They're also a low-calorie fruit as well as a great source of fiber.
Freezer-friendly. These muffins freeze incredibly well, making them the perfect recipe to prepare in advance and freeze for later.
Delicious anytime of day. You can enjoy pear muffins for breakfast, snack, or even dessert! Muffins are also ideal to take on the go because they are small and easy to pack in a snack bag or other container.
Easy to make. This pear muffins recipe comes together with just half an hour of active prep time.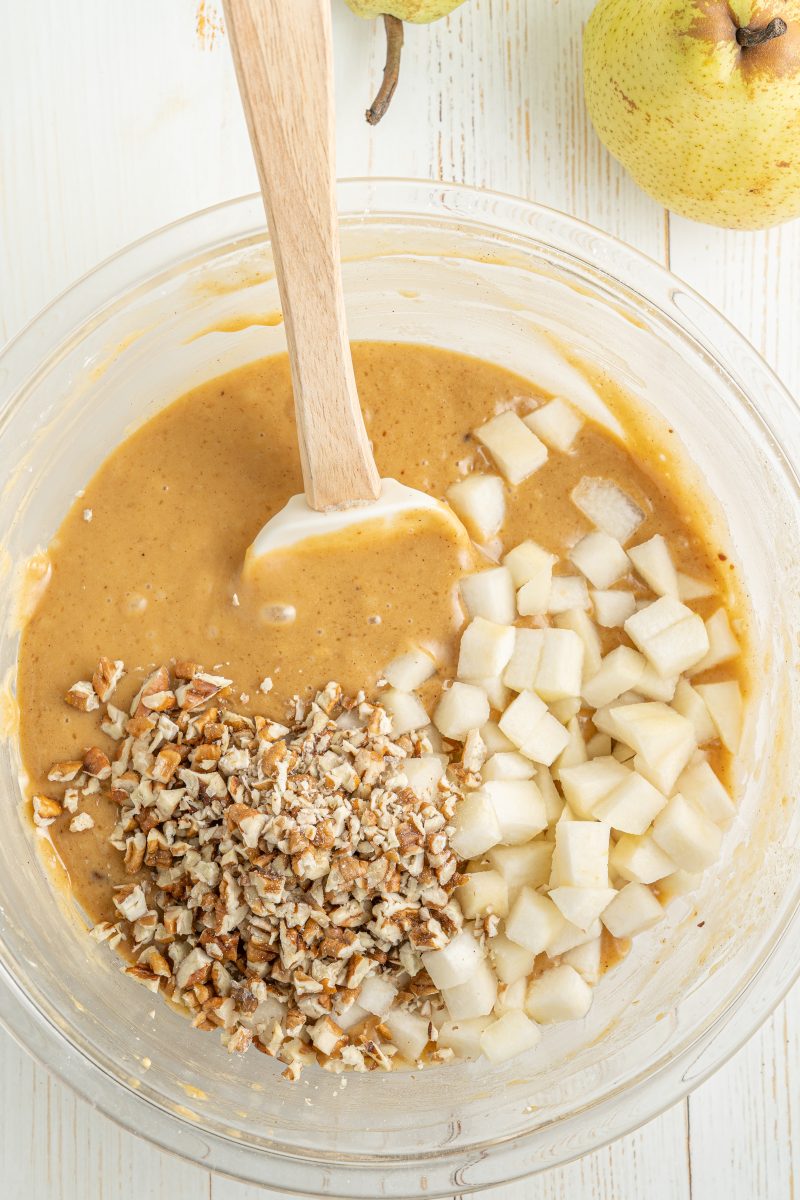 How to Make Perfect Pear Muffins
Step One: Preheat your oven to 350F and prepare a 12-muffin pan with liners. Set aside until your batter is ready.
Step Two: Dice pears into small pieces that are approximately 1/4" in size. You'll want them to be small enough so that they don't sink when folded into the batter.
Step Three: Beat the eggs in a large bowl, then whisk in the other liquids. Add both sugars and whisk again until fully combined.
Step Four: Mix together dry ingredients in a separate bowl, working to eliminate clumps so that your batter doesn't turn out clumpy. Fold your dry ingredients into the bowl of wet ingredients.
Step Five: Stir in your diced pear and chopped pecans, stirring until fully combined. Be careful not to overmix your muffin batter. Overmixing your batter can have a negative impact on the texture of your muffins, making them tough.
Step Six: Divide batter into the liners, then make the cinnamon sugar mixture and spread it on top of the wet batter.
Step Seven: Bake for about 20 minutes. Use a toothpick into the center to check if the muffins are done. If the inserted toothpick comes out clean, your muffins are ready!
Step Eight: Once the muffins are done baking, remove them from the muffin tin and allow them to cool fully before storing. Taking them out of the muffin tin to cool will help prevent the muffins from getting too moist in the base.
Pro Tip: I personally prefer to peel pears before baking with them, but since they tend to soften up when baking, you're welcome to leave the peels on if you wish.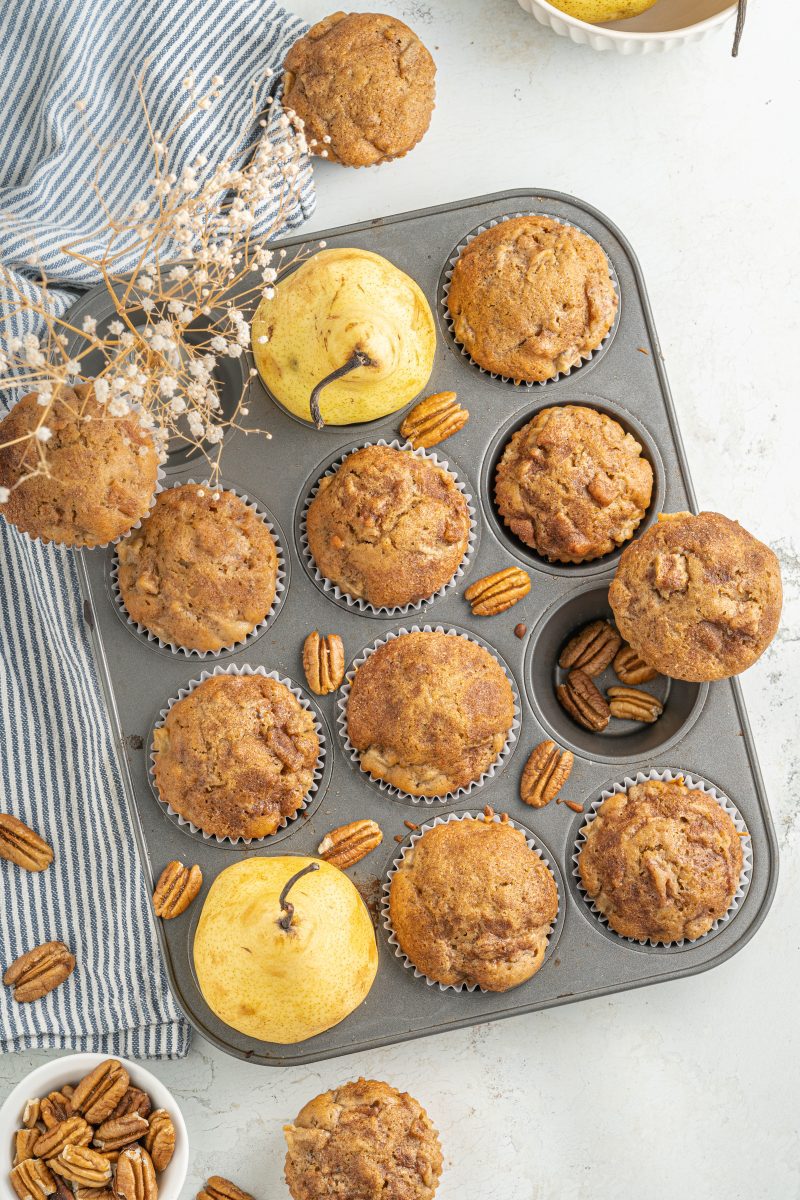 Frequently asked Questions about Pear Muffins
How do I store pear muffins?
These muffins can be stored in a sealed bag on the counter for three days. Or, they will keep for up to five days in the refrigerator.
Want to keep them longer than that? Store muffins individually in the freezer. I recommend wrapping each muffin tightly in plastic wrap and then transferring them to an airtight container or bag.
Most muffins will keep in the freezer and maintain peak freshness for about 3 months. Once you're ready to enjoy your muffins, thaw on the counter and reheat them in the microwave or oven.
Do I need to pre-cook pears before baking them?
Nope! It is not necessary to pre-cook the pears since they will naturally soften as your muffin batter bakes. To ensure that all pieces of pear cook fully, be sure to dice them small and as evenly as possible.
What type of pears are best for baking?
When it comes to the best pears for baking, you have lots of great options to choose from! Some of the most popular pears for baking are the Bosc variety and the Anjou variety. These two are known to withstand heat and hold their shape well, while also having a delicious taste. Bartlett pears are another favorite for baking, known for being juicy and sweet.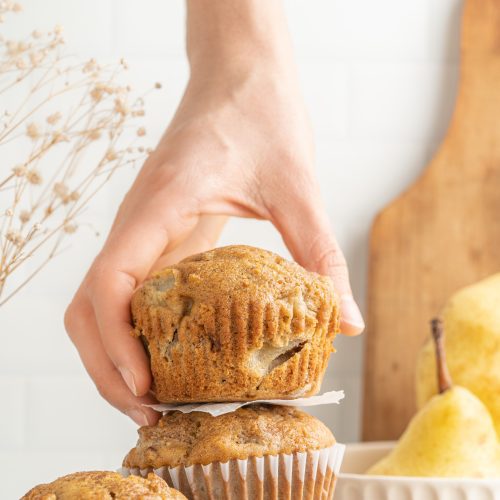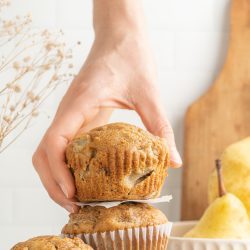 Pear Muffins
Pear muffins are soft, sweet, and healthy –– packed with vitamins and nutrients! This pear muffins recipe brings cinnamon, sugar, and spice together in a dozen delicious muffins.
Course:
Breads & Muffins, Dessert, Snack, Snacks & Dessert, Snacks & Treats
Keyword:
baking, muffins, pear, pear muffins
Ingredients
Pear Muffins
1/2

cup

brown sugar

1/2

cup

granulated sugar

2

medium

eggs

1/2

cup

canola oil

or any neutral oil

1/2

cup

whole milk

1

tsp

vanilla extract

2

cup

all purpose flour

2

tsp

baking powder

1

tsp

ground cinnamon

1/2

tsp

ground ginger

1/2

tsp

allspice

2

medium

pears

peeled and diced

1/2

cup

pecans

chopped
Cinnamon Sugar
1 1/2

tbsp

sugar

1/2

tsp

ground cinnamon
Instructions
Preheat the oven to 350F. Prepare a 12-muffin pan with 12 muffin liners. Set it aside.

Beat the eggs in a large bowl. Add milk, canola oil, and vanilla extract and combine. Then add brown and granulated sugar and whisk.

Mix dry ingredients (all-purpose flour, baking powder, baking soda, ground cinnamon, ground ginger, and allspice) in a different bowl. Then, fold it into the bowl with the wet mixture.

Fold in diced pear and chopped pecans. Stir to combine without overmixing.

Divide the muffin batter into the prepared muffin liners.

Mix cinnamon sugar ingredients and spread them onto the muffins.

Bake for 20 minutes or until an inserted toothpick comes out clean.

Let it cool to room temperature and remove it from the muffin pan so they don't moisten in the base.
Recipe Notes
These pear muffins are so fresh, moist, and tasty. Their texture is soft and full of juicy pear pieces. Taste-wise, they're sweet and with a pinch of fall spices flavor such as cinnamon, ginger, and allspice. Then I've added some ground cinnamon sugar on top, providing a sugary-crispy crust and chopped pecan nuts that combine beautifully.
Tips
Store these muffins in a sealed bag over the counter for up to three days or in the fridge for up to five days.

These muffins are freezer-friendly, store them individually and reheat them in the oven or microwave.
Nutrition Facts
Pear Muffins
Amount Per Serving
Calories 295
Calories from Fat 126
% Daily Value*
Fat 14g22%
Cholesterol 29mg10%
Sodium 88mg4%
Potassium 115mg3%
Carbohydrates 41g14%
Protein 4g8%
Vitamin A 67IU1%
Vitamin C 1mg1%
Calcium 75mg8%
Iron 1mg6%
* Percent Daily Values are based on a 2000 calorie diet.