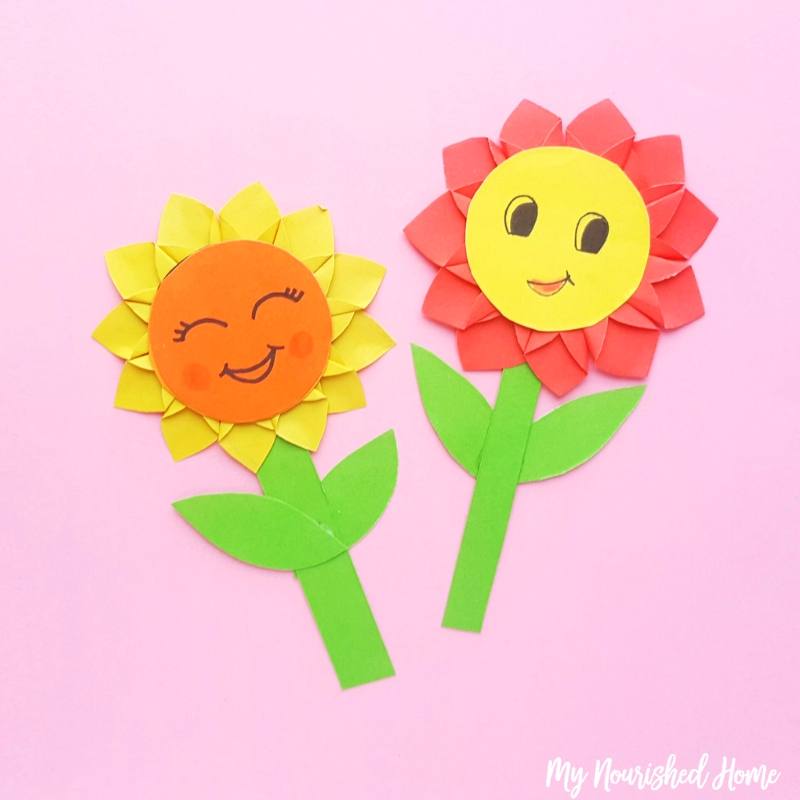 Learn to make this Paper Sunflower craft with your kids! We have an easy tutorial for you, complete with a free Sunflower template.
Paper Sunflower Craft
My girls love sunflowers, we plant them in our yard. We made a fun, easy DIY Wall Sunflower, and of course, when it came craft time, we wanted to learn to make them for ourselves. The only problem we ran into is that most of the sunflower crafts we found online were created for preschoolers using paper plates.
I love a good paper plate craft but my girls are getting a bit older. I wanted to try something my elementary school kids could do but would also be a little more challenging (and rewarding!) for them.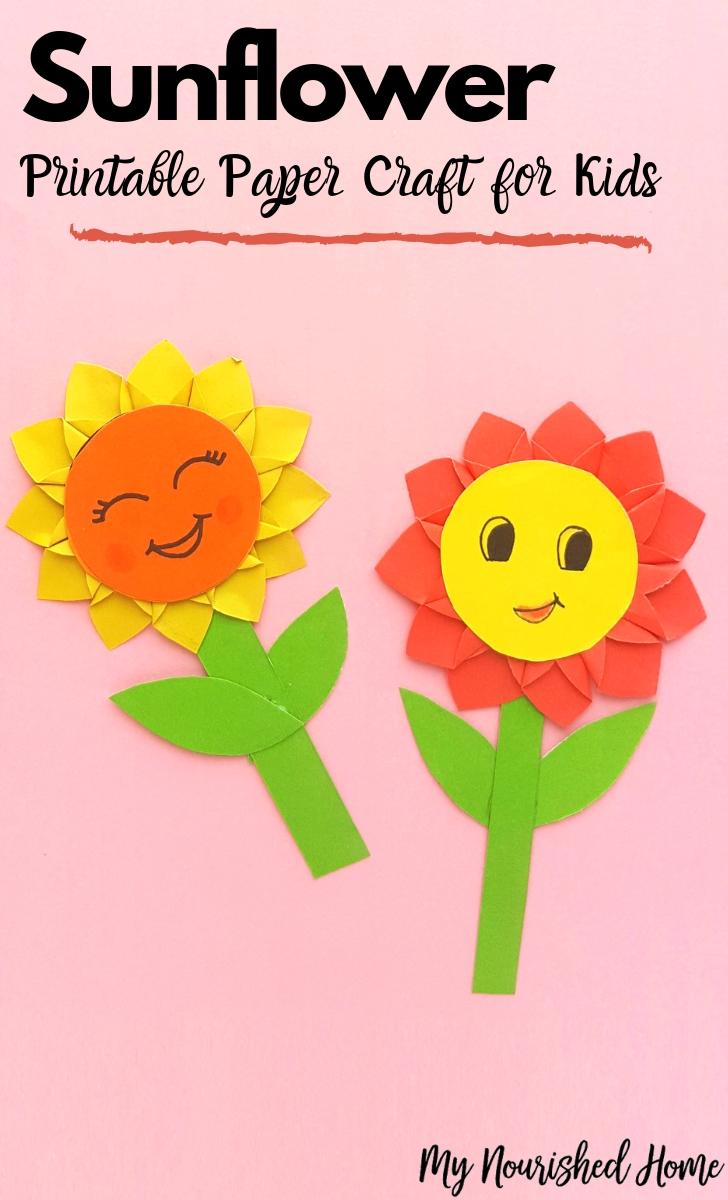 How to Make Paper Sunflowers
One of the things I really love about paper crafts is that no matter how simple or complicated the project, the supplies are inexpensive and usually in my existing craft stash!
Okay, I admit, I have a huge craft stash… but even if you have to purchase supplies, you can get them at the local box store. You don't need a trip to the craft store — though if you want an excuse to head to the craft store, I can totally relate.
So gather your sunflower craft supplies! You will need:
scissors,
construction paper in the colors you prefer for your sunflower (I like orange, yellow, and red but use whatever colors you and your kids love),
green cardstock (for the flower stems – the cardstock will help make your flower more sturdy but you can use construction paper in a pinch!),
glue,
pencil,
markers,
ruler,
and of course your printable Free Sunflower Template.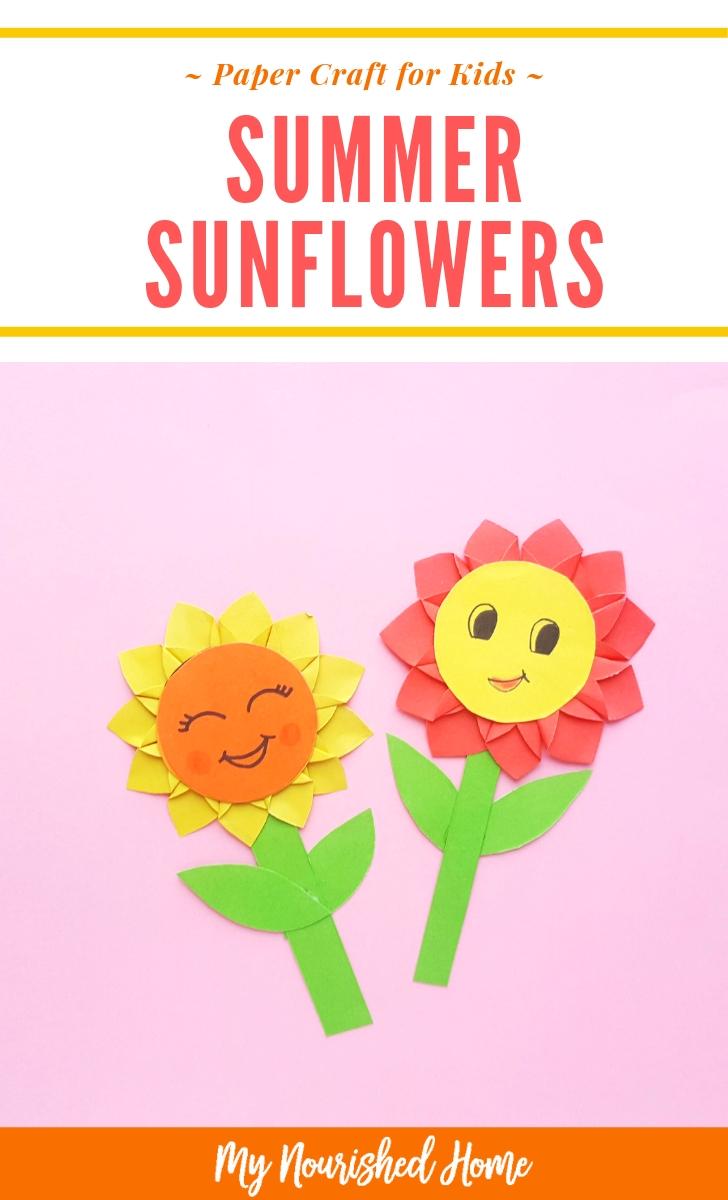 DIY Paper Sunflower Template
We love kids crafts and love sharing them with you. Drop your best email address in the signup box below and we will send you the password to our Premium Crafts for Kids page where you can download your free Sunflower template.
Don't worry, you don't have to sign up all over the place every time you need a free template. Keep your password and you have access to all of our craft templates in one place.

Now you can use both the Paper Sunflower Tutorial written below or you can use the series of DIY photos below to make your own paper sunflowers! I find that my kids really like using the photos to go step by step but I need the written instructions.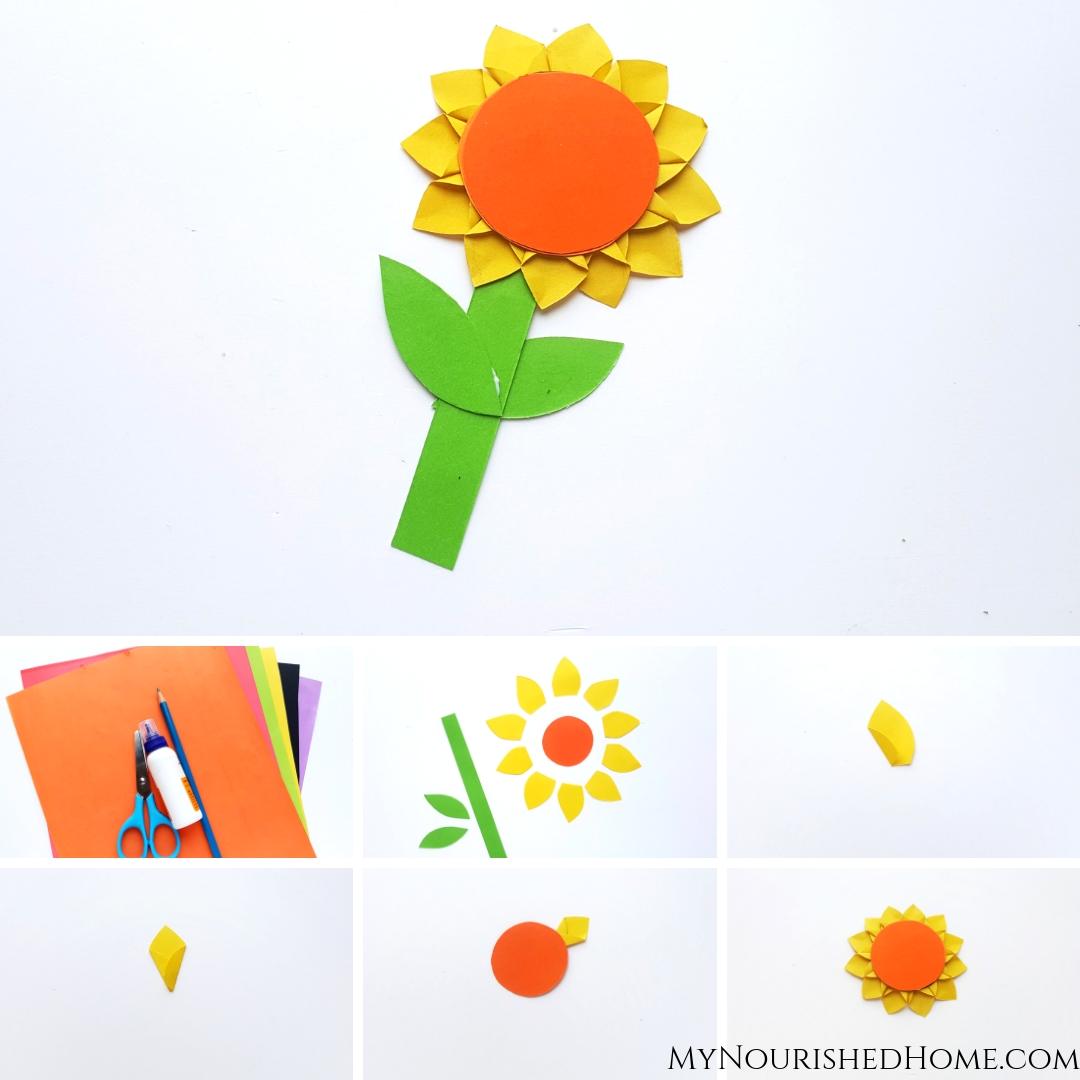 Sunflowers are just the beginning…
If you love making paper crafts with your kids, you can also make this fun patriotic pinwheel! Another papercraft perfect for summertime.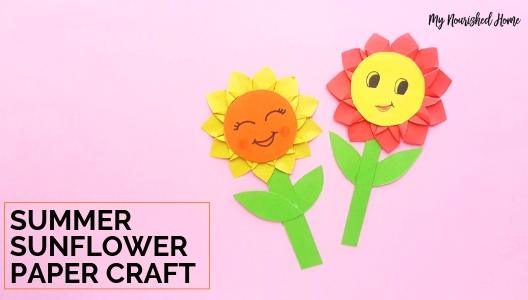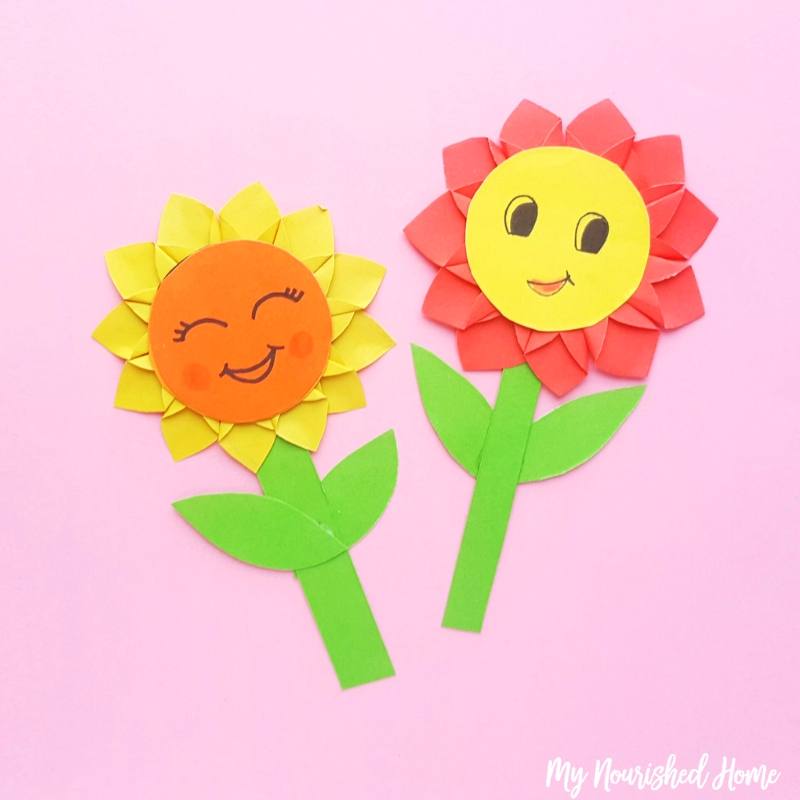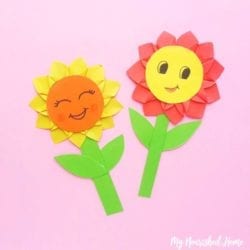 Sunflower Paper Craft
Say hello to summer with this printable sunflower paper craft for kids!
Ingredients
Construction or Scrapbooking Paper

Green Cardstock

Glue

Scissors

Ruler

Pencil

Markers

Printable Template
Instructions
Use the templates to cut out the petals, leaves, and stem for the sunflower.

Take a petal of the sunflower and fold one side from the bottom. Bring the corner toward

the center diagonally.

Then similarly bring the other side towards the center and glue it there.

Now take the round piece for the center and take the sunflower's folded petal.

Glue the petal on the back of the round base.

Keep gluing the petals around the circle until it's filled with flower petals.

Glue the stem on the back of the center.

Glue the leaves to the stem.

Use marker pens to draw a smiley face on the sunflower.