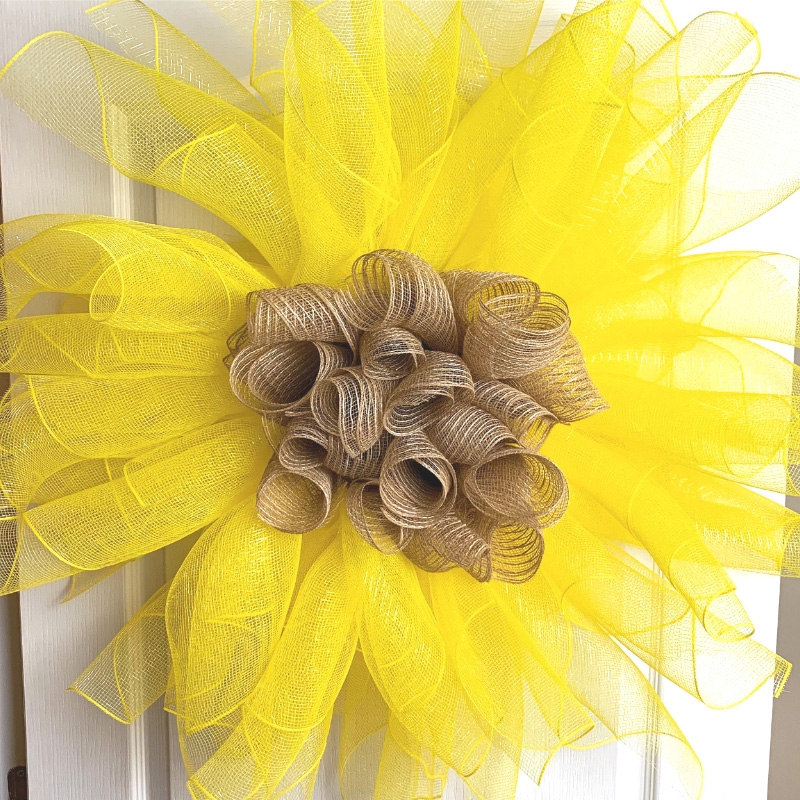 This brilliant Mesh Sunflower Wall Decor is such a stunning center point for a sunroom, kitchen or little girl's room. It is also very easy to make with just a few supplies and a little imagination!
Mesh Sunflower Wall Decor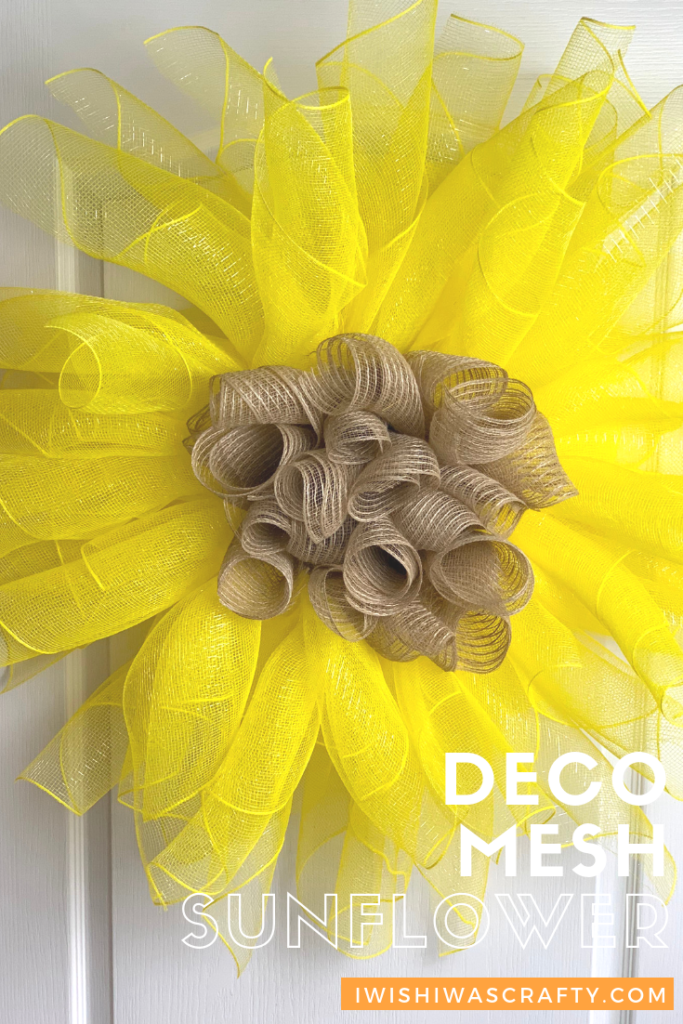 My 2 youngest daughters love sunflowers – and share a room. So I have been noodling over how to create some sunflower decor to brighten their room with something they love. But I also didn't want to spend a ton. And didn't want it to be super permanent considering they are 5 and 7 and in a month they may be totally in love with something different.
This sunflower art was designed with their room in mind. It is big enough to hang above the head of each of their beds and fill that wall with color, which I love!
You can find the deco mesh I used in any craft store (look for it to go on sale!) or on Amazon. You might even find it in a store like Walmart if your store is big enough to have a craft section. If you decide to buy through the links in this post, you pay the same price, but I get a small commission that helps keep me in craft supplies for the next project. (So thank you!)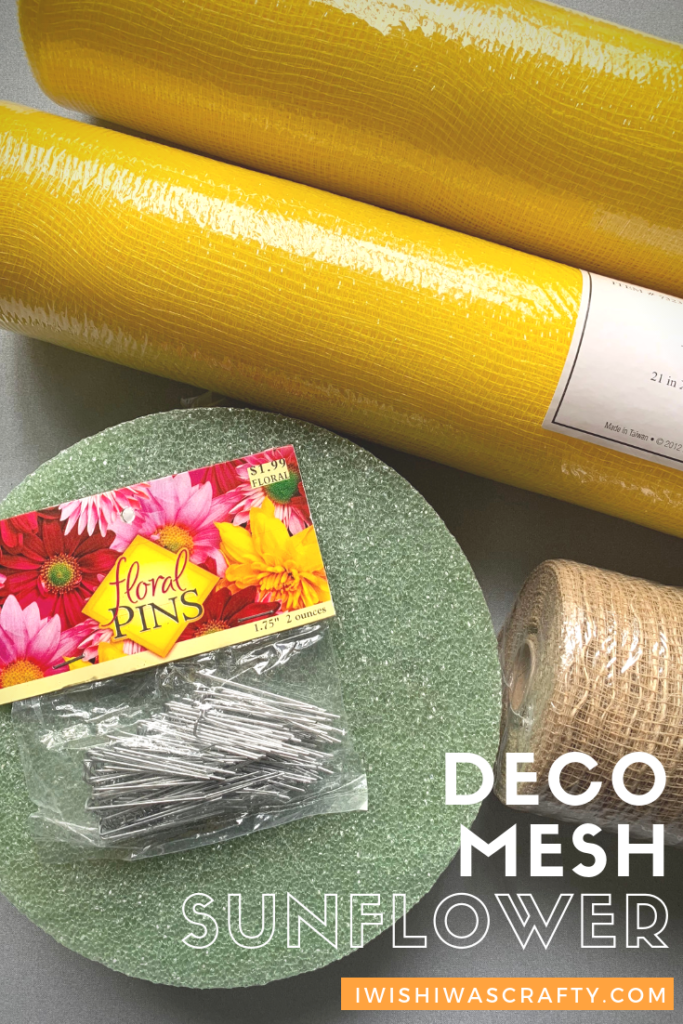 Mesh Sunflower Tutorial
The supplies you need for the sunflower wall decor are easy to find:
1 21-inch roll of Yellow Deco Mesh (or change up the color of the flower for your decor)
1 10-inch roll of Burlap or Brown Deco Mesh
1 8-inch floral round
1 pack of floral pins
Scissors
1 sawtooth picture hanger
FloraCraft Decorative Mesh, 21-Inch by 10-Yard Length, Yellow

10 Inch x 30 Feet Deco Poly Jute Mesh Ribbon (Natural Brown) : XB93210-15

FloraCraft 100 Piece Floral Pins 1.75 Inch Bright Silver

Instructions:
Cut the yellow deco mesh into 2-foot strips. You should end up with about 15 pieces. Make sure it is still loosely rolled but pull the opposite ends of the fabric to create a petal-like effect with the mesh. It will hold in place because of the type of fabric.
Cut the burlap deco mesh into 18-inch strips and roll it neatly. Do not pull the ends.
Fold a piece of the yellow deco mesh in half. I found it helpful to fold the ends in again to help it hold its form. Using the floral pins, secure the yellow sunflower leaves to the outside of the floral round. Work your way all the way around the circle.
Fold the burlap pieces in half the same way, and use the floral pins to secure them to the middle of the floral round, working your way across the front of the round.
Use extra pins to secure any lose pieces.
Carefully flip the sunflower decor over and attach a sawtooth picture hanger with 2 floral pins.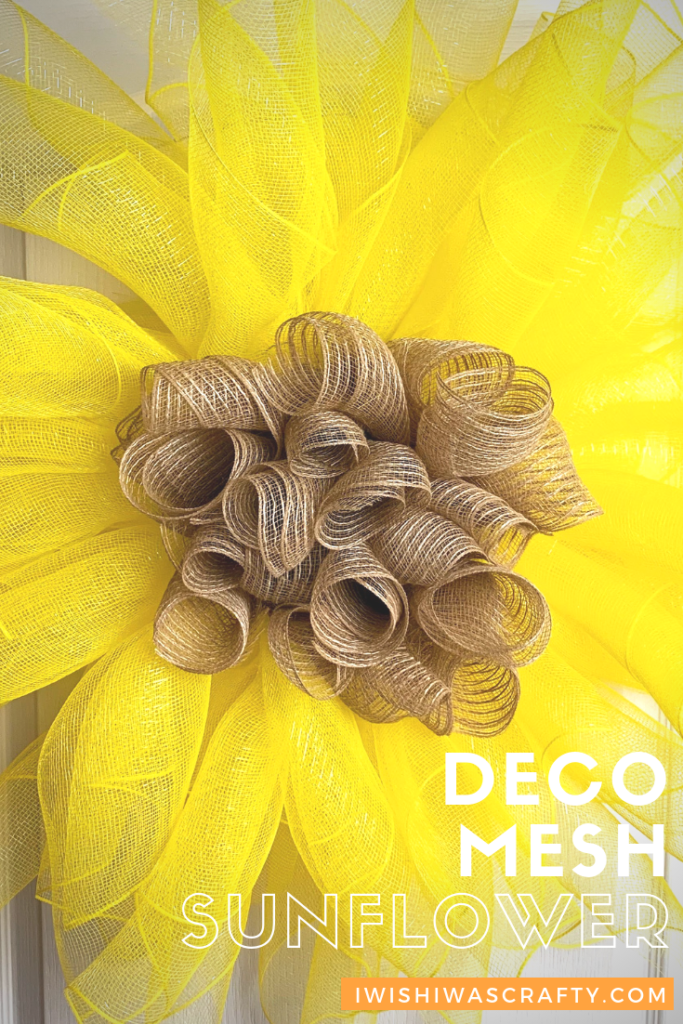 Sunflower Wall Art
My girls were so excited when they walked into their room to find this Sunflower Wall Decor on above their beds. Let me know if you decide to make some for yourself! I want to see your pictures. If you post on Instagram, add the hashtag #ohsocrafty and I will find it!