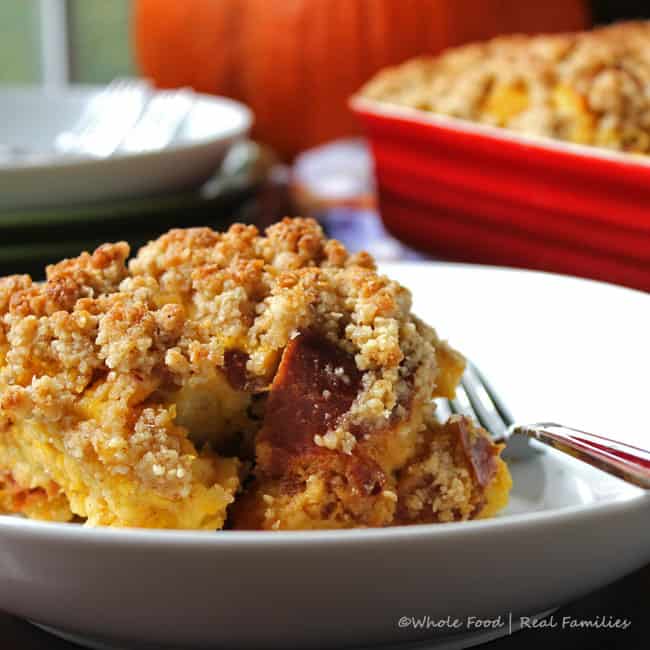 Maple Pumpkin Bread Pudding is warm and delicious with an Oatmeal Crumble Top that is out of this world. I can't take a bite without thinking I should be sharing it with my dad, who loves bread pudding as much as I do!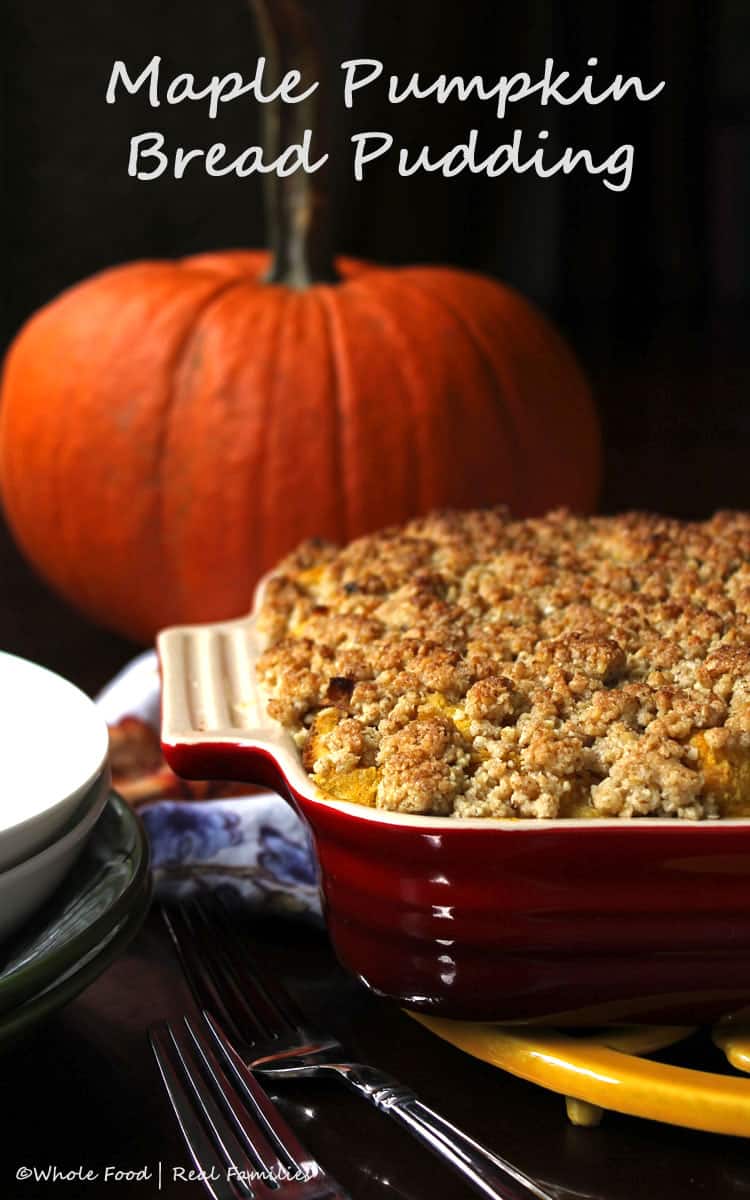 Maple Pumpkin Bread Pudding is AWESOME!
My dad turned me on to bread pudding when I was just a teenager. My mother is not a fan so I became my father's co-conspirator when it came time to order dessert. My dad and I have happily shared many versions of bread pudding together but none so good as the ones we make at home – especially this Maple Pumpkin Bread Pudding. I was thinking about my parents as I made some fresh pumpkin puree last week. So this dessert really made itself from the memory of sharing dessert with my dad.
My dad also happens to make the best Sweet Potato Soufflé I have ever had in my foodie life. It has this amazing streusel topping. I got scolded every Thanksgiving and Christmas for picking off the topping and eating it before dinner was served. Everyone would show up at the table and there would be these sad bald spots on the beautiful soufflé because I had swiped the topping while nobody was looking. This version is mine but it is definitely inspired by those holidays of sneaking past the table to take one more swipe at the sweet topping on the soufflé.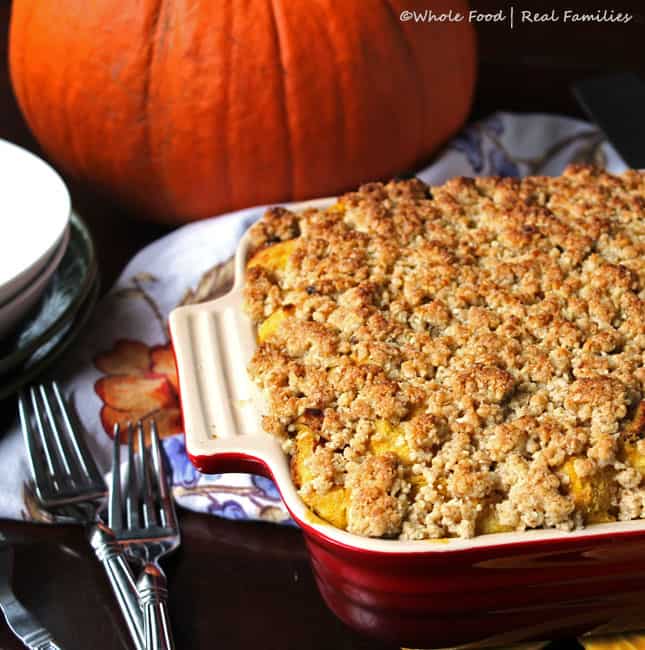 My Favorite Pumpkin Dessert Recipe
I happen to have some Challah bread in the kitchen that was supposed to turn into French toast but never did. It ended up a perfect choice for this Maple Pumpkin Bread Pudding, though any bread you like would work. We have an ongoing discussion at our house regarding this recipe being breakfast or dessert. After much deliberation and argument, we settled on breakfast if you serve it warm from the dish with no ice cream. However, it is definitely dessert if you serve it with ice cream, especially salted caramel ice cream.
I am very excited to participate with my friends at Progressive Eats this month for their Vegetarian Thanksgiving celebration! I remember going to progressive dinners as a teen with my church youth program. At the time, I remember thinking how fun it was to go from house to house. As an adult, I now realize having that many teenagers in the house needed a time limit! This month is hosted by Susan Pridmore from The Wimpy Vegetarian. I have enjoyed her blog for such a long time. If you aren't familiar, you should pop over and say hi. Susan is mostly vegetarian married to a mostly carnivore. Her blog is all about making that work for both of them.
A Vegetarian Thanksgiving
Starters
Main Dish
Side Dishes
Sweet Endings

Welcome to Progressive Eats, our virtual version of a Progressive Dinner Party. This month's theme is all about A Vegetarian Thanksgiving and is hosted by Susan Pridmore who blogs at The Wimpy Vegetarian. This may be heresy to many who yearn for the traditional dinner, but this menu will either motivate you to nix the turkey this year, or at least provide inspiration for a new fabulous appetizer and side dishes. And we didn't forget dessert for some sweet (gorgeous) endings to your meal.
If you're unfamiliar with the concept, a progressive dinner involves going from house to house, enjoying a different course at each location. With Progressive Eats, a theme is chosen each month, members share recipes suitable for a delicious meal or party, and you can hop from blog to blog to check them out.
We have a core group of 12 bloggers, but we will always need substitutes and if there is enough interest would consider additional groups. To see our upcoming themes and how you can participate, please check out the schedule at Creative Culinary or contact Barb for more information.
Servings

Prep Time

12

servings

15

minutes
Servings

Prep Time

12

servings

15

minutes
1 1/2

cup

fresh pumpkin puree or equivalent amount of canned pumpkin

1

cup

heavy cream

1/2

cup

whole milk

1/2

cup

maple syrup

2

large eggs plus 1 yolk

1/2

teaspoon

salt

1

tablespoon

Pumpkin Pie Spice

1

inch

loaf Challah bread

cubed into 1pieces

1/2

cup

butter

melted

4

tablespoon

butter

cold

1/2

cup

rolled oats

1/4

cup

coconut or regular sugar

2

tablespoons

whole white wheat flour

1/4

cup

walnuts
Preheat oven to 350°F with rack in middle.

Whisk together cream, pumpkin, milk, maple syrup, eggs, yolk, salt, and pumpkin pie spice in a bowl.

Toss bread cubes with the melted butter in another bowl, then pour the pumpkin mixture over the bread and toss to coat.

Transfer the bread mixture to an ungreased 8-inch square baking dish. It will look like a lot at first but I promise it fits! Bake for 10 minutes.

While the bread pudding is in the oven, add 4 tbsp cold butter, rolled oats, 1/4 cup sugar and 2 tablespoons of flour and walnuts to the food processor and pulse until crumbly.

Remove bread pudding from the oven. Top with oatmeal crumble topping, patting gently to hold it in place. (Careful, it is hot!)

Return to the oven for 15-20 minutes or until custard is set and the topping is nicely golden.

If you prefer the topping more crisp, leave the bread pudding under the broiler for 2 minutes or until the desired color.