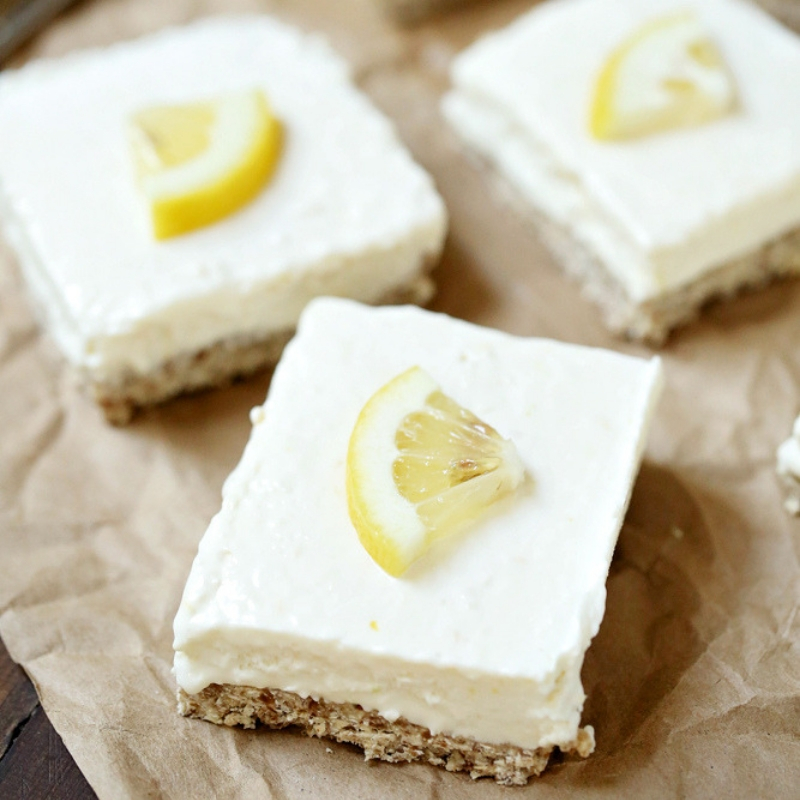 When it gets super hot, we love this Lemon Bar Recipe. I am not sure why it tastes so much better in summer… maybe because the citrus is so refreshing. 🙂
There are many different types of sweets out there. We love some classic chocolate chip cookies, (or maple oatmeal cookies!) or even cake around our house, the same as anyone. However, there are times when you just want to mix it up with something a little different. Lemon bars are that something different for me. They are sweet, but not over the top.  And for whatever reason, lemon must be in my kids' DNA because 2 out of the 3 of them will pick a lemon dessert recipe over chocolate any day of the week. <— Lemon versus Chocolate… oh the choices…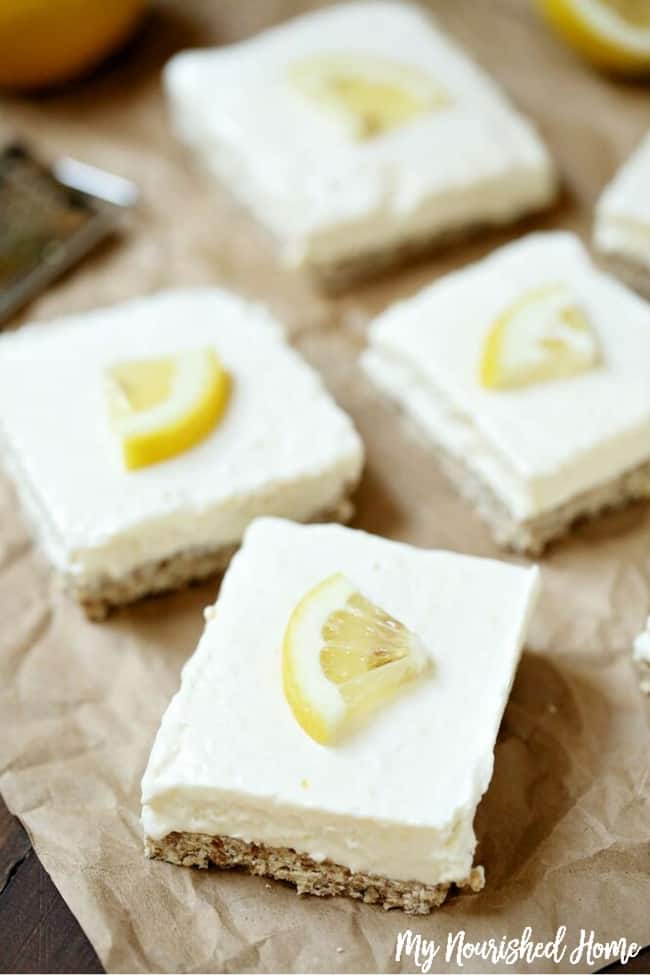 Lemon Bar Recipe
This recipe for lemon bars is super easy to make. The ultimate summer dessert — you'll cook the crust and let it cool then the filling is just mixed and chilled. It is awesome when you need a simple dessert for a summer get together but don't have time to spend in the kitchen.
I am not exactly sure why we don't make these more often… they never last long. And we LOVE lemon in just about anything. (Like these Blueberry Lemon muffins!) But the only seem to come to mind when Savannah turns hot (which can be anywhere from late February to early May.) The fun thing about that is every time we make them it is like falling in love all over again… and again… YUM!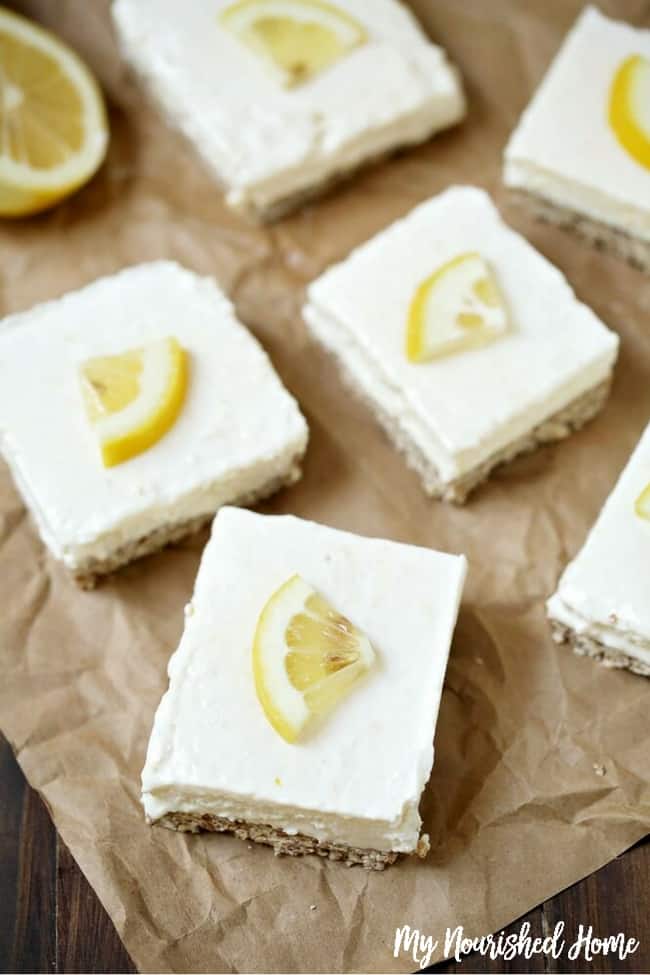 Lemon Bars are Easy Summer Dessert!
Because this is an easy recipe (and delicious!) it is a fun way to get kids in the kitchen. Because this recipe is so simple, the kids really can just pull up a stool and help without any concern to perfection. There is lots of mushing, stirring and pouring <– perfect for little hands… especially the mushing part.
What is your favorite summer dessert? Is it Lemon? Give this Lemon Bar recipe a try and let me know what you think!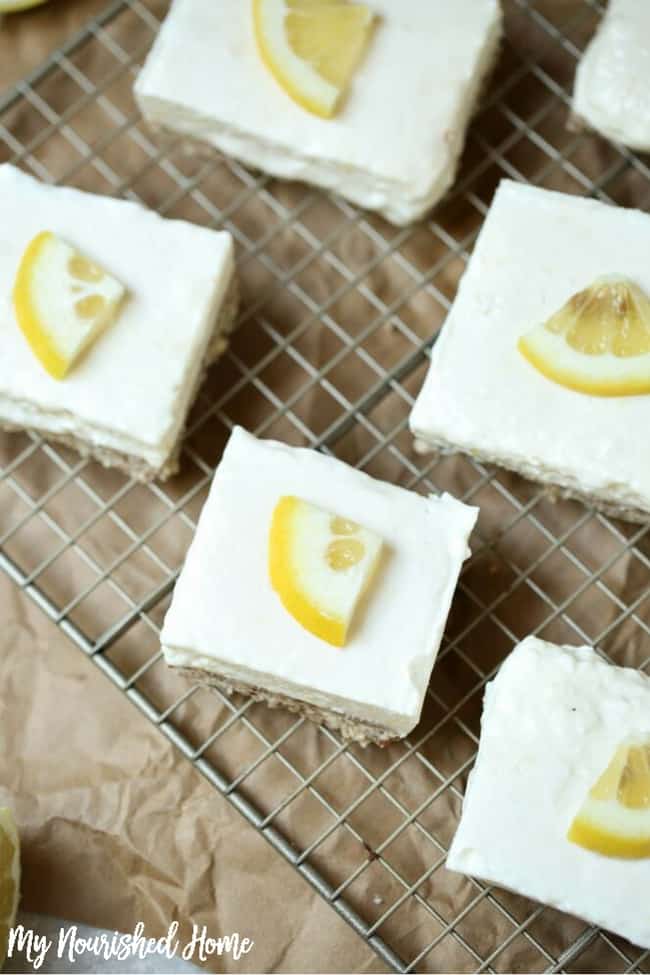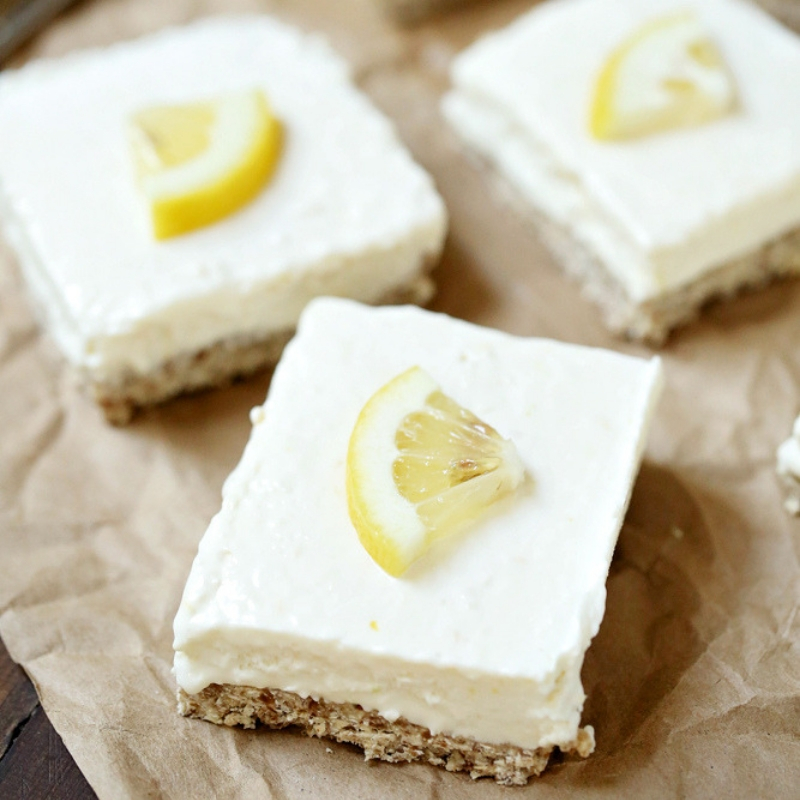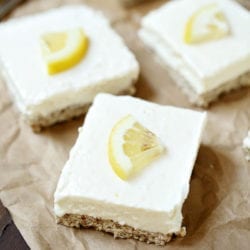 Easy Lemon Bars
Ingredients
FILLING
8

oz

cream cheese

1

cup

coconut cream

1/2

cup

lemon juice

1

heaping Tbsp lemon zest

1

pinch

sea salt

¼

cup

extra fine sugar
CRUST
1

cup

gluten-free oats

1

cup

almonds

1/4

tsp

sea salt

2

Tbsp

coconut or brown sugar

5

Tbsp

coconut oil

melted
Instructions
Preheat oven to 350 degrees and line an 8x8 baking dish with parchment paper.

Add oats, almonds, sea salt, and sugar to the blender and mix on high until the dough is crumbly.

Transfer to a medium mixing bowl and add the melted coconut oil, Stir with a spoon to combine until a loose dough is formed.

Transfer mixture to your lined baking sheet and spread evenly. Layer a second piece of parchment paper on top then press down firmly until it's evenly distributed and packed tightly on the bottom of the bowl.

Bake for 15 minutes.

While the crust is cooking, mix cream cheese, coconut cream, lemon juice, lemon zest, sea salt, and sugar in the food processor (or blender) on high until creamy.

Pour filling over the pre-baked crust and spread into an even layer. Tap on counter to remove any air bubbles.

Bake for 20-22 minutes or until the edges look firm (and more like bars, less like pudding!) The center will still be loose but it will continue cooking after you pull it out of the oven.

Let rest for 10 minutes (this finishes the cooking) - then transfer to refrigerator uncovered to cool for at least 4 hours.

Slice and enjoy!