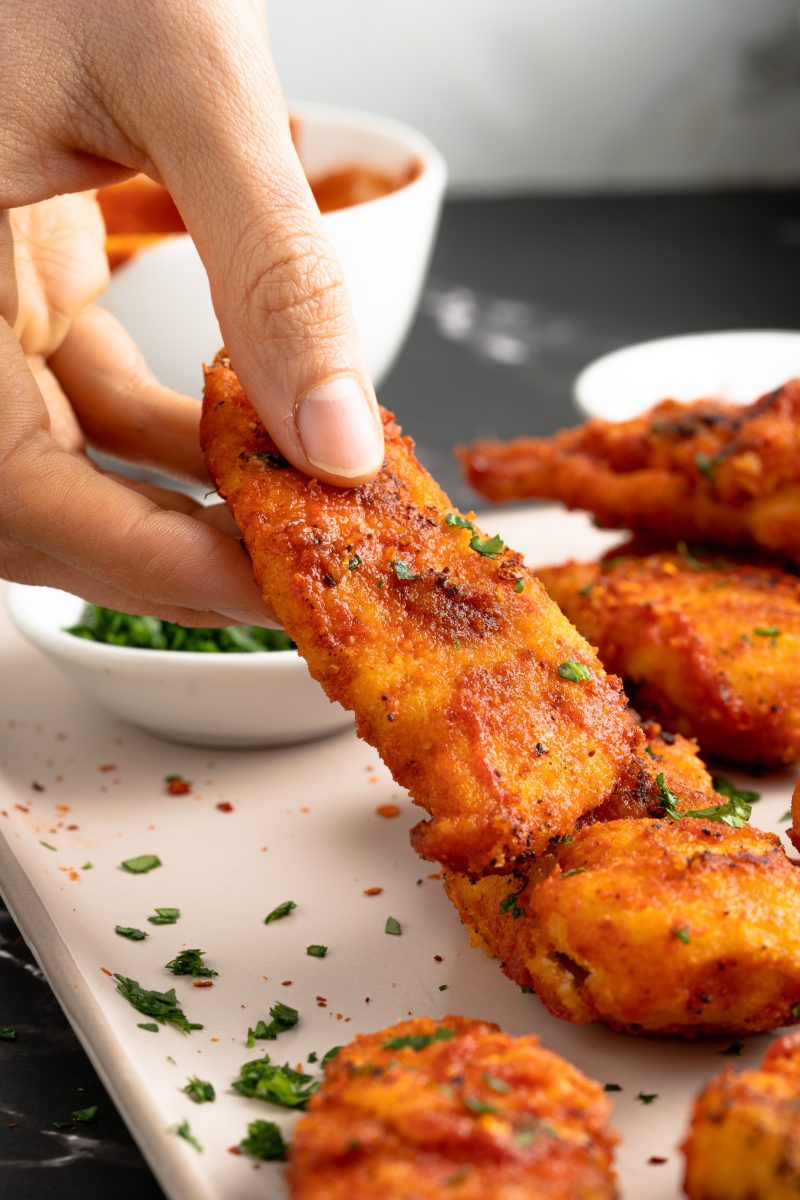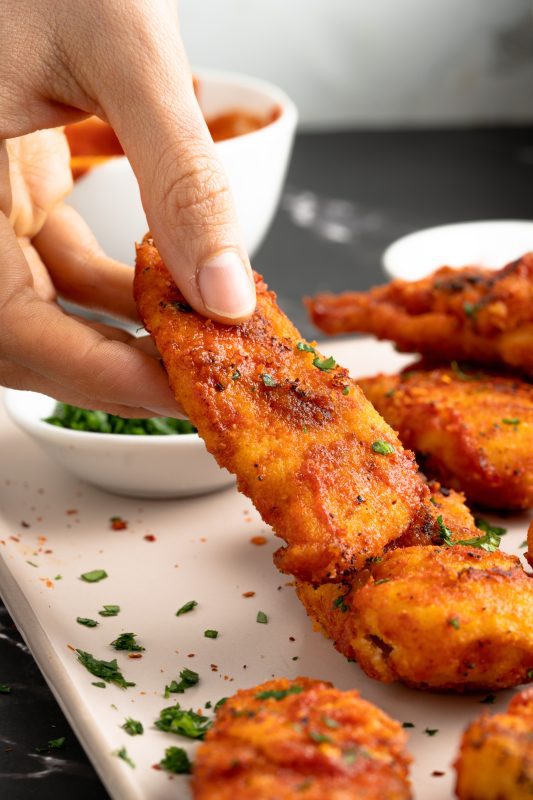 Keto Chicken Tenders are breaded with seasoned almond flour and coconut flour instead of breadcrumbs. The hot sauce, tomato paste, and erythritol combine for a mouthwatering sweet and spicy sauce that works as a dip or drizzled on top!
Chicken tenders are a classic, go-to meal for kids in busy families, and if you're like me, you definitely enjoy sharing (stealing?!?) a tender or two from your kid's dinner. No shame in that! The only problem is that the carb count and sugar found in those breaded tenders is not something I love, so this almond flour chicken strips recipe has become my saving grace.
The best part is that my keto chicken tenders have a crispy breading that is seasoned to taste just like traditional bread crumbs, and the double-breading process in my recipe keeps the breading in place while also keeping these chicken strips moist.
Round out your meal with these turnip fries with tomato jam, an amazing sidekick for my keto chicken tenders! My spaghetti parmesan is another great dish to pair with these tenders — just use a chickpea or veggie pasta to make it keto.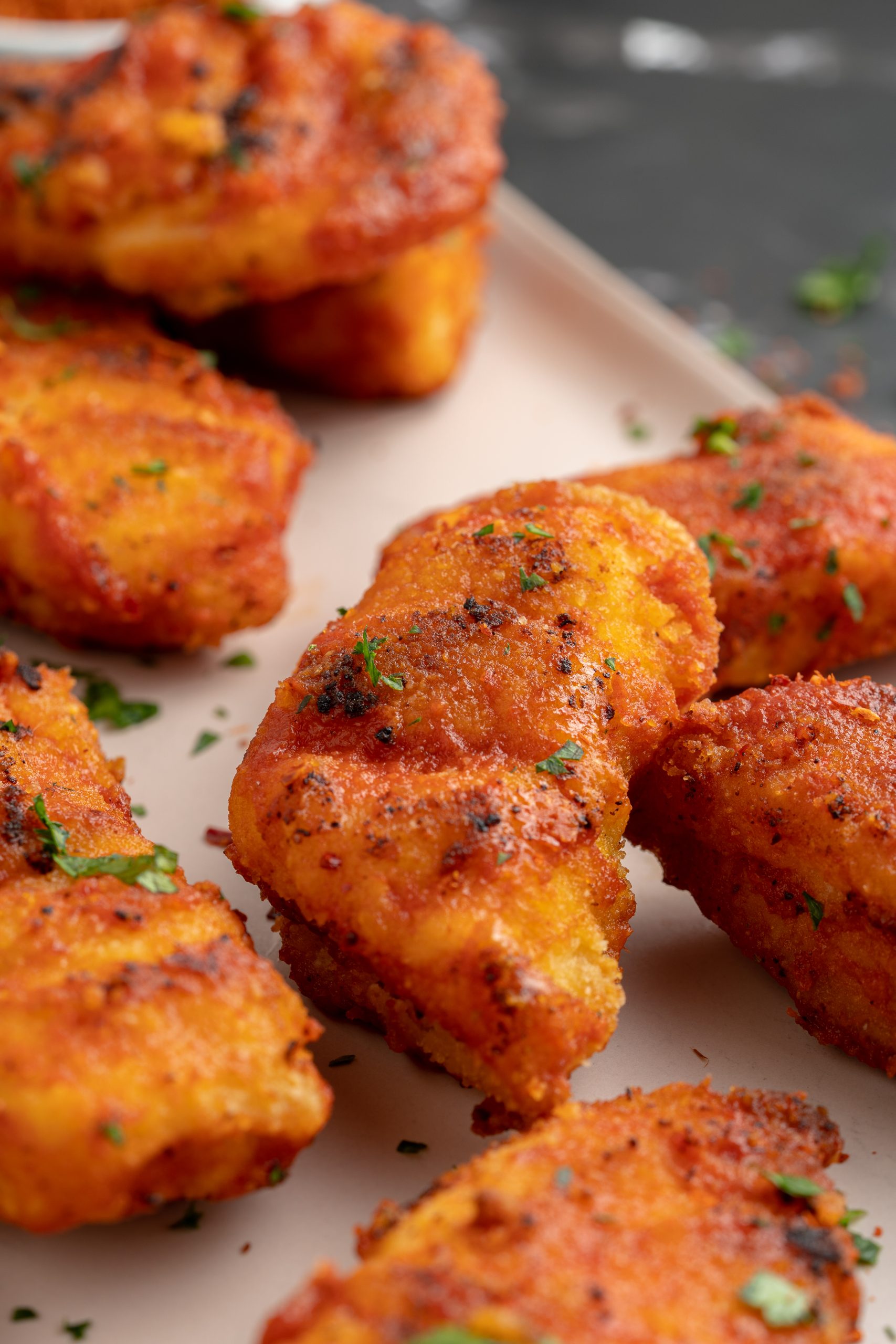 Why you will love keto chicken tenders
Between the breading and the sweet and spicy sauce, these almond flour chicken strips are packed with flavor that won't taste low-carb.
Leftovers can stay in your fridge for 5 days, so your lunch for the following day is all ready to go! You can throw these on a salad or pack some of the spicy dipping sauce in your lunchbox, too.
Easy to make ahead and cook from frozen. Once your keto chicken tenders are breaded and ready for the oven, wrap them up in plastic so they aren't touching each other. When you're ready to eat, pull them out of the freezer, arrange on your cooking tray, and bake as directed below. No need to thaw first!
Have kids who love chicken tenders? They will love these, too! With less sugar and plenty of breaded goodness, you'll feel great about getting these keto chicken strips in their bellies. Best of all, they won't know they're eating healthy!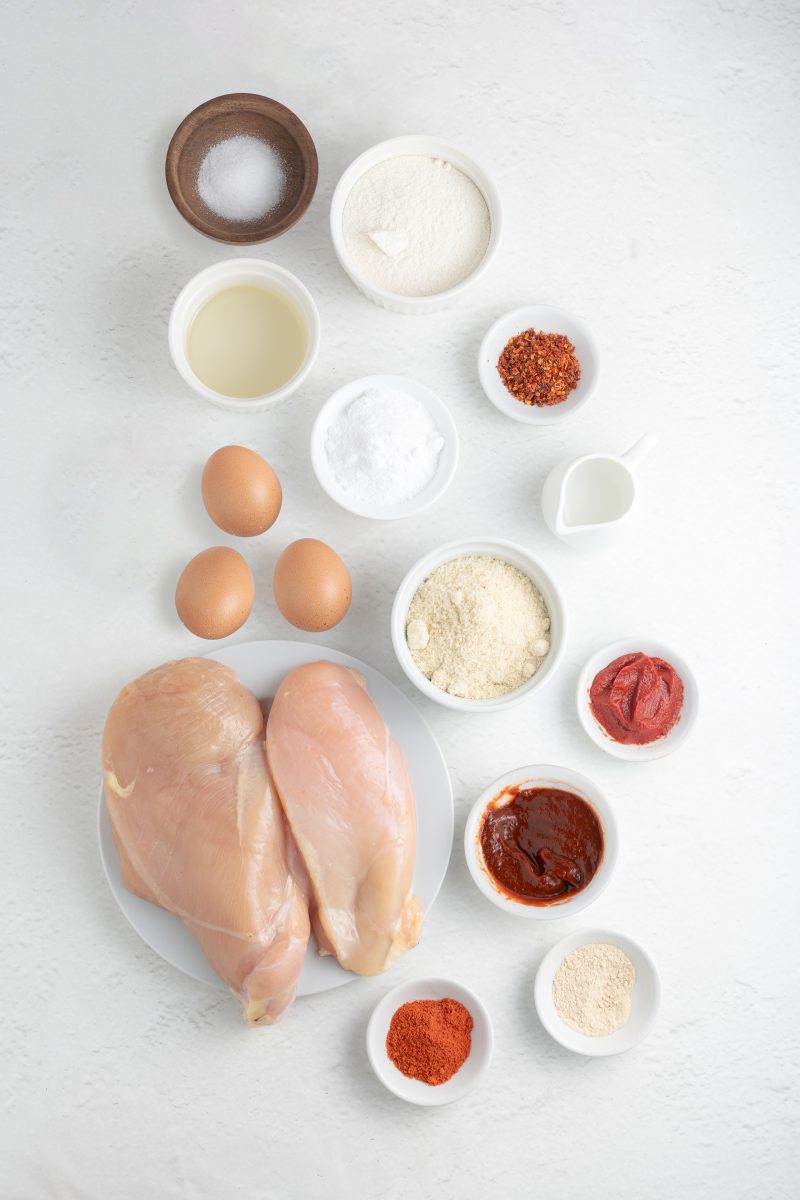 How to Make Crispy Keto Chicken Tenders
Step One: Preheat the oven to 375°F. Cut chicken into 1 inch strips (or use tenderloins) and set aside. In a medium bowl, mix together the almond flour and coconut flour. In a separate bowl, beat the eggs and then mix in garlic powder and salt.
Step Two: Cover each piece of chicken in the egg mixture, then coat with the breading mixture. Press the breading evenly into the chicken to eliminate any lumps. Repeat dipping each piece in the egg and then again in the breading.
Step Three: Line your baking tray with parchment paper, or grease the tray with oil, and arrange your tenders evenly. Bake for 15 minutes or until they turn golden brown, then flip and bake 10 more minutes.
Step Four: While the chicken is cooking, mix all of the sauce ingredients (except for the butter) in a small saucepan over medium heat. Simmer for 8-10 minutes, tasting and adjusting for your desired spice level as you go. If you would like to add butter for a richer sauce, take the pan off the heat before adding.
Step Five: Cover the chicken with the sauce or serve it on the side for dipping.
Chef's Tip: Keeping these keto chicken strips in the fridge is fine, but they will lose their crispiness the longer they are in there. For best results, reheat in the oven at 375°F for 12-15 minutes, flipping halfway through.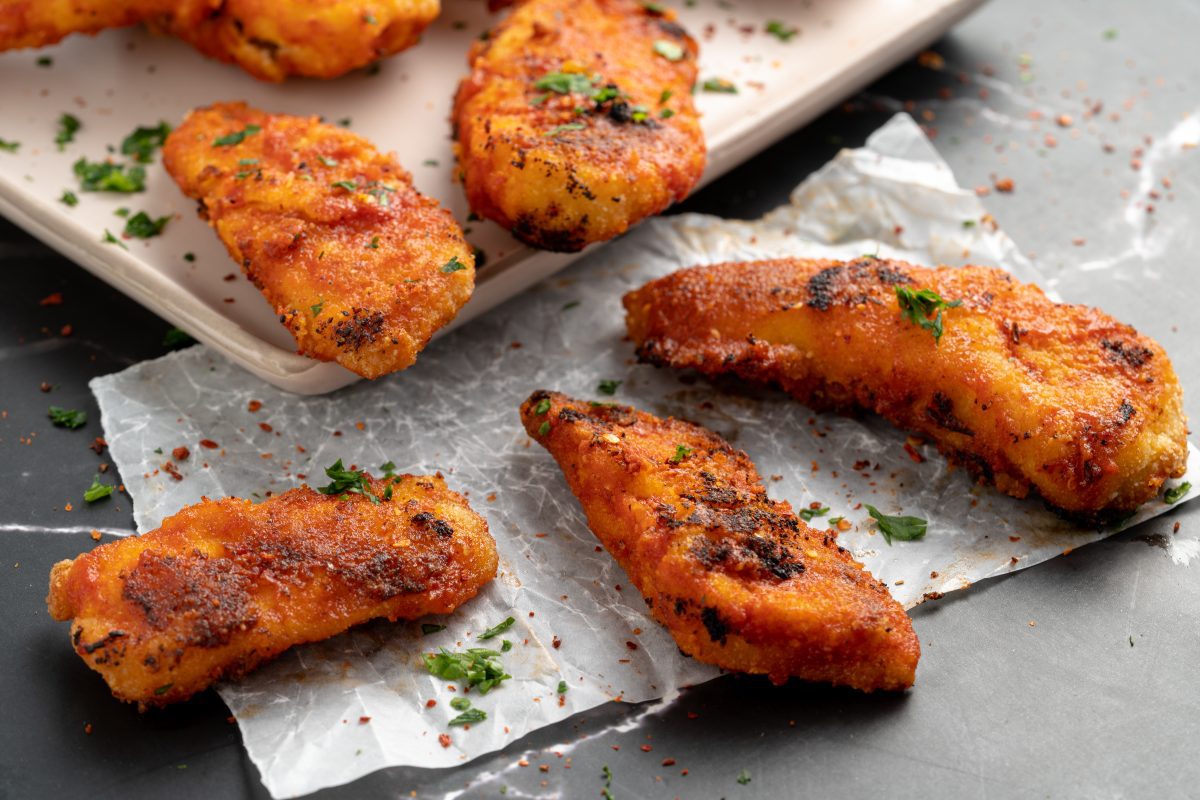 Frequently Asked Questions about Keto Chicken Strips
Can You Have Breaded Chicken On Keto?
Bread crumbs are a no-no for keto chicken tenderloin recipes. Instead, I use a combination of almond and coconut flours for my keto chicken strips since these flours are grain free. The combination creates a delicious breading for your chicken while only amounting to 2-3 carbs per serving.
What Type Of Hot Sauce Is Keto Friendly?
Many hot sauces are made primarily from vinegar, peppers, and salt, making them keto friendly. For these keto chicken tenders, I love Frank's Original Red Hot Sauce — the heat is easy to adjust by adding a little more or a little less depending on who I'm preparing this dish for. Tabasco Original Red Sauce is another great sauce to use here, especially if you like your sweet and spicy sauce extra spicy!
Why Should I Bread My Chicken Tenders Twice?
Dredging and breading your almond flour chicken strips twice is the best way to ensure the breading will stick through the baking process. The more breading that stays on the chicken, the crispier it will be. Double breading will also keep your tenders from drying out while they bake. The process forms a barrier that keeps the moisture locked in.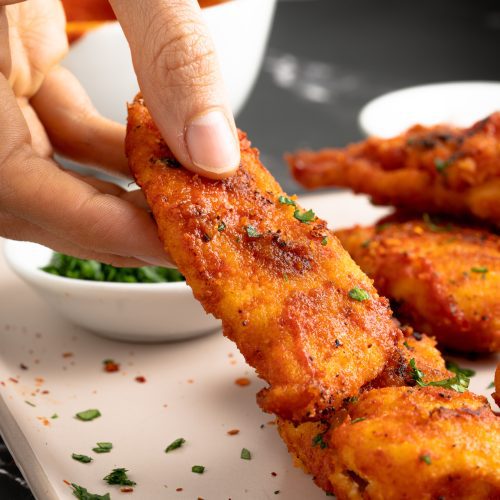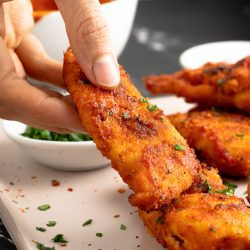 Keto Chicken Tenders
Keto Chicken Tenders are breaded with seasoned almond flour and coconut flour instead of breadcrumbs. The hot sauce, tomato paste, and erythritol combine for a mouthwatering sweet and spicy sauce that works as a dip or drizzled on top!
Course:
Appetizer, Appetizers & Sides, Main Course
Keyword:
chicken, chicken tenders, keto
Ingredients
Chicken
24

oz

Chicken Breast

Skinless, boneless, chopped into 1" strips

3

medium

eggs

1/2

tsp

garlic powder

1/2

tsp

salt

2

cup

almond flour

1/2

cup

coconut flour

oil for cooking
Sweet and Spicy Sauce
1

tbsp

hot sauce

1/3

cup

powdered erythritol

1/2

cup

water

2

tsp

smoked paprika

1/4

cup

tomato paste

1/2

tsp

chili flakes
Optional
2

tbsp

butter

to make this sauce richer
Instructions
Cut chicken into 1'' with strips. Then prepare the breading by mixing almond flour with coconut flour in a medium-sized bowl. In a different bowl, beat the eggs with garlic powder and salt.

Coat the chicken tenders with the egg mixture and then toss them with the breading. Press the breading onto the chicken to cover evenly. Then repeat this process one more time. I like to make this double breading, so it doesn't unstick while baking.

Pre-heat the oven to 375F. Grease a large baking tray with oil and arrange the chicken tenders. Bake them from one side for 15 minutes, flip them once they are golden brown, and bake them for another 10 minutes.

In the meantime, mix all the ingredients for the sauce (except butter) in a small saucepan. Bring it over the stove for 8 – 10 minutes to bold flavors. Taste and adjust the spiciness. Optional: remove from heat and fold in butter. Adding butter will make the sauce richer and modify its flavor.

Coat the chicken tenders with the prepared sauce, or serve it as a dipping sauce.
Recipe Notes
These baked chicken tenders are breaded with almond flour and coconut flour, which in combination with this keto sauce, work amazingly 🤤. You can use it as a dip or as a coating sauce.
Tips 
Keep any leftovers in the fridge for up to five days. Note: they'll lose crispness with time, so they're better freshly made.

These chicken tenders are freezer-friendly. First, you'll need to freeze them raw with plastic dividers, so they don't stick together. Then, when ready to use, you don't need to thaw them, just bake them in a preheated oven following this recipe's instructions.
Nutrition Facts
Keto Chicken Tenders
Amount Per Serving
Calories 690
Calories from Fat 387
% Daily Value*
Fat 43g66%
Cholesterol 247mg82%
Sodium 833mg35%
Potassium 880mg25%
Carbohydrates 41g14%
Protein 55g110%
Vitamin A 1226IU25%
Vitamin C 8mg10%
Calcium 157mg16%
Iron 4mg22%
* Percent Daily Values are based on a 2000 calorie diet.