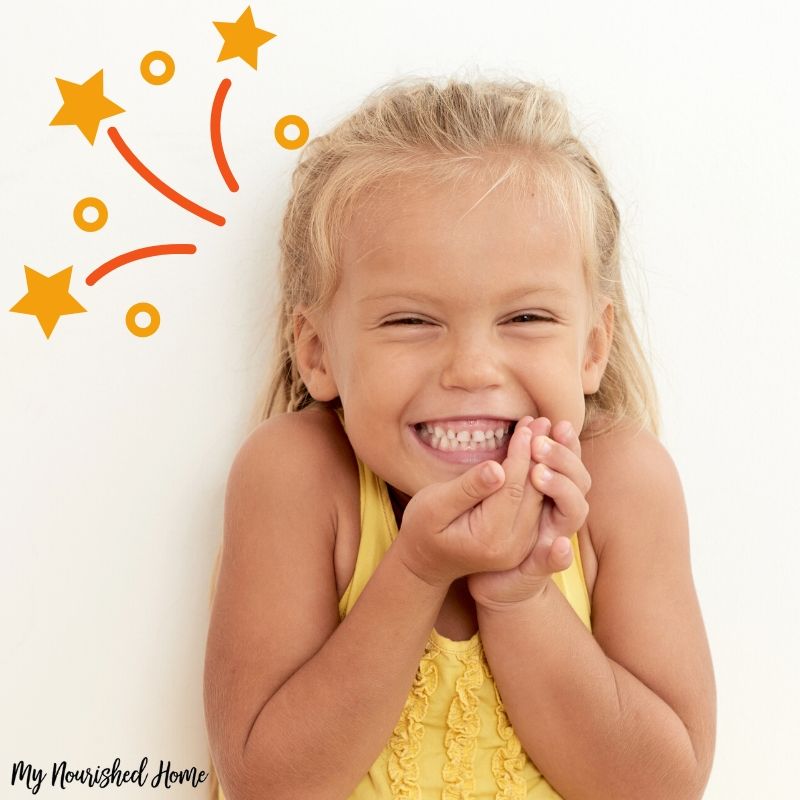 JoJo Siwa is HUGE!! Girls everywhere adore this singer, dancer and YouTube personality. The merch available for Jojo Siwa is insane! This young girl makes millions every year selling licensed merchandise that you can buy online or in retail shops and she is only 16 years old.
Because my young daughters have requested JoJo Siwa everything for Christmas and birthday gifts, I thought I would share my affiliate links with you to make shopping for your JoJo Siwa fangirl a little easier!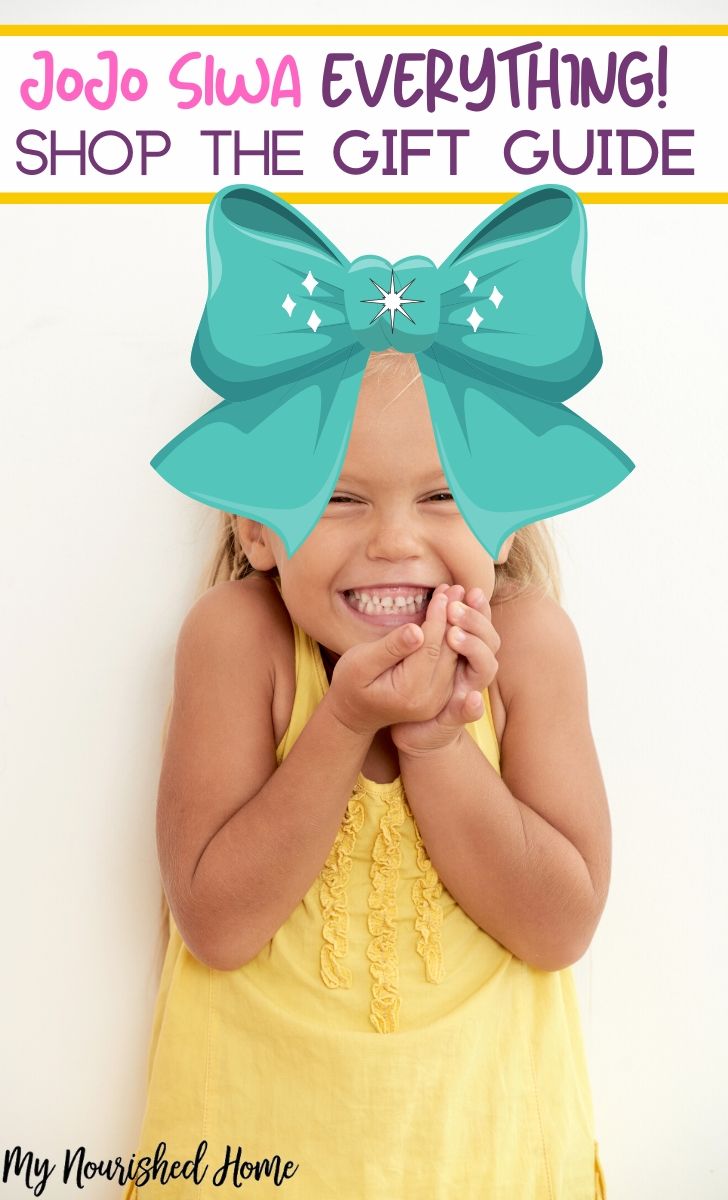 As much as I want to embrace my mom eye roll over the bubblegum pop that is sprinkling ever Alexa device in my house, I have to say, the girl-power positivity in JoJo Siwa songs is one I just don't mind my kids listening to. #TeamJoJo
Why is JoJo Siwa Famous?
Just in case you're out of the loop, "JoJo" made her public debut in two seasons of the television show Dance Moms. From there she became a social media celebrity through her YouTube channel. While she definitely rocks that girl next door vibe, she's the real deal as a singer, actor, and dancer —> and dare I say, business mogul?
JoJo has released popular singles, "Boomerang" and "Kid in a Candy Store." (Yes, I can sing all the lyrics… they have been on repeat in my house forever.) And has made the "big bow" a big thing.
So brace yourself for this complete list of JoJo Siwa Gifts for Girls! You will definitely find something for that special JoJo Siwa fan in your life… and basically be the coolest person giving gifts to knowing exactly what to buy.
JoJo Siwa Everything – Gift for Girls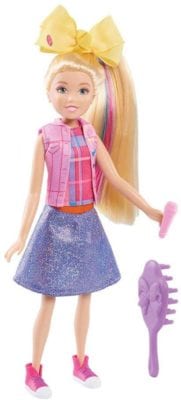 Just Play Jojo Siwa Singing Doll 'Boomerang' This 10″ JoJo doll sings JoJo Siwa's famous song "Boomerang". This gift for girls includes a microphone and poseable arms and legs for hours of fun. Recommended for kids ages 6-10 years.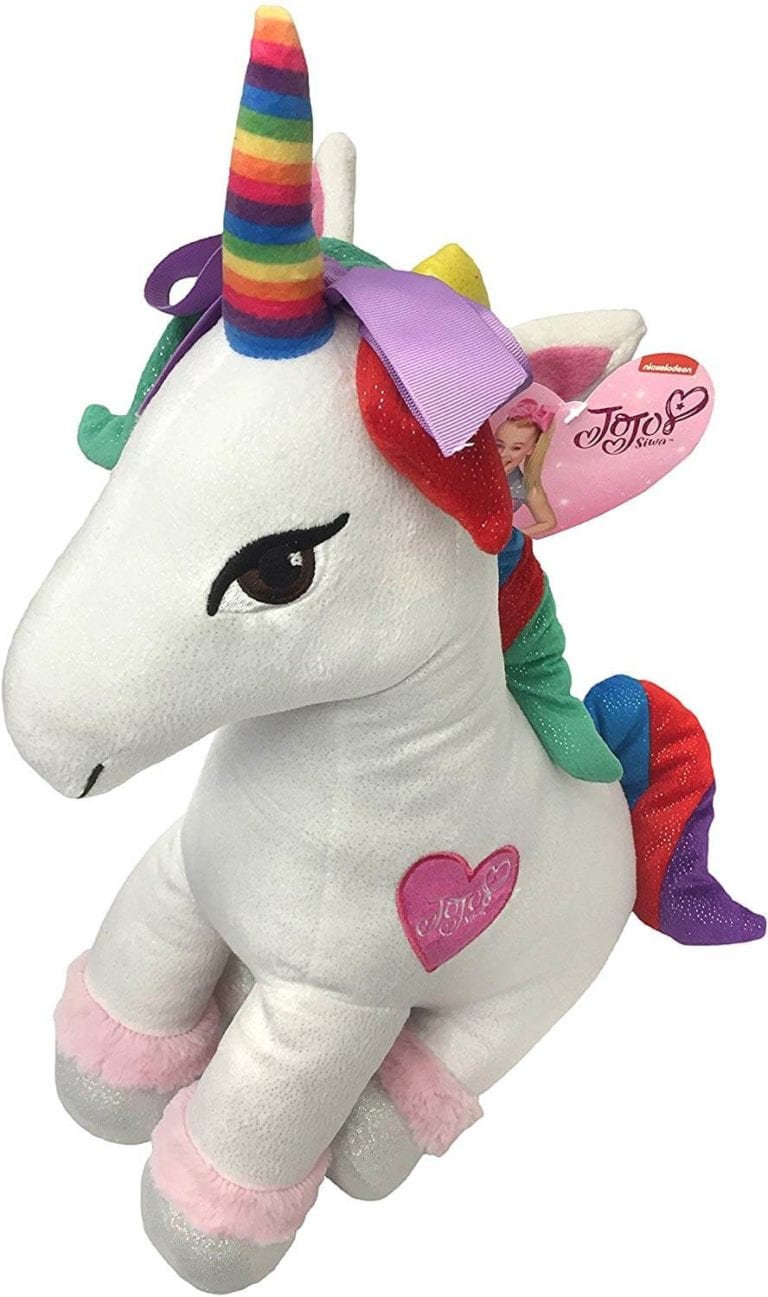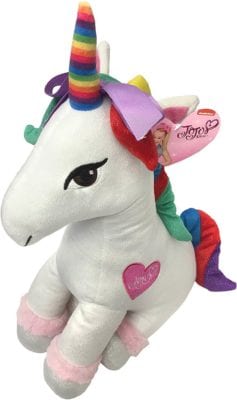 Nickelodeon JoJo Siwa Plush Sparkle Rainbow Unicorn 23″ Pillow Buddy Give the gift of a plush pillow pet with this beautiful Nickelodeon JoJo Siwa plush unicorn. Spot clean only.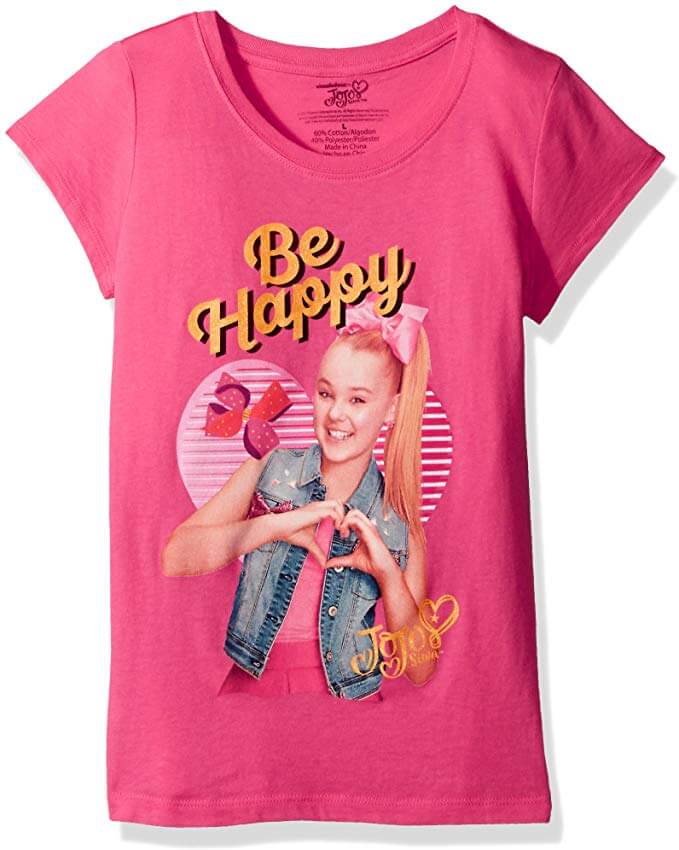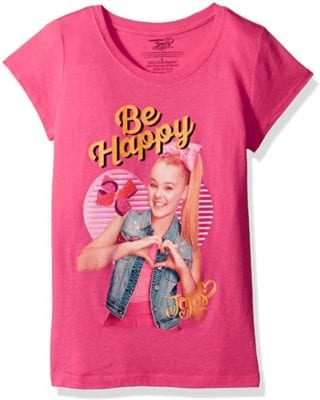 Jojo Siwa Big Jo Siwa Be Happy Girls Short Sleeve T-Shirt This pull on closure t-shirt is 100% cotton and features a picture of JoJo Siwa on the front with the words "Be Happy". The perfect gift for girls who adore JoJo Siwa.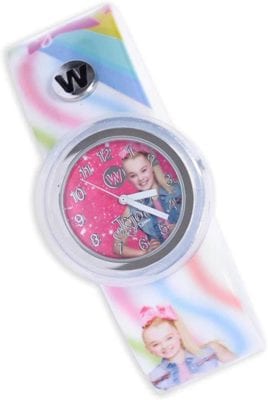 JoJo Siwa – Watchitude Plunge Proof Slap Watch – Gift Box Edition Give the gift that keeps giving with this adorable JoJo Siwa slap watch. Decorated with different collectible designs and offered in a limited edition for JoJo Siwa fans everywhere.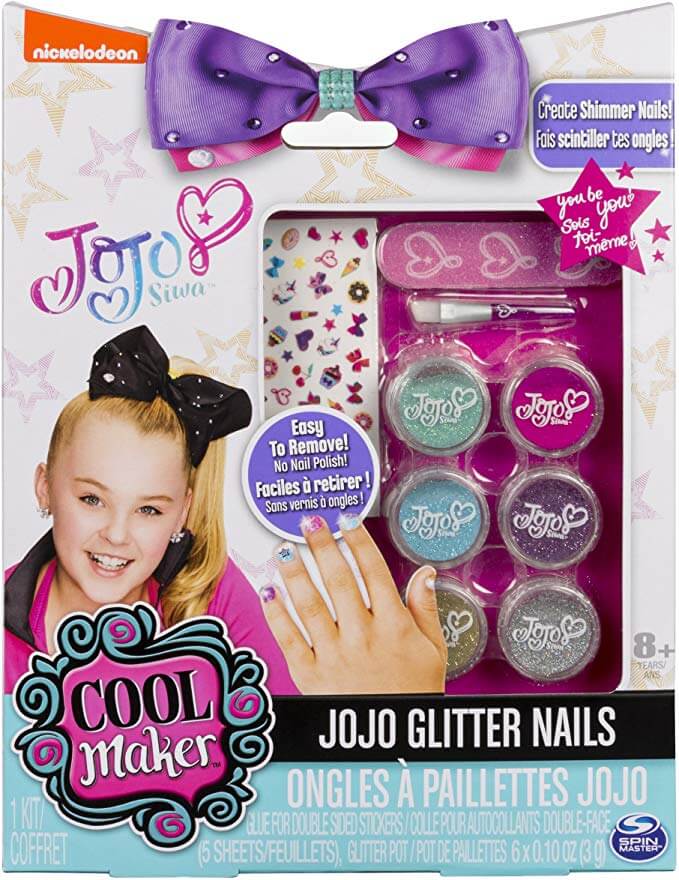 JoJo Siwa Glitter Nails – Glitter Manicure Kit with Custom Decals Give the gift of a manicure to that special JoJo Siwa fan in your life. This manicure kit with custom decals is fun for girls everywhere. Enjoy this package of 6 colors of glitter, sets of double stickers, and 1 sheet of JoJo nail decals.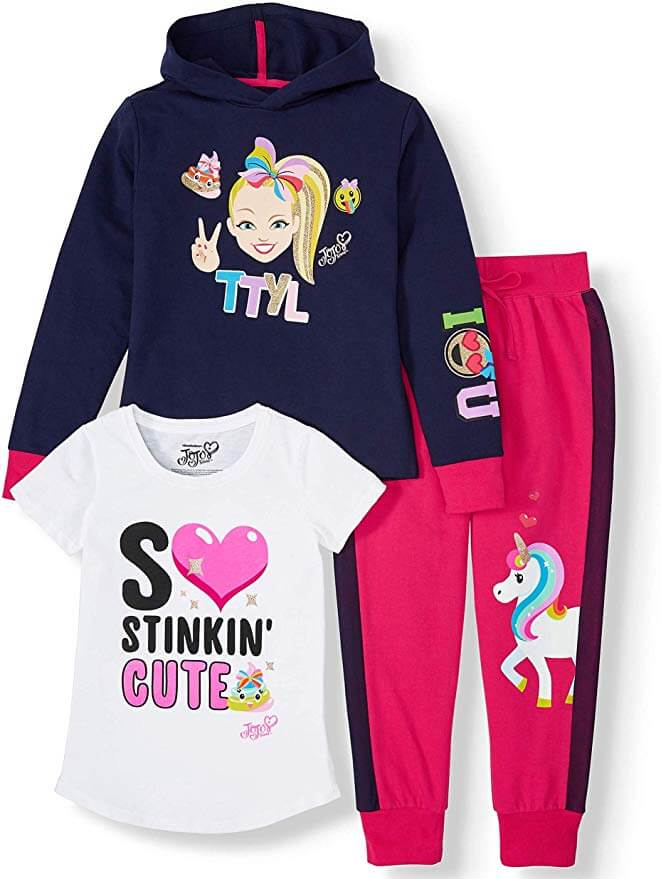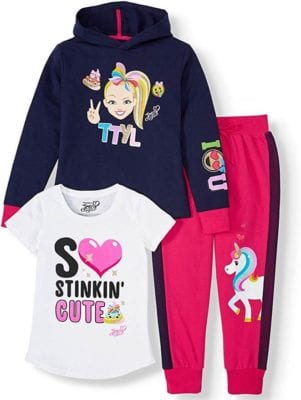 JoJo Siwa Unicorn Graphic Hoodie, Top and Legging Make a fashion statement by giving this 3-piece set of JoJo Siwa themed clothing. This outfit will be loved by all girls that fit sizes 4-16.
JoJo Siwa Bow Fashion Headphones with built-in Microphone These adorable JoJo Siwa bow fashion headphones are simply beautiful. The perfect headphones with a built-in microphone for your social girl that wants to sing or talk to friends virtually.
JoJo Loves Hairdorables – D.R.E.A.M. Limited Edition Doll With 10 stylish surprises in every box and a poseable limited edition JoJo doll, your special girl will enjoy hours of pretend play with this JoJo doll.
NC Bows 7 days Jojo Bow 8 cm with Unicorn and Rainbow pattern Seven days of JoJo style bows that are unicorn and rainbow patterns. The clip style hook on makes these an easy to attach hair bow option for any girl that adores JoJo Siwa.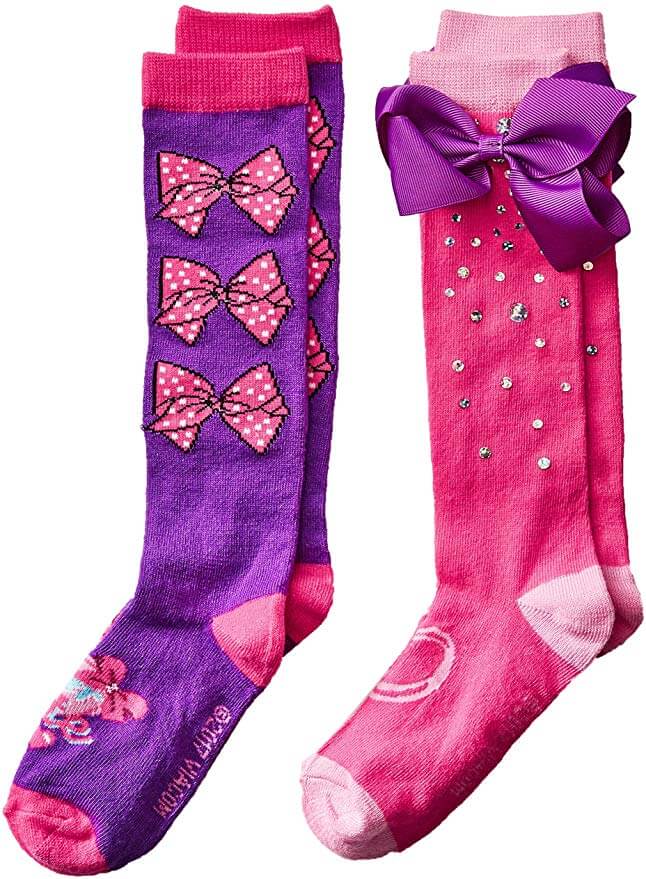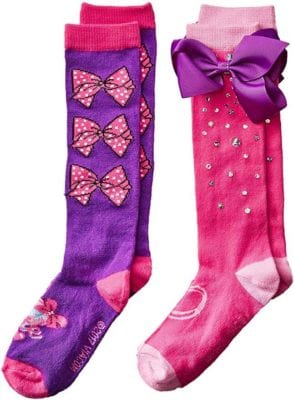 Jojo Siwa Big Girl's 2 Pack Knee High Socks This 2 pack of big girl knee high socks come in two different 2-set pattern designs for the JoJo Siwa fan in your life. Sizes range from 6-11 in girls.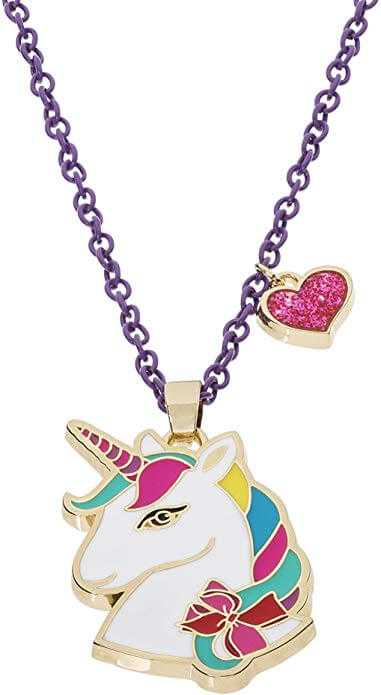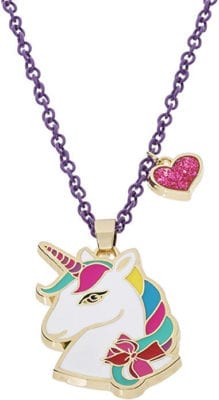 Jojo Siwa Unicorn With Heart Charm Pendant Necklace An adorable unicorn and heart charm necklace that measures 16" with a 3" extender. This JoJo Siwa gift for girls comes in a gift box making it the perfect gift idea this year.
Cool Maker – JoJo Siwa Bow Maker with Rainbow and Unicorn Patterns Let your favorite little girl make her own JoJo Siwa bows with this cool maker kit. Mix and match 6 fabrics to make your own JoJo bow design. Recommended for kids ages 6+.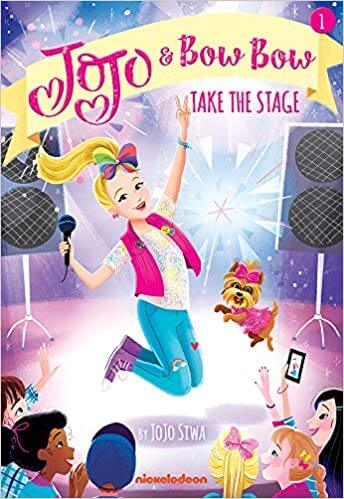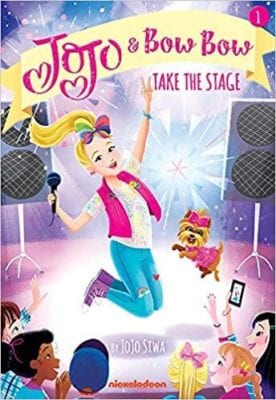 JoJo and BowBow Take the Stage This paperback book is a great way to encourage reading with your little girl who fans over JoJo. Reading level is grades 1-4 and recommended for kids ages 6-9.
Tara Toy JoJo Necklace Activity Set With 150 beads, and 5 rubber characters this JoJo necklace activity kit lets your little girl make up to 5 necklaces. Recommended for ages 3+.
Zak Designs Jojo Siwa Kids Water Bottle with Straw and Built-in Carrying Loop This 25 oz water bottle has a wide mouth design and a carrying loop so your favorite JoJo fan can bring this along to sports or school with ease. Recommended for ages 3+.
JoJo's D.R.E.A.M. Car Featuring 4 colored wheel rims, this JoJo car is a fun addition to any girl who enjoys playing with dolls and wants to wheel her dolls around in style. Recommended for ages 3+.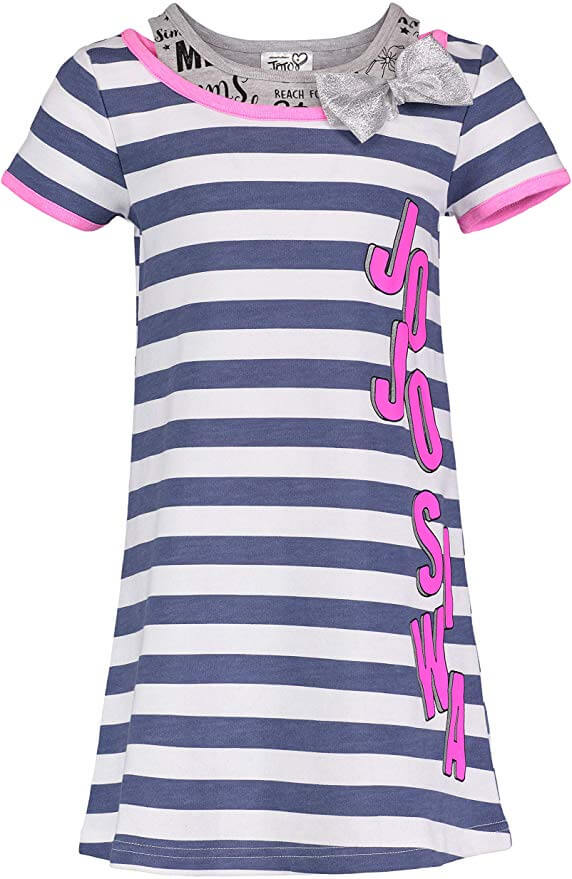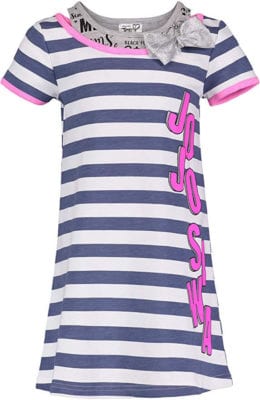 JoJo Siwa Girls Mix and Match: Skirt Dress Hoodie Top This adorable skirt dress hoodie comes in sizes 5 to 7/8 for girls that adore JoJo and want a dress to showcase their love of JoJo Siwa. Made of super soft material so it will feel comfortable against your girl's skin.
Jay Franco Nickelodeon JoJo Siwa Rainbow Sparkle 4 Piece Full Sheet Set Let your favorite JoJo Siwa fan decorate their entire room with JoJo gear, starting with this adorable 4 piece full sheet set for her bed. Also available in twin size.
PlayWheels JoJo 2-Wheel Aluminum Scooter This scooter is a fun way to encourage outdoor play with a JoJo themed design. This is a beginner-friendly scooter that's recommended for kids ages 5-14 and a max weight limit of 140 lbs.
JoJo Siwa Coloring and Activity Book Set This cute coloring and activity set includes 20 art pieces, 4 markers, 2 sticker sheets, 2 mini color-in posters, and a 30-page activity book. Recommended for ages 3+.