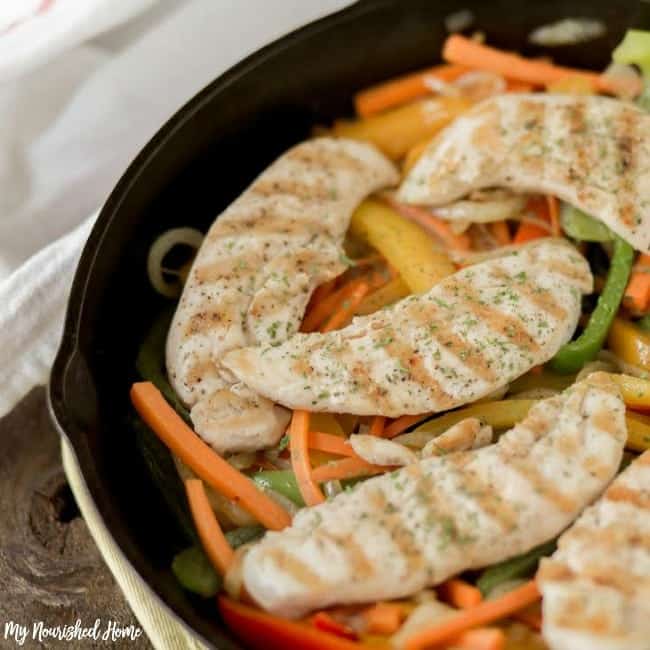 This chicken and peppers recipe is so versatile.  Serve it in a tortilla, over rice, or even just like it is for the carb-counter in your family. I usually make extras and freeze this for a quick healthy meal when I am short on time during the week.
I have gotten pretty good at making dinners that can flex into several different kinds of meals. I have also gotten pretty good at meals I can cook ahead and reheat if needed. This is one of those meals.
Healthy Chicken and Peppers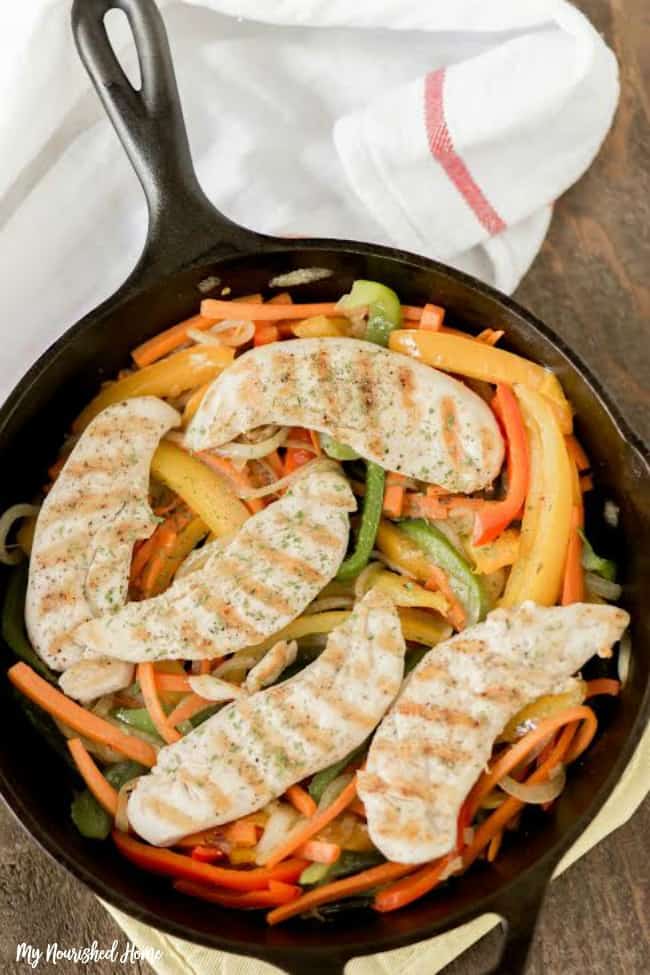 A Weeknight Meal that Reheats Easily
My girls are really active, which I love. But it also means they stay hungry! And I prefer to feed them food that will actually fuel them. It also happens to mean that I spend a lot of time as the family chauffeur when I would normally be cooking dinner. I swear having 3 kids is like a test of some sort to see just how efficient you can actually be.
This healthy chicken pepper recipe goes on the table in under 30 minutes. Thankfully, it also heats up pretty well from the fridge, so it is pretty common to see this dish on nights when there is literally NO TIME to cook dinner at a normal time, so I cook earlier in the day and store for reheating later. (Yes, that is a benefit of working from home!)
Here is another bonus, this recipe is low in calories and fat.  There are less than 200 calories in a 4 ounce serving of chicken breast.  That is great for the grownups in the house who might have been eating ice cream a little more than usual lately. (Ahem… oops.)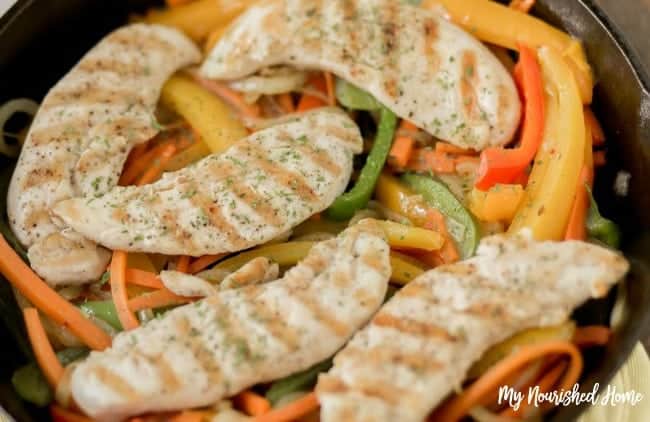 Chicken and Peppers – wrap it, top it, whatever
I will be the first to confess that my little kids don't like the green peppers – but they love the red, yellow and orange ones. I know they are all peppers but I don't complain, I just go with it as long as they are eating vegetables. They also like it if I  shred the chicken a little with a fork and pile it with the peppers in a tortilla with some sour cream. YUM!
My teenage daughter and I love it piled in a tortilla with guacamole.  After cross country practice, she also piles the chicken and peppers over rice for a snack to fill the gaping hole where her stomach is after she runs. It is one of those recipes we just create new ways to eat because it is healthy and tasty… and easy! My husband prefers it right out of the skillet because he doesn't eat much in the way of carbs at night. (We eat enough of them on his behalf!)
Love quick chicken recipes for those crazy weeknights? Here are our favorites! <——- Check them out!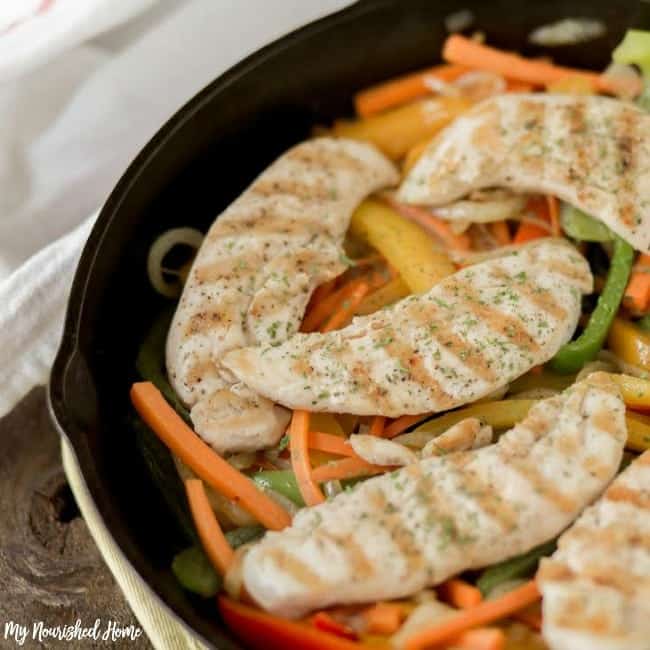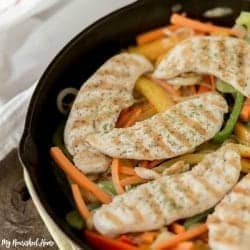 Healthy Chicken and Peppers
Ingredients
1

red bell pepper

sliced

1

green bell pepper

sliced

1

yellow bell pepper

sliced

1

yellow onion

sliced

4

chicken breasts

bonesless, skinless

2

large

carrots

peeled and sliced

2

cloves

garlic

minced

salt

to taste

pepper

to taste

Pepper flakes

Optional

2

TBL

Extra Virgin Olive Oil
Instructions
Grill chicken until it is done or registers 165°F with a meat thermometer. If you don't want to grill the chicken, you can broil it in the oven.

Heat a large skillet with 2 Tbsp of EVOO and add the carrots and onions. Stir and let cook for 3 minutes.

Add all the peppers. Mix and cover pan for about 3 minutes. This allows them to sweat a bit and soften them faster

Add the minced garlic and stir again.

Cover and let them cook for 2 more minutes if you prefer your veggies to have a little bite to them.

Top vegetables with grilled chicken and serve over brown rice, quinoa or pasta.