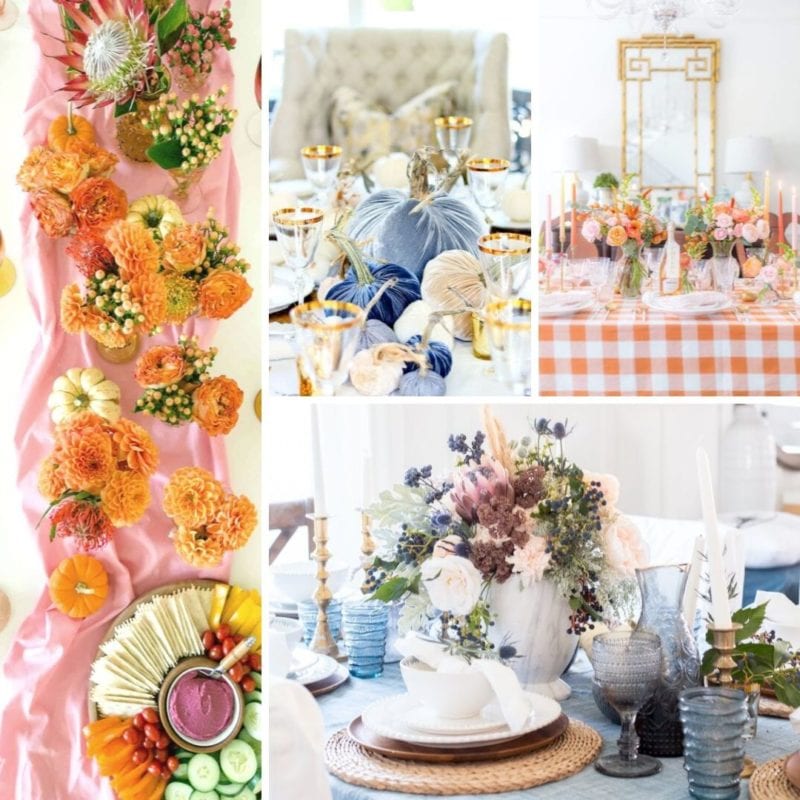 These non-traditional Fall Table decor ideas are a beautiful way to transform your dining experience and warm up your home. The best part, these Pinterest worthy ideas are totally achievable and can be inexpensive options for any home.
These Fall tables are stunning, easy to create, and will make your home look like a magazine catalog. So get ready to celebrate your holiday dinner around these beautiful centerpieces.
Non-Traditional Fall Table Decor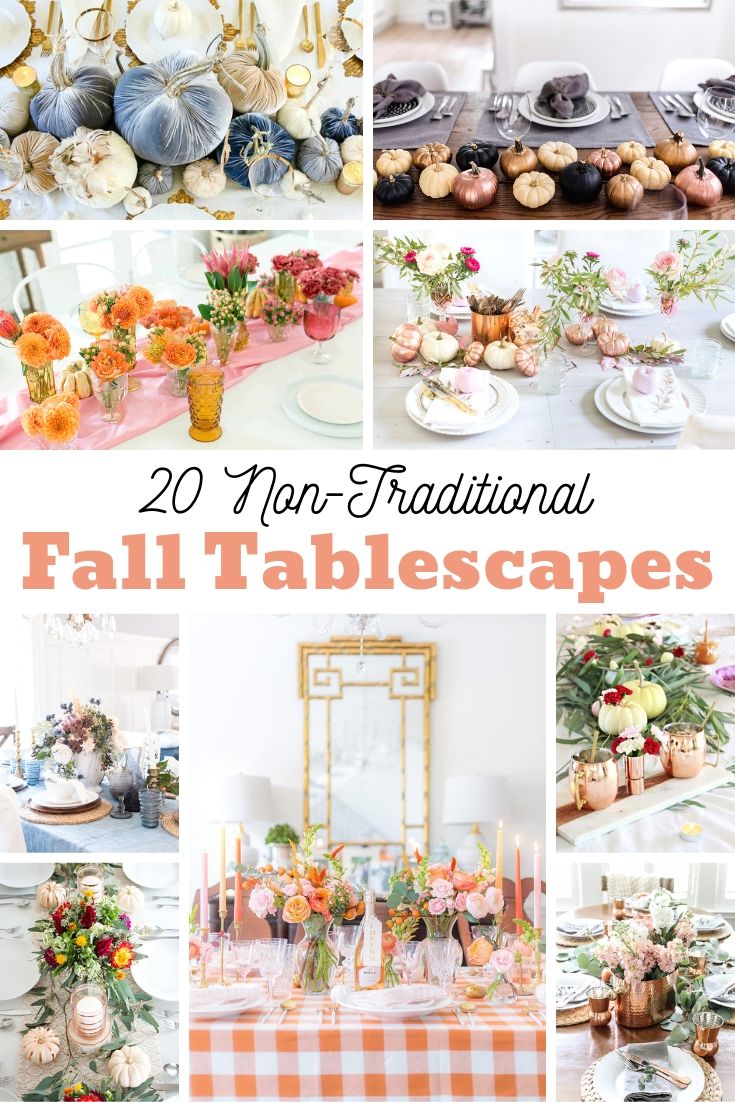 How to Decorate a Fall Table
First thing –> find some inspiration for the season. What catches your eye? What feels like your home? Is it a color, a texture? A sentimental piece that had happy memories attached? Find inspiration and let's build a theme for your table around it!
Your Fall Table is first and foremost where your family will gather, so unless you have a magazine shoot planned, start with what will make your family feel good.
Once you have your inspiration firmly in your mind's eye, start building around it.
Layer complementary colors and choose colors that create contrast.
Alternate textures – think wood, burlap, velvet, linen…
Think height –> I like my table decor to have varied height because it creates visual interest but I don't want it so tall I can't see over it to chat with my family and friends.
Choose your tableware –> I'll be honest, we don't do a lot of china around here. We're more a heavier, heartier, rustic crowd. But do what works for you. Don't hesitate to mix and match and layer pieces.
Floral, candles, lanterns and more –> I love working with florals. Creating centerpieces is a hobby of mine, so I tend to make things intricate because I find it fun. But they don't have to be complicated. Fill a vase with pinecones. Use a wood lantern as a centerpiece and put a seasonal candle inside.  Stick with a rustic, farmhouse vibe with flowers or greenery from your own yard.
Add small touches. Look for inexpensive additions like the small colorful pumpkins below, tea lights, or other seasonally inspired miniatures.
If you have a smaller table, that is okay! Just downsize the design. You won't need as much to create an elegant and fun look. Or if your table is round, create a center design from one of the ideas below, instead of making it go horizontally across the table.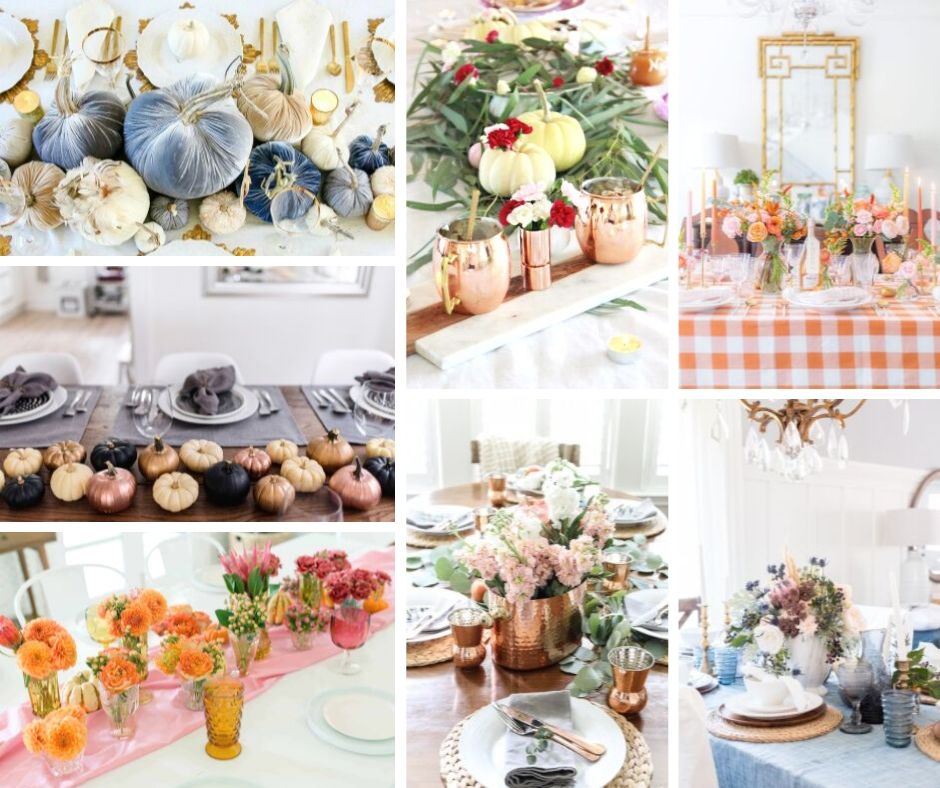 Fake Flowers versus Real Flowers
Because I enjoy arranging flowers as a hobby, I use them each season to refresh my decor. But if silk flowers are not your thing, don't worry!
Real flowers add a beautiful, warm touch to the table. You can certainly buy them at a florist. But if you are watching your pennies, try the grocery store and pick several bunches you can add together into one single display. Or keep it super simple and very special for your family by choosing things from your own property. You can even enlist your kids to find them for you.
It is possible to find artificial flowers at a reasonable price. I usually hit up Hobby Lobby or Micheals during their seasonal sales. There are a LOT of greenery and neutral colors that will be marked down as seasonal that can be used throughout the year. Then if I want something special, I am only buying a few pieces at the more expensive price. (And I can find a coupon for those too!)
Looking for more ways to prepare for Thanksgiving
Rustic Fall Signs | Here you will find a handful of DIY crafts to consider making to decorate your home. These are stunning pieces that look like you could purchase them in the store.
Maple Pumpkin Bread Pudding | A delicious dessert to serve up your family and guests this Thanksgiving. Gives you rich fall flavors in every bite.
Holidays As A Blended Family | Newly blended family? Here are tips and tricks to help you overcome the holidays with flying colors.
Fall Tablescapes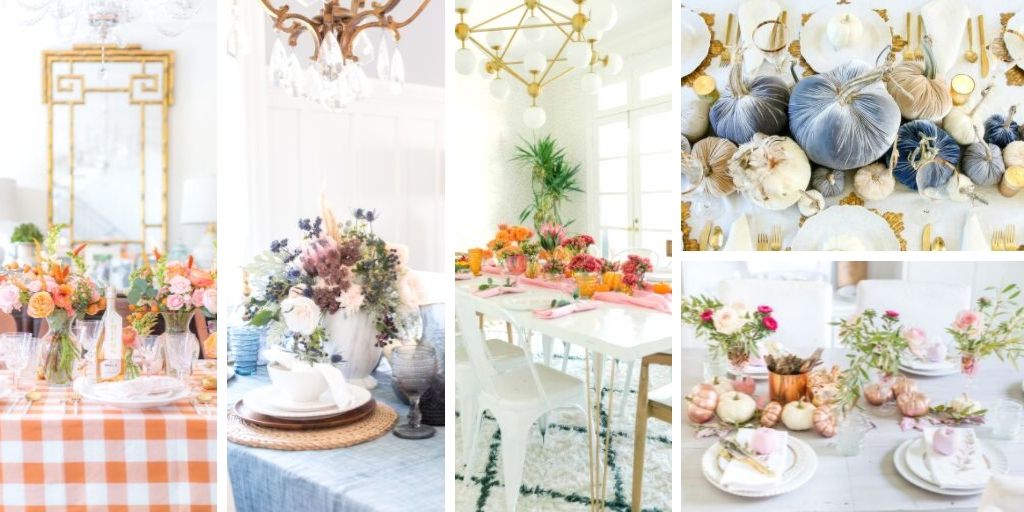 More Fun Fall Table Decorations