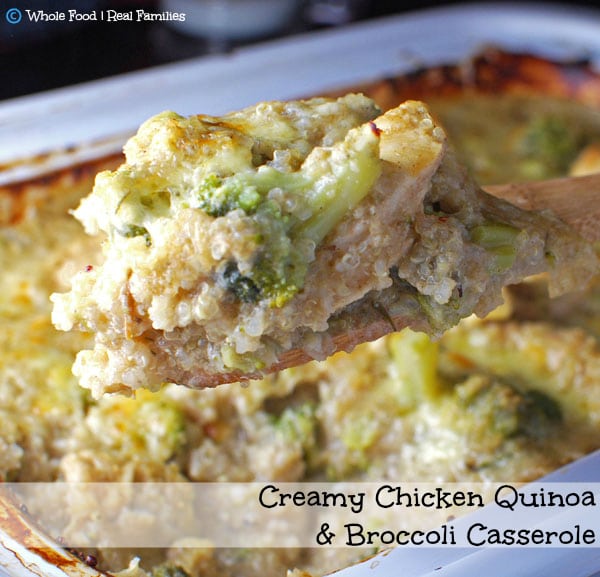 Eating whole food is important to my family but that doesn't mean that at times we don't miss the old days. There were dishes that were just downright yummy even if they were absolutely terrible for you. For instance, any casserole that contained canned soup or stuffing that comes in a box — or both. Among the many canned-soup-casseroles that we now refuse to eat is the one that appears on the box of stuffing… You know the one, the chicken, the broccoli, the stuffing, the canned soup. Every time I put that casserole in my mouth I knew I was doing terrible things for my body but it did such wonderful things for my taste buds. I was so happy to find this Creamy Chicken Quinoa and Broccoli Casserole from Pinch of Yum. I am not sure if she was trying to replace the old standby but it definitely felt inspired to me. I have never bought poultry seasoning so I just mixed some up myself. If you haven't given quinoa a try, now is the time!
Chicken Quinoa and Broccoli Casserole
Note: I recently made this recipe in my handy dandy new Crock-Pot SCCPCCM350-BL Casserole Crock Slow Cooker, 3.5-Quart, Navy Blue. I am sort of in love with this thing. I am not on Crock-Pot's payroll – though that would be awesome if anyone wants to hook me up! – I just like things that make cooking easier. It takes longer to for this recipe to cook in the slow cooker but I was left with a measuring cup, a whisk, and the ceramic crock out of the slow cooker to wash. So it was a win in my book! I am certain this would convert well in any traditional slow cooker but the nice feature about the casserole style cooker was the ability to lift the ceramic crock out of the cooker and pop it directly into the oven for 5 minutes at the end to melt the cheese on top and get that nice golden melty cheesy top.
If you want to give this recipe a try in your slow cooker: add the liquid, seasonings, flour, and quinoa first, whisking well and remembering to give it a stir a few times as you pass by the pot so that the creamy sauce begins to form. Let it cook for about an hour. Add in the sliced chicken, whisk again. Let that cook for about an hour to an hour and a half, again whisking occasionally as you pass by the pot. Then add the broccoli and let it cook for at least 30 minutes, or until it reaches the tenderness you prefer. Sprinkle with cheese and if you have a ceramic crock in your slow cooker compatible with the oven sprinkle with cheese and pop it in a hot oven until the cheese is nice and golden.Remember that quinoa is done when you can see the spiral in the middle of the grain. And make sure you check that your chicken is completely done since slow cooker times vary widely. I am not sure how this would do as a recipe you put in the slow cooker and leave because I think the quinoa would stick. But it was nice not to have to stand at the stove – and have less mess to clean after.
Let me know if you give it a try! I always want to see your creations!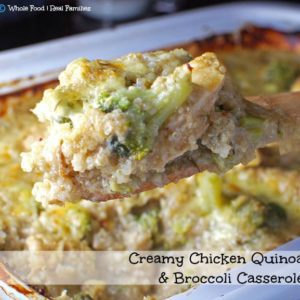 Creamy Chicken Quinoa and Broccoli Casserole
Ingredients
2

cups

chicken broth

1

cup

milk

(I typically use 2%)

1-2

tbsp

poultry seasoning

divided

1 1/2

tsp

salt

1/2

cup

white wheat flour

*See note below

2

cups

water

divided

1

cup

quinoa

rinsed

1

lb

chicken breast

boneless, skinless

2

tsp

seasoning

1/4

cup

Gruyere cheese (or your favorite cheese)

shredded

3

cups

fresh broccoli florets
Basic Poultry Seasoning - mix and store in an airtight container
3

tbsp

dried rosemary

3

tbsp

dried oregano

3

tbsp

dried sage

2

tbsp

dried marjoram

2

tbsp

dried thyme

1

tbsp

black pepper
Instructions
Sauce
Preheat the oven to 400 degrees and generously grease a 9×13 baking dish (seriously, be generous because it really really sticks to the sides). Bring the chicken broth and 1/2 cup milk to a low boil in a saucepan. Whisk the other 1/2 cup milk with 1 tsp poultry seasoning and flour; add the mixture to the boiling liquid and whisk until a smooth creamy sauce forms.
Assembly
In a large bowl, mix the sauce from step one, one cup water, and quinoa and stir to combine. Pour the mixture into the prepared baking dish. Slice the chicken breasts into thin strips and lay the chicken breasts strips over the top of the quinoa mixture. Sprinkle with the remaining poultry seasoning. Bake uncovered for 30 minutes.
Broccoli
While the casserole is in the oven, place the broccoli in boiling water for 1 minute until it turns bright green and then run under cold water. Set aside.
Bake
Remove the casserole from the oven, check the mixture by stirring it around in the pan, and if needed, bake for an additional 10-15 minutes to get the right consistency. When the quinoa and chicken are cooked and the sauce is thickened, add the broccoli and a little bit of water (up to one cup) until the consistency is creamy and smooth and you can stir it up easily in the pan. Top with the cheese and bake for 5 minutes, or just long enough to melt the cheese.
Recipe Notes
*White wheat is a whole wheat flour that is lighter than traditional whole wheat flour but just as nutritious. 
We also love this Cheesy Chicken and Rice Casserole and this Cheeseburger Casserole!