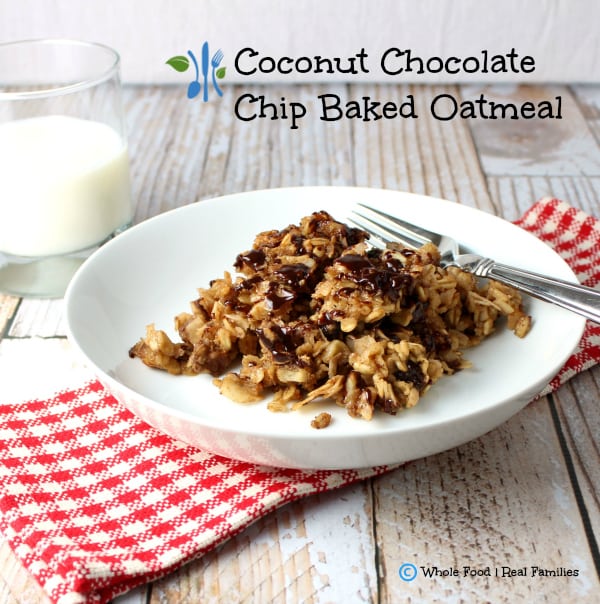 I recently posted about my love for baked oatmeal for this recipe: Apple Pecan Baked Oatmeal. The love continues with Coconut Chocolate Chip Baked Oatmeal. This particular version usually makes it to our breakfast table sans chocolate chips but with a drizzle of warm maple syrup on top.  (I also have a long-standing love affair with coconut.) But when I feel like throwing my highly-tolerant, whole food blogger family a bone – I break out the organic chocolate chips that are hidden on highest shelf of my cupboard and throw in a handful. The chocolate chips are not hidden on the top shelf because I feel they are just so damaging that they shouldn't be near my family. It is more out of a hope for the "out of site, out of mind" effect. Then when I find them they will be an extra special treat! That hasn't actually worked yet. But I am still hopeful.
There is processed sugar in the chocolate chips, which is why it is an occasional treat. Feel free to substitute raisins, cranberries, or chopped dates instead of chocolate chips if that fits your needs better. But we all feel the pressure to make things a little special around the holidays. So this just might make it to the table on Christmas morning…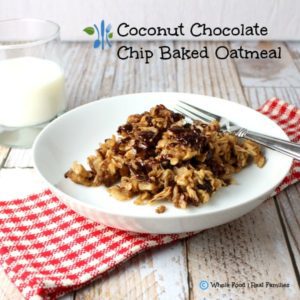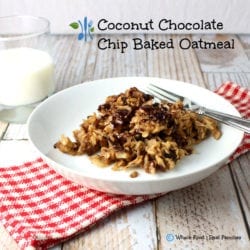 Coconut Chocolate Chip Baked Oatmeal
This makes 8 servings as a stand alone dish. If you are serving it with other sides, you can stretch it a little further.
Course:
Breakfast, Dessert, Snacks & Treats
Ingredients
4

cups

old-fashioned rolled oats

1 1/2

cups

walnuts

1 1/2

cup

unsweetened coconut

1

cup

coconut sugar

2

tsp

baking powder

1

cup

organic chocolate chips

1

tsp

cinnamon

1

tsp

salt

3

eggs

4

cups

unsweetened coconut milk

or the milk of your choice

1

tbsp

vanilla extract

1

unsalted butter, melted

1/2 cup
Instructions
Preheat oven to 350 degrees. Prepare a 9x13 pan with butter or coconut oil.

Combine all dry ingredients in a large bowl - oats, walnuts, coconut, coconut sugar, baking powder, cinnamon, and salt. Stir to combine.

Combine all wet ingredients in a second, smaller bowl - eggs, coconut milk, vanilla extract, and melted butter. Whisk until the ingredients are uniform. Add wet ingredients to the dry ingredients and stir to combine.

Pour oatmeal batter into the prepared dish. (I like to sprinkle a few extra walnuts and coconut over the top.)

Bake for 45-55 minutes or until the top is nice and golden and the oatmeal mixture has set.

Remove from oven and let stand for 10 minutes. Serve warm!

Baked oatmeal is wonderful straight from the oven but is also delicious with a splash of cream or milk poured over the top - or a drizzle of maple syrup! Leftovers should be stored covered in the refrigerator. They heat very well the next day in the microwave.