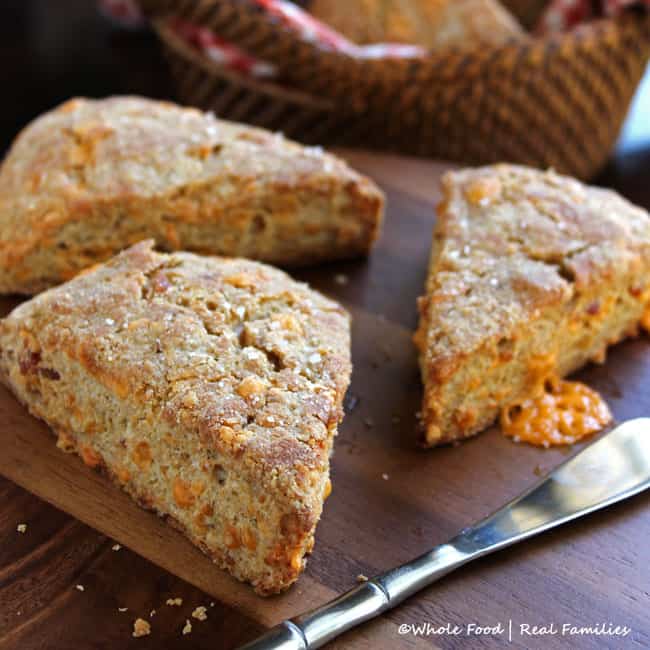 Whole Wheat Bacon Cheddar Scones are the best of the savory scones. Everything you love about weekend breakfast that you can hold in one hand. 
There is this little coffee shop in downtown Savannah where we visit with our kids most Saturday mornings. We are lucky to live in a place where the weather is so mild in the winter that we can venture into an open air farmers market even in December – and with the right cup of hot coffee, we can even been coerced onto the playground by our little kids. Our teenager generally accepts her sister-chasing bribery in the form of a pastry from the same coffee shop.
It is one of those places that you never know what they are going to have on the menu when you go in there. Everything is just handwritten up on boards based on what is available and seasonal (which we love about the place!) But since we had the tastiest savory scones there a few weeks ago, I have been patiently waiting for them to show up again so I can figure out what they were made from.
While I wait patiently for my elusive scone to show back up on the menu, I whipped up these for my family to hold off the craving for a while. One of the best parts about scones, is that they go in the oven in less than 10 minutes. They are literally no work. We also love scones that are sweeter. Like these Vanilla Scones with Buttercream or the Blueberry Lime Scones! Or if you are craving your serving of fall pumpkin, my friend Kristine has the best Pumpkin Scones on her blog!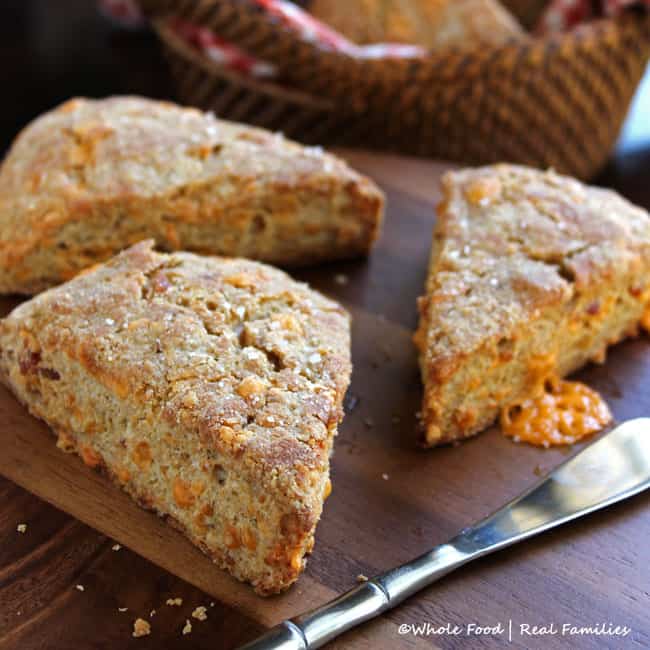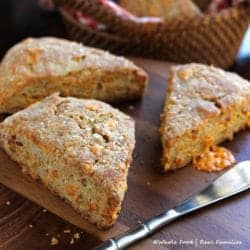 Whole Wheat Bacon Cheddar Scones
Whole Wheat Bacon Cheddar Scones are the best of the savory scones. Everything you love about weekend breakfast that you can hold in one hand.
Ingredients
2

cups

white whole wheat flour

1

tsp

baking powder

tsp

¼baking soda

tsp

½salt

8

tbsp

unsalted butter

frozen

cup

½plain Greek yogurt

4

pieces

cooked bacon

diced small

4

oz

sharp cheddar

grated

Kosher or Finishing Salt

optional
Instructions
Heat oven to 400 degrees and move rack to the upper middle position.

In a mixing bowl, mix flour, baking powder, baking soda and salt. Then grate the frozen butter into the flour mixture on the large holes of a box grater. Add the grated cheese and the minced bacon. Work the butter, cheese and bacon into the flour until it becomes like course meal. You can also do this step in the food processor.

In a second bowl, whisk the Greek yogurt and egg.

Using a fork, stir the Greek yogurt mixture into flour mixture until large dough clumps form and there is no loose flour in the bowl. Then use your hands to press the dough into a ball. (There may not seem to be enough moisture at first, but as you work the dough it will come together.)

Turn out the dough onto a lightly floured surface or parchment paper and pat it into an 8-inch circle about ¾-inch thick. Use a sharp knife to cut into 8 triangles. Place the triangles on a cookie sheet lined with parchment paper about an inch apart. Sprinkle tops with salt, if desired. Bake until golden, about 16 to 18 minutes.

Enjoy!