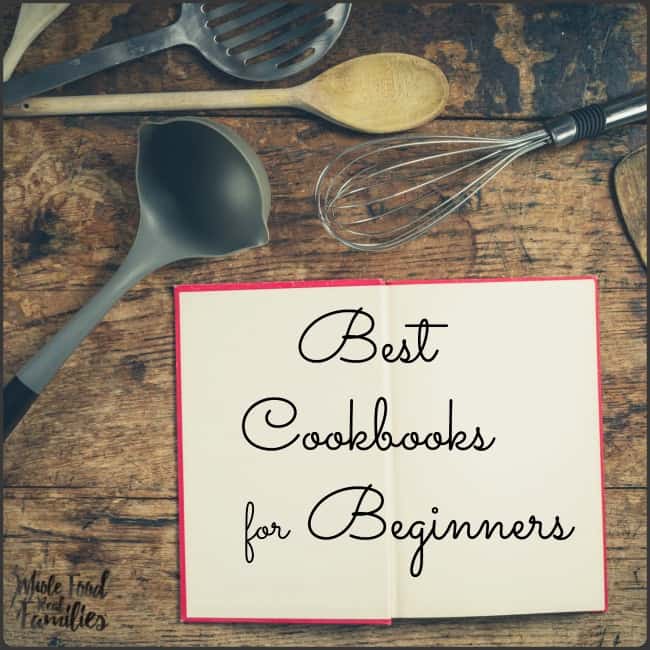 These are the Best Cookbooks for Beginners! We all started in the kitchen somewhere – some of us at our mother or grandmother's side. Some of us, not so much. We're just learning as we go. There are so many cookbooks on the market, if you are looking for a place to start it can be overwhelming. Many cookbooks assume a certain level of knowledge that as a beginner you may not have. But these are the cookbooks that should be in every new cook's kitchen!
Cookbooks for Beginners
Looking for a newlywed gift? Do you know a college grad moving to their first real home? Any moms looking to cook more and drive-thru less but not sure where to start? These are the Best Cookbooks for Beginners! I highly recommend any of them as a place to begin your cookbook collection.
If I had to pick one person in the whole world who makes me feel like I can do anything I want in the kitchen, Alana Chernila is the one. This book should be on every kitchen counter in my opinion. I feel so strongly about it, I recommended The Homemade Pantry in this post about the 5 Cookbooks You Must Have in Your Collection too.
The New Family Cookbook from America's Test Kitchen is one of the very best cookbooks for beginners. I've owned the original version, The Family Cookbook by America's Test Kitchen since it was first published and recently updated to this version. This cookbook is not about sexy recipes or complicated techniques. If you are looking for how to make traditional family recipes this is the one. Looking for how to make the best pot roast? Poached eggs? Flaky pie crust? Turkey Tetrazini? The New Family Cookbook has all the classic recipes, no matter where you from.
Go ahead, tease me for including Ina Garten in a post about the Best Cookbooks for Beginners. Her life in the Hamptons certainly does not scream beginner anything. But I have to say, I love Barefoot Contessa, How Easy is That? The recipes are uncomplicated and delicious, which is the best kind of cookbook. And Mrs. Ina knows how to balance preparing lots of food while still keeping it simple – and enjoying herself! The first time a beginning cook invites the whole family for dinner, she will be thrilled to have How Easy is That on the bookshelf!
Marisa McClellan's beautiful cookbook Preserving by the Pint is a bit of an unconventional choice for a list of beginner cookbooks. But I love her philosophy of making something great with what you have. How often as a beginning cook did fresh fruit and veggies end up in the trash because you didn't know how to use them up. I love Preserving by the Pint and think every cook should know how to put up the little bits of fresh food we all have in our kitchen.
I have a little soft spot for The Skinnytaste Cookbook because it is so fantastic to see a fellow blogger make it to the mainstream. Gina Homolka's recipes are delicious. They are also very easy to follow, don't use obscure ingredients – and I find her to be very relatable as a fellow mom who is just trying to get everyone fed!
Think of a recipe you consider "home cooking." Your mom or grandma probably made it, right? Good news! It is probably in this book. The Cook's Country Cookbook takes all of those home cooking recipes, tests them all, picks the best tasting ones, then figures out how to make them in the most efficient way. Sound like the perfect cookbook for a guide called Best Cookbooks for Beginners, right?!
What cookbooks did you rely on as a beginning cook? What are the ones you come back to again and again? Leave your comments and your favorite beginner cookbooks below!