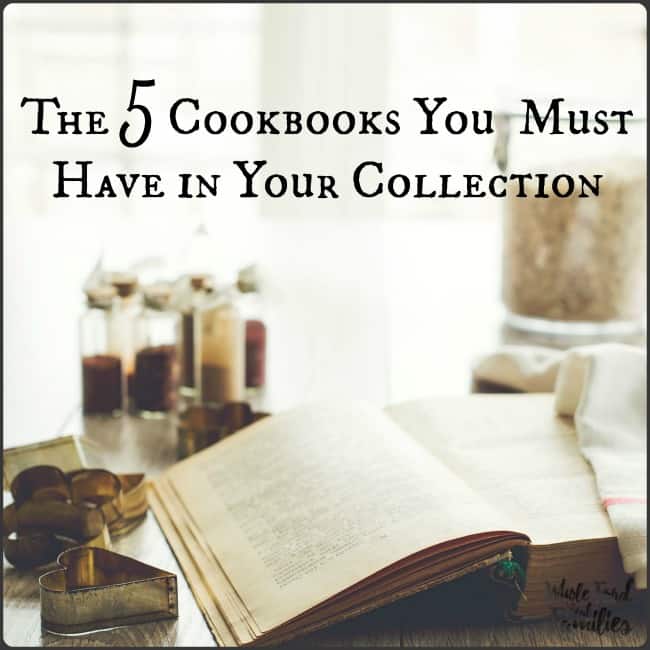 These are the 5 Cookbooks You Must Have in Your Collection! I love them all – the aspirational ones, the practical ones, the teaching ones and the ones that are just beautiful to look at. But of all my cookbooks, these five are my very favorite.
I have a cookbook problem. Well, I don't think I have a problem – but everyone around me thinks I need an intervention. I collect cookbooks like some people collect stamps. Some of them are super handy. The recipes are brilliant and simple enough for me to feed my family day in and day out. Some of them are aspirational – they make me feel like I can accomplish anything in the kitchen. And some read like a good book. They are a way to get to know some of my culinary heros just a little better.
There are bookcases full of cookbooks in my bedroom. And my collection still spills out onto the coffee tables, nighttables, my office and of course the kitchen. I even carry a cookbook with my in my mom bag just in case I get stuck in the car line picking up my kids and need something to read while I wait. But when someone asks me to recommend a cookbook, there are a select few that I recommend every time. This is the collection of the 5 Cookbooks You Must Have in Your Collection. You can find all of these on Amazon – how easy is that!?
A Kitchen in France by Mimi Thorisson is truly a work of art. Both the recipes and the photography in the book are amazing. Some of the recipes I love the most in this cookbook are the ones that are the simplest. It is really all about using fresh, seasonal ingredients and treating them with love.
A Kitchen In France – Mimi ThorissonI love Hugh Acheson from his time on MasterChef. But I also have a soft spot for him since he opened a restaurant in our hometown of Savannah called The Florence. One of the things I love about his food is how he uses vegetables in such a unique but approachable – and delicious way. He makes vegetables exciting, which is a huge win for me! The Board Fork explores all the things I love about his food.
If I had to pick one cookbook in all the world to keep with me forever, The Homemade Pantry is the one. No question. Not only are the recipes accessible and delicious. But bless Alana Chernila's heart, she is raising kids just like mine. Sometimes they eat their veggies, sometimes not. Homemade pop-tarts always make them happy. And it is important to me that they learn the satisfaction that comes from being able to create something wonderful in the kitchen. The Homemade Pantry makes me feel like a superwoman in the kitchen, even when I am doing the smallest things. If anyone can teach you the joy of homemade, Alana Chernila can do it. If you don't have this cookbook, go get it right now. It is going to change your life.
Okay, I am totally cheating because Alana Chernila has a second cookbook that I love as much as the first. I am a huge fan. Have I mentioned that. She has the healthiest point of view on food and cooking and shares so much of that in this book. She will teach you to be fearless in the kitchen – then to do your best and let it go. I love that. You need The Homemade Kitchen in your set too. The Homemade Kitchen is about cooking for pleasure. Doesn't that sound like something you need to be doing?
The Art Of Simple Food will literally teach you to cook. If you want to master essential recipes and really understand how to prepare and eat local, seasonal food, Alice Waters will teach you in the book. It is a cook's bible in many ways. It is also a classic, released in 2007 – which is 700 years old in cookbook years. Recently she released The Art of Simple Food II with the same concepts but all new recipes. I love them both!
Which of these cookbooks are currently in your collection? Which cookbooks are your favorite and why!? I am always looking for new ones to add to my collection!