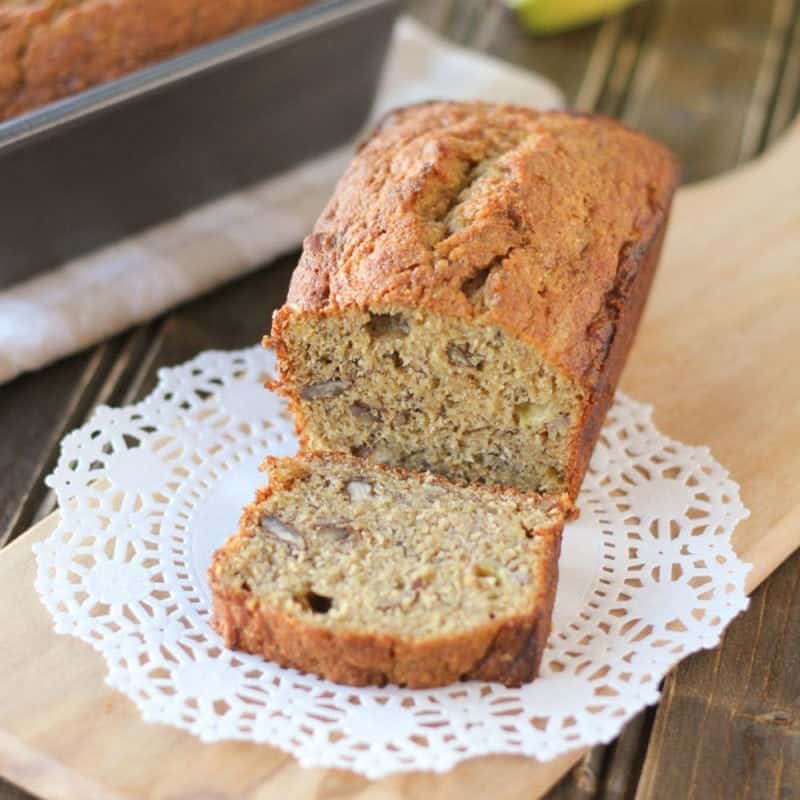 Banana Pecan Bread is rich and sweet, made with maple sugar. You will never believe there are no refined ingredients in this recipe. Get ready, this is going to be your new favorite banana bread!


Do have you have any of those friends that are so crafty, so together that everything they touch turns to gold? Perfect decorator. Perfect crafter. Perfect DIYer. And of course everything they bake turns into bliss on a plate? My very best friend Kristine, from kristine in between is that friend. Which if you knew how not together I really am, you would wonder the basis of our wonderful friendship. Where she is polished and elegant, I am the mom in the pajama pants with the hair bun trying to remember if she brushed her teeth while dropping her kids off for school. But the truth is, she makes me laugh more than anyone I know. All of our differences make our friendship rich with stories – and keep us both from taking life too seriously.
The part about everything she bakes turning to bliss on a plate is totally true. This Banana Pecan Bread is one of such creations. I had never cooked with maple sugar until this recipe. Let me say, I LOVE the maple flavor in bread. And working with granulated sugar rather than maple syrup made this really easy. I am good and truly shocked that is has taken me this long to include a banana bread recipe on Whole Food | Real Families. I think we all have at least a dozen banana bread recipes in our rolodex. But this one is my favorite. Everyone loves it and this one is as healthy as banana bread can get.
Looking for more banana recipes? Check out these healthy Banana Muffins!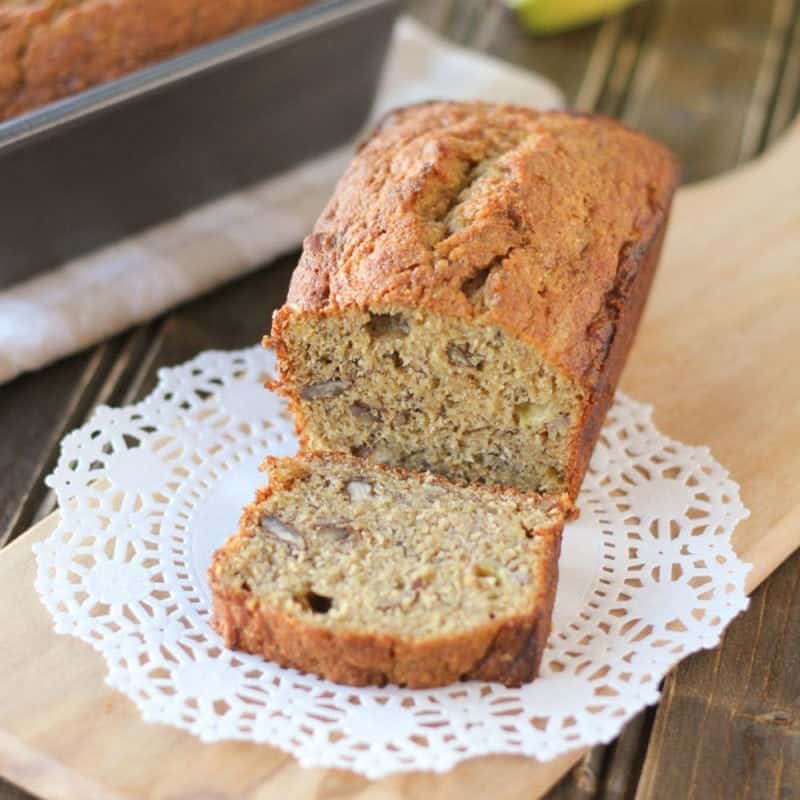 banana pecan bread
Ingredients
1/2

cup

butter

1

cup

maple sugar

2

eggs

1

TBS vanilla

1/2

tsp

baking powder

3/4

tsp

baking soda

1/2

tsp

sea salt

1-1/2

cups

white whole wheat flour

2

cups

mashed bananas

1/2

cup

chopped pecans
Instructions
Preheat oven to 350 degrees.

In a large bowl, cream butter and maple sugar.

Stir in eggs and vanilla and mix well.

Add baking powder, baking soda, and sea salt.

Slowly add flour and mix until well combined.

Stir in mashed bananas.

Fold in pecans.

Pour batter into prepared Wilton 4 mini loaf pan or 2 regular size loaf pans.

Bake 40-45 minutes until brown on the top, rotating halfway through.
Recipe Notes
Organic ingredients are recommended
© kristine in between. If you wish to republish this recipe, please re-write the recipe in your own words or link back to this post.