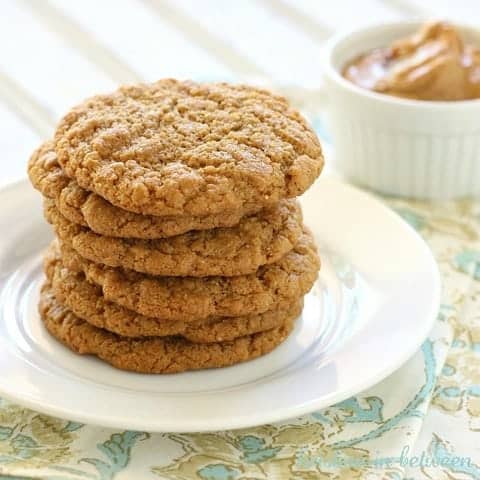 Whole Food Peanut Butter Cookies are soft and chewy peanut butter cookies. No flour and no refined sugar – crazy good!!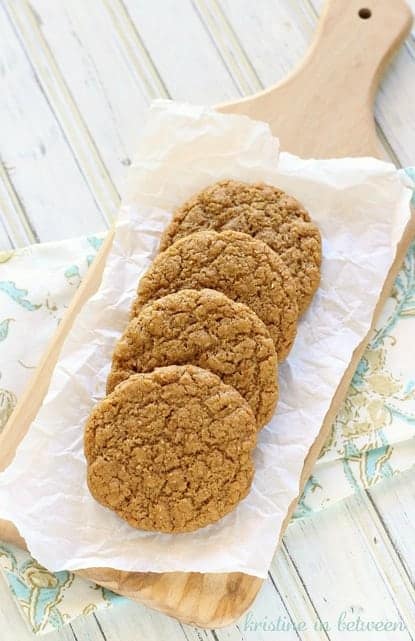 You might remember my friend Kristine from Kristine In Between, a baking and crafting blog. She is my best blogging buddy – who and I kidding, she is among my dearest and most spectacular friends. We've often swapped blogging ideas in the past; sometimes we talk about our escapades with you – The Great Scone Bake of 2014 or Shortbread Cookies with Chocolate Ganache. Sometimes we just talk about them with each other – like whether chicken pot pie should have a pie crust or a biscuit crust.
When she told me she was starting a second blog so she could explore all of her creative ideas, I told her it was (a) crazy and (b) a fantastic idea. Because though blogging is a labor of love, it is a lot of work. But selfishly, I love reading what she is up to every day.
Kristine also likes to take sides with my kids that there is not enough dessert at Whole Food | Real Families. So this week, she took over…
hi y'all! i'm kristine! cynthia asked me to pop over here today and talk your head off, i mean, share one of my recipes with you, so i'm taking over for today! sounds like fun doesn't it?
here comes my boring intro paragraph… i'll make it quick, i promise!
i recently started a new blog, kristine in between, as an outlet for all of my creative passions. i blog a lot about baked goods and have mostly yummy desserts and treat recipes posted there. i guess sweets are my thing. i also talk a lot about crafty stuff, and projects for the home, and life in general. I'd love it if you'd stop by and say hi sometime!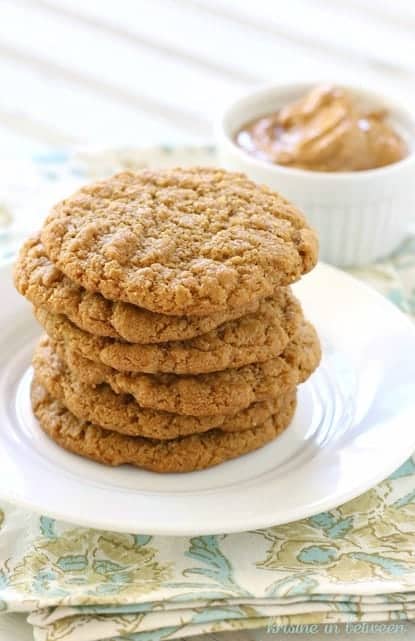 Okay, that's it, now back to the good stuff!
After cruising around on cynthia's site in search of an idea, it became very clear to me that she's in need of a peanut butter cookie recipe – I didn't find anything like it here (Cynthia, really, why no peanut butter cookies?!).
In my day, I've made a gazillion peanut butter cookies and peanut butter cookie bars, because, Well I love anything peanut butter! but I've never tried to make a flourless (and whole food) version before now.
Challenge accepted!
So let's talk about these cookies! Well, they're whole food, gluten-free, and out-of-this-world yummy! Both of our teenage daughters said these are better than any other peanut butter cookie I've made thus far! Win! They have a soft and chewy texture and are full of peanut butter flavor. Trust me, you'll never miss the flour in these babies! Go on, go make some!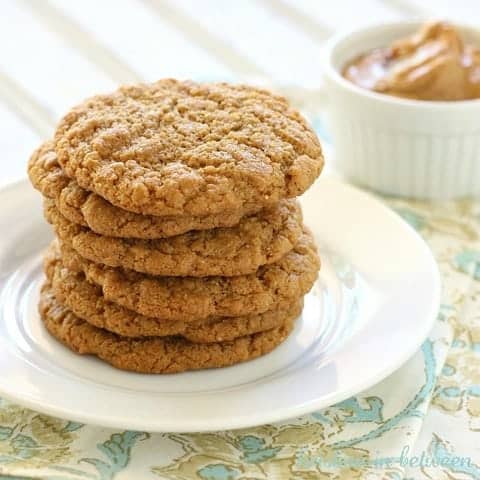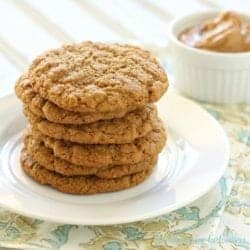 Whole Food Peanut Butter Cookies
whole food, gluten-free, soft and chewy peanut butter cookies
Ingredients
1/2

cup

natural peanut butter

3/4

cup

maple sugar or coconut sugar

must be granulated

1

egg

1

tsp

vanilla

1/2

tsp

sea salt

1/2

tsp

baking soda
Instructions
preheat oven to 350 degrees.

in a medium bowl, cream peanut butter, sugar, baking soda, and salt until smooth.

stir in egg and vanilla and mix well.

scoop dough by the heaping teaspoon and roll into a ball (cookies may feel greasy).

place cookies on a lined cookie sheet approximately 2 inches apart.

using the back of a fork, gently press down on the tops of the cookies crossways to flatten.

bake for 8-10 minutes, rotating halfway through.

let cookies cool for 5 minutes before moving to a wire rack to cool completely.

store in an airtight container.
Recipe Notes
organic ingredients are recommended
© kristine in between. if you wish to republish this recipe, please rewrite the recipe in your own words or link back to this post.