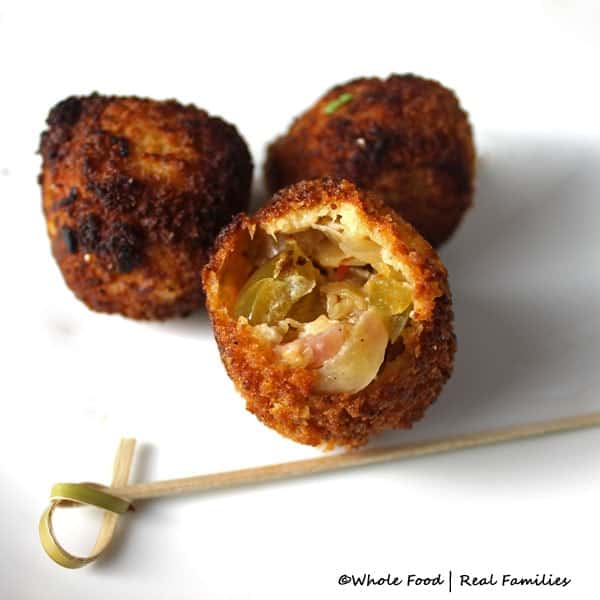 These Gnar Gnar Sauerkraut Balls are spicy on the inside with a crispy shell of Panko breading. The perfect Big Game party food!
Thanks to my brother-in-law, I recently discovered Cleveland Kraut and we have been eating it several times a week ever since. Growing up the only sauerkraut we ate came out of a can – if you have ever had kraut from a can, you know what I am talking about. So I was the family skeptic. However I love quick cabbage slaw with veggies like red onions, carrots and red peppers in a simple apple cider marinade. So I was thrilled to find that this sauerkraut had the crunch and tang I loved with the added health benefit of being naturally fermented.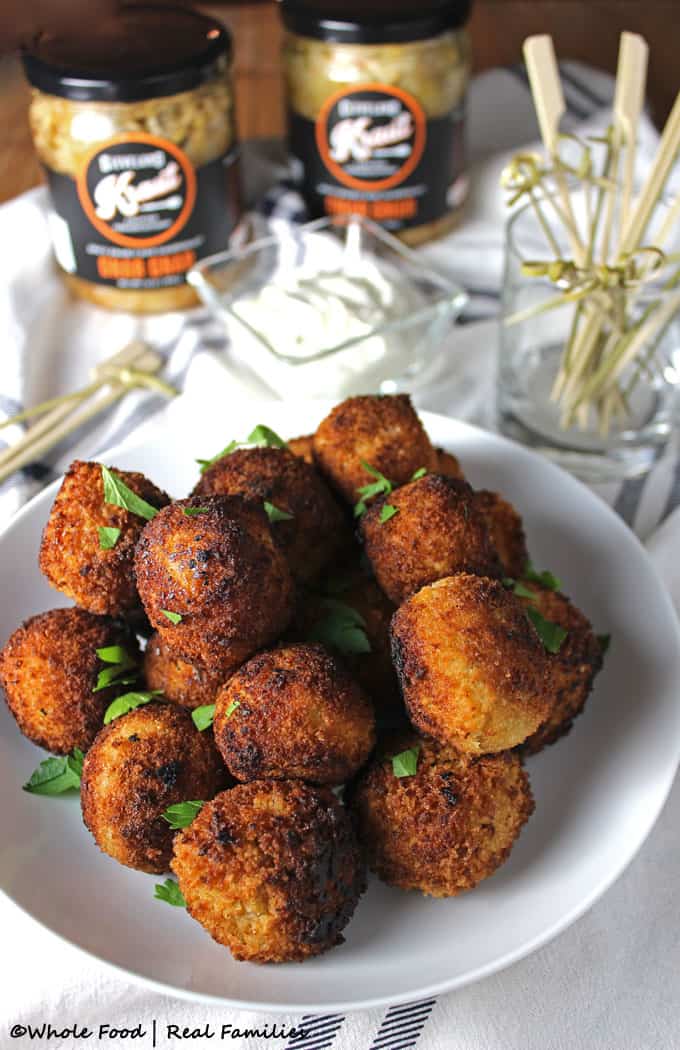 Science is finally coming around to what many cultures have known for centuries – fermented food is good for us. It replenishes and maintains the good bacteria in out gut, which has a positive impact on our immune system. Cleveland Kraut ferments their cabbage naturally and keeps the sauerkraut unpasteurized to maintain a healthy flora of good bacteria.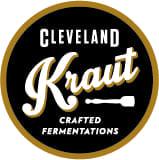 By far my favorite thing about Cleveland Kraut has nothing to do with health and everything to do with taste. It is crisp and made with real vegetables you can actually see. And Cleveland Kraut comes in six different flavors. I love them all but my very favorites are the Classic Caraway, Roasted Garlic, and the Gnar Gnar!! The Gnar Gnar is spicy with jalapenos, green peppers and Sriracha. You can see all of their flavors here.
I knew that Cleveland Kraut was going to be part of our regular grocery list when I walked in to my teenage daughter's room and found a fork in an empty jar of the Beet Red Cleveland Kraut. (Beet Red is sweeter and not spicy.) I knew she liked it but was surprised that my teenager voluntarily picked sauerkraut as a snack. Happy… but surprised.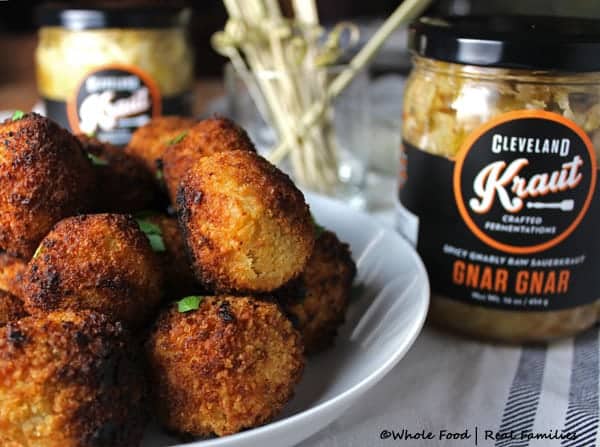 When an opportunity came up to work with Cleveland Kraut, my husband would not stop talking about Sauerkraut Balls. As a southerner, I had never even heard of Sauerkraut Balls until I married my husband, who is an Ohio native. To be honest, I thought he was a little nuts when he suggested we roll balls of sauerkraut, bread and fry them. And by a little nuts, I mean I actually thought he was crazy and had to Google it to make sure it was a real thing.
So the recipe that started as a way to make my husband happy ended up being one of the most delicious appetizers I have ever put in my mouth. As a matter of fact, the Gnar Gnar Sauerkraut Balls were dinner… twice. We didn't mean to. I just happened. Now they are the MOST requested appetizer when friends come over, especially during the football season. I have learned to make A LOT of them because we all plow through them like we are never going to see another jar of Gnar Gnar.
If you would like to find out more about Cleveland Kraut, you can find their website here.
If you can't find Cleveland Kraut in your area, never fear! You can order it here!
This post is sponsored by Cleveland Kraut. The many opinions about their delicious kraut are all my own.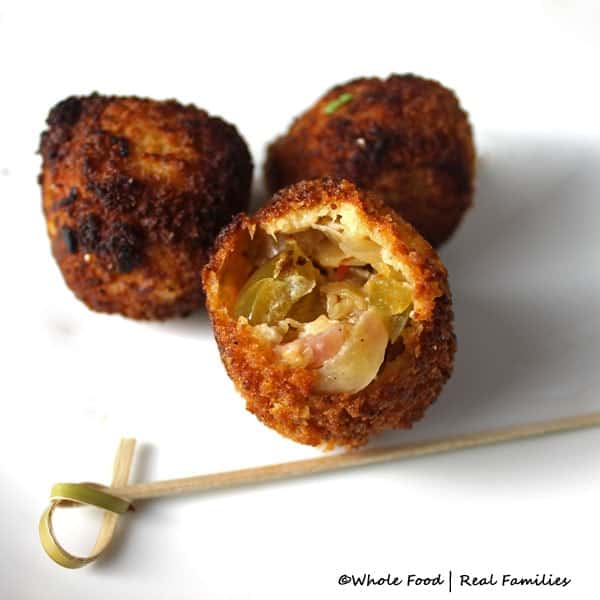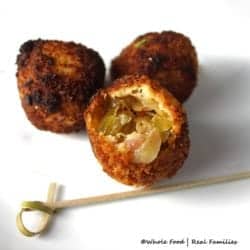 Gnar Gnar Sauerkraut Balls
These Gnar Gnar Sauerkraut Balls are spicy on the inside with a crispy shell of Panko breading.
Ingredients
4

tbsp

butter

cup

¼flour

plus 1additional for breading

cup

½beef broth

1

jar Gnar Gnar Sauerkraut

drained

2

green onions

sliced thinly, greens only

Kosher salt and freshly cracked black pepper

Dash of Worcestershire sauce

2

eggs

lightly beaten

1

cup

Panko

Olive oil for pan frying

Parsley for garnish

For Dipping:

1/2

cup

sour cream

1/2

cup

plain Greek yogurt

3

tbsp

fresh chives

chopped
Instructions
Heat butter a large, deep skillet or Dutch oven, over medium heat.

When butter is melted, add ¼ cup of flour and whisk until flour is well-combined and pasty. Add beef broth slowly, continuing to whisk until a thick gravy forms.

Add Gnar Gnar Sauerkraut, sliced green onions, a dash of Worcestershire, and kosher salt and fresh pepper to taste. Stir until well combined and allow it to cook on medium-low heat until thick.

Spread the Gnar Gnar out on a sheet pan and place it in the refrigerator for 2 hours or in the freezer for 30 minutes. This will make it easier to roll into balls.

Remove from the refrigerator and make tablespoon sized balls by rolling the Gnar Gnar in your hands.

Dip the balls first in flour, then in the egg wash, and then in the panko.

After wiping out your skillet or Dutch oven, pour enough olive oil to cover the bottom of the pan. Heat oil over medium heat until it is shimmering but not smoking. Place the 3-4 Gnar Gnar balls at a time into the hot oil carefully and brown until deeply golden, turning often to prevent burning. Do not overcrowd the pan and do not add to oil that is not hot.

When the Gnar Gnar balls are cooked completely, remove them carefully and allow them to drain on a paper towel to absorb any oil.

Pile them on a platter and top with fresh parsley to serve! Mix 1/2 cup plain Greek yogurt with 1/2 cup sour cream and lots of fresh chives for dipping.

Note: we use white whole wheat flour as our house flour but conventional white flour and gluten-free baking mix also works very well, depending on your dietary needs. Also, if you would like a vegetarian option, replace the beef broth with vegetable broth. Enjoy!