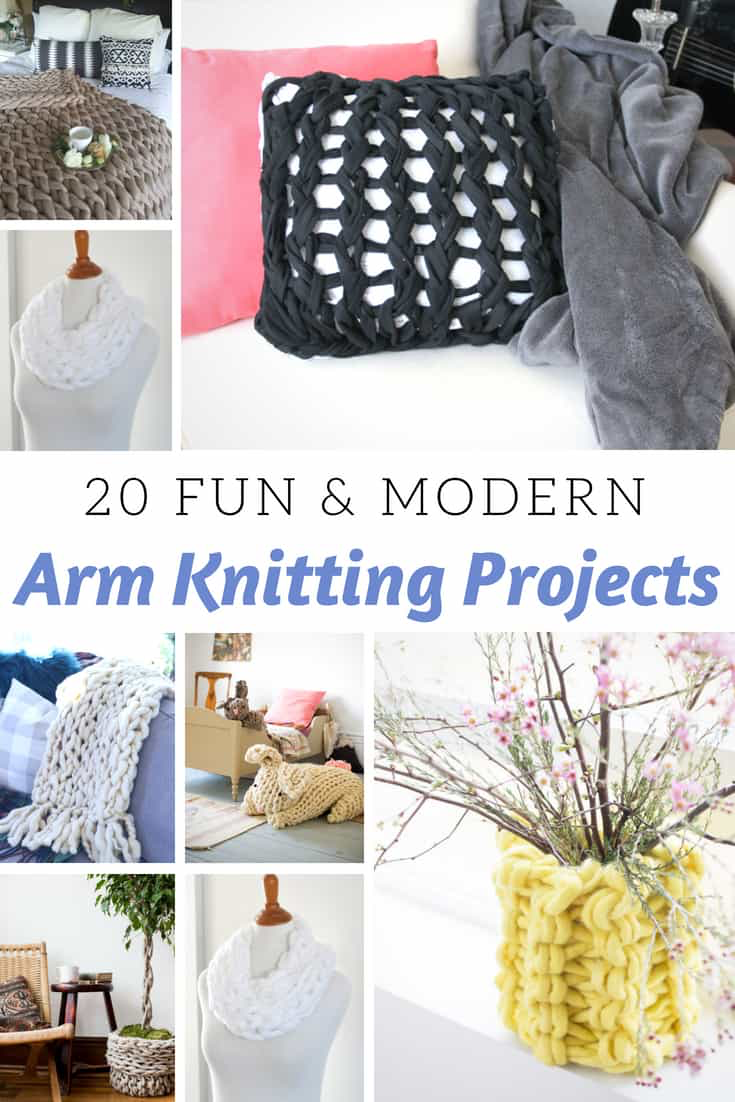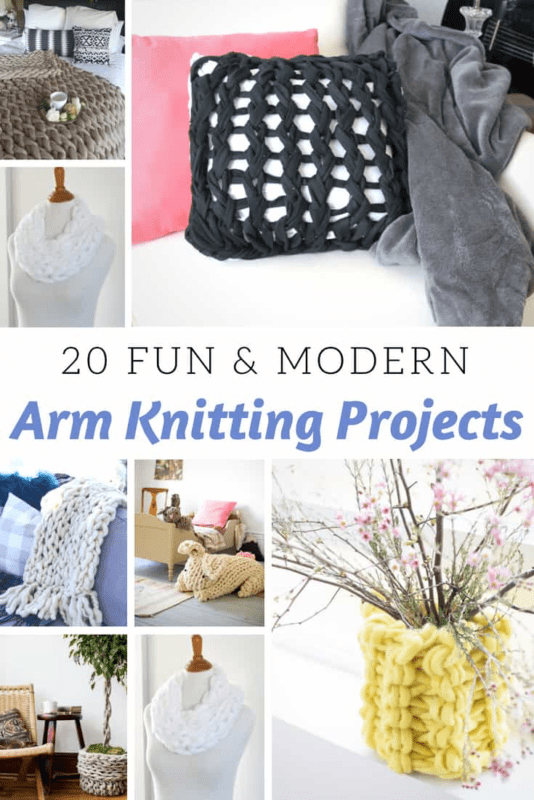 Arm knitting projects offer a fun and unique take on yarn crafts! They're great for when you don't have needles or just want to do something different. Here are 20 of our favorite arm knitting patterns!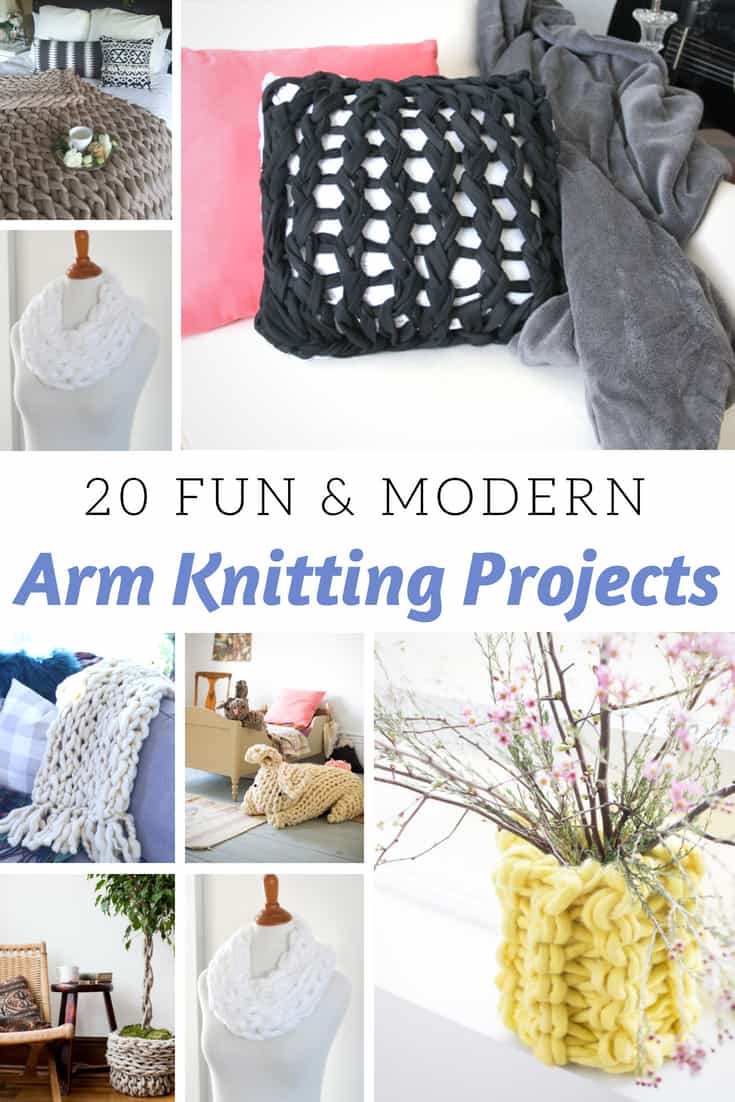 Arm Knitting Patterns and Projects
A few months ago, I went on a long plane trip from my home in Georgia to the west coast of Canada. I'm not one who likes to sit in one place for long periods of time, so I knew I had to bring something to distract myself from the hours upon hours of flying. Since knitting needles and I have never figured each other out, I was trying to figure out what I could do. And then I found arm knitting!
Arm knitting requires its own special skills and coordination, but once you get the flow of it, you're hooked. The best part is that all you need is your yarn, your arm, and a little bit of room.  No knitting needles required!
Admittedly, you may get some funny looks if you're arm knitting in public…like, say, on a plane. But that's okay, because it opens up some great conversation opportunities and allows you teach others how to arm knit too. Once someone sees you doing it, they want to learn how to make their own beautiful arm knitting creations!
DIY Arm Knitting Projects
To date, I've made plenty of scarves and cowls, but I want to try my hand (or arm, as the case may be) at a rug for our entryway. There's no limit to the types of projects that can be adapted to arm knitting from traditional knitting. I love arm knitting as a way to DIY home decor – kind of like these DIY Crochet Pillows. 
One word of caution with arm knitting – it can get pricey, because the yarn is often thicker and chunkier. Be sure to stock up during yarn sales, so that you have plenty on hand for when your arm knitting desire strikes! It's the perfect craft to do while binge-watching your favorite Netflix shows!
Check out the patterns below and let me know which ones you'll be trying!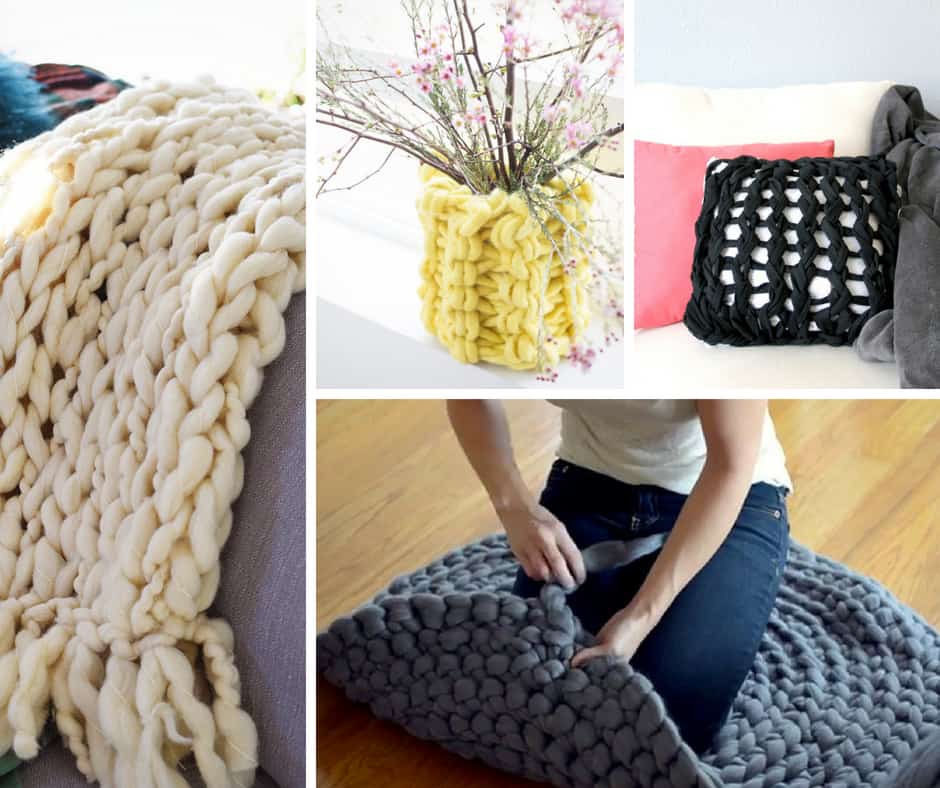 DIY Arm Knitting Projects
DIY Arm Knit Scarf from thediymommy.com
Amazing DIY Arm Knit Chunky Vase Pattern from flaxandtwine.com
How To Arm Knit A Blanket from blog.consumercrafts.com
Arm Knitting An Infinity Scarf from thesimplycraftedlife.com
Spring Infinity Scarf from happyhourprojects.com
Arm Knit Table Runner from dukesandduchesses.com
Arm Knitting A Blanket from pinkwhen.com
Giant Arm Knit Bunny from thehousethatlarsbuilt.com
Arm Knit Fall Wreath from akailochiclife.com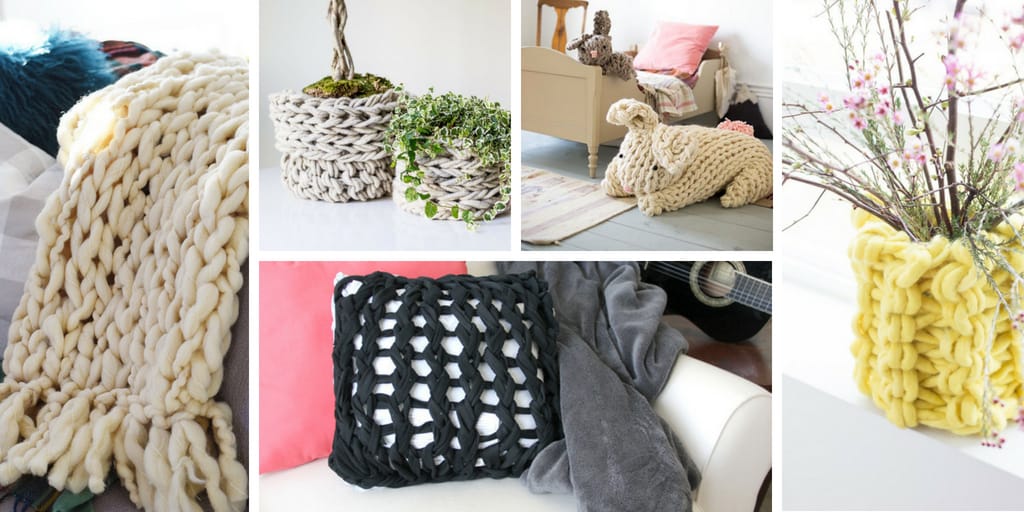 More Arm Knitting Patterns to Try
Arm Knit Cowl from sugarbeecrafts.com
DIY Hand Knitted Scarf from nellecreations.com
Arm Knit Pillow from noodle-head.com
Arm Knit Basket Pattern from flaxandtwine.com
Make an Arm Knit Blanket from thediymommy.com
Arm Knitting Made Easy from thedesigntwins.com
Crochet A Giant Circular Rug from blog.expressionfiberarts.com
The Triplet Shawl Arm Knitting Pattern from creatinglaura.com
Arm Knit Blanket Tutorial from placeofmytaste.com
Arm Knit Mermaid Blanket from simplymaggie.com
What beautiful creation have you made with arm knitting? Share it with us in the comments below, in our active Facebook group, or by tagging us on Instagram @IWishIWasCrafty! We'd love to celebrate your creativity!