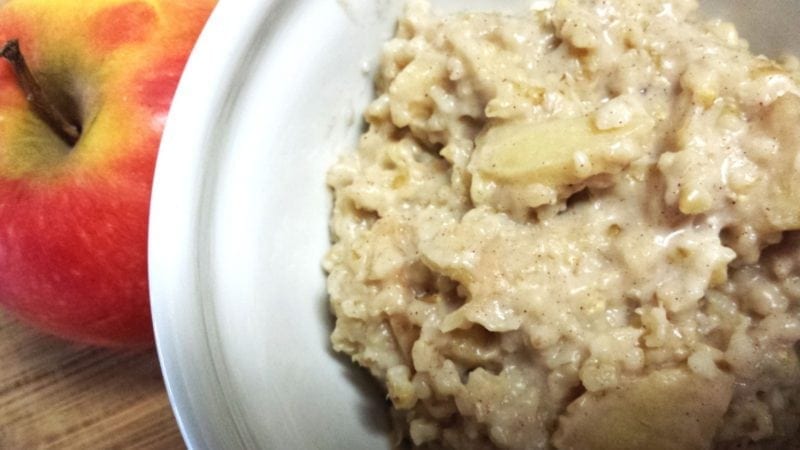 Apple Cinnamon Oatmeal is on a frequent rotation at my house. There is absolutely nothing that smells better than cinnamon and apples cooking… think apple pie, just healthier.
This is the warmest, most comforting, best-tasting breakfast in the world. Seriously. It is also full of nutrition, completely without any processed ingredients. I confess that I never make this without doubling or even tripling the recipe. It is fantastic as leftovers and freezes great. However, eating healthy with this recipe requires no additional motivation than the smell of it cooking. It smells like I worked really hard all day. Not so much. But I accept the fervent gratitude just the same. Because I am just that kind of mom.
Slow cooker times vary widely. This makes a wonderful breakfast to throw in the slow cooker the night before and wake up to a wonderful, hearty breakfast. But the first time you make this, you might want to do it when you are awake and around the house to determine if your slow cooker cooks on the hotter side. I have 2 slow cookers I use regularly; one cooks this is the 7 hours but the other is much hotter and cooks it in 5 hours.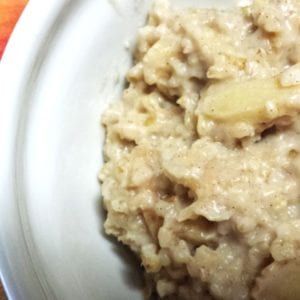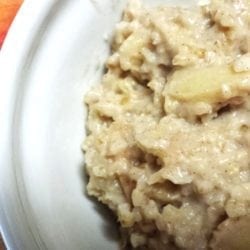 Apple Cinnamon Steel-Cut Oatmeal, in the Slow Cooker
Ingredients
3

medium

apples

peeled, cored, and cut into bite size pieces

1 1/2

cups

milk

(I typically use 2%)

1 1/2

cups

water

1

cup

steel-cut oats

1/4 to 1/2

cup

maple syrup or honey

based on your desired taste

1

tsp

cinnamon

1/4

tsp

salt
Instructions
Add all ingredients, stir, cover and cook on LOW for 7 hours. (If you double the recipe, add an hour of cooking time.)

It is helpful to coat the inside of the slow cooker with organic cooking spray or wipe down with a little oil or butter to keep the oats from sticking at the bottom. Also opening the lid once or twice during cooking to stir helps, making sure to reincorporate any oats from the bottom of the slow cooker -- the benefit is letting the smell of warm apples and cinnamon waft out of the slow cooker!

Store any leftovers in the refrigerator. To reheat, spoon a serving of oatmeal into a microwave safe bowl. Add 1/3 cup of milk and heat on HIGH for 1 minute. Stir and heat for another minute or until hot.