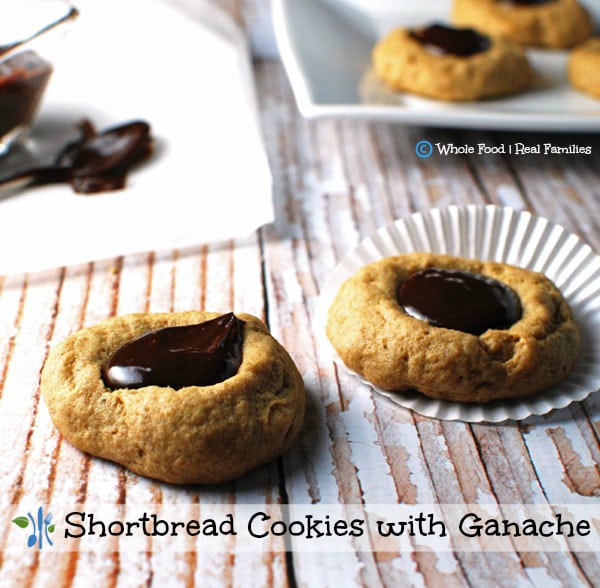 I had to ask myself an important question about the upcoming holiday season. I said to myself: "Self, are you really going to make it past New Year's without indulging in your fair share of holiday goodies?" I wanted to say yes, I really did. But the answer was a resounding – NO WAY! I am going to assume some of you are in the same boat. That's okay. Whole food is not an all or nothing thing. We won't kick anybody out of the club for eating the cookies your Momma made for you because they were your childhood favorite. (In my case, it is my Dad's Carrot Cake! Though I can't ever see it being sugar-free or without white flour, my dad has been opting for organic ingredients lately – which makes him pretty cool in the Dad department.)
So what is a whole food foodie to do? We can control what comes out of our own kitchens. We can choose to leave the chemicals on the grocery store shelves; opting instead, for more natural and nutritious recipes – even if they're not ideal for unmoderated daily consumption. Shortbread Cookies with Chocolate Ganache fit nicely in this nowhere land of not-quite-so-bad-for-you holiday goodies. Switching white whole wheat flour and coconut sugar for the traditional flour and sugar, creates a more nutritious treat. And organic ingredients help keep the preservatives and additives on the grocery store shelves instead of in our bodies at a time of year that we tend to overindulge in foods that are filled with both. It is important to opt for organic chocolate if you possibly can because conventionally raised cocoa uses a large amount of pesticides, the sugar in conventional chocolate is usually high fructose corn syrup, there are lots of  artificial flavorings and coloring in conventional chocolate, and it usually contains wax… which probably won't hurt you but… yuck, I'll take my chocolate without the wax please.
This recipe started at my friend Kristine's blog: The Pink Sprinkle. I love her Thumbprint Cookies filled with Rasberry Chia Seed Jam. So delicious. A nip here and a tuck there and suddenly, they are Shortbread Cookies with Chocolate Ganache. Thank you Kristine!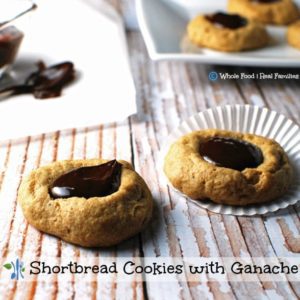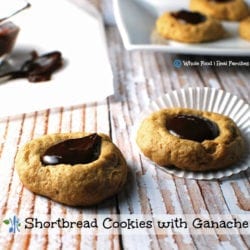 Shortbread Cookies with Chocolate Ganache
*this recipe does contain some processed sugar in the Chocolate Ganache**
Ingredients
Shortbread Cookies
8

oz

cream cheese, softened

1

cup

butter, softened

2 sticks

1

cup

coconut sugar

2

cups

white whole wheat flour

1/2

tsp

kosher salt

1

tbsp

pure vanilla extract
Chocolate Ganache
1/3

cup

dark or semi-sweet chocolate chips, organic

1/3

cup

half and half
Instructions
Whip cream cheese, butter, coconut sugar, salt and vanilla extract in your stand mixer until creamed. (You can also do this with a hand mixer.) Add flour slowly until all is incorporated and well combined. Cover and refrigerate mixture for at least 30 minutes.

Preheat oven to 350 degrees. Line cookie sheet with parchment paper.

Roll tablespoons of chilled cookie dough into balls with your hands and place them on the parchment paper two inches apart. Use your thumb or the back of your measuring spoon to indent cookies. Place them in the oven for 10 minutes.

Remove cookies from oven, re-apply indention with your measuring spoon to make sure it doesn't fill in as the cookies are baking. Place cookies back in the oven for 5-6 minutes, or until cookies are lightly browned on the outside edges. Remove from oven and let cookies cool.

While cookies are cooling, pour half and half into a large microwave safe container. I use a 2 cup capacity measuring cup. Put the half and half in the microwave on medium heat just until it starts to bubble up - about 2 minutes. You need to watch it because it will bubble over very quickly. Once it begins to bubble, remove from microwave and pour chocolate chips into the cream. Let it sit for 30 seconds, then whisk. You will see the Ganache begin for form. As the chocolate cools it will thicken and the more you whisk it, the glossier it will become. I usually, whisk a minute, then let it cool a few minutes, then whisk, then cool... until it reaches the texture and look I desire.

Once cookies are completely cool (or until you have waited as long as you can), fill the hollows with Ganache and enjoy!