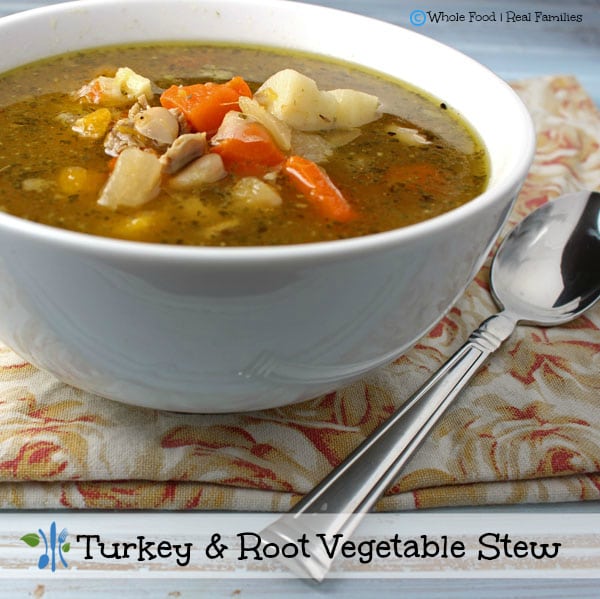 Filling and hearty, Turkey and Root Vegetable Stew remakes holiday leftovers into something to be savored.
If your family is anything like mine, the closest they get to dark meat on the Thanksgiving turkey is to pose for a funny picture with the gigantic turkey leg. But that means after the table is cleared, I have a lot of dark meat that gets pushed into the far back abyss of my refrigerator. After several years of finding a science experiment some weeks later growing out of the turkey that was Thanksgiving dinner – I decided to take the problem in hand this year.
With a little inspiration from my good friend and fellow healthy food blogger David Crowley from Cooking Chat (check out his Turkey Stew here) – and a little invention with the ingredients I had on hand, Turkey and Root Vegetable Stew was born and has been subsequently requested for our post-Christmas turkey leftovers as well. (I am making a turkey for Christmas? Well I suppose so.) I had every intention of making David's Turkey Stew with our leftovers – except all 3 of my kids were in different stages of bronchitis for Thanksgiving dinner (the reason we were home for the holiday instead of celebrating with extended family) and I was missing a few ingredients. So after investigating what was stored in my freezer (thank goodness I had recently stored a collage of veggies from Forsyth Farmers' Market in my freezer!) we got to cooking!
Because this is a big batch of soup and I planned to freeze at least a portion, I did not add noodles, rice or quinoa. Those ingredients don't freeze very well in soup because they absorb so much liquid. If you like them, by all means you should add them, just withhold them from anything you plan to freeze. Also, I like to freeze batches in a size that my oldest daughter can thaw and heat before pouring into a thermos for a school lunch. It works out well for us to freeze two servings at a time, she takes one and leaves me one for lunch. 🙂
If you would like to see how I pulled this off without a bronchitis-spreading run to the grocery store at Thanksgiving. It isn't hard, it doesn't take long – and given the state of everyone's health over the holiday, I would not be overstating to say it saved Thanksgiving dinner for us.
You can also buy organic pesto from the grocery store. I encourage you to stick some basil in the ground come spring. It is so very delicious when you make it yourself and it freezes great for a rainy day!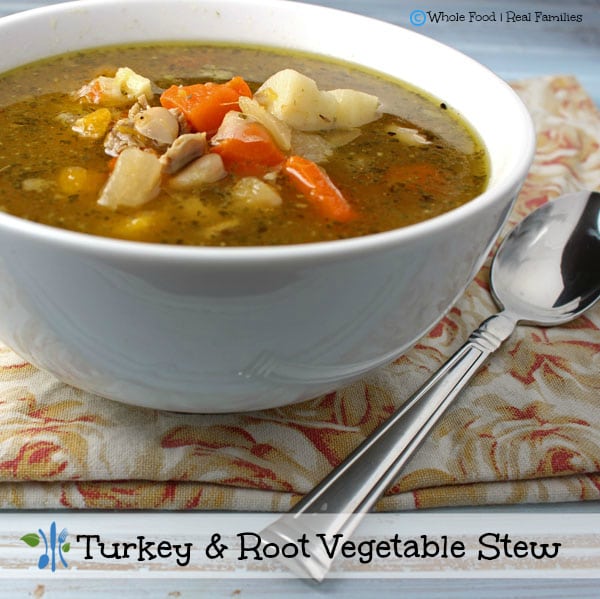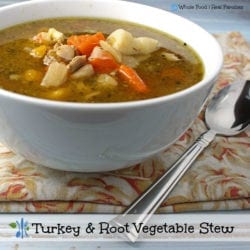 Turkey and Root Vegetable Stew
Use this recipe as a guide to use what is in your refrigerator! Add more or less turkey, more or less veggies, different veggies, more or less beans, add noodles, rice or quinoa too! If you can use turkey broth for at least part of the liquid, and the parsnips and turnips - this soup will taste more like fall than the chicken soup you can make all year.
Course:
Main Dishes, Soup, Salad & Sandwich
Ingredients
12-16

cups

turkey stock (or chicken stock)

4

whole

turnips, peeled and diced into bite size pieces

reserve the greens for a different use

4

whole

carrots, peeled and diced into bite size pieces

4

whole

parsnips, peeled and diced into bite size pieces

1

large

butternut squash, peeled and diced into bite size pieces

3-4

cans

cannellini beans, organic from a BPA-free can

3-5

cups

turkey, diced into bite size pieces

I use the dark meat for this but the white meat works too

4

tbsp

Pesto

1

tbsp

dried thyme

kosher salt and black pepper to taste
Instructions
Heat stock in a very large stock pot. Add root vegetables and allow them to being cooking. Dice leftover turkey and add to the pot. When the vegetables begin to become tender - around 20 minutes - drop in the pesto, thyme, salt and pepper to taste and stir well. Allow the stew to cook for another 10 minutes or until the veggies reach the desired tenderness. Serve hot!

If you plan to freeze this soup in glass jars, don't forget to leave an inch of head space to avoid breakage. If you are planning to freeze in freezer bags, allow it to cool before pouring into bags to keep from burning yourself!