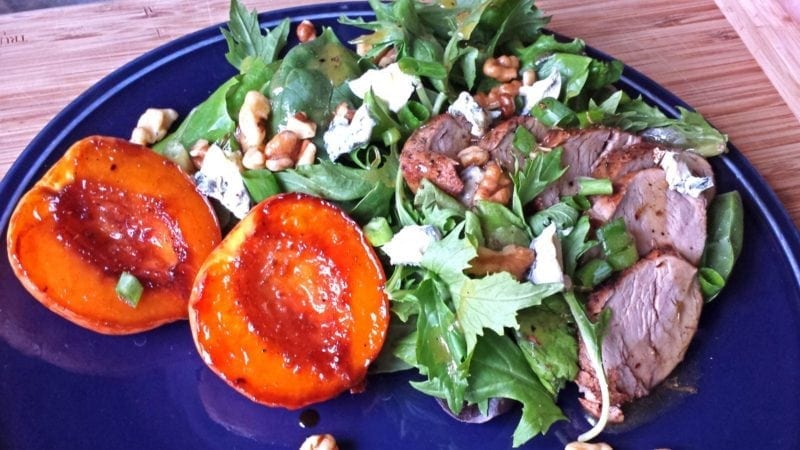 Tenderloin Salad with Caramelized Peaches and Champagne Vinaigrette is elegant and filling. It is also ridiculously easy. Though is is tasty enough to justify baking the tenderloin just for this salad, I usually make it with leftovers from this Weeknight Pork Tenderloin. I love cook once eat twice meals. Weeknight Pork Tenderloin only takes about 20 minutes to prepare for the first meal – add an extra tenderloin and you will have enough for this salad later in the week too.
I also employ the super fancy and always elegant Ball or Mason jar to make Champagne Vinaigrette. Yep, I make this vinaigrette in a canning jar. If I am totally honest, I make all of my vinaigrette in a jar. Conveniently, canning jars have the measurements etched on the side – so it makes the ingredients super easy to measure. I just pop the top on the jar and shake the ingredients until they emulsify. If I have guests at the dinner table, I will take the extra step to serve dressing in an appropriate vessel. However, my family is very accustom to the canning jar on the table. This jar Ball 8-Ounce Quilted Crystal Jelly Jars with Lids and Bands, Set of 12
works great for making vinaigrette. You will likely have vinaigrette leftover for another day. I love it when that happens – I added juice from a lemon to the leftover dressing and tossed it with melon and cucumbers for a quick side with this Seared Tuna Steak!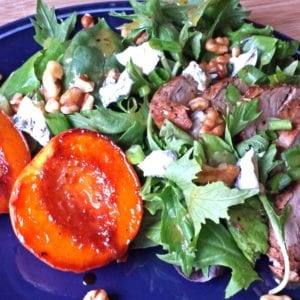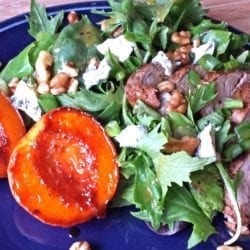 Tenderloin Salad with Caramelized Peaches and Champagne Vinaigrette
This recipe assumes you have previously cooked pork tenderloin. For the quick and easy Weeknight Pork Tenderloin recipe check here: https://www.mynourishedhome.com/recipe/weeknight-pork-tenderloin
Course:
Main Dishes, Soup, Salad & Sandwich
Ingredients
For Salad
8

cups

mixed salad greens

1

lb

previously cooked pork tenderloin, sliced into thin coins

warm or cold based on your preference

1/2

cup

walnuts, chopped

4

oz

Gorgonzola or Blue Cheese

1/4

cup

green onions, chopped
For Peaches
4

ripe peaches, washed and halved with pit removed

1

tbsp

coconut oil

1

tbsp

coconut sugar
Champagne Vinaigrette
1/3

cup

champagne vinegar

2/3

cup

olive oil

1/2

tsp

thyme

2

tbsp

honey, to taste

1/2

tsp

freshly ground black pepper
Instructions
Assemble the ingredients for salads in 4 salad plates, including pork tenderloin coins. Pork may be warm or cold based on your preference.

Warm coconut oil in a large saute pan over medium heat. Places peaches cut side down in the pan. After 30 seconds or once peaches begin to release their juices, flip the peaches cut side up, sprinkle with coconut sugar and flip the cut side back down in the pan. Allow the coconut sugar to caramelize on the peaches for 2-3 minute. Peaches should be warmed through. Remove peaches from pan and place them with the assembled salads.

Add ingredients for Champagne Vinaigrette to a Ball or Mason jar. Shake vigorously until vinaigrette is emulsified. (Dressing can also be made in a bowl and whisked.) Dress salads with vinaigrette and enjoy!