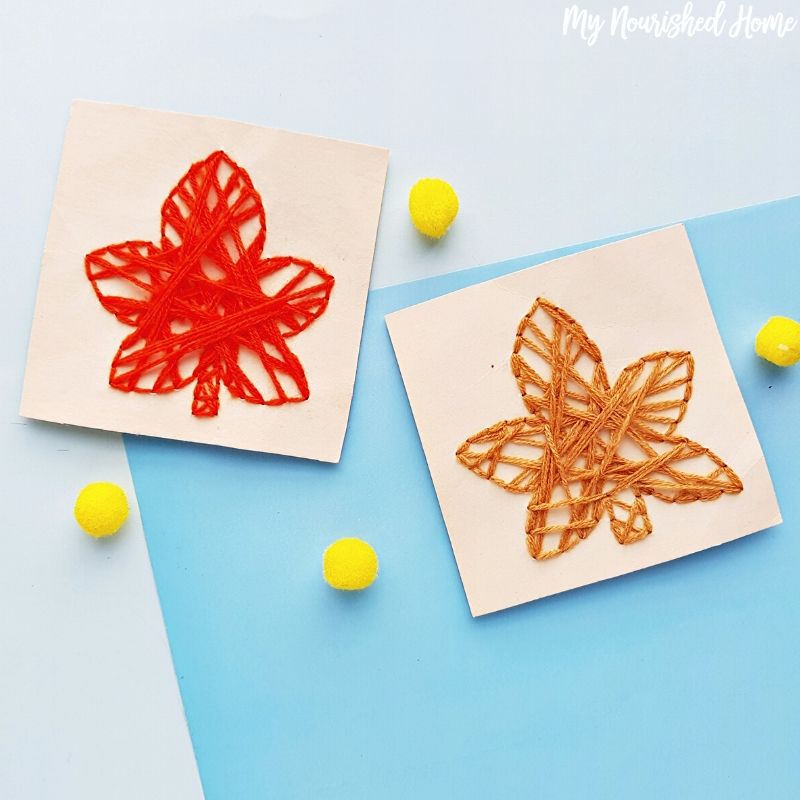 This maple leaf craft is perfect for this season. We actually have the supplies stocked and printed for the kids in our extended family to make them (again) while the adults cook our big family dinner this Thanksgiving.
It is simple to make and a gorgeous way to brighten your home for the fall season. I love that kids can make a beautiful maple leaf using any color string they desire. This activity is not only fun to do but it will also help your kids improve their fine motor skills.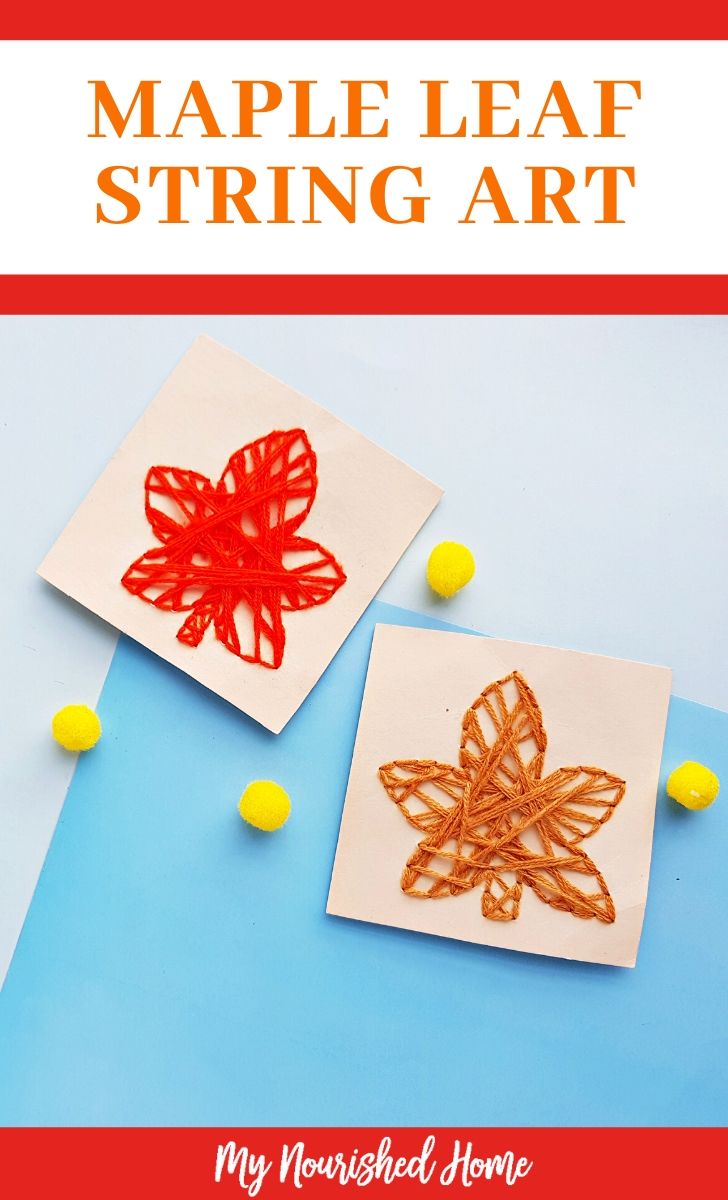 Why Make Leaf Craft for Kids?
Are you wondering what the benefits are for making this leaf craft with kids? I'm happy to share some of the amazing benefits and reasons to make this festive fall craft idea with your kids today:
Enhances Fine Motor Skills
As your kids work to cut the template out, poke holes in the template and then 'sew' the thread back and forth through the leaf craft template they'll be working their fine motor skills.
Quality Family Time
Spending time making this leaf craft for kids helps strengthen your family bond. Pausing your busy lifestyle to be present with your kids during this activity will help you bond as you create your own maple leaf string art displays. Not to mention, having craft ideas on hand during Fall can be a real savior when the weather is blustery and kids need something to do other than veg in front of the television.
Learn New Skills
Since this string art isn't something you probably do on a daily basis, your kids will be learning new skills. This leaf craft actually teaches kids the fundamentals of sewing. As your kids work the needle back and forth to follow the maple leaf template, they're mastering the basics.
How to Make this Leaf Craft for Kids
You'll find the instructions below to make this leaf craft with kids. The supply list is pretty simple, as most of the items you should have in your home or easily grab at the local dollar store. Consider these creations as part of your fall decor or use them to create cards for family members as a special gift.
You can print out the free template to sew your leaf here.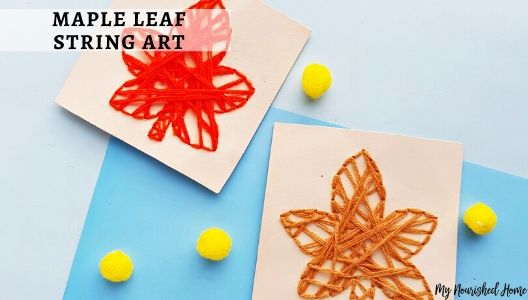 The photo collage below is a great guide for your kids. I always print the photo guide and the list of instructions. My younger kids really like the photo instructions – they check in while they are working to make sure they are on track.
You can print out the supply list and instructions below to save this leaf craft for the weekend. Whether you opt to do this on a weeknight, holiday break or during the weekend with your kids, I am confident this leaf craft will be a hit!
I bet your kids will want to make colorful maple leaf string art for every room in the house!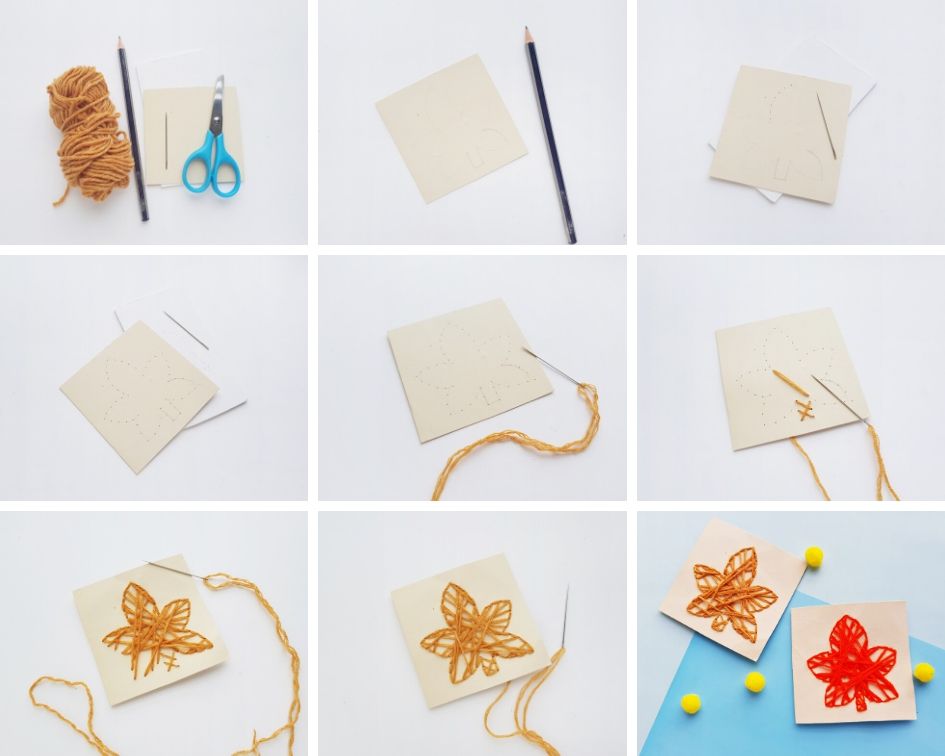 Looking for more fun string art?! Try this dreamcatcher for kids! It is so cute and really easy.
If you are looking forward to winter holidays, try these quilled Christmas tree cards! This is a super easy beginner craft to get kids and adults started quilling.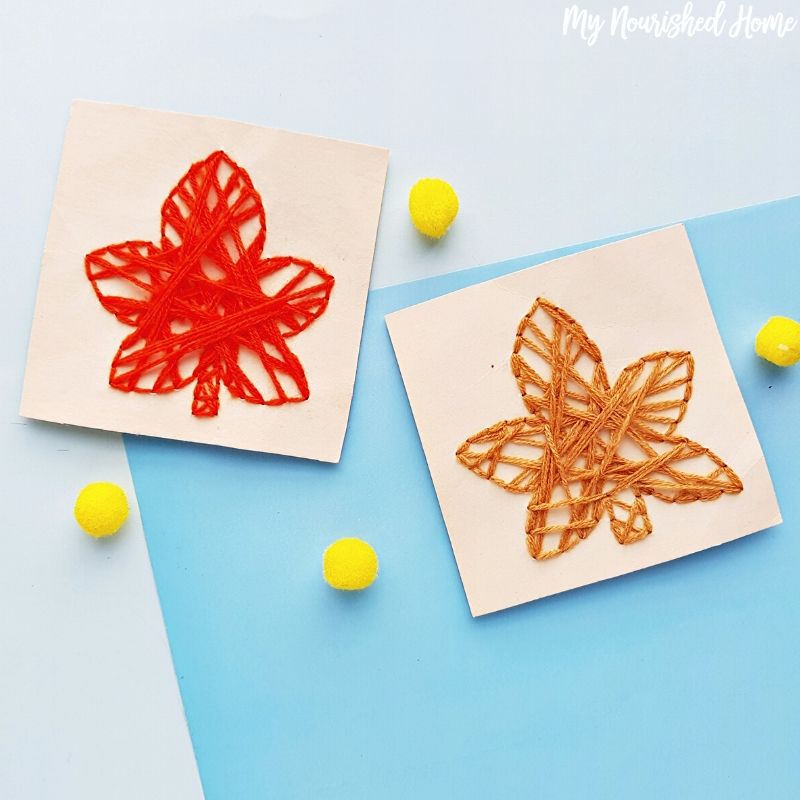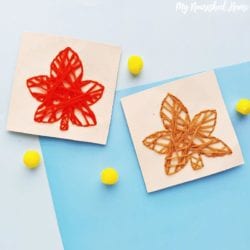 Maple Leaf String Art
A Fall-inspired string art craft perfect for beginners and kids.
Ingredients
Cardstock paper

Pencil

Yarn

Tapestry needle

Scissors

Craft foam board
Instructions
Cut out a piece of cardstock paper and trace the maple leaf pattern on it from the provided template. Use a pencil to trace the maple leaf.

Place the paper on a craft foam board and grab a needle. Make holes along the traced line of the maple leaf drawing, on the cardstock paper. Keeping the foam board under the cardstock paper will make it easier to pop the holes with the needle and also, your craft space stays safe.

Try to keep even distance between the holes and continue to pop holes until the whole pattern is covered.

Select a yarn of your choice and prepare it with a tapestry needle.

Start to stitch by drawing the needle from the back side of the cardstock paper and keeping about an inch of the yarn at the back. Go through the holes randomly but try to keep a sequence or try to create a sound pattern.

Try to fill the leaf pattern as much as you can and once you are satisfied with the string pattern stitch along the sides to create a border.

Done stitching the border? Draw the needle to the back side, tie a knot or 2 and cut off extra yarn.

Frame it, make a card or come up with any crafty idea to use this maple leaf string art.