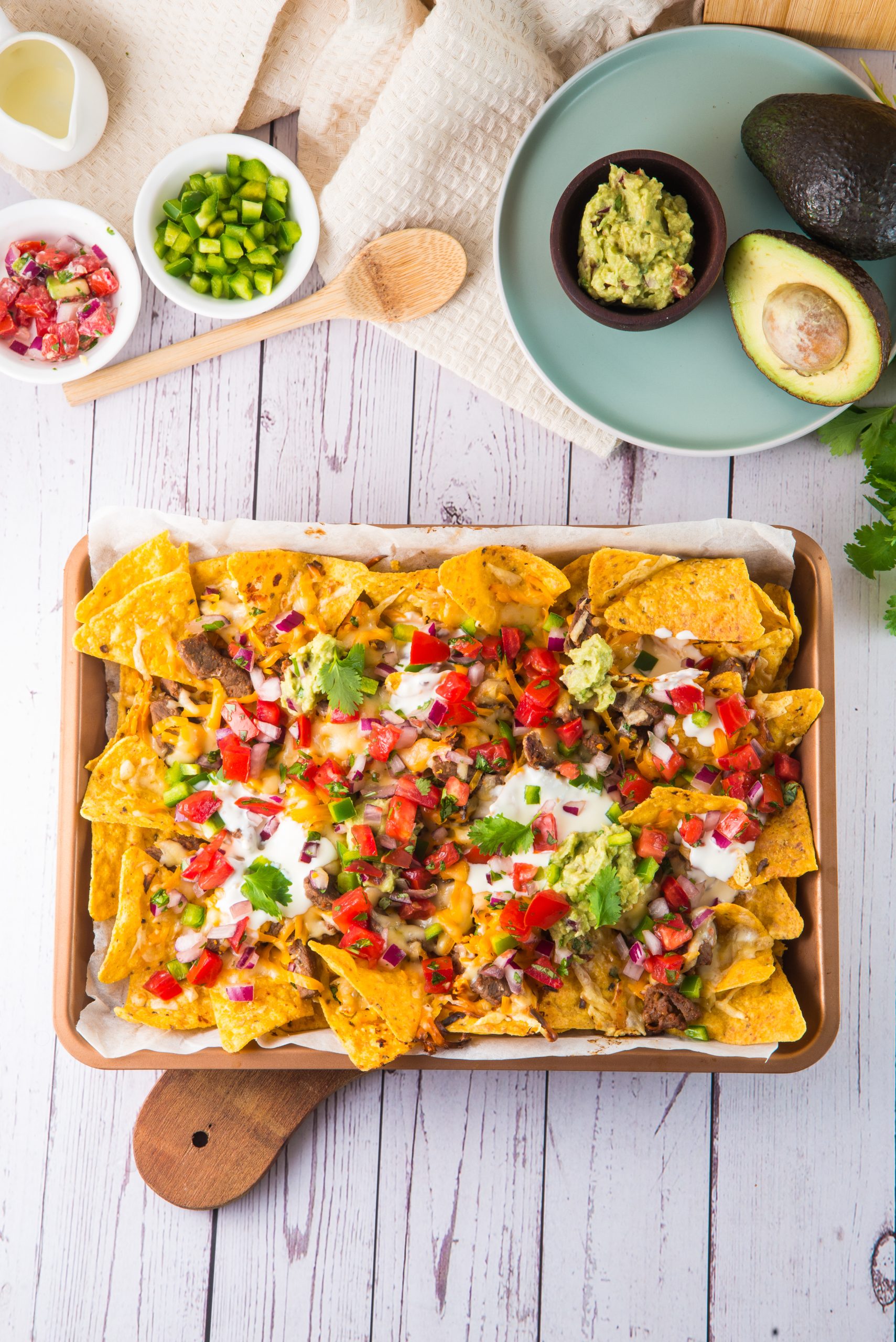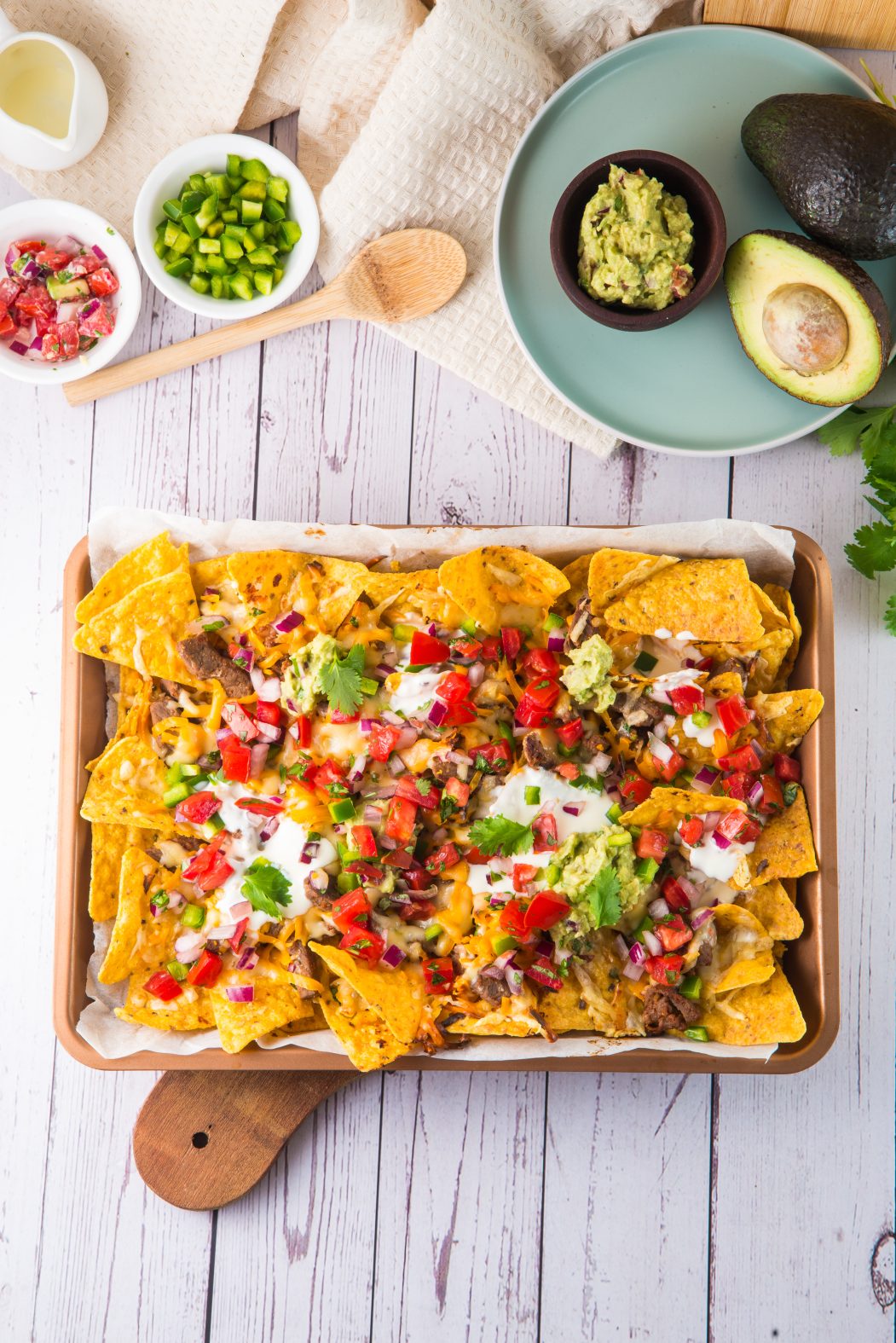 Steak Nachos are a savory combination of tender steak, creamy guacamole, sour cream, and ooey-gooey melted cheese that come together for an unforgettable fiesta for Taco Tuesday game day tailgates.
Steak Nachos
These steak nachos are an elevated version of traditional nachos. The recipe starts with crispy tortilla chips and irresistibly melted cheese. Then add juicy, tender steak, a generous helping of spices and herbs, and customizable toppings like pico de gallo, guacamole, sour cream, or jalapenos. Every bite is a crispy, juicy, savory explosion of all the classicTex-Mex flavors and textures.
Despite the mouthwatering combination, this recipe is easy and fast to pull together day-of or last minute. This appetizer or dinner is on the table in less than an hour!
Serve this steak nachos recipe with my other popular Mexican recipes like spicy tofu Sofritas or the best 15 Minute Shrimp Tacos.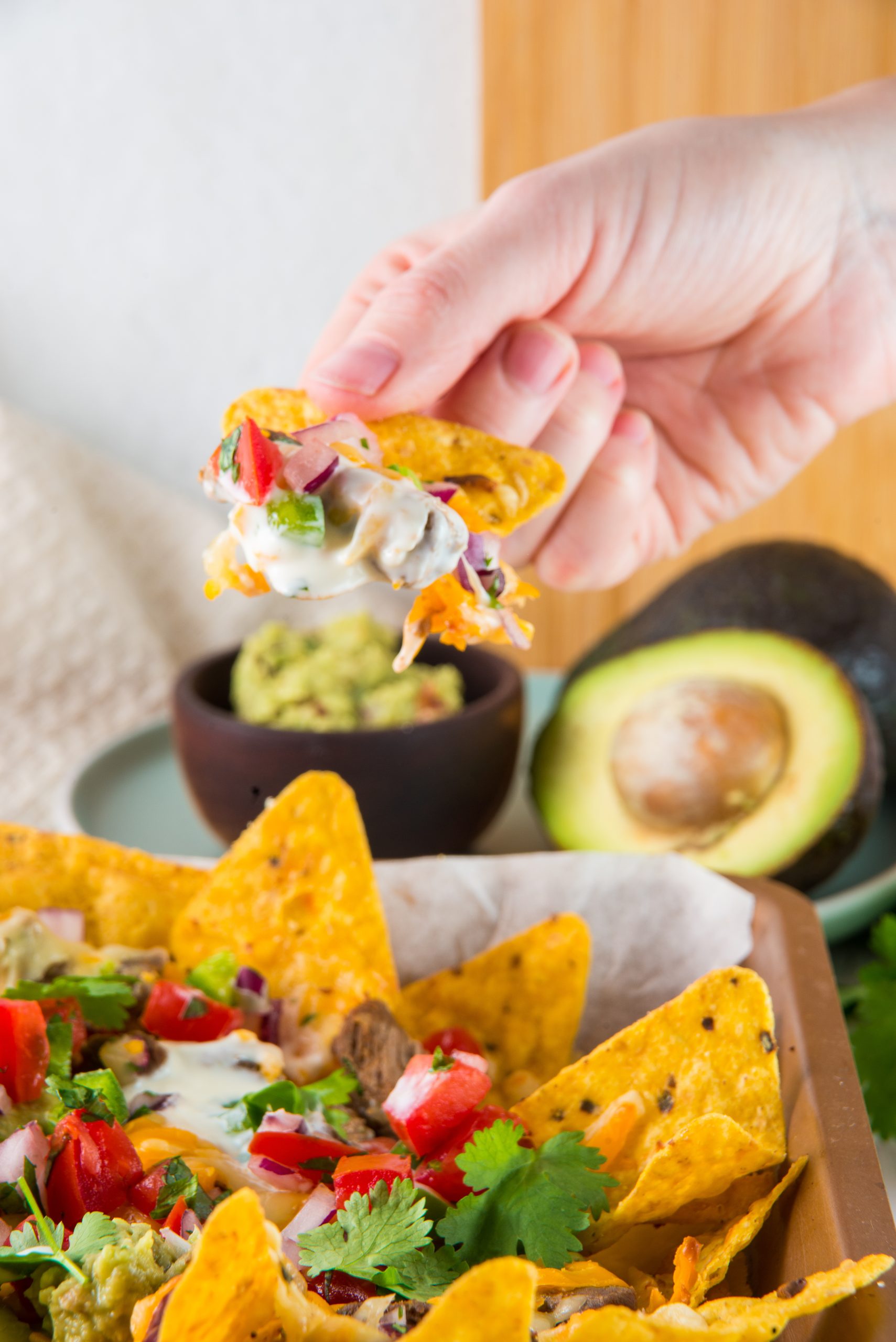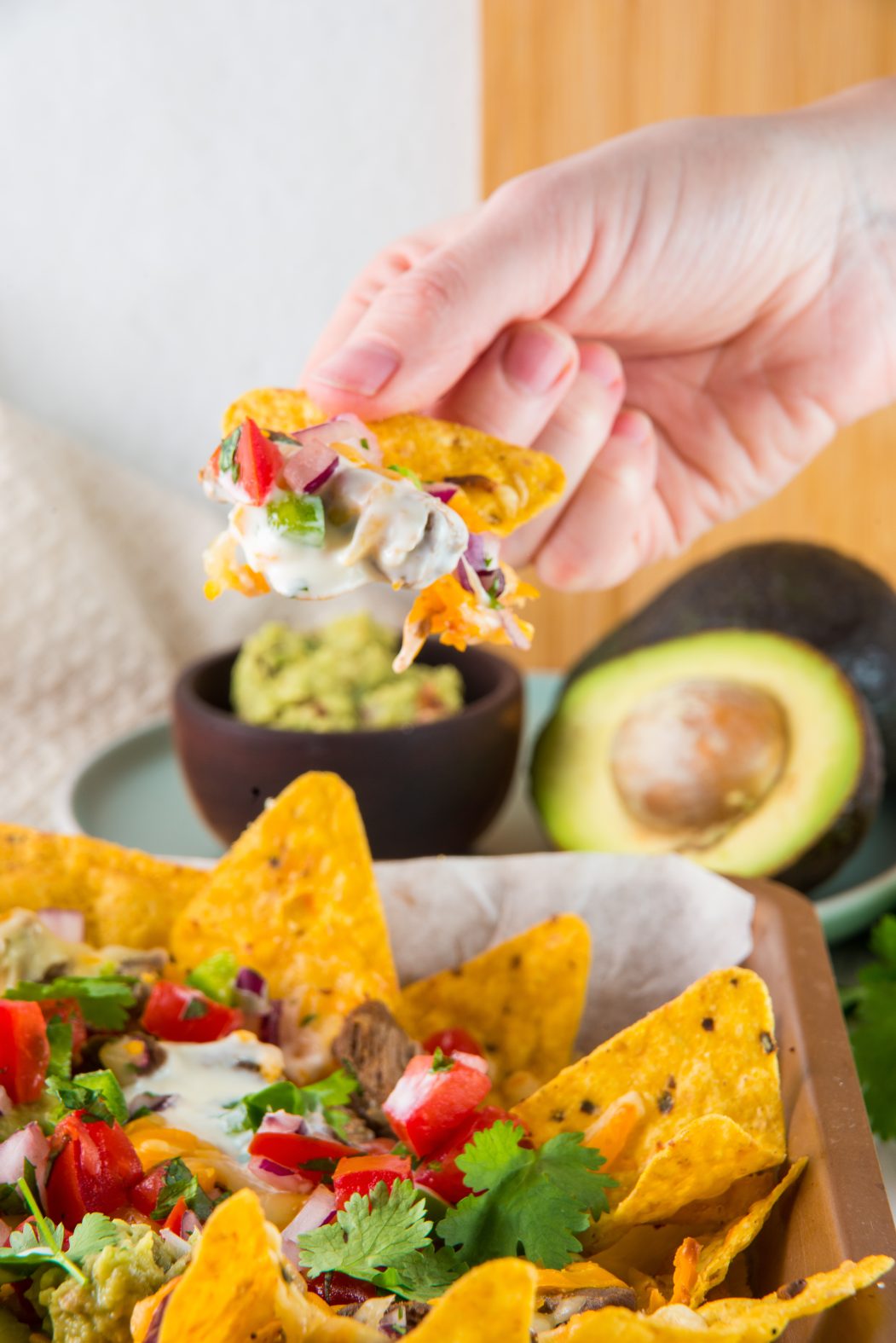 Why You Will Love This Steak Nachos Recipe
Every ingredient in these steak nachos work together for a complimentary combination of classic Mexican flavor and crispy and creamy textures.
With just 25 minutes of preparation and 15 minutes of hands-off baking time, this Mexican recipe comes together quickly and easily for last-minute gatherings or busy weeknights.
No two people enjoy their nachos the same way! This recipe is easily customizable with toppings and seasoning levels to suit any family's tastes.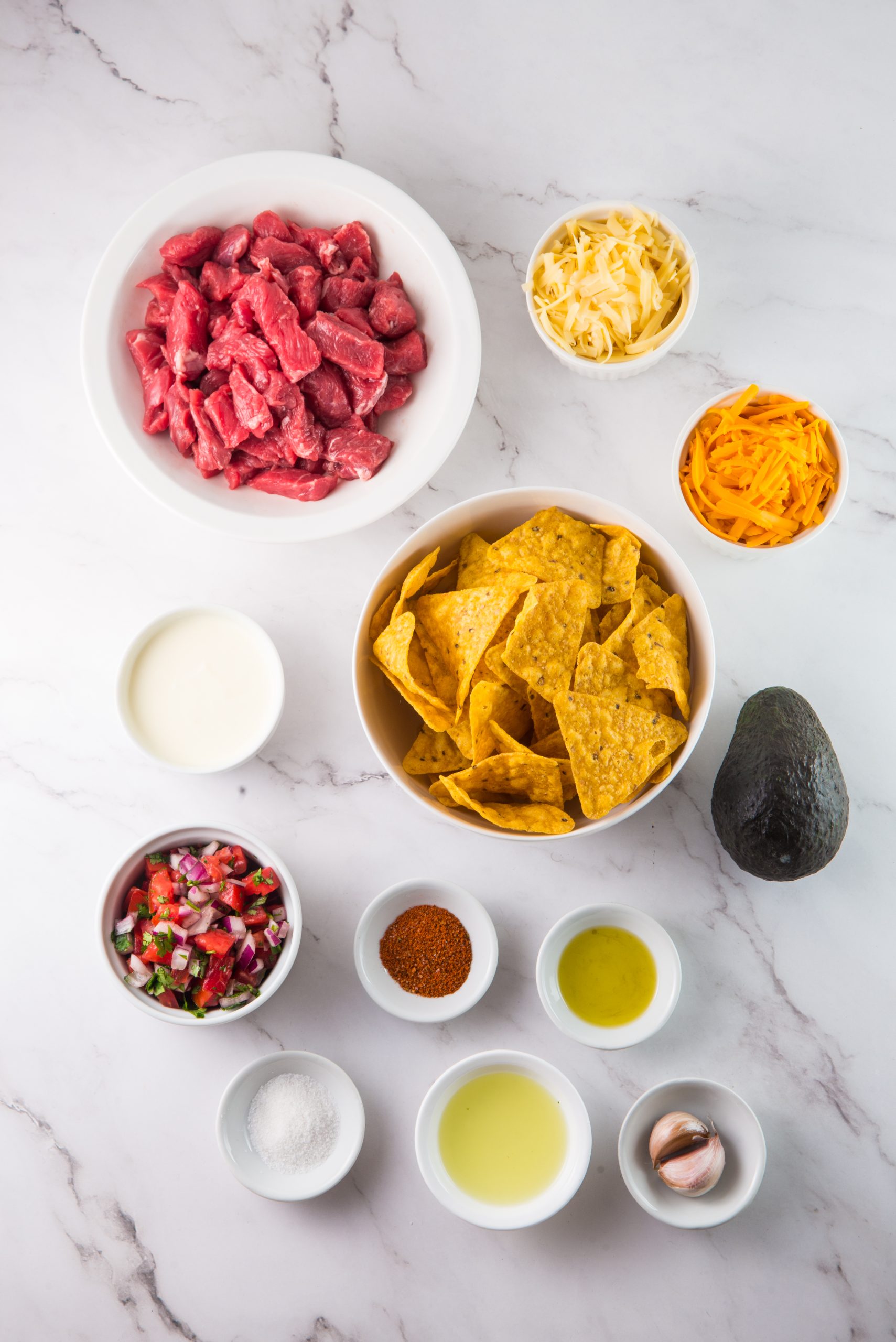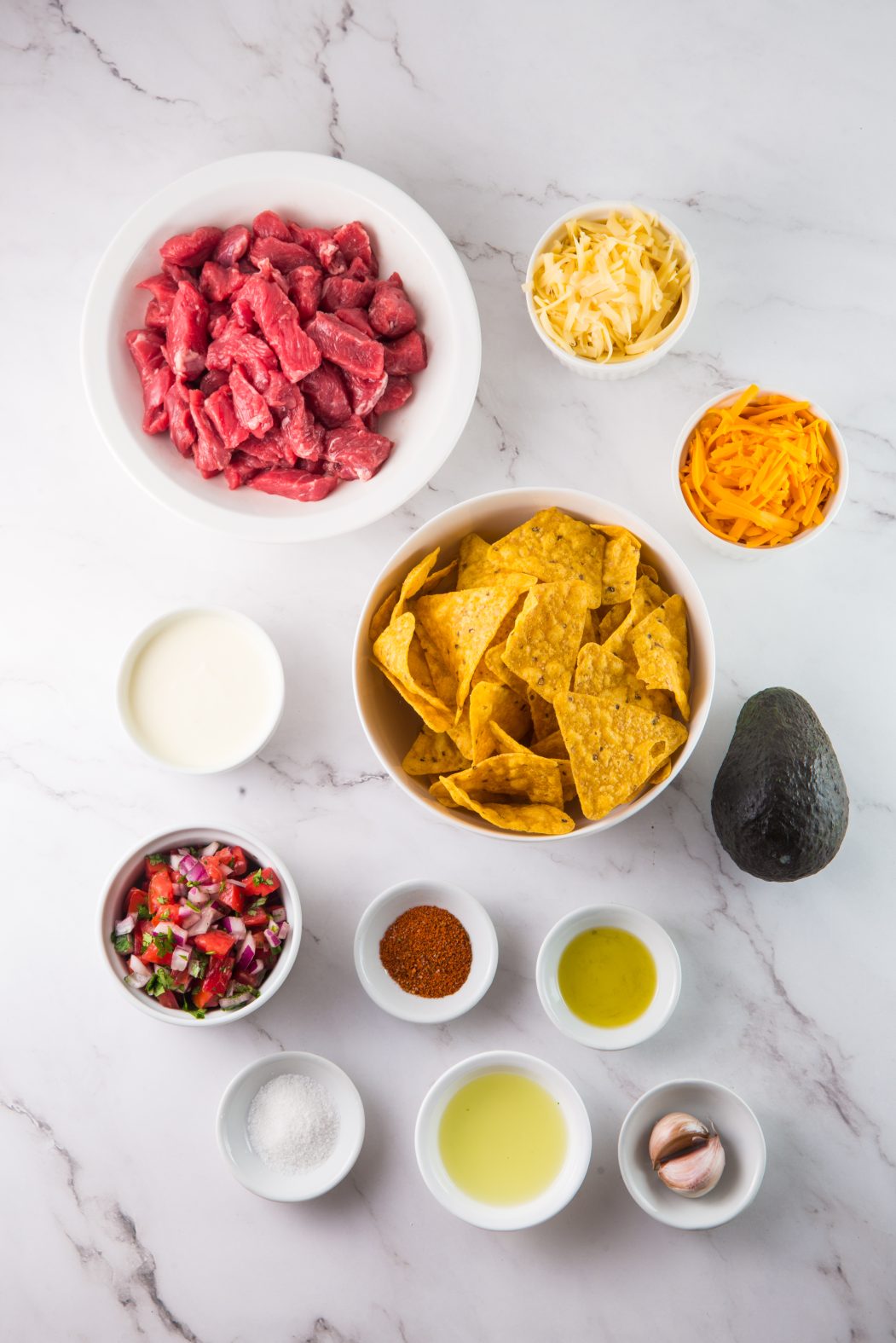 How to Make Perfect Steak Nachos
Marinate Steak: Mix diced steak with the minced garlic, lime juice, olive oil, salt, and taco seasoning in a large mixing bowl. Cover the bowl and refrigerate for at least 2 hours. Note: you can marinate for as little as 10 minutes if you're in a hurry. However, you won't get the same flavor as a longer marinade. A good marinade infuses your meat with flavor and uses high acidity ingredients (like lime juice) to tenderize your meat.
Prepare a Baking Tray: While the steak is marinating, prepare a baking tray with parchment paper and cover with 4 cups of your favorite tortilla chips and set aside. When using parchment paper, there's no need to spray your pan.
Cook Steak: Preheat your oven to 350F and heat a large skillet over medium heat. Add olive oil and the marinated steak, stirring until the meat browns (about 5-7 minutes.) Avoid overcooking so your finished dish is still tender and juicy. Remove from heat and arrange the browned steak over the prepared nachos, spreading as evenly as possible. Finish with shredded cheeses over the top of the meat and chips.
Bake: Bake in the preheated oven for 10-15 minutes or until the cheese is melted.
Top and Serve: Add your toppings of choice! I recommend pico de gallo, sour cream, guacamole, fresh salsa, cilantro, sliced tomatoes, and green onion. Serve immediately and enjoy!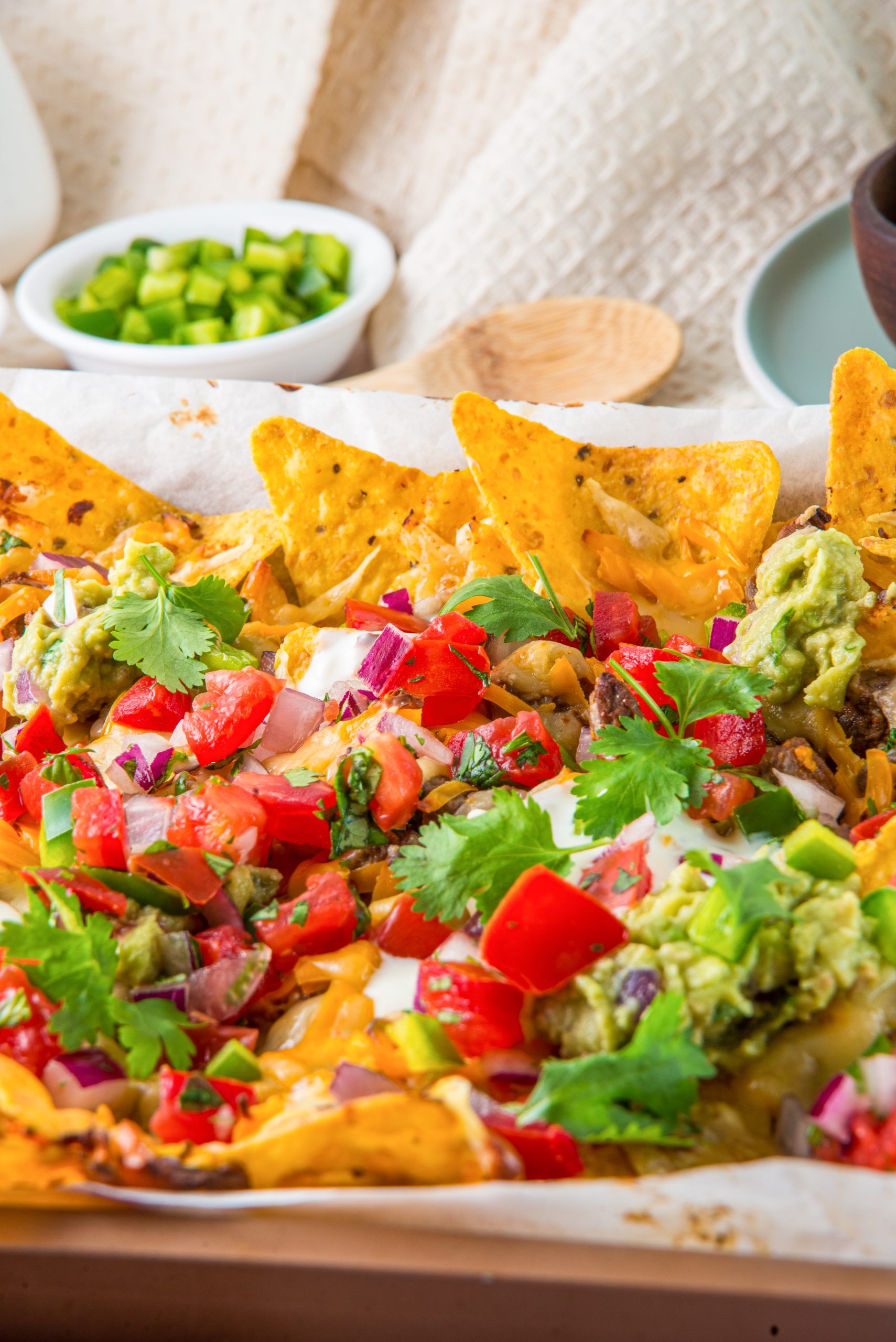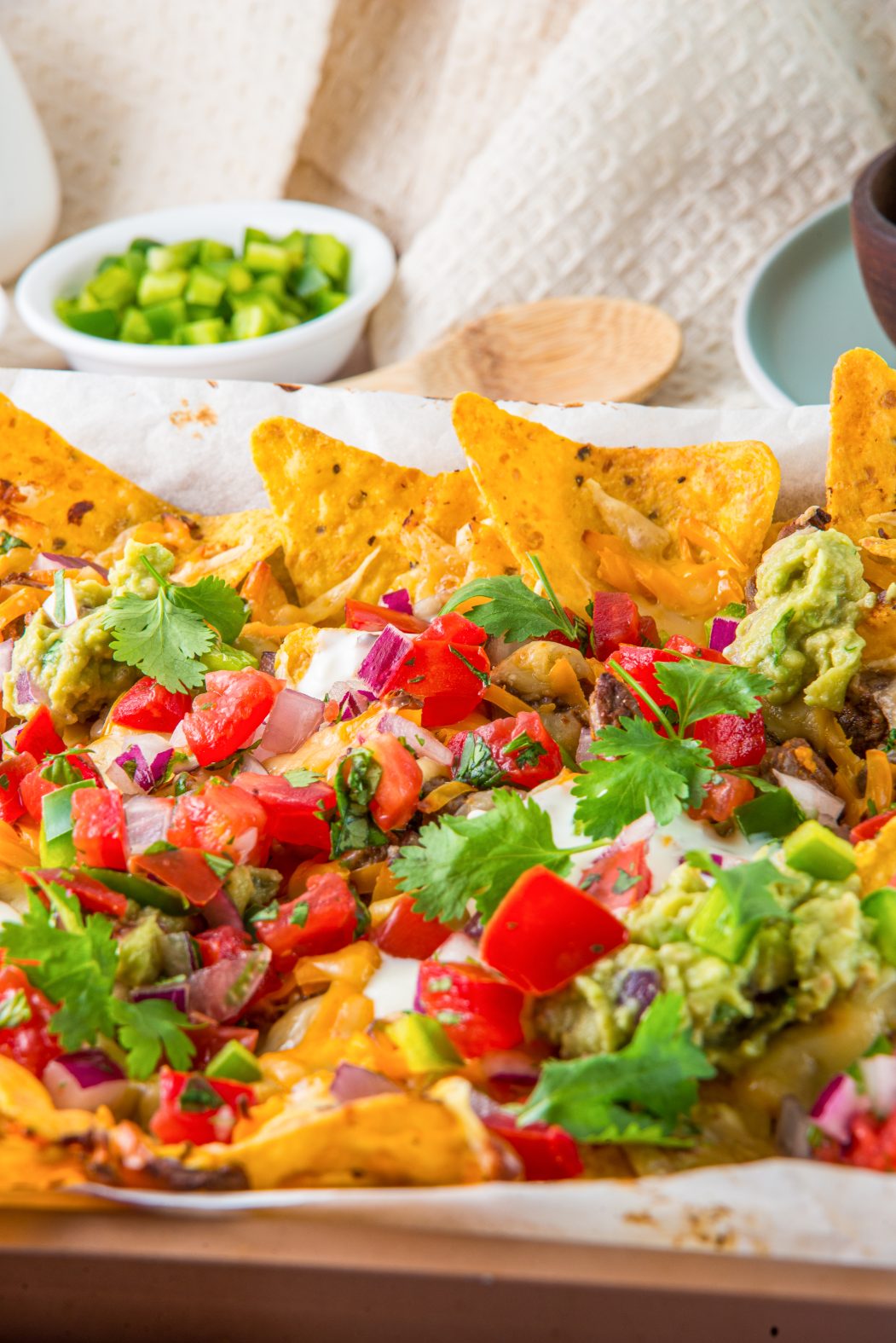 Pro Tips
Don't overcook. Be careful not to overcook your steak when browning it in the skillet. Overcooked meat gets tough and hard to chew!
Be selective about your meat choice. Opt for a tender cut of meat like ribeye or sirloin. To save on time, you can buy your meat pre-diced as well!
Choose Roma tomatoes. In terms of flavor and texture, a perfectly ripe Roma tomato works the best with nachos.
Marinate for longer. While you can marinate for as few as 10 minutes if you're short on time, the longer your steak marinades, the better it will be. I suggest a marinade time of at least 2 hours for super flavorful, tender meat.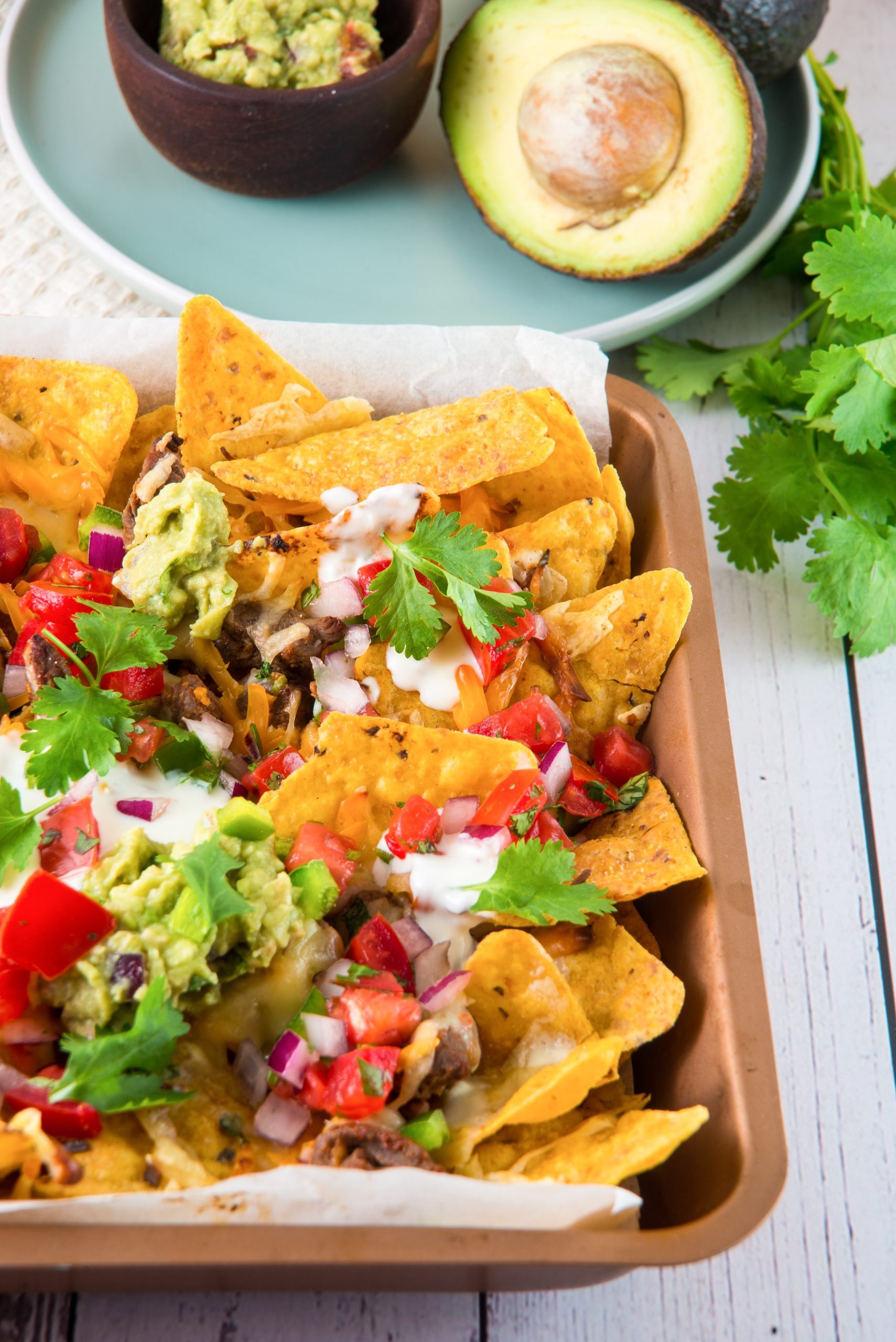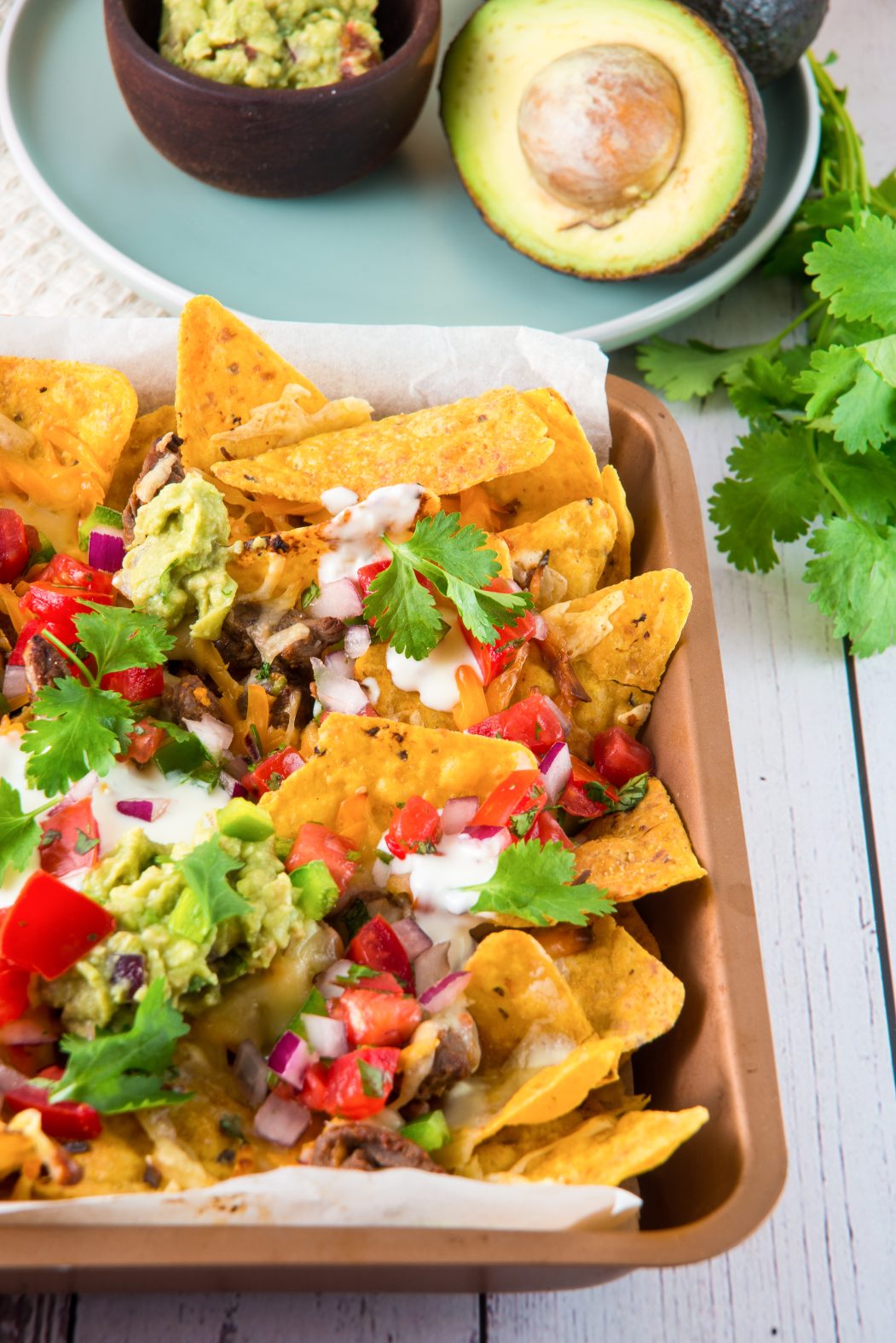 Key Ingredients and Substitutions
Steak: To save on time, buy your choice of steak pre-diced. I suggest choosing a cut of meat that's known for being tender, such as sirloin or ribeye, for this steak nachos recipe.
Nachos: Any brand of tortilla chip will work for this recipe. I suggest a large, flat chip with a lot of surface area such as triangles or strips. This allows the meat, cheese, and toppings to be evenly spread across each chip.
Seasonings: Experiment with this super forgiving steak nachos recipe! I've doubled up on lime juice in the past for an extra zesty marinade. I've also made up my own mixture of cumin, paprika, chili powder, garlic powder, and onion powder when I realized too late that I didn't have any taco seasoning.
Frequently Asked Questions About Steak Nachos
Can I substitute the meat in these nachos?
Absolutely! If steak isn't your thing, you can swap the sirloin out for pulled pork/carnitas, shredded or diced chicken, or Sofritas.
I grew up eating homemade nachos with ground beef for an option that's budget-friendly and fool-proof to pull off. Just skip the marinade, season to your liking, and prepare the same way (browning in a skillet then baking with the nachos).
Can I save and reheat nachos?
To avoid food poisoning, it's best to eat or store nachos within 2 hours of making it. Store without any fresh toppings, such as pico de gallo and sour cream, to avoid soggy chips. Your nachos will last about 3 days in the refrigerator.
To reheat, spread the leftover nachos on an oven-safe dish or pan and bake at 350F for 5-10 minutes. This will crisp up the chips, re-melt the cheese, and warm up your meat. Top with your desired garnishments and enjoy your leftovers!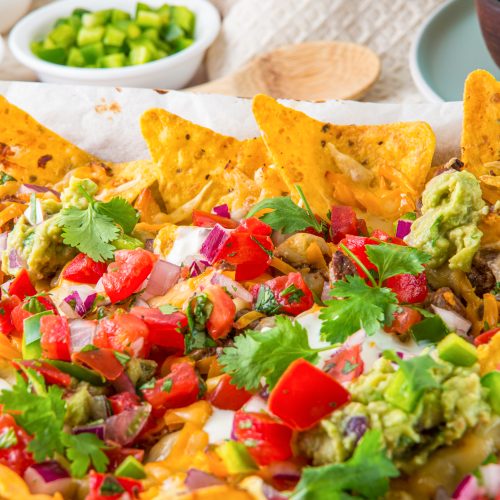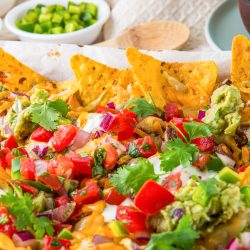 Steak Nachos
With tender steak, Monterey Jack and Cheddar cheeses, plus pico de gallo and so many other Mexican flavors, these Steak Nachos will be a hit!
Course:
Appetizer, Appetizers & Sides, Main Course
Keyword:
nachos, pico de gallo, steak, steak nachos
Ingredients
2

lb

sirloin steak

sliced into 1 inch pieces

2

cloves

garlic

1

tbsp

Extra Virgin Olive Oil

2

tbsp

lime juice

1

tsp

salt

1

tbsp

taco seasoning

4

cups

nacho chips

1

cup

Monterey Jack cheese

shredded

1

cup

cheddar cheese

shredded
Optional Toppings
pico de gallo

sour cream

avocado

cilantro

roma tomatoes

jalapeno

fresh salsa

green onion
Instructions
Marinate steak with minced garlic, lime juice, olive oil, salt, and taco seasoning. Cover and refrigerate for 2 hours. (You can marinate for ten minutes if you're in a rush.)

Prepare a baking tray with parchment paper. Spread out 4 cups of nacho chips on the bottom. Set aside.

Heat a large skillet over medium heat. Add olive oil and the marinated steak. Stir until the meat is brownish, (5-7 minutes). Avoid over cooking. Remove from heat and arrange steak on top of the chips. Spread cheddar and Monterey Jack cheese on top.

Bake at 350 for 5- 10 minutes, until cheese is melted.

Add toppings of choice, such as pico de gallo, sour cream, guacamole, and green onion.
Nutrition Facts
Steak Nachos
Amount Per Serving (6 g)
Calories 737
Calories from Fat 333
% Daily Value*
Fat 37g57%
Cholesterol 128mg43%
Sodium 995mg41%
Potassium 696mg20%
Carbohydrates 54g18%
Protein 48g96%
Vitamin A 378IU8%
Vitamin C 2mg2%
Calcium 400mg40%
Iron 4mg22%
* Percent Daily Values are based on a 2000 calorie diet.