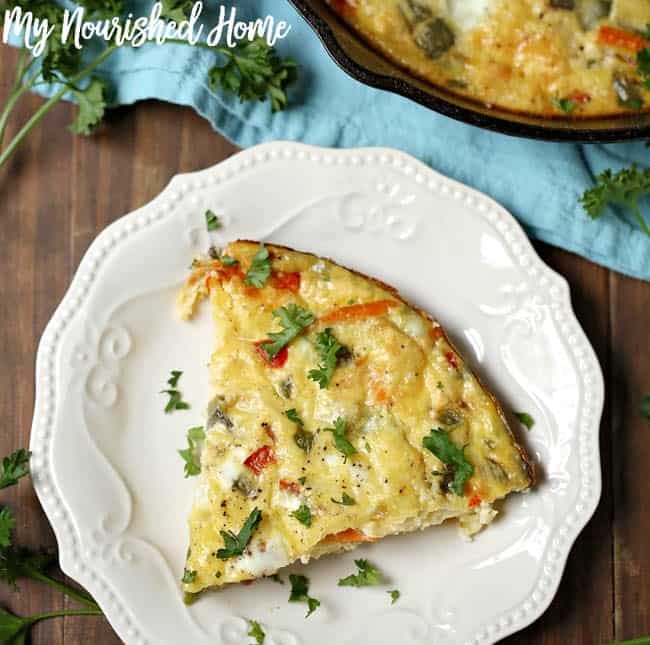 One of the challenges of being a busy entrepreneur is that my cooking time isn't always an hour or two long. I have to get in the kitchen, prep the meal, and then get back to work or help the kids while things are in the oven. Since we really limited the amount of fast food and takeout we eat, this can be problematic. Thankfully, there's a tried and true recipe that makes me look like a cooking superstar and nourishes my family like no other.  May I introduce my trusty recipe – the Smoked Gouda Vegetable Frittata.
Easy Smoked Gouda Vegetable Frittata Recipe
Prep this Easy Frittata Recipe Ahead
Frittatas, simply put, are crustless egg pies. They're very similar to quiche, except they require a bit of stove cooking first and have none of the flaky crust that's commonly found in a good quiche. They're filled with protein and, in the case of this delicious Smoked Gouda Vegetable Frittata recipe, a ton of healthy vegetables. Not just for dinners, frittatas can also make a delicious breakfast or brunch meal.
In order to avoid the morning mad dash for breakfast, I'll make a frittata up at night and stick it in the fridge to bake in the morning. It's a great way to get the kids to eat a healthy breakfast without having to do anything except stick the waiting frittata in the oven.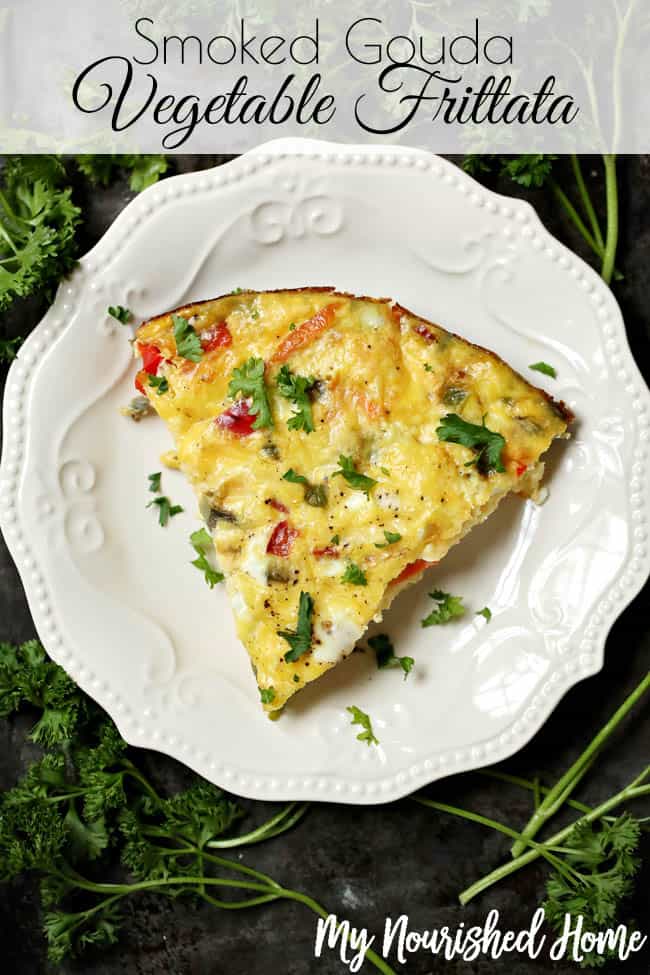 Vegetable Frittata Recipe
Since the Smoked Gouda Vegetable Frittata calls for a lot of diced vegetables, I either prep my peppers and onions ahead of time and freeze them until I'm ready to use them, or I buy vegetables that have been already diced and then frozen. It feels a bit like cheating because it makes the recipe so simple, but it tastes just as good and saves so much time.  Be sure to saute the vegetables before adding the egg mixture though, because they'll have a tad bit too much crunch otherwise.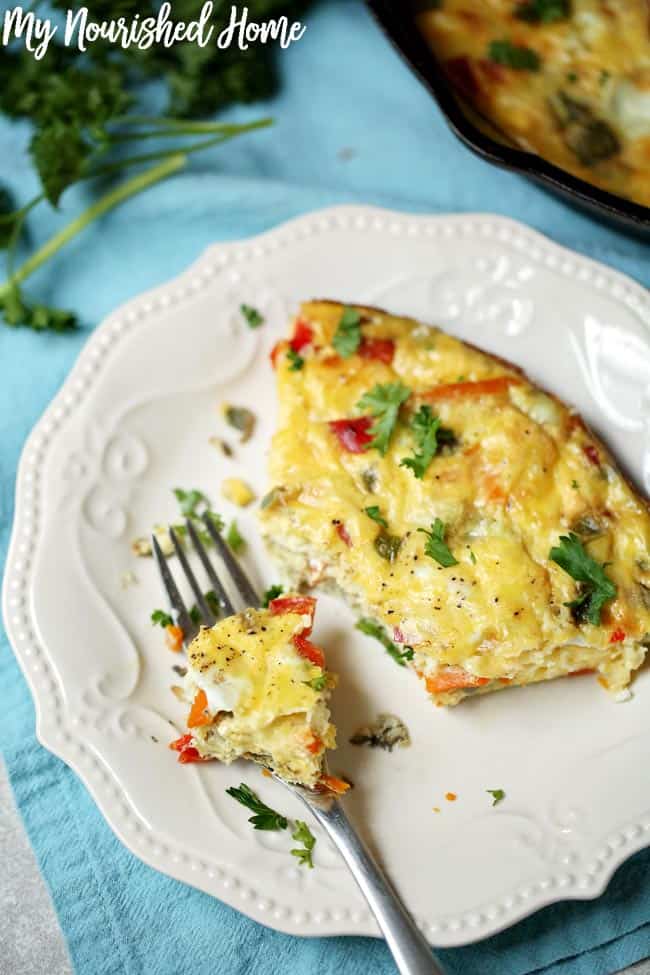 Frittatas are Simple and Kid-Friendly
After you add the eggs to the veggie and smoked Gouda, bake the concoction in the oven for about 20 minutes in a 350 degree Fahrenheit oven.  The eggs should be just set in the center, so be sure to check that first. You should notice the edges of the frittata will be golden and just start to pull away from the sides of the dish. The fresh parsley sprinkle at the end adds a delicious flavor, but you can skip it if you don't have any on hand.  Serve the frittata with warmed tortillas, toast, or, if you're having it for a lunch or dinner meal, a side salad.
And oddly, my kids will eat veggies in their eggs that they would otherwise turn their noses up at. So breakfast for dinner is a family win here.
It's the perfect quick and easy recipe for when the time is short, but the desire for a healthy meal is high! Enjoy!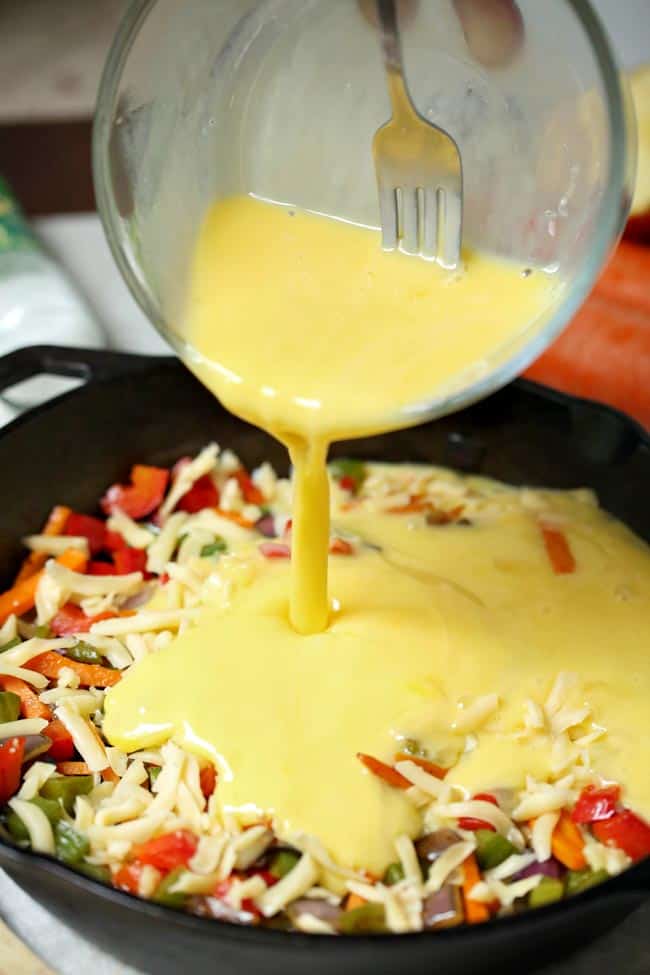 Looking for more egg recipes?
This Sausage and Mushroom Quiche is one of our favorites! And this Fresh Asparagus Quiche is a decadent treat too!
Save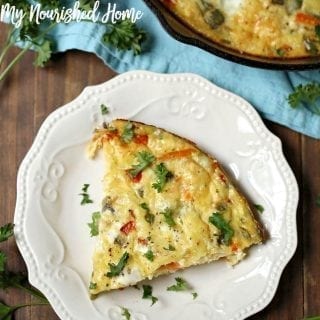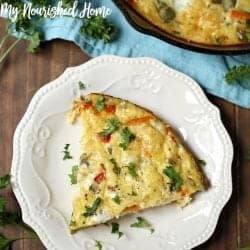 Smoked Gouda Vegetable Frittata
Ingredients
8

eggs

1

T

skim milk

1

cup

smoked Gouda cheese, shredded

1/2

green bell pepper, diced

1/2

cup

sweet red and yellow peppers, diced

1/2

red onion, diced

1/2

cup

carrot, diced

diced fresh parsley

salt and peper to taste
Instructions
Chop and dice all vegetables. Sauté in a cast iron skillet over medium heat for 8 minutes or until soft.

Whisk together eggs, milk, salt, and pepper. Pour into skillet along with your smoked Gouda, stir, and bake at 350 degrees for 20 minutes.

Remove from oven, sprinkle with fresh parsley, and serve.