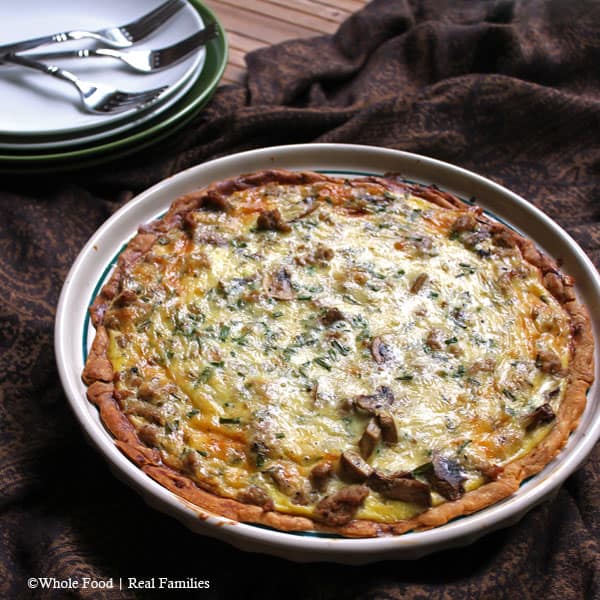 Sausage Mushroom Quiche with Chives is warm, savory and sure to please everyone at your table. Including the cook because it comes together easily for an easy weeknight meal.
A couple of nights ago, as I stared into our post-vacation refrigerator, I knew it was going to be a Sausage Mushroom Quiche sort of night. Simple, made from kitchen staples and delicious. And after a week of fun and frolic with our 3 kids at the beach, I was looking for something everyone would eat that didn't require a grocery store trip for me.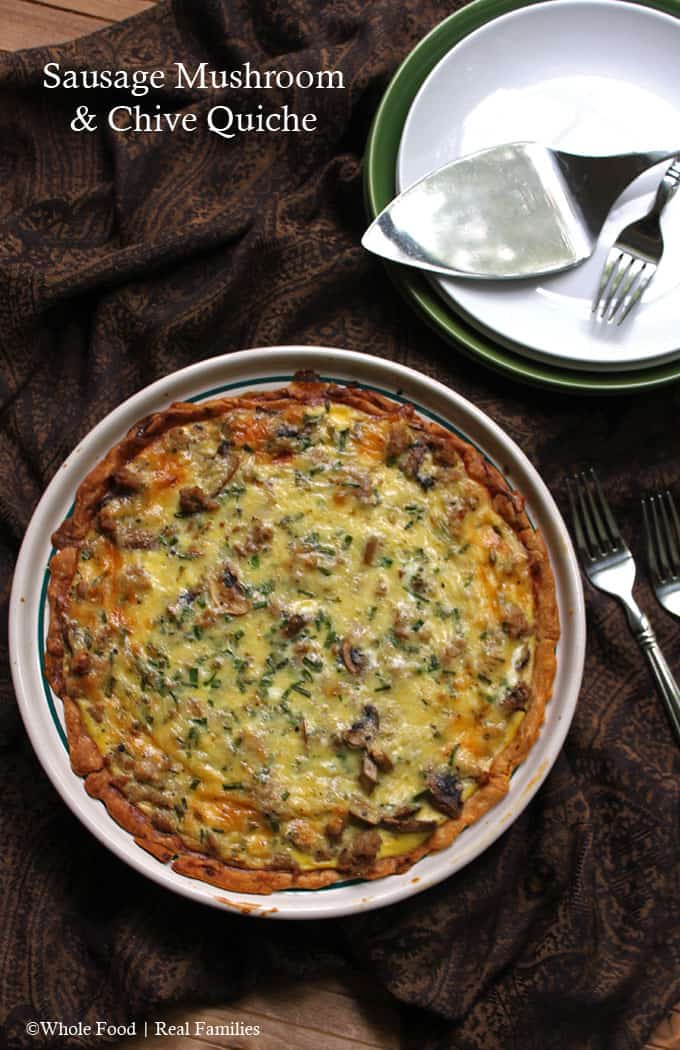 But I was having a little trouble with the chopping and cooking because my hand was sore. The day before, I had a run-in with a splinter… which sounds insignificant, except the splinter was large and went all the way through my finger and came out the other side before breaking off. It required an Urgent Care visit to remove. It wasn't life altering – but it also wasn't my favorite way to spend the first day back from vacation.
After asking my teenage daughter for help with dinner, I realized that she had no idea how to make quiche – blogger mom fail. How did that happen? Quiche is so easy. And such a useful recipe to have in your back pocket!
I make quiche when I need a break from cooking. Or when I have leftovers that I need to use or small bits of veggies that need a home other than the trashcan. You know the bits left on the ham bone after Easter or Christmas? I pick them off and make quiche.
You can make quiche from pretty much anything as long as you keep the proportions right. Have a look at this Basic Quiche Recipe for an outline of proportions and what has to be cooked ahead versus what you can just toss in with the eggs.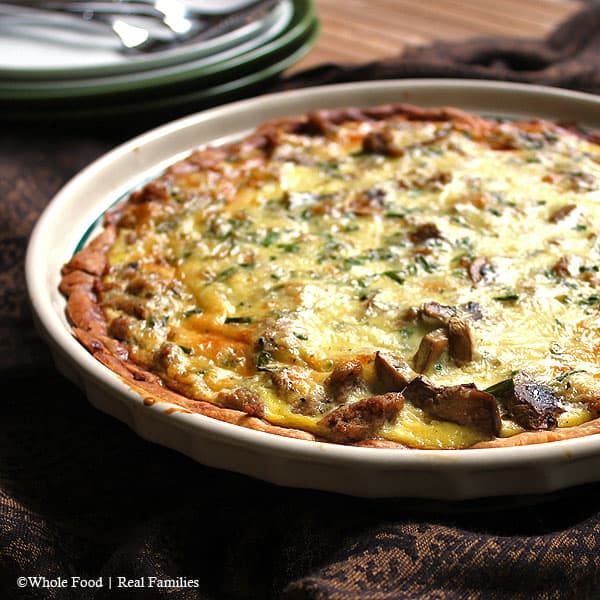 Many quiches use cream instead of milk, which is delicious! This one uses milk because when I was testing recipes, I wanted one that I could make any day of the week. While I love cooking with cream, I don't always have it. With 2 toddlers in the house, we ALWAYS have milk. (No milk = toddler tantrum.)
Needless to say we remedied my parenting oversight. The photos you see are of my 15 year old daughter's first quiche. I think she did pretty well. What do you think? Leave her a comment below and make her day!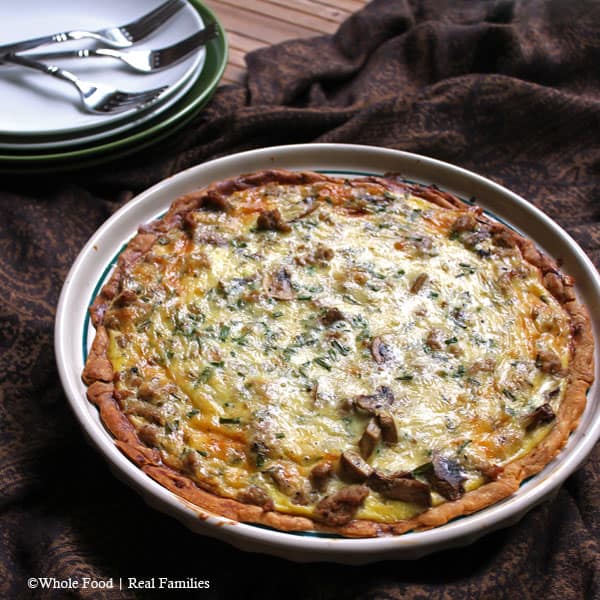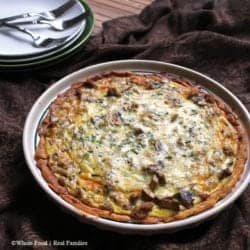 Sausage Mushroom Quiche with Chives
Course:
Breakfast, Main Dishes
Ingredients
1

whole wheat pie crust

or whole wheat pie crust from the refrigerator section in your grocery store

5

eggs

1/2

cup

milk

1/2

cup

cheddar cheese, grated

We prefer White Cheddar

1

lbs

high quality loose sausage

1

package

sliced mushrooms

1/4

cup

fresh chives, finely chopped

salt and pepper to taste
Instructions
Pre-cook a whole wheat pie crust.

Preheat the oven to 375 degrees F.

In a large skillet over medium heat, brown the sausage. Add mushrooms and cook until all the water has released from the mushrooms, 6-8 minutes. Drain any grease from the pan. Add drained mixture to the pre-cooked pie crust.

In a large bowl mix together the eggs, milk, herbs. Salt and pepper to taste. Stir in the grated cheese.

Pour the egg filling over the meat and veggie mixture in the pie crust. Make sure the cheese is evenly distributed across the top of the quiche.

Put on a baking sheet and bake until the quiche has set and top and crust has browned, about 30 to 35 minutes.