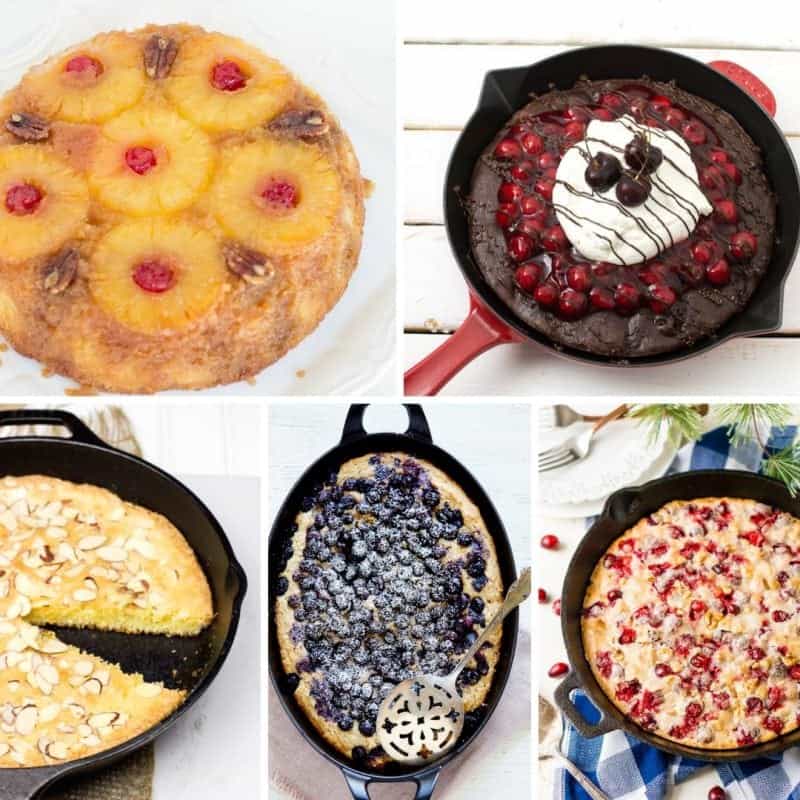 Skillet cakes for dessert make everyone smile! No matter your dessert preference, there is a skillet cake for you. It is a fun way to liven up the post-dinner conversation! Chocolatey or fruity, the two things skillet cakes have in common are their unexpected fun and the fact that cleanup is pretty easy since it cooks in the skillet instead of dirtying a bunch of dishes. No worrying about fussy layers or perfect frosting here.
Skillet cakes are so fun
I first fell in love with the whole idea of a skillet cake when I learned to make brownies in the skillet <— you have to try this one! But we also love Pineapple Upside Down Cake. If you have never made one, you should try it. Though some recipes call for you to cook the pineapples then transfer them to a baking dish before covering them with the cake batter, this cake lends itself perfectly to baking in a skillet. You just brown the pineapples in brown sugar and butter, pour the cake batter in and transfer it straight to the oven. The heat from the skillet really caramelizes the pineapple and sugar… and I love the crispy edges of the finished cake.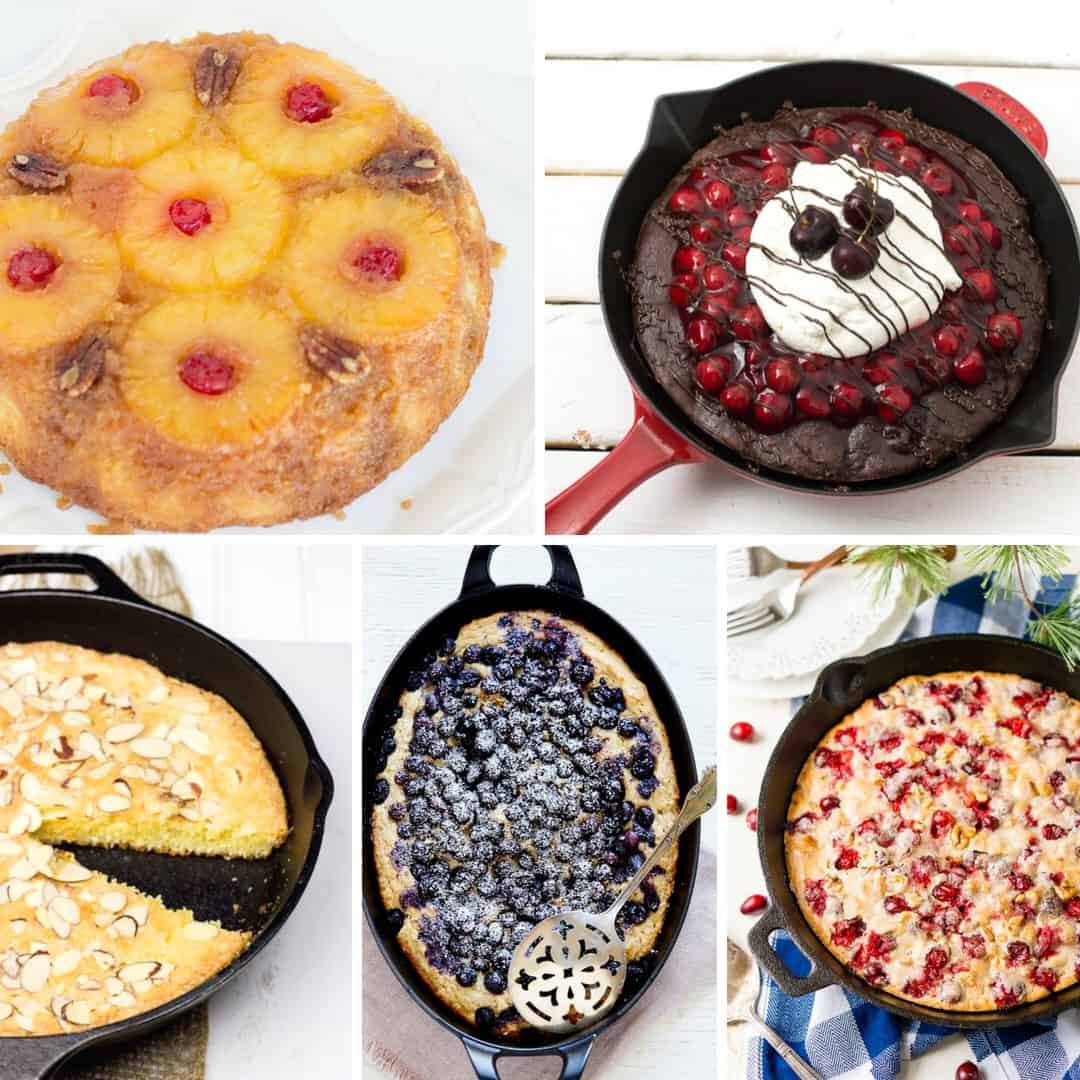 Fruity or Chocolate? Such a Tough Choice!
I am a serious chocolate lover. My husband is a fruit dessert guy. We divide our kids equally – which is tough considering we have 3 kids but one will eat anything. Though despite my love for chocolate, I really love the Peach Thyme skillet cake below. And the Pumpkin Pecan… is pumpkin a fruit, or is it a vegetable?? And of course, pineapple upside down skillet cake is perfection.
For years I have made peach cobbler in a large, deep skillet. So collecting recipes that received the same wow at the table as piping hot peach cobbler has been a long time goal. (I'm from the south y'all. Good peach cobbler is a thing…)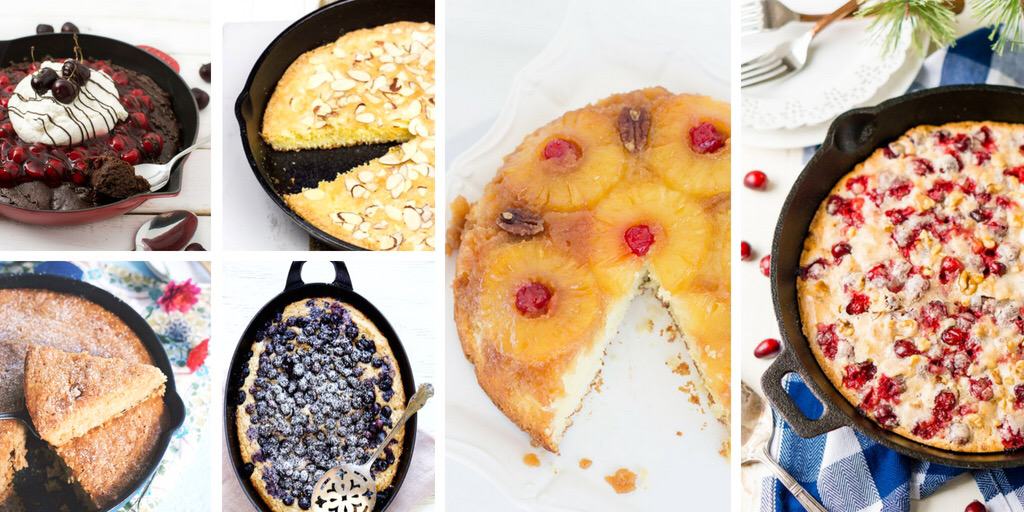 Skillet Cake Recipes to Try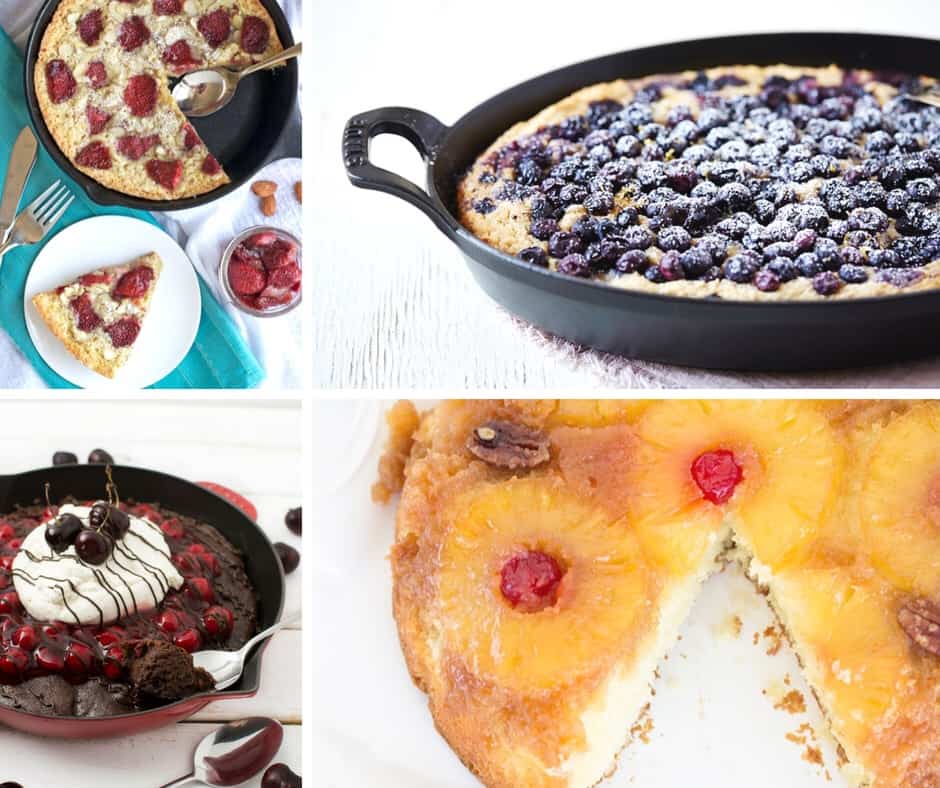 More Skillet Cakes
Black Forest Skillet Brownie Cake from crumbkitchen.com
Strawberry-Rhubarb Vanilla Skillet Cake from floatingkitchen.net
Blueberry Skillet Cake Recipe from bsugarmama.com
Spiced Orange Pear Skillet Cake from fareisle.com
Blueberry & Ricotta Skillet Cake from camillestyles.com
Easy Skillet Cranberry Cake Recipe from sugarandsoul.co
Pumpkin Pecan Skillet Cake from recipegirl.com
Carolina Skillet Cake from cantstayoutofthekitchen.com
Strawberry Peach Skillet Cake from lifemadesimplebakes.com
Pineapple Upside Down Skillet Cake from cookiedoughandovenmitt.com