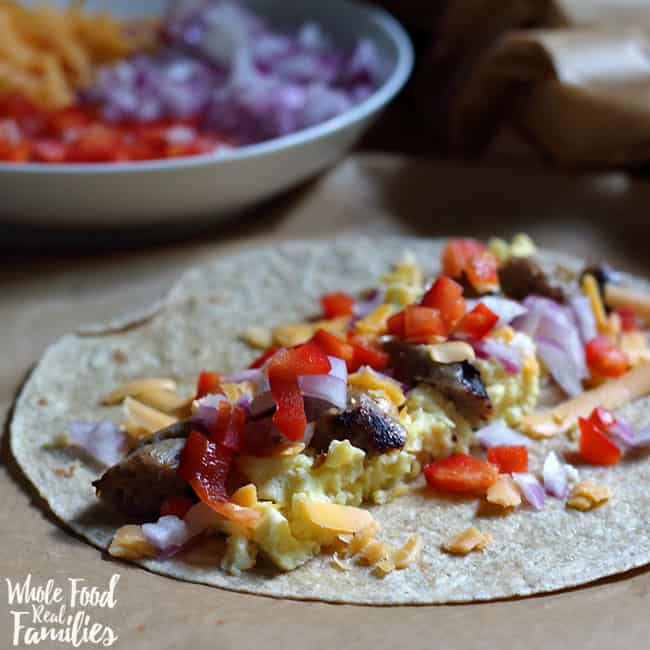 Healthy Breakfast Burritos have saved my morning on more than one occasion. An easy, make-ahead breakfast that everyone loves, it is a perfect grab and go healthy meal for early mornings and urgent snack requests.
Our family is just large enough that someone around here is always hungry. We keep minimal packaged food in the house and there is no other meal that impacts more than breakfast, which I am primarily responsible for making before I have been appropriately caffeinated. Making sure everyone has a stash of Healthy Breakfast Burritos in the refrigerator is an urgent need on school mornings.
The good news is, Healthy Breakfast Burritos are so easy to make! I tend to make them on the weekend right after we have breakfast as a family because I can make a HUGE pile of scrambled eggs and set them aside to cool while we eat breakfast together. It works best to assemble the burritos when everything is already cooled to prevent sweating when it gets wrapped up. My kids like different versions of these so I usually use what I have handy. I'd like to say I make one version for everyone but it is just too easy to customize them to everyone's liking and avoid toddler breakfast conflicts. (I know, I know. Did I mention my need to avoid big choices before caffeine in the morning?) So everyone gets eggs, cheese, sausage (or bacon or ham!) and the veggies get added based on what everyone likes. My toddlers will eat baby spinach but don't even think about putting onions on there for them! My teenager will eat anything. By anything, I really mean anything. Old shoe on there? No problem.
In fact, my kids get so excited about making these, that (a) they help assemble them. And (b) won't stay out of my ingredients, even when I am taking pictures. (Get out of the cheese kid!) Just for those of you who do not believe little tiny teenage daughter eats like a football player. Those 10 Healthy Breakfast Burritos above are all hers. If I am lucky, those will be the on call snack for this week. Not meals, just snacks. Her cross country team starts conditioning in the summer before the school year starts back and I can always feel it most acutely in my grocery budget. But I sure am proud of her. She loves to run with or without the team – but it is such an amazing group of kids and coaches, I am thrilled she is connected to something that feeds her passion. (As long as I can keep up with feeding her!)
When you are ready to assemble your Breakfast Burritos, choose a healthy tortilla. Some of them are really full of junk. If you read the ingredient list and don't recognize any of the ingredients as food, consider moving on. Sometimes I have more luck in the freezer section or the natural food section of the grocery store than the bakery or bread aisle. Make sure your ingredients are cool so that they don't sweat when they get wrapped up – because nobody wants a soggy burrito. You can use sausage links like I have here, ground sausage, pulled pork, ham, turkey – whatever you prefer. I just make sure it is cut in bite size pieces before it gets wrapped up so that the finished Healthy Breakfast Burrito is easy to eat on the go. Add in any veggies you like except watery ones! For example, I don't use tomatoes because they release a lot of water once they are cut. And though I love adding spinach, I don't usually add it if I expect the burritos to hang in the fridge for a few days in fear of it heading south.
I also wrap the burritos in parchment. It makes it very easy to pop the whole package into the microwave for a 35-45 seconds and heat without having to unwrap anything. Then we just tear the paper at the top and fold it down to eat them. That keeps all the goodies from falling out the bottom. I used to roll these Healthy Breakfast Burritos like traditional burritos but found I could stuff more ingredients inside if it just folded both sides of the tortilla over the middle, leaving the ends untucked. Because we eat them with the paper wrapper held around the bottom, we don't have to worry about losing the ingredients out the bottom. You can see in the picture, that I assemble the burritos already on top of a piece of parchment paper. Then fold over the end of the tortilla. Then fold the parchment like a traditional burrito. Once they are all assembled and rolled in parchment, I tuck them inside of a sealable plastic back and container and add everyone's name on their container!
By the way, these freeze great!! Just move the bag of pre-wrapped Healthy Breakfast Burritos over from the freezer to the refrigerator to let them thaw. Then heat them in the microwave as you want to eat them.
Servings

Prep Time

12

30

minutes
Servings

Prep Time

12

30

minutes
12

whole wheat tortillas

12

eggs

scrambled

12

sausage links

cut on the bias (or loose sausage, turkey, ham, etc.)

8

oz

cheddar cheese

grated

1

red bell pepper

diced small

1/2

red onion

diced small

**Also 12 sheets of parchment paper sized to wrap the burritos and a large sealable plastic bag or container**
Cook scrambled eggs and sausage ahead and let them cool.

Lay 12 sheets of parchment down stacked on top of each other. Working one tortilla at a time, add scrambled eggs, sausage, diced bell pepper, onions, and cheese in the middle of the tortilla.

Tuck each side of the tortilla over the middle.

Fold a sheet of parchment like a burrito - fold the top and bottoms over the burrito, then roll the parchment to seal in the ingredients.

Tuck all rolled Healthy Breakfast Burritos in parchment into a large ziploc bag or container.

When you are ready to eat, take each burrito while still in the parchment, and place it in the microwave for 35-45 seconds to heat. Tear open the top of the parchment paper and use the bottom of the wrapper to hold the burrito just folding it down as you need to.